Transparency Disclosure – We may receive a referral fee for products purchased through the links on our site...

Read More

.
Disclaimer - Nothing on this website is intended to be a substitute for professional medical advice, diagnosis, or treatment...

Read More Here

.
When it comes to furnishing your guest room or your kid's one, the choice might seem quite easy – right? Well, you'd better think again. Are you purchasing a twin-sized or a twin-XL one? There is a size difference between these mattresses, and you should be aware of it.
While both solutions are typically designated for those exact purposes, the difference could turn out to be quite substantial. This is why it is incredibly beneficial for you to be perfectly aware of what separates those beds to make an informed choice.
This is why we've decided to provide you with a detailed overview of both types and see how they stack against each other. The hope is that you'll be able to differentiate between them easily and, ultimately, make the best call when the time comes to purchase one. So, without any further ado, let's dive right into it.
Comparison Chart
| Features | Twin | Twin XL |
| --- | --- | --- |
| Length | 75 inches | 80 inches |
| Width | 38 inches | 38 inches |
| Affordability | Quite affordable | Slightly more expensive |
| Usage | Perfect for kids | Perfect for kids and single adults |
| Pros | It is the ultimate compact solution | It offers more space for your feet and could be used for longer |
| Cons | It's quite narrow in width | It's still as narrow as normal Twin |
Twin vs. Twin XL Detailed Comparison
Dimensions
Obviously, as you can probably figure it out from the name, the size difference between the models is the main factor when purchasing one of these beds.
Starting off with the regular twin mattress, it measures 38 x 75 inches, making it one of the most common choices for kid's rooms. They would usually outgrow the length when they hit high-school, and that's when their parents would consider buying a new, larger mattress. Up until then, it's a great solution as it's space saving and it allows you to furnish the kid's room with a lot of different accessories.
The extra long Twin measurements, on the other hand, are also quite convenient for a kid's room, even though people often use it for a college room bed or a guest-room solution. The reasons are simple – it's almost as space-saving as its counterpart, but it is capable of accommodating the higher length of older people. It's as simple as that.
Get More Info: The Ultimate Mattress Size Chart


Comfort
In terms of comfort, both mattresses perform comparatively the same given their intended purposes. A twin bed would be ideal for a small kid up until he or she outgrows the length, making it the best choice for your kid's room. They are also quite affordable so investing in one wouldn't disrupt your personal finance.
On the other hand, the added comfort of the 5 extra inches in the length of the twin XL makes it perfect for college rooms and guest rooms. This is because they would accommodate people who can be over 6 feet tall and their feet wouldn't have to be hanging loosely in the air.
Price
The prices are a bit different with the twin XL being a bit more expensive. However, this is only related to the bed itself as well as some serious spare parts such as frames, springs, and others of the kind.
When it comes to the accessories as well as the sheeting for the bed, it's fair to say that there is no significant difference. While twin bed XL accessories tend to be ever so slightly more expensive, it's not a difference that would ultimately determine your overall choice. Therefore, this is not a differentiating factor that you ought to account for as it certainly won't make a serious difference.
Recommended Room Size
This is another thing that you would have to account for when you're making the call. The recommended room size for a regular twin size bed is 7 x 10 feet or 10 x 10 feet if you have two of those fit in the same room. If you have a twin XL mattress, you can fit one within 7 x 10 feet, but you'd be jeopardizing on the length quite a bit, leaving you with less room to maneuver.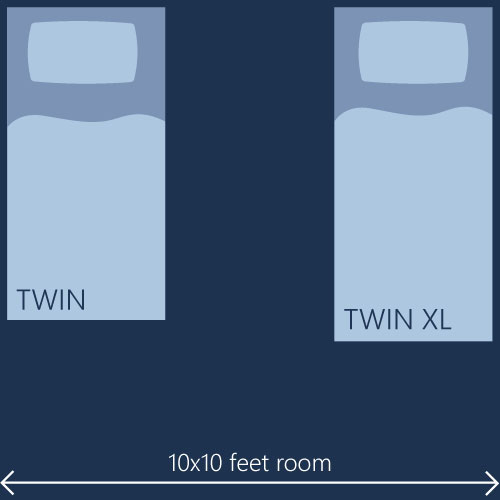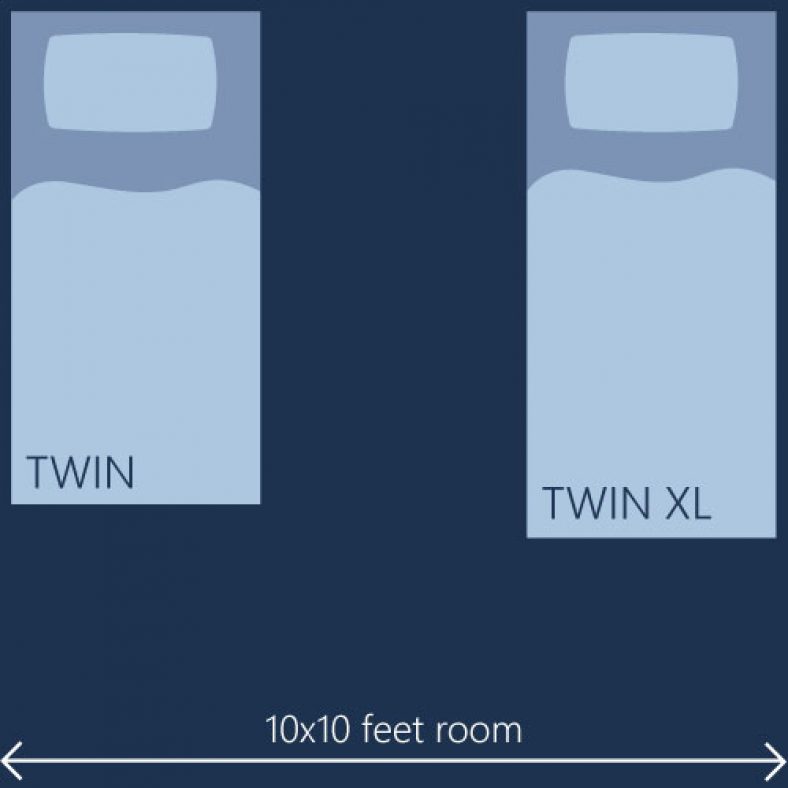 Twin Bed Pros and Cons
Twin mattresses come with a slightly shorter length which is the main differentiation. They do, however, have a lot of benefits.
PROS
It's a very common and easy to shop for bed size
It's quite affordable
It's available and fits almost any room size
It is very easy to move around
CONS
It is way too narrow for two people
It may be slightly shorter for adults or taller teens
Read Our Full Guide: Best Twin Size Mattresses
Twin XL Pros and Cons
The twin size XL reveals a 5-inch length difference which may just be the turning stone when you make your final call.
PROS
It allows more foot space
It is virtually the same price as a twin-sized bed
It is quite easy to move around
CONS
Requires more length of your room
Check Out Our Guide: Best Twin XL Mattress
Our Final Thoughts
If we'd had to choose a mattress between both of these right now, the purpose of it would be the main differentiation criteria. Since you can always sacrifice 5 inches of length in your room, the only thing that would really make a difference is who would be sleeping on that bed.
If you are looking for a single bed for your only child who's just turned 2 years of age and is ready to sleep independently, the regular twin mattress would be a great option, provided you don't have the extra room.
If you have the extra room, however, or you are looking for a quick and space-saving solution for a college room or a guest room, the twin XL is the most obvious option that we'd prefer to stick with every day.
As you can see, the choice is really not that hard, and all you have to do is make up your mind regarding the use of the bed. It's that simple. We hope that you've found those mentioned above useful and that you can easily make up your mind without wasting hours in searching.\