Transparency Disclosure – We may receive a referral fee for products purchased through the links on our site...

Read More

.
Choosing the best mattress for bunk beds isn't quite the same thing as choosing a mattress for a standard bed. You'll still need to think about firmness and support, of course, but the loft element means you'll also be considering safety, headroom, and more. Whether you have kids or frequently host out-of-town guests, you'll want to ensure that your bunk bed set-up is as comfortable as it is space-efficient. 
Calling on our extensive experience in the sleep industry, we've gathered a few mattresses we think work excellently when stacked. Read on for our top products and tips for choosing the best mattress for your bunk beds.
Best Bunk Bed Mattress Picks
The Best Bunk Bed Mattresses, Reviewed
Best Affordable Bunk Bed Mattress
Bowery
Hybrid Mattress

Best for Side and Back Sleepers

Firmness Level: 4/10 (Plush Soft), 6.5/10 (Luxury Firm), 8/10 (Firm)

120-Night Trial

10-Year Warranty
The Brooklyn Bowery is an affordable hybrid mattress available in three firmness options. The mattress comes in seven sizes, three of which should fit a bunk bed.
The construction of the Brooklyn Bowery starts with a stretchy cotton cover quilted to an inch of memory foam for a contoured, hug-like feel. The first layer is a 2-inch comfort foam, which provides cozy cushioning on top of the coils. The 6-inch coil layer features 1,032 individually wrapped coils to cradle the body, support the spine, and relieve pressure on the shoulders and back. The base of the bed features an inch of high-density poly foam for stability and durability.
What stands out about it?
The Brooklyn Bowery comes at an affordable price

, and you have 120 days to decide if this is the right mattress for your bunk beds.
Best Bunk Bed Mattress for Hot Sleepers
Nectar
Memory Foam Mattress

Best for Side, Stomach, and Back Sleepers

Firmness Level: 6.5/10

365-Night Trial

Forever Warranty
Although memory foam is prone to overheating, this Nectar mattress has a cooling trick up its sleeve: a 2-inch layer of gel-infused memory foam quilted to its cover. This provides a plush feel and helps regulate the bed's temperature, keeping hot sleepers comfortable. Next is the 3-inch transitional foam layer that allows for easy repositioning, making the Nectar a solid choice for all sleeping positions. 
What's more, the Nectar memory foam mattress offers a robust support system for healthy spine alignment in children and adults. The two bottom layers are firmer than the first two, so the spine position is always neutral.
What stands out?
The Nectar uses memory foam with a CertiPUR-US® certification, so you can be sure your little one is sleeping on a safe surface free of heavy metals.
Best Bunk Bed Mattress for Side Sleepers
Tuft & Needle Original
Foam Mattress

Best for Side Sleepers

Firmness Level: 5/10

100-Night Trial

10-Year Warranty
The Tuft & Needle Original is only 9.5 inches tall—an ideal height for a bunk bed mattress—but its support is robust enough for side sleepers. The top layer is a 3-inch proprietary T&N Adaptive® Foam that mimics memory foam and latex but should run a bit cooler. The base layer is a 6.5-inch poly foam, which gives the mattress its shape and keeps it from sinking in under pressure.
Overall, it's a simple bed designed to last long. The company offers a 10-year warranty, which says a lot about the quality of the mattress, and you have 100 nights to decide if this is the right choice for your child. It comes in six sizes, including a twin and a twin XL that should fit standard bunk bed designs, as well as a full for bunk beds that can accommodate a bigger mattress on the bottom.
What stands out?
The Tuft & Needle Original cradles the body, preventing the pressure from building up in a side sleeping position.
Best Hypoallergenic Bunk Bed Mattress
Nolah Natural
Latex Hybrid Mattress

Best for Back, Stomach, and Side Sleepers

Firmness Level: 6/10

120-Night Trial

Lifetime Warranty
People who are prone to allergies (or who often host allergy-prone guests) may want to consider a hypoallergenic mattress for their bunk beds. The Nolah Natural features eco-friendly and hypoallergenic Talalay latex wrapped in an organic cotton cover. The bed also has layers of GOTS-certified organic wool.
The Nolah Natural is 11 inches tall, featuring foam, latex, and Tri-Zone™ coils. The coils provide targeted support while allowing airflow to prevent the foam from overheating. Latex is already unlikely to overheat on its own, making this bed a good option for hot sleepers.
What stands out?
Nolah

offers free shipping, a 120-night trial, and a lifetime warranty with this latex mattress. 

Wool layers and the organic cotton cover provide breathability and cooling in addition to their hypoallergenic properties.
Best Luxury Bunk Bed Mattress
Saatva Youth
Innerspring Mattress

Best for Stomach and Back Sleepers

Firmness Level: 6.5/10

365-Night Trial

Lifetime Warranty
The Saatva Youth is made specifically for children with an innovative flippable design. One side is for kids between the ages of 3 and 7, while the other is for ages 8 to 12. Both sides are rated as 6.5/10 on our firmness scale.
Both sides also have an organic cotton cover, but they differ in their composition. The 3-to-7-year-old side has a 5-zone support layer that's firmer in the center to encourage proper spinal alignment. The other side has a layer of high-density comfort foam for pressure relief and breathability. One caveat: Because this mattress is meant for relatively small frames, anyone weighing close to 230 pounds probably won't find the support they need.
What stands out?
The Saatva Youth mattress comes in three sizes

, all of which should fit bunk beds (depending on the size of the bed).
Best Bunk Bed Mattress for Back Sleepers
Dreamfoam Essential
Memory Foam Mattress

Best for Back Sleepers

Firmness Level: 7.5/10

120-Night Trial

10-Year Warranty
Back sleepers should appreciate how the layers in the Dreamfoam Essential distribute weight to prevent pressure build-up in the lower back area. This mattress is available in multiple sizes, including a twin size that should fit most bunk beds.
The Dreamfoam Essential offers mid-range firmness, but you can choose between five height options for the twin size. There's a top layer of gel swirl memory foam to cool hot sleepers and respond to movement, and the base layer gives the bed stability while preventing the upper layers from sagging under pressure.
What stands out?
The

Dreamfoam Essential is a memory foam mattress with a CertiPUR-US® certification, which means it's free of harmful substances such as heavy metals.

You can choose between multiple sizes and heights based on your sleeping preferences and the size of your bunk bed.
What to Look For in a Bunk Bed Mattress
Size
The size of your bunk bed mattress is perhaps the most important factor to consider as you shop. Depending on the bunk bed frame you own, only certain mattress sizes will fit.
Twin Bunk Bed Mattresses
Most bunk bed frames are built to accommodate two twin-size mattresses in a twin-over-twin design. These mattresses measure 38 inches wide by 75 inches long. They're the narrowest standard mattress size available, so they accomplish wonders when it comes to saving space.
Twin XL Bunk Bed Mattresses
A twin XL bunk bed mattress measures 38 inches wide by 80 inches long. They're the same width as a regular twin mattress, but a full five inches longer. As such, they're a popular choice for tall or growing children and teens.
If you're considering twin Xl mattresses for your bunk beds, be sure to check whether your frame is long enough to fit them safely and comfortably.
Full-Over-Full Bunk Bed Mattresses
Larger bunk bed frames will fit two full-size mattresses. This mattress size—54 inches wide by 75 inches long—enables single sleepers to really spread out, and can even provide enough space for two people per bed. The tradeoff is that full bunk beds will take up a lot more room than narrower models.
Queen-Over-Queen Bunk Bed Mattresses
Yep, you can even stack two queen-size mattresses on top of one another with the proper bunk bed frame. Queen bunk beds are a significant investment, but if you often host couples at your home, they can be a luxurious upgrade to traditional, smaller models. These mattresses typically measure 60 inches wide by 80 inches long.
Mixed Size Bunk Bed Mattresses
Bunk bed frames come in a wide array of sizes, and not all of them pair mattresses of the exact same size. You can find bunk beds that combine almost every variety of the mattress sizes mentioned above, including twin-over-full bunk beds, full-over-queen bunk beds, and more.
(Perhaps it goes without saying, but we'll make note of it anyway: Safe bunk bed designs that mix sizes will always position the smaller mattress size as the top bunk and the larger size as the lower bunk.)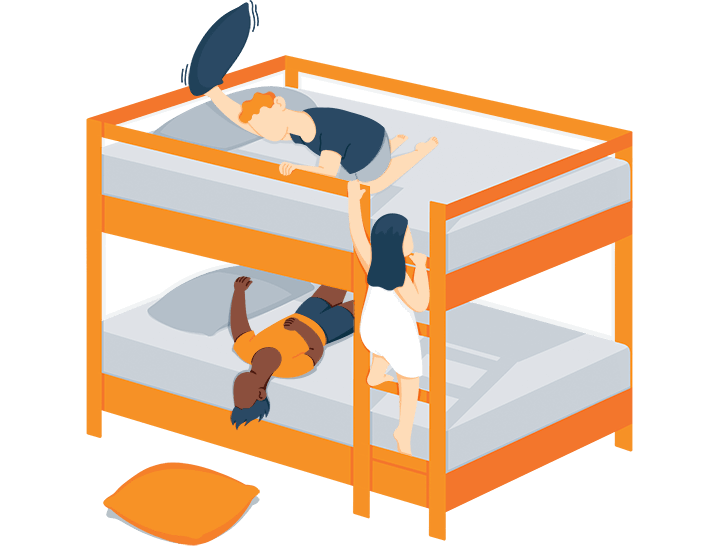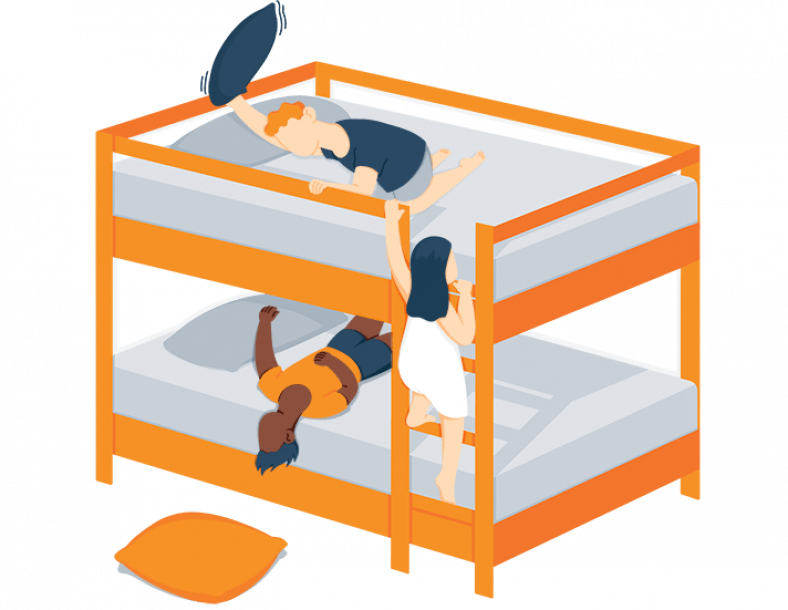 Thickness
The thicker your mattress is, the more comfort and support it can offer. However, bunk bed mattresses should skew thinner than mattresses designed for traditional bed frames. Otherwise, the height of the mattress can exceed the frame's guardrails, putting sleepers on the top bunk at higher risk of a fall.
A thick mattress on the bottom bunk can also decrease the amount of headroom available between the mattress and the top bunk. A taller child might be in danger of bumping their head when they sit up, and a parent reading a bedtime story might not be able to sit comfortably on the bottom bunk.
Thinner mattresses also suit bunk beds better when it comes to making the bed—they're much more lightweight and maneuverable.
The best bunk bed mattresses should not compromise on comfort, even if they're less thick than a classic mattress. Most manufacturers keep this in mind, and have developed mattresses for bunk beds that don't skimp on quality or comfort, even as they retain a low profile.
Firmness
Firmness is, of course, a matter of preference. But it can be tough to know what firmness a child would find most comfortable without a bit of testing.
Medium-firm options are typically a safe bet if you're opting to order your bunk bed mattress online. You might also take a trip to a mattress store and try out a few different mattress models. Ask the people who will be sleeping on the bunk beds which mattresses feel best to them, and try and gauge their ideal firmness level.
Many online mattress brands offer extended sleep trial periods, enabling you to try out a mattress for several weeks or more. Rest assured, you don't have to feel like you've committed forever to a set of bunk bed mattresses that don't satisfy.
Learn More: Mattress Firmness Guide
Durability
Kids who sleep on bunk beds will also likely use them for play. Though you should discourage any dangerous jumping or climbing, the mattresses might still see a fair amount of wear.
You'll want to invest in beds that can stand up to this treatment without sagging or deflating too much over time. Although these mattresses probably won't be in use forever, you should still be able to get several years of cozy nights out of them.
Look into the materials used in each bunk bed mattress you're considering. Prioritize high-quality foams and spring units that are built to last, whether that means they have an appropriately high coil count or a low coil gauge. Additionally, steer clear of foams that aren't certified by trustworthy third-party organizations like CertiPUR-US®.
Cooling
A bunk bed mattress with modern cooling features will keep kids and guests at a comfortable temperature throughout the night.
Look for foams with gel infusions, aerated structures, and other specializing cooling technologies. If you're considering innerspring or hybrid mattresses, make sure that the coil unit promotes a good amount of airflow.
The mattress cover can also make a noticeable difference when it comes to distributing body heat. You'll want to prioritize breathable fabrics, such as cotton, and keep an eye out for proprietary cover designs with fibers that maximize temperature regulation.
Customer Reviews
It's good to ask for someone's opinion who has used a specific mattress before pulling out your credit card. They can be a costly investment, and you don't want to make a purchase you'll later regret. By reading customer reviews, you can get opinions from people who have actually slept on it—or at least, whose kids have slept on it.
Don't just read one review and make your decision, though. Ask for second and third opinions. Read the most favorable and most critical reviews to get an idea of the best and the worst of your future bed.
When reading, it's important to take things with a grain of salt or put them into perspective—some of the people who take the time to review tend to be those who only had horrific or incredible experiences. Chances are, your experience will fall somewhere in the middle.
Bunk Bed Mattress FAQs
What's the difference between bunk beds and loft beds?
A loft bed is a single bed raised up high, allowing you to use the floor and wall below for a myriad of purposes. In essence, loft beds are bunk beds with no bottom bunk. This setup still gives sleepers the fun "high-up" feeling while conserving even more space.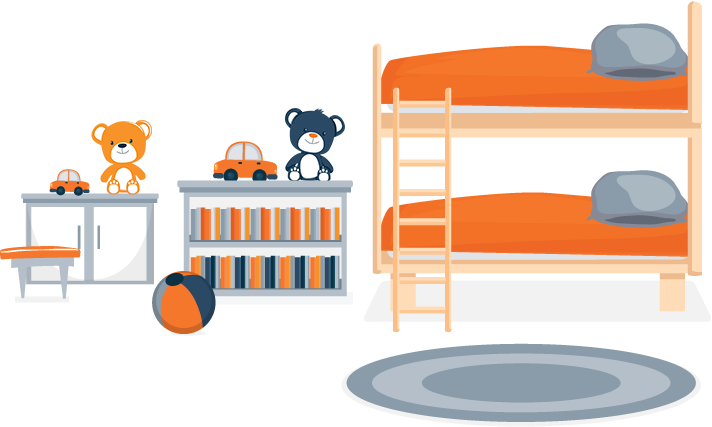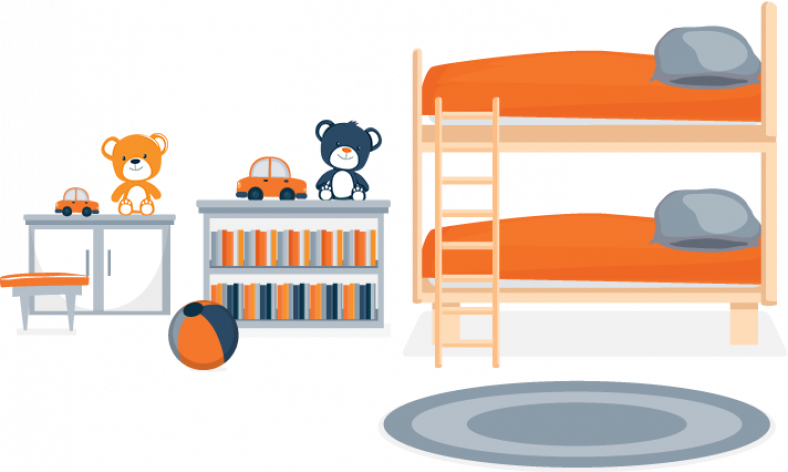 The best loft beds tend to incorporate a storage area, desk, or play space separated by curtains into their design—and if they don't, you can add those things yourself. If your loft bed is a simple, bare-bones raised bed, you can still make the most out of that space. Pick out a desk to create a study space beneath, or attach curtains to block off the space for storage or a hideaway play area.
The principles for finding a loft bed mattress is similar to that of bunk beds. This means you'll want to follow the same rules for considering the loft bed mattress size. Try to follow the same considerations for mattress height for bunk beds.
Read Our Full Guide: Best Rated Loft Beds
Is it safe to sleep on the top bunk?
This is the question some parents face when their kids come asking for a bunk bed. Many parents naturally yearn to give their little ones everything they want in life. However, safety is obviously the priority.
As a parent, it can be difficult not to imagine your child on the top part, rolling over after a bad dream, and toppling off the side of the bed. This is why parents often ask, is the top bunk bed safe?
The answer is yes, absolutely—usually. If you are investing in a well-built bed constructed from high-quality, safe materials, then your little one is in safe hands.
The next thing you want to look into after the materials it is made from is guardrail height. Like we mentioned before, the thicker your bed is, the less guardrail is left exposed. The higher the guardrail is in the first place, the less of an issue that can be.
Should bunk beds have stairs or a ladder?
Whether the bed should have stairs is a matter of preference. However, one thing is certain: Stairs certainly can make things easier!
Actual stairs take up more space than a ladder but can be safer and easier for younger children—or parents while making the bed. However, children who are a bit older are more than capable of using a ladder, which does save space.
Some don't have stairs or a ladder and, rather, have slotted ends that can be used to climb up. Whatever the method is, as long as there is a safe way to get onto the top bed, then it doesn't matter. Try looking at different bunk bed styles and just pick the one that you and your kids are most comfortable with!
Are bunk beds safe for toddlers?
What child doesn't want a bunk bed? Of course, it becomes a parent's discretion to determine when their wee one is old enough for one. So, when is the time right to give into your children's pleas and purchase one for them?
A good general rule of thumb is not to let children under the age of 6 use the top bunk. However, if you have two children of different ages, then your child of 6 or older can use the top bunk while the younger one is safely on the bottom. If both of your children fall under the age of 6, though, it's best to tell them to wait until they are a bit older.
Get More Info: Are Bunk Beds Safe For Kids?
Are bunk beds too small for teens?
Bunk bed mattresses are usually somewhere around 6 inches thick, which may be too small for a rapidly growing teen. You'll want to consider weight limits for both the mattress and the overall structure of the frame when you are deciding if a teen has outgrown their bunk bed days. Height may also be a factor, and no teen wants to sleep with their feet hanging over the top bunk.
If you are looking to upgrade your teen's sleep experience, you'll want to pick a bed and a frame that can allow them to comfortably transition into their adult size and shape, and the correct investment could even follow them off to college. Look for versatility and durability when shopping for growing children, and you're likely to see a better return on your investment.
View Our Complete Guide: Best Mattresses for Teenagers
Should you get a memory foam mattress for bunk beds?
The two most common types for bunk beds are spring and memory foam. But which one should you go for?
Foam allows the user to sink into them as the material forms to the body like a cloud.


---

Spring mattresses are a standard option that provides optimal comfort and support, but they might have a shorter lifespan, depending on the materials. Surely, this type is interesting for kids, because of the springs that make it bouncy, but if you're a person who wants the safest option, then it could potentially be better to opt for the first choice.


---
With a memory foam mattress, jumping and bouncing are difficult and unrewarding. Think about encouraging safety instead, and not giving your children any reason to want to jump on their beds. Memory foam beds are a great—and comfortable—way to do this.
However, if you do have a spring mattress you were hoping to use on the bunk bed, consider saving it for the bottom section. This at least leaves you with one product less to buy, and it also potentially minimizes the risk of injury.
Conclusion
As you can see, there are many great options out there to choose from—and there's no one-size-fits-all bunk bed mattress that will fit everyone's preferences. Whether you're looking for something firm or soft, and depending on what size you are after, your perfect fit may be very different from someone else's.
However, with a little bit of dedicated research, you should be able to find the best bunk bed mattress —and hopefully, our top 5 picks have helped you narrow down your decision!
Rachael is a content writer for Sleep Advisor who loves combining her enthusiasm for writing and wellness. She's had a passion for writing since she was a kid when she wrote awful poetry. She's honed her craft quite a bit since then and considers herself a lucky duck to get paid to do what she loves.
Embracing the remote work life, she occasionally takes her work on the road and lives out her travel writer pipe dream.
In her free time, she attempts to meditate regularly, rides her bike to Trader Joe's, and enjoys trying every type of food that she can get her hands on.