Transparency Disclosure – We may receive a referral fee for products purchased through the links on our site...

Read More

.
Whether your kid recently found a PB Teen catalog or you're headed for a college dorm, you've likely encountered the concept of loft beds, and you have to admit it has you intrigued. Perfect for creating the ideal sleep/desk situation, these products make the most of small spaces in style, creating a nice cocoon of workable space below the frame, reminiscent of elementary school blanket forts for all age groups.
Lucky for you, we are also intrigued, which is why we put together this guide to help you find the highest rated loft bed for your needs.
9 Top Rated Loft Bed Reviews
DHP Junior –
Editor's Choice
Dimensions: 51″ W x 50″ H x 78″ L
Max weight limit: 200 lbs
Sturdy metal frame with built in ladder and guardrails
This sleek metal loft bed is a great option for children's rooms as its simple design should match most decor themes and it's not too high to be a concern for most parents. This model has secure safety rails to avoid falling hazards and a slanted ladder for easy access.
This model probably won't have enough room for an adult desk in the four-foot area below the top bunk, but for kids, you can fill the little space with anything from stuffed animals to a drawing desk or playroom. The options are endless. The metal frame should be easy to assemble, and with slats to support the mattress, no box spring is necessary.
Parents love that the DHP Junior allows for easy storage in small rooms and that they can even store another mattress below for when guests come to visit.
DHP Junior with Slide –
Unique Design
Dimensions: 77.5″ W x 98.5″ D x 43″ H
Max weight limit: 200 lbs
Sturdy metal frame with built in ladder, guardrails and a slide
This product was made for fun. Soon to be "best parents in the world" can even install a slide to this model for a playground effect. It should never be easier or more fun to get the little ones out of bed in the morning.
For kids who want a private room under their bed, you can even order curtains in a variety of colors to create a little enclosed play area resembling a fort, bakery, and more. Made to fit a twin mattress, this model should support up to 200 pounds of weight including a mattress. Thanks to the supportive slats, there is no need for a box spring with this product.
Reviewers love the affordable price and that this model keeps kids entertained in their room for hours, meaning fewer naptime meltdowns for some parents.
Walker Edison Furniture Company –
Minimalist Design
Different design options
Max weight limit: 250 lbs
Sturdy metal frame with built in ladder and guardrails
This tall metal loft bed is a dream come true for college and high school students. With plenty of space for a desk or clothing racks below, this product is both fashionable and sturdy. This larger design can support a nine-inch mattress rather than the standard six-inch mattress for children.
Though this model would work well for teens and adults, it should also be safe for older children who can climb a metal ladder. Its height should leave plenty of room for activities below without making you feel unsafe, and with step-by-step instructions, most reviewers didn't struggle to set this product up.
Keep in mind the ceiling height when buying, however. Shorter rooms may mean less space to sit up comfortably in this taller product. Altogether, the affordable price and versatility of this product make it our favorite minimalist option.
Dimensions: 79.9" L x 41.7" W x 71.7"H
Weight limit: 200 pounds for bed, 50 pounds for desk
Sturdy metal frame with two built-in ladders and guard rail
Two additional shelves next to the desk
The KLMM loft bed is an excellent choice for the hardworking student in your life, and it's our pick for 'Best Desk.'
While other loft beds tend to place a desk facing toward the back, this model has the desk facing outward from the head of the bed, which should make the workspace feel more spacious and open. The desk can hold up to 50 pounds, and for additional storage or decoration space, there are two shelves conveniently stacked to the side of the desk.
The bed's design features a sturdy metal frame that can support up to 200 pounds and comes with two built-in ladders and a full-length guard rail. The mattress is held up by 12 secure metal slats, so no additional box spring is needed. The product is easy to assemble, and all the necessary tools to put it together are provided with the bed.
DHP Storage Steps –
Great for Toys
Dimensions: 92.5″ x 41.5″ x 44.5″
Max weight limit: 200 lbs
Sturdy metal frame with built in storage stairs and guardrails
For parents of children who never seem to have enough toys, our favorite option is the DHP Storage Steps model. This product not only has stairs for easy access to young children, but the steps double as drawers for toy storage, making clean-up time easy and fun. With more storage beneath the metal frame, you'll finally have somewhere to put away the toys, and if you get a curtain, a place to hide them.
This sturdy metal frame is closer to the ground than other models and includes rounded edges to eliminate some safety concerns. The product also features sturdy guardrails all around the perimeter to prevent your little ones from rolling out of bed, though the drop would be slight. Reviewers are happy with how sturdy this product is, noting the lack of rocking that occurs in other models.
DONCO Study Loft –
Best Storage
Dimensions: 80″ L x 41.29″ W x 43.30″ H
Sturdy Pine frame with built in ladders and guardrails, shelves, drawers and a pullout desk
For kids who struggle to keep their rooms tidy, or who like to keep books close when they sleep, this option easily made the list as our favorite storage model because of its drawers, shelves, and intuitive design to save space. Whether you choose to use the three spacious drawers under the bed for clothes, toys, or books, this product should make it easier for your little one to keep track of their things.
If you struggle with assembly, you can hire a team to put this product together for you, maximizing safety, and your free time. Reviewers love that the model is made from high-quality materials despite the low price. It is made from pinewood, meaning it should be sturdy and safe for little ones without wobbling when they climb or reposition.
DHP Simple –
Multifunctional Design
Dimensions: 78″ W x 60.5″ D x 72.5″ H
Max Weight: 300 lbs
Sturdy metal frame with built in ladders and guardrails
Our favorite multi-functional loft bed comes from DHP. This affordable metal frame keeps the mattress high enough for some to comfortably walk below, meaning the sky (or the top bunk) is the limit when it comes to options for the lower space. While some use it as a hangout spot complete with a beanbag and rug, it could easily become a closet or study space.
This product comes in four colors to suit your needs and its simple design means setup should be quick and painless. It comes with secured metal slats to avoid the need for a bunk board or box spring and should support up to 300 pounds on the top bunk including the mattress. With a slanted ladder and guard rails as security features, the minimalist design should be safe and simple to navigate.
DHP Abode –
Great Modern Flair
Dimensions: 80″ L x 57.5″ W x 72″ H
Max Weight: 300 lbs
Sturdy metal frame with built in ladders, guardrails, shelves and a desk
This attractive full-sized loft bed is a college student's dream. Able to support 300 pounds on the top bunk and fifty pounds on the desk, this set makes the most of a small space without compromising comfort. The sturdy metal frame has two ladders so you can position the model in the most convenient space without having to worry about climbing access.
The product comes in two colors and ships in one box for easier assembly. Complete with a vertical shelving system, the frame can even help you stylishly organize your materials. With no box spring needed and high safety bars, you should be able to use your mattress of choice without rolling off the top.
Reviewers love the amount of space this product saves and the affordable price. Perhaps best of all, you don't have to sleep in a twin to have an affordable and convenient loft bed.
DHP Studio with Desk and Bookcase –
Best Use of Space
Dimensions: 77.5″ x 41.5″ x 74″
Max Weight: 200 lbs
Sturdy metal frame with built in ladders, guardrails, shelves and a desk
This twin-sized frame makes the best use of below the bed space of any product we have seen. With four wide built-in shelves, a desk, and a unique design, this product would be the envy of any student who needs a study space. It even saves you the time and effort of picking out furniture to match and fit adequately below the frame.
One of the best features is that even with all of the built-in storage below the bed, it shouldn't feel cluttered or claustrophobic. There is still plenty of room for a chair, which can stow easily below the desk. Additionally, the shelves are big enough to accommodate a wide variety of decor, books, or even electronics.
Reviewers said assembly was simple, if lengthy, and they were satisfied with the finished product.
Loft Bed Buyer's Guide
Advantages of Having a Loft
Like a bunk bed, a loft bed takes advantage of vertical space but without the second bunk, making room for a variety of activities or storage below the mattress.
 Great for Small Spaces: If you need to fit a desk or a playroom and a place to sleep in one small room, loft beds are a great way to have the best of both worlds. With a variety of designs, it's a great way to add some fun to most spaces.


---

 Extra Storage Capabilities: Whether your model has shelves, or you decide to stow a small dresser, loft beds make it easy to attractively store everything from clothes, toys, and books without cluttering a room.
Who Can Use Them?
While loft beds with a slide might be a little too whimsical for most adults, there are plenty of modern and attractive options for adults and teenagers to sleep on to save space.
Kids: Children age three and up should be able to safely use most loft beds, though it's a good idea to keep in mind their motor skills when purchasing. While a nine-year-old may be able to climb a metal ladder, a four-year-old may be best suited for a set of sturdy stairs.


---

Adults: There are plenty of full and twin sized models that should be able to accommodate adults or teenagers in areas where they need to save space. They can be great for college dorm rooms or small apartments with roommates.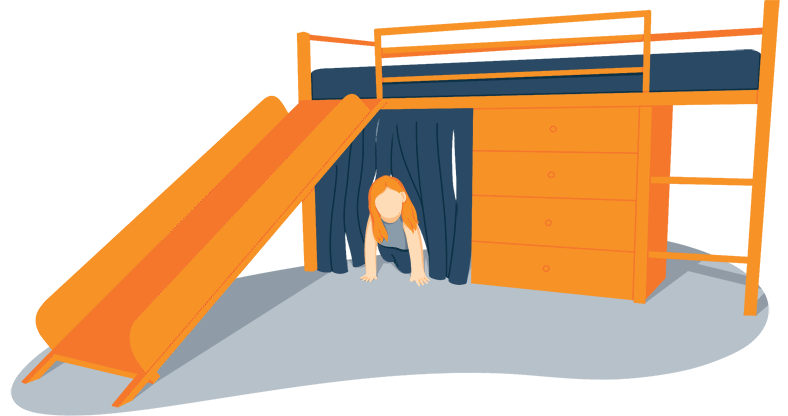 Additional Considerations When Buying a Loft Bed
Size
While most loft beds accommodate a twin mattress, some work for full-sized models as well. Before making a purchase, make sure the option you choose will comfortably fit in your space. Take slanted ceilings into consideration to make sure you can fit your necessities below and still be able to sit up on top.
Safety
When purchasing a frame, keep in mind the ladder height, weight limit, and recommended mattress dimensions to ensure you are maximizing the safety potential of a product. If your mattress is too tall, you may not be able to take advantage of the safety bars. Consider the entry method for the bed to ensure you or your child will be able to safely climb to the top.
While each of our choices has been tested to meet specific safety standards, we recommend following assembly instructions meticulously to ensure you don't make any errors that could cause injury.
Find Out More: How to Make a Loft Bed Sturdy
Weight Limit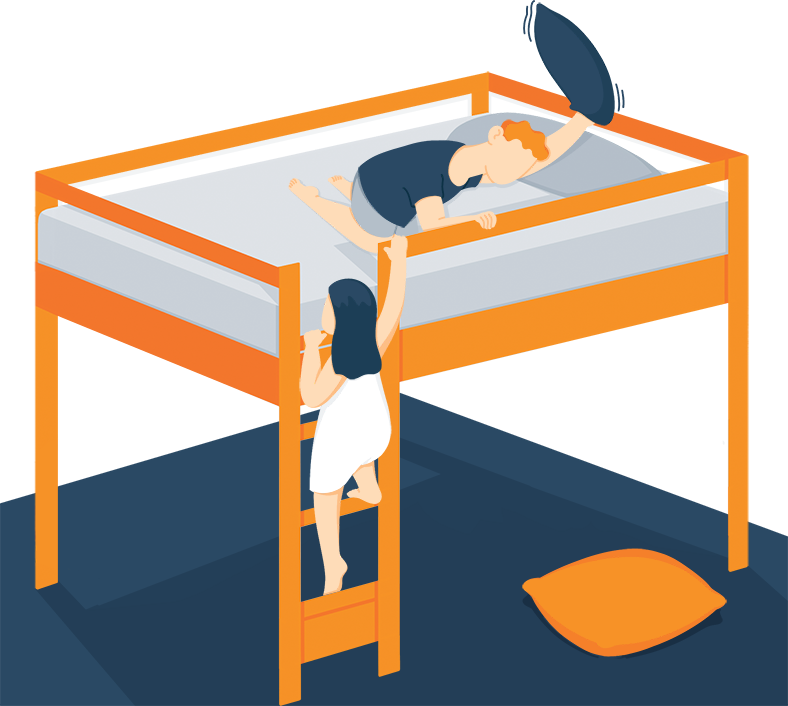 Upper weight limits for loft beds are based on the highest weight that shouldn't compromise the structural integrity of the product. While wooden loft beds will likely hold more weight, this doesn't mean you should exceed the recommended limit just because it doesn't wobble. Though you may not come crashing down immediately, over time this could cause fast wear on the frame and put you at risk for injury.
Keep in mind that your weight isn't the only factor to consider. The total weight limit includes things like mattresses, blankets, and whatever else you may store up top.
Durability
If you're planning on making your frame last for years and potentially pass it down from older siblings to younger siblings, wood might be your best bet. While metal frames should be sturdy and safe, over time they may be more subject to bending or loosening than materials like wood.
Comfort
Using a loft bed shouldn't interfere with comfort, but if you're planning on using a memory foam mattress, you may consider using a bunk board or choosing a frame with a higher weight limit to support it correctly. Additionally, if you're worried about hitting your head on a metal or wooden frame, you could line the edges with foam, or pool noodles for little kids.
Shelves/Bookcase
Many frames have built-in shelves for storage and even bookcases to help with organization. If you want to avoid putting holes in your walls or just want the added convenience, check our list for the best shelf/bookcase option.
Desk and Workstations
If you're buying a loft bed for a college dorm or for your child who needs a work station, many options include built-in desks and workstations. While some stow below the frame, others extend beyond the frame.
Slides
If your kids struggle to climb down a ladder or if you just want a fun way to start the day, an attachable slide is a great option. They aren't too steep and provide a fun play zone right in their bedroom.
Common Build Materials for Loft Bed
Wood
Good quality solid wood is the heaviest and in some cases the most sturdy material used to make loft beds. These products shouldn't creak or wobble as much, and they often have higher weight limits than other options. However, this largely depends on assembly and materials, so we wouldn't recommend basing your decision solely on whether a product is made of wood.
Metal
Metal loft beds are perhaps the most common model as they are easy to put together, lightweight, and versatile. Metal loft beds may wobble more than other models so it is important to strictly adhere to the safety requirements and the weight limit to ensure you maximize safety.
Plastic
These products are lightweight, inexpensive, and come in a variety of colors. While they should be sturdy and reliable, they might take a little more assembly than other varieties. The good news is that these materials shouldn't put you at risk for splinters and the edges shouldn't be as sharp as metal.
Mixed
Some products are made from a mix of materials. The most common examples are metal and plastic, or wood and plastic. These options may save money and sometimes make assembly easier when you can avoid using hardware.
Our choices come in a variety of materials to help you find the best option for your needs.
Conclusion
Loft beds are a great option for both adults and children when it comes to safety, convenience, and saving space. While it may be non-traditional, there are so many fun models to choose from that can take most rooms from boring to enviable with a little assembly. If you're looking for a cheap way to redo a children's room, our recommendations are a great place to start.
For college students and adults, a loft bed is a great way to create an enclosed study space away from the library for getting homework done or just enjoying a hang out space.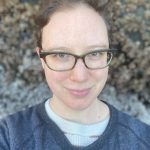 As Sleep Advisor's Performance Editor, Melanie writes and edits content throughout the site to ensure it's accurate, engaging, and up-to-date.
Sleep has always been a top priority for her—even at childhood sleepovers, she was never able or willing to pull an all-nighter. After spending some time researching studies and writing articles for a sleep hygiene app, she became hooked on sleep science writ large.
These days, she's a proud member of the Sleep Advisor editorial team and finds continual inspiration in the best sleeper she knows: her enormous cat, Cole.