Transparency Disclosure – We may receive a referral fee for products purchased through the links on our site...

Read More

.
Bunk beds are a great option to save space, money, and add an element of privacy to a shared room. They're not just for kids, they can add privacy to a college dorm or optimize space in a bedroom. Additionally, there are a variety of features available to suit various needs.
We've created this list of the highest-rated bunk beds with a buyer's guide to help you know what you need in terms of safety and function while helping you optimize sleep within your budget.
7 Top Rated Bunk Bed Reviews
Stork Craft Hardwood White –
Good Quality
Solid hardwood
White color
Full-length guardrails
Can be two separate beds
Another favorite from Stork Craft, this hardwood model is the best lasting product we could find. Made from Rubberwood, this bed is sturdy, dense, and durable. It can fit two twin mattresses, one per level, and can also easily be split into two beds.
The beds are supported by evenly spaced slats on each level. This eliminates the need for a box spring and also saves space and money. The guardrail on the upper level was designed for safety to protect children from rolling off the bed or strangulation. This is good news for parents of children who always seem to be getting stuck in small spaces.
With easy and fast assembly, you should be ready to go shortly after your bed arrives. Some reviewers have kept these beds for over four years and through multiple new babies and room changes without any problems. It may be difficult to find a better quality product for this affordable price.
Walker Edison –
Twin Over Twin
Metal
Multiple sizes available
Full-length guardrails
If you're looking for a bunk bed for adults or larger children, you'll want to be sure you find at least a twin over twin model to make sure your mattress will fit. Some children's beds only fit singles or child-sized mattresses. For the best twin over twin option, we chose to review Walker Edison's product.
This sleek black steel frame has supportive slats to eliminate the need for a box spring and should support 250 lbs per level. The bed has a remarkable 44 inches of clearance between the levels, so taller bottom level sleepers shouldn't hit their heads when they wake up to their alarms. The average adult should be able to comfortably sit up and complete other activities while sitting on the bunk.
This product has an attached vertical metal ladder and a guard rail for the top level to prevent falling off. To make better use of your space, you could place storage bins within the 8 inches of space below the bottom bunk.
Dorel Living –
Twin Over Full
Metal
Multiple sizes available
Three color options
Can be two separate beds
If you're shopping for a bed to fit an adult or teenager and a child, you may consider purchasing a twin over full model. Dorel Living's model is our favorite. Made of hardwood, this bed has a slanted ladder with wide steps for tender feet, and even comes in four color options.
The bed has an upper weight limit of 165 pounds per level, so this bed would best suit smaller adults and teenagers on the bottom bunk. The manufacturer also recommends using a spring mattress to prevent the rapid wear of the frame. Reviewers mentioned the assembly was quick and simple, mostly requiring the use of an Allen wrench.
The best praise we have heard about this product comes from its solid and stable function. If you have kids that like to horse around or play on their beds, this product could be what you're looking for. The extra space on the bottom level can even make a great spot for playing in a smaller room and the space below the bed could work for added storage.
Walker Edison –
Convertible
Solid wood
Five color options
Full-length guardrails
Can be two separate beds
Some families like to be able to stack and unstack the beds when family comes to visit, to save space, or to prepare for the future when their children stop sharing a room. Whatever the reason, if you are planning on converting your bunk beds into separate beds frequently, or the other way around, we've got you covered. Our favorite option is the Walker Edison Wesley Wood model.
This made the list because the style is undeniable. When other bunk beds are broken down, sometimes it's painfully obvious that the two beds are supposed to be stacked due to the unremovable safety bars, or varying heights due to the necessary space above the bottom level. This product should eliminate these problems with its simple and even design.
Reviewers were happy with the ease of putting this product together and with the slats that support the mattress without a box spring. Some reviewers recommended purchasing a bunk board for extra support if using a heavier memory foam mattress.
DONCO –
Full Over Full Trundle
Solid wood
Five color options
Full-length guardrails
Can be two separate beds
Trundle beds are a must-have for children's sleepovers, children who might need their parents close by in the night and for homes with frequent overnight guests. While trundle beds have been around for decades, many don't know they also come in bunk bed form. If you're ready to fit three beds into the space of one, keep reading for our review.
Our favorite full over full trundle bed brand is DONCO. It easily made the list due to its solid and sturdy construction and its spacious design. According to reviewers, this product is great for sleepovers or when company comes to visit. With enough space to comfortably accommodate three sleepers and a compact design, this bed has tons of value. Reviewers also said their kids loved the space the bed saves, leaving plenty of room for playtime when the trundle is stored.
There are 30 inches of clearance for the lower bunk to help avoid bumped heads for taller sleepers, and when the beds are separated to be two fulls, the non-trundle should have almost a foot of clearance below the bed for additional storage.
DHP –
Twin Over Twin Trundle
Steel
Full-length guardrails
Integrated 4-step ladder
This sleek white twin over twin trundle model is a parent's dream for an affordable and space-saving bed. Able to fit three sleepers comfortably, the DHP is our pick for a child-size bunk and trundle bed. If you don't have the time to assemble it, or you just don't want to bother, the company offers expert assembly for an added fee to help get you rolling.
According to reviewers, this product is great for sleepovers and for parents who share custody of their kids. With enough space to comfortably accommodate sleeping and an easy to compact design, this bed seems like it can do it all. Reviewers said their kids loved the space the bed saves, leaving plenty of room for playtime when the trundle is stored.
The top and bottom bunks are made to fit two twin mattresses with supportive metal slats to keep them in place. For the trundle, many reviewers chose to go with a slimmer mattress for easier storage. Once the trundle is stowed or open, the wheels can lock into position for safety.
DHP Miles –
Twin Over Futon
Metal frame
Available in four colors
Industrial design
Other sizes available
If you're short on space, a bunk bed that features a futon on the bottom can be a great solution. While the top bunk serves as a regular bed, the futon can double as a couch and guest bed when friends or family stay over. Furthermore, the DHP Miles bunk bed offers a fantastic product at a fraction of the price of other models. 
The DHP Miles features a sturdy metal frame and industrial design for a hip and modern look to add to your home. Customers can also choose among four color choices, including black, blue, silver, and white. 
What stands out
For added safety, the top bunk includes 12.5-inch guard rails around the entire bed, along with a sturdy ladder to help ease the process of getting in and out.

The product ships right to your home and should require easy assembly to put together.
Bunk Bed Buying Guide for Adults and Kids
What Are Bunk Beds?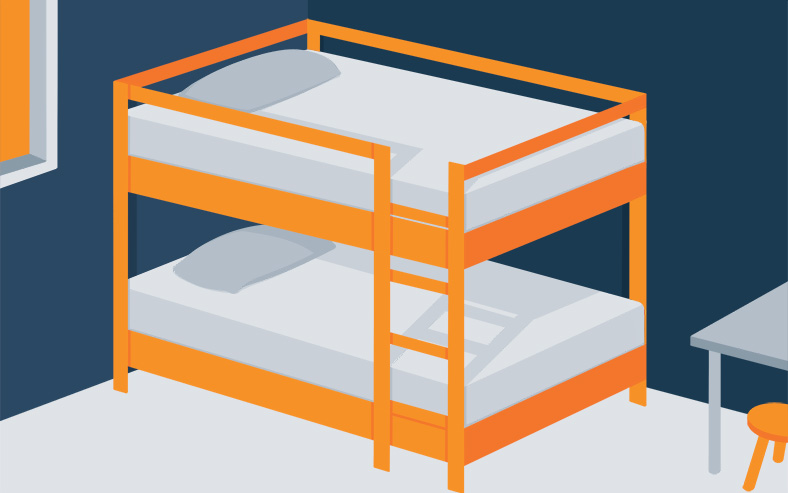 If you didn't have siblings or you never had to share a room, you may not have ever experienced the unparalleled fun of having a bunk bed. The term bunk bed generally refers to two beds stacked on top of each other to take advantage of vertical space in a room shared by two or more people. Whether they are used at home or an overnight summer camp, the idea is generally the same.
Bunk beds are usually two twins stacked together, they aren't always the same size. They can also be full beds and have a trundle bed or futon below.
What Are Their Benefits?
Bunk beds can be great for younger kids who share a room, for college dorm rooms with limited space, and for parents or grandparents who only have kids staying with them part-time. While some are fused together, many bunk beds are made to split into two separate beds depending on user preference.
Bunks beds save space by stacking vertically and by creating storage space beneath many models depending on how raised they are from the floor. Many products are made to fit twin-sized mattresses and have their own support systems such as slats or bunk boards to eliminate the need for a box spring. The products we recommend are built to last, so whether you are just starting your family, or you're expecting grandkids, bunk beds are a great long-lasting solution.
Designs and Styles
Though it may seem like the idea is pretty straight forward, manufacturers have gotten creative to find ways to keep giving customers what they want. The good news is that bunk beds are not just for kids anymore. In small college apartments, full-over-full or twin-over-futon models are great for creating seating, increasing privacy, and taking advantage of vertical space—the number one piece of advice on your average "small apartment decorating guide."
Though the most popular and somewhat "traditional" bunk beds are stacked twins, you can also get smaller and larger sizes, usually in full or single sizes. While none of our reviews are for larger than a full-size, full or twin over queen-sized bunks do exist. Some are even convertible and can separate into individual beds.
Materials
When choosing a new bed, it's a good idea to know what to expect when it comes to materials. From wood to metal to plastic, each material has pros and cons. Before you buy, read our guide to find the best options for your needs.
Wooden – Wood is a classic and sturdy option for a bedframe, and in some cases can support more weight than metal options. However, some types of softer wood may be prone to splintering, before buying, it's a good idea to be aware of the weight limit of the bed and ultimately let this information influence your decision.


---

Metal – Metal is a great option for kids who are prone to messes as the material is easy to wipe down. However, some metal frames could have sharp edges or be prone to bending. This can occur because of improper assembly, so we recommend following guidelines meticulously.


---

Plastic – Some products are made from a sturdy plastic-based material at a lower price. While these are generally safe and easy to clean, they may not support heavier sleepers.
Getting to the Top Bunk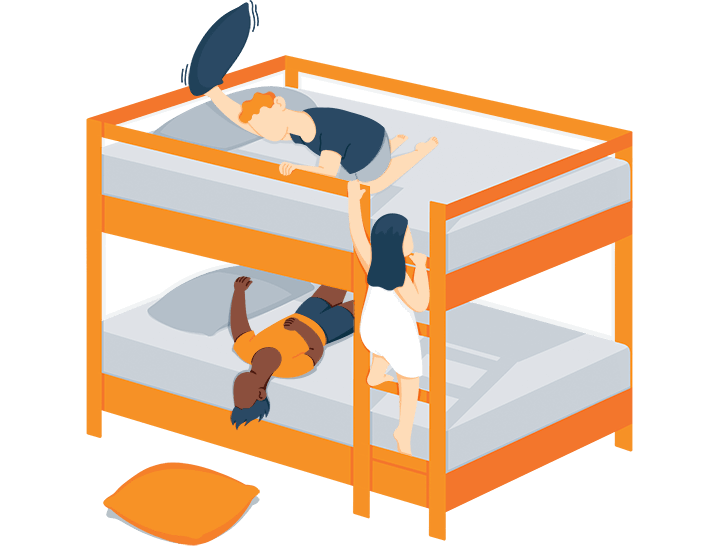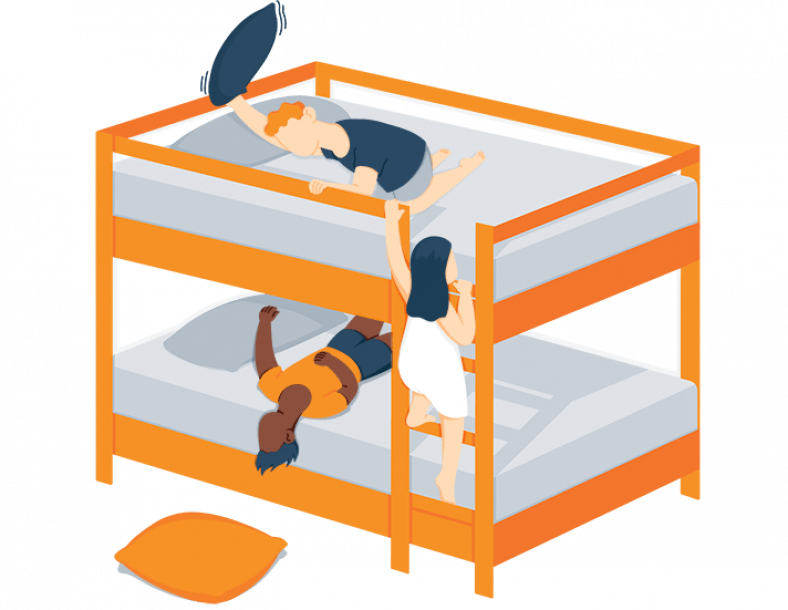 Climbing up to the top bunk isn't the same experience for all children and adults. When buying your new bed, here are some factors to consider.
Stairs – Some models include easy to climb stairs for smaller children or anyone who may have trouble with a ladder. Stairs are usually more sturdy and safe, but tend to take up more space and may cost more.


---

Ladder – The most common way of getting to the upper level is via a ladder. While some are slightly slanted to make climbing easier, many are directly vertical with a variety of designs. While lighter children with little feet may be able to nimbly climb small round steps, adults or teenagers with larger feet may be more comfortable with a flatter design.


---

Rungs/Slats – Using rungs or slats in a bed design usually allows for easy installation as these are attached to the frame itself, saving space and probably set up time. These designs are great for kids and teenagers, though older adults may prefer a ladder with wide steps or stairs.
Safety
Possibly the most important element when it comes to these products is the safety precautions taken by the manufacturers. When you are putting together a product by yourself, it is extremely important to follow the instructions meticulously. When companies offer professional assembly, it may not be a bad idea to pay a little extra to ensure maximum safety.
While obviously, you don't want the top bunk to come crashing down, you should also consider the safety rail. When the rails are spaced too far apart, smaller children can get their heads stuck and risk suffocation or other accidents. Before buying, check the measurements to ensure your child is old enough to be sleeping on the top bunk.
Additionally, we'd encourage you to check the upper weight limits on each level to ensure you don't put yourself at risk. Many weight limits include the mattress, so if you're planning on using a heavier material such as memory foam, it might be a good idea to find out the weight on the mattress and factor it in. The products we reviewed are built for safety, but only when used as directed. If you have any questions or concerns about a specific product, we recommend contacting the manufacturer before buying.
Get More Info: Are Bunk Beds Safe for Kids?
Certifications
The consumer product safety commission has specific guidelines for products sold within the United States. According to the CPSC website, bunk beds must follow certain guidelines to avoid child entrapment between a bed and a wall, or between the slats of a safety rail. For children's beds, the products must receive a CPC, or Children's Product Certificate, and adult beds require a General Certificate of Conformity.
Additional Considerations When Buying a Bunk Bed
Warranty & Protection Plans
Some products will include a warranty for specific defects if your product arrives damaged. While we hope you won't have any issues with your products, it's not a bad idea to request a warranty from the manufacturer upon purchase. Keep in mind, however, that some defects may not be covered if they are determined to be due to the way the bed was set up.
Return Policy
If your product says it is eligible for a return, be sure to read the terms and conditions before your purchase. When you receive your product, make sure all of the pieces are accounted for before you begin to assemble it. If you're missing any pieces, we recommend sending your purchase back.
Price
When buying new bunk beds, most customers would expect to spend a few hundred dollars at least, however, most of our product recommendations are much more affordable and should have the same quality as higher-cost options. If you want an affordable product to last through the years for a growing family, we recommend a convertible wood set.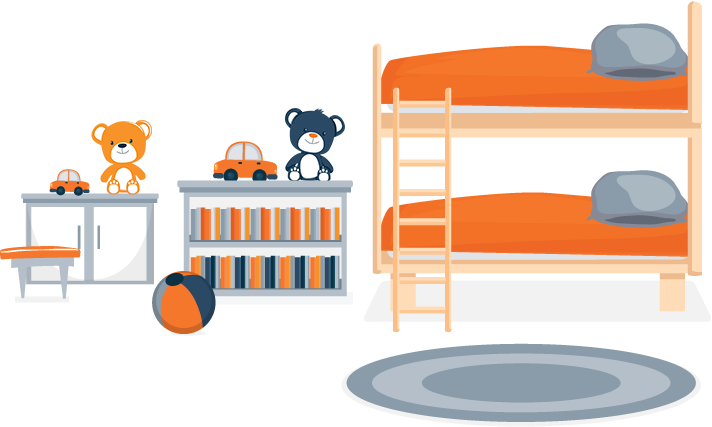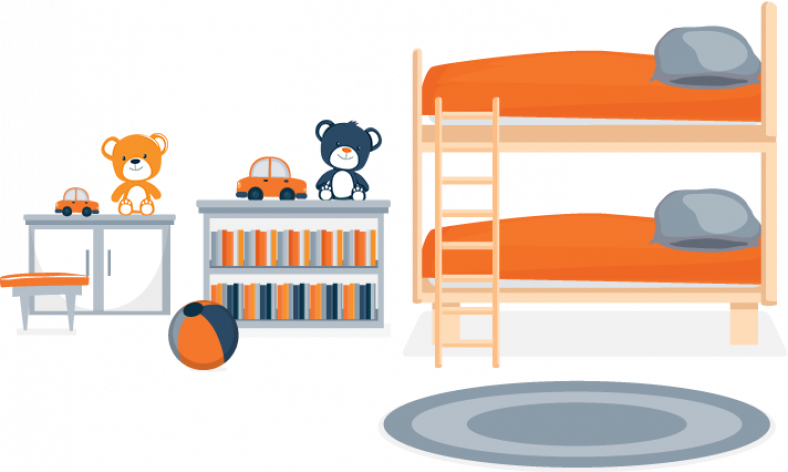 Weight Capacity
An important element is the bed's total weight capacity and the upper weight limit for each level. While many reach 200 pounds per level, remember that this includes the mattress weight, so even a small adult on top of a heavy memory foam mattress may exceed this limit. While exceeding the weight isn't likely to send the bed crashing down immediately, it could add increased wear over time and eventually lead to that possibility.
We recommend using an inner-spring or hybrid mattress for bunk beds as the springs can absorb movement and bounce that other beds may transfer onto the frame.
Storage
While bunk beds save you room by using vertical space, they also usually have some extra space for storage under the base if you don't have a trundle model.
Frequently Asked Questions about Bunk Beds
What is a bunkie board?
A bunkie board provides extra support for a mattress without using a box spring. While most beds have slats to support a mattress on each level, a bunkie board may help you feel more secure.
Conclusion
The perfect bunk bed largely comes down to preference but we've done our best to tell you what you need to know to make an informed decision. We've gone over size, style, features, and dual purposes, to hopefully point you in the right direction for your needs.
In our opinion, the most important element is safety, and by choosing one of our reviewed products, that item should already be checked off the agenda. After that is settled, you can eat your heart out from all the money, time, and space-saving options you can find.