If you live in an apartment or a small home, you are likely familiar with the problem of too little space. Finding extra sleeping arrangements for guests can be challenging, especially if you are hosting a family reunion. While an air mattress or a pull-out couch can be useful, they are often bulky and uncomfortable.
For a convenient and tasteful solution, you may want to consider a piece of furniture that gives you two sleeping spaces in one. We've put together a collection of the top 8 trundle beds that are both stylish and comfortable so you should never have to worry about space again!
8 Top Rated Trundle Bed Reviews
DHP Bombay –
Best Full Size
HIGHLIGHTS:
Includes a daybed and a roll-out trundle
Metal frame with elegant curves and detailing
Metal slats ensure stability and durability
The Bombay daybed offers a functional, trendy design for small space living. This daybed could be a great option for a bedroom, office, or even as additional seating. The twin trundle fits perfectly underneath for storage and can be rolled out when you need it.
The Bombay features an elegant design with a beautiful metal frame complete with fine detailing. The intricate curves could make this a wonderful addition to any bedroom decor. With two color choices of white or black, this bed should complement any theme.
This metal design has sturdy slats for stability and durability. The roll-out bed features locking castors so you should never have to worry about it moving around.
The Bombay measures 77.5″L x 56″W x 43″H and can be shipped in one box. Set-up should be easy, requiring minimal assembly.
Zinus Eden –
Best Daybed Design
HIGHLIGHTS:
Twin daybed & trundle
Premium steel slat support
Functional space saving design
The Zinus Eden daybed offers a space-saving solution for those who need an occasional extra sleeping area. This unique design is functional and can be used as a bed or for additional seating. The stylish metal frame is made from premium steel for extra support and should make the perfect complement to any bedroom decor.
The trundle can be used as an extra sleeping space at night and can be conveniently rolled underneath during the day. Both the trundle and the daybed should accommodate any twin mattress that is less than 9.5 inches thick. The Zinus Eden should be easily assembled in minutes with no tools required.
This versatile option features a sleek look that should easily fit into most spaces. The two twin-sized mattresses should accommodate children or adults. Whether you need extra space for a child's sleepover or a guest-bed for company, the Zinus Eden daybed is an option worth considering.
DHP Manila –
Multiple Sizes Available
HIGHLIGHTS:
Multiple size options
Victorian finial detailing
Sturdy metal frame and slats
The DHP Manila daybed offers a multi-functional option for a condo, smaller home, or dorm room. The rounded Victorian finials should add a spark of style to any room, making this a modern yet timeless piece. The pull-out trundle offers a convenient solution for sleepovers or when hosting guests.
This sturdy metal frame features supportive slats so you can lay a mattress right on top without needing a box spring. The open-air frame allows the mattress to breathe so it should stay fresh for years to come.
The daybed comes in two sizes, as a twin or a double (full). Both options come with a twin-sized trundle on four easy-glide casters, two of which can be locked. The daybed can accommodate a mattress up to eight inches thick and the trundle can accommodate up to six inches. Everything you need is shipped in one box, so set-up should be quick and easy within minutes.
DHP Tokyo –
Good Value
HIGHLIGHTS:
Multiple size options
Sturdy metal frame and slats
Statement design with soft curves
If you are looking for a statement piece, the Tokyo daybed by DHP offers a brushed bronze finish that should stand out in any living space. The classic design with round finial detailing is simple, yet elegant. The sturdy construction features metal slats for durability and support, so no additional foundation is required.
The Tokyo is available in two sizes to accommodate either a twin or a full-size mattress. The roll-out twin trundle underneath makes it a practical solution for extra guests or family members. The daybed can be used as a couch for additional seating space or as a comfortable sleeping surface.
DHP is a leading manufacturer of stylish home furnishing products for smaller spaces. Their innovative and functional pieces are designed to bring value and comfort to every home. The Tokyo is no exception, offering a practical and elegant option for minimalist living.
Zinus Suzanne –
Best Simple Design
HIGHLIGHTS:
Minimalist design
Steel slat support
Accommodates Twin sized mattresses
The Zinus Suzanne daybed is a simple but functional option, featuring a roll-out trundle that accommodates a twin-size mattress. The premium steel slat support is durable and eliminates the need for a box-spring. You can use this stylish piece as a small sofa or for two comfortable sleeping spaces.
The rolling wheels allow you to pull the trundle out when needed, and store it during the day. This space-saving option should fit into any living area and could be a great option for an office, bedroom, or dorm. These beds work best with any 5 or 6-inch mattress.
Zinus is a leading manufacturer of mattress support systems including frames and foundations like the Suzanne. This functional piece arrives conveniently at your doorstep, ready to be assembled in minutes with no tools required. With this bed, you should never have to worry about running out of space again!
DHP Lina –
Best Style
HIGHLIGHTS:
2 size options
Metal frame and slats
Modern design in black or gold finish
The Lina is an ultra-chic and functional piece that should work well with any minimalist or modern design. Adorned with circular medallions, criss-cross metal, and round finial posts, this stylish bed should offer versatility for any living space. Use the Lina as an attractive sofa by day and a comfortable bed by night.
The roll-out trundle is well concealed beneath the daybed, conveniently accommodating visitors or sleepovers. This product is available in a black or gold finish, and the top comes in either a twin or full frame. The trundle accommodates a twin-size mattress.
With space-saving functionality, the Lina is a timeless piece that should fit into any decor. The bed measures 77.5″L x 41.5″W x 43″H, making it the perfect size for smaller areas. Metal slats add stability and support so your bed is ready to use without needing an additional boxspring.
Novogratz –
Best Color Choices
HIGHLIGHTS:
Two size options
Metal frame and slats
Black, white, yellow and teal color options
Industrial and contemporary design
If you're looking for a kid-friendly option to accommodate sleepover guests or a side-by-side space for siblings sharing a room, the Novogratz features a blue turquoise design that children should love. This teal color is also great for coastal living or nautical decor. If you prefer a neutral shade, this product also comes in black or white.
The sturdy metal frame features steel slats that can accommodate most twin-size mattresses. The heavy-duty construction means this piece should be durable enough to use as a sofa or a bed. The convenient roll-out trundle includes castors with built-in breaks.
This modern-chic piece is made by Ameriwood Home whose vision is "to improve the lives of our customers with home furnishings that function well and are affordable to everyone." The Novogratz is the perfect example of a multi-functional product that should suit any budget.
Broyhill –
Best Storage
HIGHLIGHTS:
2 size options
Made from solid hardwood and composites
Trundle with built-in drawers
Espresso, white and gray color options
The Broyhill Kids Marco Island Captain's Bed makes a great alternative to bunk beds or for kids who love to have their friends sleepover. This extremely functional piece features a pull-out trundle with three built-in spacious drawers for extra storage. This bed is built to last with its modern wood and composite design.
With a white, grey, or espresso finish that is non-toxic for children's safety, this bed should bring style to any bedroom. Whether you are tight on space or expecting visitors, the Broyhill easily expands to accommodate two twin-sized mattresses. The trundle rolls in and out for quick storage when it isn't in use.
This multi-functioning design is made by Storkcraft, one of the world's leading manufacturers of cribs and children's furniture. This well-built piece should easily fit into any living space and offer peace of mind to families looking for a non-stacking bed for kids.
Buyer's Guide for Trundle Bed
What is a Trundle?
This refers to a type of bed that can be tucked beneath another frame and rolled out when needed. Many trundles come as part of an existing bed, neatly concealed underneath. They are a functional and convenient option for apartments, dorms, or homes with limited space.
Sometimes they are confused with daybeds, which are sofa style beds enclosed on three sides. While many popular trundle designs do feature this sofa style, others are simply twin or double sized frames with an additional roll-out mattress underneath.
Because of their space-saving design, trundles are typically only available as a twin or double bed. However, purchasing a trundle separately would allow you to store this bottom piece under any size frame.
The bottom mattress can be low to the ground, part of a pull-out drawer or pop-up to be level with the top bed. Pop-up designs are very convenient for turning a twin bed into a king for accommodating guests.
For designs that feature a pull-out drawer, this space can either be fitted with a mattress or left empty to use as additional storage for clothing, toys, books, or linens. Many have additional drawers built-in that can also provide an extra spot to keep items neat and tidy.
Why Are They Popular?
Great for Guests:
Instead of a air mattress that is prone to leaks or a pull-out couch that may give you a kink in the neck, trundles offer a comfortable space for sleeping but without taking up any additional room. They can be used for accommodating visitors or for kids who frequently have sleepovers.
Read More: Top Rated Guest Room Beds
Space Saver:
If you live in an apartment or condo, then you are likely familiar with small space living. Even many single-family homes in suburban areas are being built with less square footage, making it nearly impossible to have a "spare bedroom" for hosting guests.
If you frequently host family or friends overnight or have children who like to have their friends come for sleepovers, having extra sleeping space will be important. One of the easiest solutions is to simply have a trundle underneath one of your existing beds to maximize your living area.
The other space-saving benefit of these types of beds is that they can also be used for extra storage. Many come with built-in drawers that you can use to put anything you need to store, and mattresses can be removed for additional space when the bed isn't in use.
Money Saver:
Even if your home can accommodate a spare bedroom or additional furniture, the added cost might be significant. The number of nights you may be hosting guests either for a family reunion or a child's sleepover is likely minimal over a year, and investing in expensive furnishings could put you over your budget unnecessarily.
Most pull-out couches are even more costly than fashionable furniture items, and many are uncomfortable for sleeping on. While blow-up mattresses can save money up-front, they are more likely to leak and need to be replaced over and over again, costing more money in the long-run.
Purchasing a trundle that can be stored under an existing piece of furniture and be rolled out when needed saves money and space. Trundles come in a variety of shapes and sizes, with many affordable options to fit any budget, big or small. Another bonus is that you can use existing mattresses you may already have, saving you even more.
If you are in the market for new furnishings for your home, this is a great time to invest in a trundle because many options give you two beds in one. Built-in trundles offer convenience and save you the added cost of purchasing a second sleeping space.
Multi-functional:
A trundle is a multi-functional piece of furniture because it allows you to have a top sleeping surface (or sofa), a pull-out bed underneath, and additional space for storage. It also allows you to maximize living space if you live in confined quarters.
Safe:
Safety is a big concern, especially when you are hosting guests or children for a sleepover. While bunk beds may be at the top of most children's wish lists, they do come with many added risks. Children who roll around a lot in their sleep or are prone to falling out of bed could incur serious injuries when sleeping on the top bunk.
Many bunk beds have weight limitations and are difficult to get in and out of for older individuals. Most adults find these bunks to be uncomfortable and prefer regular sleeping arrangements. For this reason, trundles may be a great solution for providing a safe area for guests or children to sleep on.
Trundles typically allow for between 400-450 lbs depending on if they are a twin or a double frame. This also makes a safer option for those with considerable weight restrictions. The higher weight limit would be better for accommodating couples.
Can They Be Used for Adults?
While trundles are often thought to be meant for children only, adults can safely and comfortably sleep on them too. Most come in either a twin or a double frame, making them a great solution for accommodating adults of all shapes and sizes.
Available Frame Designs
Pop-Up Style: A pop-up style is a unique design that rolls out and has an adjustable height feature. This allows it to become level with the top mattress, creating a larger sleeping area to accommodate additional guests. Typically, pop-ups come in twin size, creating a king-size sleeping space when in use.


---

Drawer Style: A drawer-style features a mattress contained in a pull-out enclosure that is designed to look like a drawer. Many also feature additional drawers that are built-in for extra storage space. Drawer style designs do a great job of masking the extra mattress, appearing as if it is only one piece of furniture.
Materials
Metal: Metal frames tend to be lighter in weight and easier to ship and assemble. The open slat design may make this a less comfortable option to use as a sofa, but adding some throw pillows would remedy the problem and add a touch of style.


---

Wooden: Wooden frames typically feature grains and knotholes that give them a rustic and modern feel. They tend to be a sturdier construction that is more durable for long-term use. Unlike metal, they also may have solid back and sides, making them a good solution as a sofa for additional seating space.


---

Upholstered: Upholstered frames feature fabric or leather for a softer look and feel. This also makes them a great solution to use as a sofa or for an elegant design.


---

Mixed: Some frames feature a unique combination of materials, often pairing metal and wood together. These mixed designs may also use wood for the top frame with metal underneath for added support.
Standard Sizes
Because of the need to fit underneath an existing bed or be designed to fit as part of a pull-out drawer, trundles typically come in just twin or double sized frames.
Interested in exploring further? Check out our full twin mattress guide.
Key Factors to Look For
Design
Trundles come in a variety of designs, with many options to consider such as color, material, and stain. Some have elegant features and some are suited for rustic or nautical themes. Consider your desired look and choose an option that will best fit your overall style.
Durability
Durability is important if you want a product that is designed to stand the test of time. It is also a consideration if you have young children who may not be as careful around furniture or for supporting heavier sleepers.
Extra Storage
If you are already short on space, having additional storage could be important. Many designs feature extra built-in drawers as a bonus and those that don't still offer the advantage of removing the mattress for securing items while the bed isn't in use.
Price
When you are considering which option to buy, cost may be at the top of your list in terms of importance. Thankfully, bedroom furniture comes in a wide range of prices, with many affordable choices that should suit any budget.
Ease of Assembly and Use
If you aren't particularly handy, don't despair. Many designs come shipped in one body, with easy to follow instructions and everything you require for assembly. Many can be built in under 30 minutes, and some don't even require tools.
Wheel Locks
Having wheels that lock becomes important for preventing the sleeping surface from moving around during the night. Most feature four wheels, with two that can be locked for safety.
Conclusion
For small space living or homes without a bonus bedroom, few options can beat the convenience of a trundle bed. When company comes to visit or your children have multiple friends sleepover, a pull-out bed can be a great solution to accommodate these guests.
Buying new furniture can be a process with so many factors to consider and options to choose from. We've reviewed ten trundle beds to help simplify your search, giving you more time for enjoying the visitors you'll likely be expecting now that you have somewhere for them to sleep!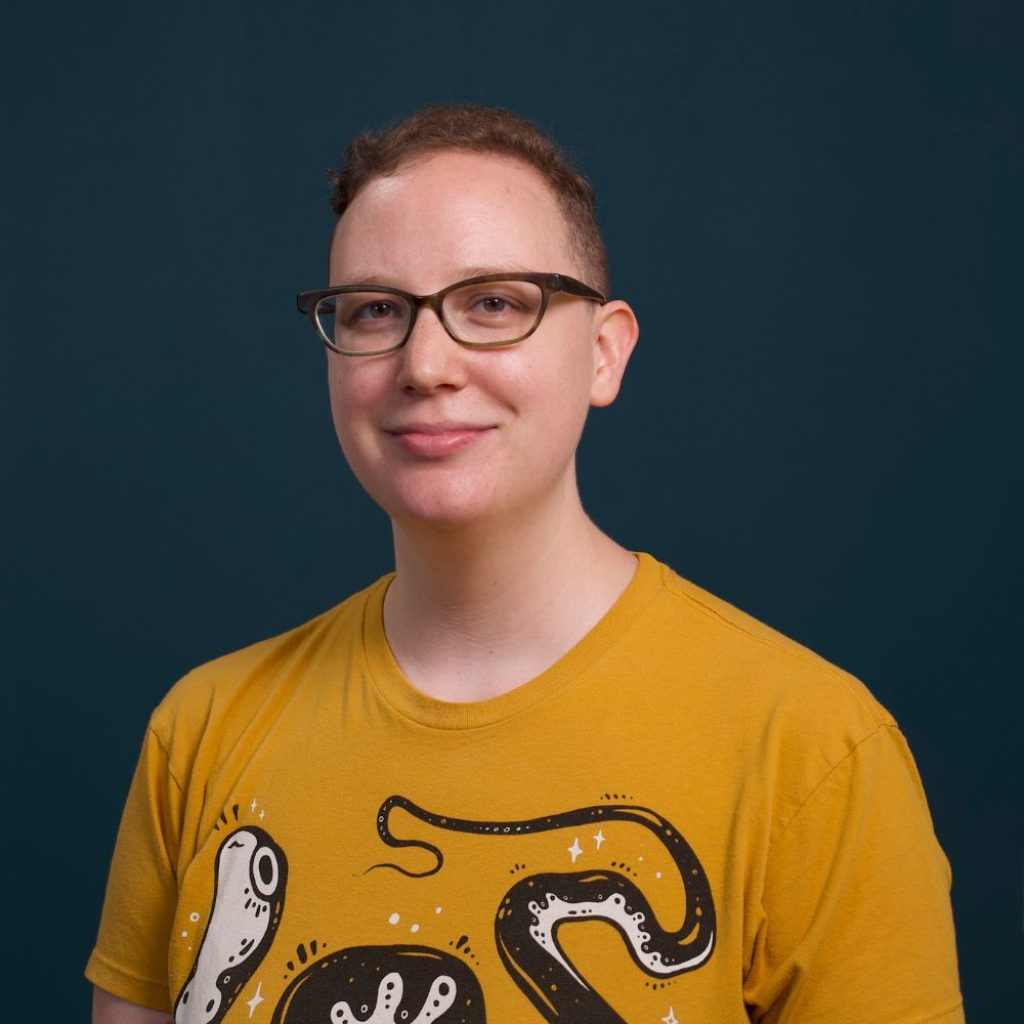 Melanie Kassel
Performance Editor
About Author
As Sleep Advisor's Performance Editor, Melanie writes and edits content throughout the site to ensure it's accurate, engaging, and up-to-date.