Transparency Disclosure – We may receive a referral fee for products purchased through the links on our site...

Read More

.
It's a wonderful feeling when you have the space to host friends or family visiting from out of town or who just need a place to crash for the night.
If you're fortunate enough to have a guest room in your home, you probably want your loved ones to sleep comfortably, right?
6 Best Guest Room Mattresses
Which Feature is the Most Important?
We want to help you find the best product for your needs.
Click on your preferred option below and it'll lead you to our picks for a selected category.
If you're in the market for a new guest room mattress, you'll find a wide variety of products to choose from, which can make the decision of which one is best for your needs a difficult task.
Would memory foam work best? Or coils? How do you know which product will be high-quality without breaking the bank?
In this guide, we'll share our recommendations for the best mattress for a guest room.
We have to warn you though, we've chosen some really good ones, so don't be surprised if your visitors decide they don't want to leave!
Shopping Recommendation:
Are you confident that a mattress for a guest room is the perfect option for you? If so, continue exploring this page!
If you're unsure or want to learn about more great mattress options available then we recommend you check out the best mattress choices for 2022. It is a great starting place for most mattress shoppers because it includes a diverse list of mattress picks based on various preferences, styles, and needs. It also includes links to an additional 60+ best mattress pages from Sleep Advisor (example: best mattress for couples).
Top 6 Beds for Guest Room Reviews
Best Firm Mattress for a Guest Room
The WinkBed
Hybrid Mattress

Best for Side, Stomach, and Back Sleepers

Firmness Level: 4.5/10 (Soft), 6.5/10 (Luxury Firm), 7.5/10 (Firm) 

120-Night Trial

Lifetime Warranty
The WinkBed hybrid is available in three firmness options, making it suitable for all sleeping positions. The Luxury Firm and Firm models are good for back and stomach sleepers, while side sleepers may prefer the Soft model.
The Luxury Firm and Firm WinkBed mattresses provide a sturdy surface that won't sag under pressure. The bed features a soft gel foam and SupportCell foam, providing pressure relief in different sleeping positions. Firmer models allow better spine alignment, preventing the hips from sinking in when sleeping on your stomach. The bed has an innerspring unit with 8-inch individually wrapped coils to support the body in all sleeping positions.
Why it stands out?
The WinkBed's Tencel cover has an OEKO-TEX® Standard 100, Class 1 certification. The foams are CertiPUR-US® certified.
You can choose between three firmness options, two of which are on the firmer side.
Most Comfortable Mattress for a Guest Room
Saatva Modern Foam
Memory Foam Mattress

Best for Side and Back Sleepers

Firmness Level: 7/10

365-Night Trial

Lifetime Warranty
The Saatva Modern Foam is a comfortable mattress your guests will love sleeping on. The proprietary foam layers contour the body while allowing easy repositioning. The bed has dual-phase cooling technology that draws the heat away from the sleeper to prevent sweating and overheating.
The Saatva Modern foam has natural latex lumbar crown allowing proper spine alignment. Another thing that helps is the patented Lumbar Zone® Quilting. This memory foam bed has body-contouring foams that ease the pressure on the lower back, shoulders, hips, and legs. Back and stomach sleepers will appreciate the support and firmness level, while side sleepers my life a softer model.
Why it stands out?
Saatva Modern Foam mattress is compatible with box springs, bed frames, platform beds, and adjustable bases.
The mattress has a CertiPUR-US® certification and Congress of Chiropractic State Assoc. Seal of Approval.
Best Hybrid Mattress for a Guest Room
DreamCloud Luxury Hybrid
Hybrid Mattress

Best for Side, Stomach, and Back Sleepers

Firmness Level: 6.5/10

365-Night Trial

Lifetime Warranty
Hybrids are versatile beds most people love, making them a good choice for a guest room. This DreamCloud mattress has a mid-range firmness that supports the body in all sleeping positions. The company gives a lifetime warranty and 365 nights to decide if this is the right bed for your guest room.
The construction of the DreamCloud Luxury Hybrid starts with a soft-to-the-touch cover with quilted foam for plushness and comfort. Next is the pressure-relief comfort layer with gel memory foam that cools the body, contouring to all shapes. The third layer prevents you from sinking into the bed, while the fourth keeps all the foam layers sturdy and structured. The bottom of the bed features a targeted-support coil layer with individually-wrapped coils that adapt to all body shapes.
Why it stands out?
DreamCloud is a luxury hybrid bed with premium materials that bring comfort, support, and responsiveness in all sleeping positions.
Best Memory Foam Mattress for a Guest Room
Nectar
Memory foam mattress
Good for back, stomach, and side sleepers
Medium-firm
365-Night Trial
Forever Warranty
Nectar has built a memory foam bed that provides a classic feel with updates to keep you cool, dry, and nestled comfortably within the layers.
The company offers a versatile Medium-Firm feel that can adapt to different body shapes. The quilted cover feels high-end, and its blend of comfort and support should be ideal for a variety of sleep preferences.
What makes it special?
This mattress has an attractive price point for a spare room bed with a high level of quality.
The value is further enhanced by the company's generous sleep trial policy that lets you use the bed for a year before committing to keeping it.
There's very little risk to making this purchase, and you can feel confident in the bed's Forever warranty.
Because memory foam is made to adapt to any shape, your guests should feel as if you've selected a bed specifically for them.
Best Affordable Mattress for a Guest Room
Brooklyn Bowery
Hybrid Mattress

Best for Side and Back Sleepers

Firmness Level: 4/10 (Plush Soft), 6.5/10(Luxury Firm), 8/10 (Firm)

120-Night Trial

10-Year Warranty
This Brooklyn hybrid is a good choice if you don't want to spend too much on a mattress for a guest room. The bed has multiple firmness options and will fit if you rarely have guests who stay longer than a few days.
The Brooklyn Bowery mattress has a stretchy cotton cover and a 1-inch memory foam right under it. The next is a 2-inch foam that cushions the body, preventing you from feeling the coils underneath. The brand's Ascension™ coils are individually wrapped to respond separately, allowing good motion isolation and easy repositioning. Below the coil unit is a layer of high-density polyfoam that supports the upper layers.
What stands out?
The Brooklyn Bowery mattress is affordable, so you don't have to spend too much on a bed your guests won't use every day.
You can choose between three firmness options, depending on your guests' preference.
Best Queen-Size for a Guest Room
Nolah Original
Memory Foam Mattress

Best for Side Sleepers

Firmness Level: 5-6/10

120-Night Trial

Lifetime Warranty
The Nolah Original mattress is a great option if you want your guests to sleep on a Queen-size bed. The mattress is rated 5-6/10 on our firmness scale, which is best for side sleepers as it prevents pressure build-up.
The construction of the Nolah Original starts with a Tencel™ Cellulosic cover that's gentle to the touch. Under the cover is the Cooling Nolah AirFoam™ that helps keep the sleepers cool even during the hottest of nights. The third layer is a high-resilience foam that gives a bit of bounce for better responsiveness and easy repositioning. The Nolah Original has a 7-inch base layer that supports the upper layers and helps them follow the body's curves.
What stands out?
The Nolah Original is made entirely of foam but is unlikely to overheat thanks to the Cooling Nolah AirFoam™ layer and Tencel™ Cellulosic cover.
Want more details? Check out our complete guide for Nolah Brand.
What Type of Mattress is Best for a Guest Room?
The ideal mattress for your guest bedroom will, of course, heavily depend on your preferences. In this section, we'll outline the different options you can choose. If you're like most people who have houseguests only a handful of times per year, you may be better off buying a budget-friendly mattress, so we'll share ideas on how you can get a great product but at a more reasonable price.

Memory Foam
This type of material has universal appeal because the memory foam contours to the shape of a sleeper's body. There's a wide range of prices within this category, so here are some things to look out for:
Temperature – Because your body sinks into the mattress, memory foam can make some people hot. To help prevent this, some brands offer infusions of gel or copper material that conduct heat away from the body. If you live in a warm climate or will have people over who might complain about this issue, look for something that has the ability to keep your guests cool.


---

Support – Although memory foam gets top points for comfort, lower quality foams don't offer necessary support. This mostly has to do with the foam's density, so look for a product that has either a high-density support layer, or a medium density comfort layer.


---
Ideally, the top layer should be at least 1.8, and the support layer should be around 3.5 or higher. If you're looking at a mattress that's a single layer, try to stick with something that's over a 2.5. The product description on the company's website should readily have these specs available for you to review.
Check Out Our Guide: Best Memory Foam Mattresses
Latex
It has a look and feel similar to memory foam, but with a few notable differences.
The makeup and manufacturing process of latex usually results in a greener product than memory foam. This principle only applies if you get natural latex, which is sourced from the sap of a rubber tree. It's a bit pricier, but also more durable (though that might not be the most important thing for you).


---

Though it has a similar type of pressure relief as memory foam, it is more responsive.


---
There's more bounce in this type of mattress, so if your guests are older or need help repositioning, this is a feature they'll appreciate.
View Our Full Guide: Top Rated Latex Mattress
Coil
Also called innerspring, coil mattresses consist of springy coils as the sleeping surface. Well, there is a cover on top, of course. There are several types of coils available, but individually pocketed coils have some major benefits. The reason is that each coil will perform independently, allowing your body to sink into the mattress where it needs to.
A continuous coil system provides a flatter surface, which can feel overly firm when the bed is new and then over time, it will sag in all the wrong places. Is there a right place to sag?
Hybrid
Most people consider these types of beds the best of both worlds type of scenario. A hybrid will have a combination of materials, blending coils, memory foam, and latex, usually two of the three, but sometimes all of them.
Within this category, some brands even offer customization options. This means that you can list your sleeping preference.
For example, you want something that's medium-firm with some bounce and you're a heavier individual, and the company's automated system will build a custom bed that meets your preferences.
Hybrids can be more expensive than other models, but not always, so it is good to do your research to get the best bed at the best price.
Read Our Complete Guide: Best Hybrid Beds
Airbed
For households on a budget or those with limited spaces, airbeds are a perfectly good choice, especially if you follow our recommendations.
As the name suggests, these inflate, but they've come a long way in the past several years. There are models that self-inflate by plugging them into a wall outlet, meaning you don't need special equipment like a compressor to put the air in.
There are also brands that are thicker, so they better mimic the look and feel of a traditional mattress.
And the best part is that if your guest room serves another purpose other than housing sleeping visitors, you can deflate the air mattress when it's not in use and store it out of sight.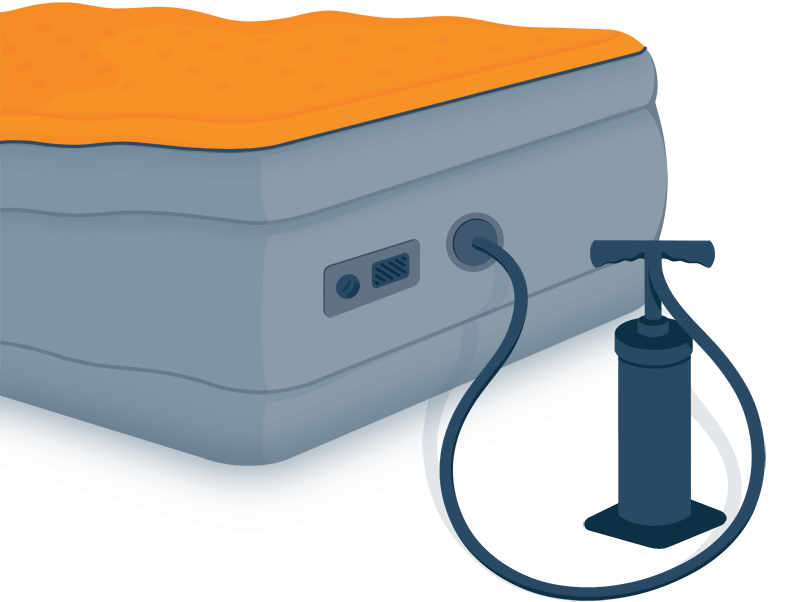 Guest Bed Buying Considerations
How Often Will It Get Used?
This is the first question you should ask yourself because the answer will dictate how important quality and durability will be in your decision.
For example, you already know that more expensive products are going to be built with better materials and they'll last longer. As beds age, they tend to sag (kind of like people), so if a bed is slept on nightly, this process is accelerated.
Many people find that bed feels comfortable the first few nights you sleep on it. So soft and cushiony, right?
However, over time low density foams and cheaply made coils lose their structural integrity and you can be left with a bed that gifts you with a sore, achy back every morning when you get up.
So, if you don't plan on having visitors over frequently, it can be cost efficient to get a bed that has a lower price tag and immediate comfort. Yes, it can sag over time, but considering that even the cheapest mattress takes several months for this to happen, you can expect a lightly used guest bed to last for years.
Get More Info: How Long Does Mattresses Last
Choosing a Firmness Level
Remember the story of Goldilocks and the Three Bears? She wanted a bed that was not too hard, and not too soft. She wanted something that was "just right." Most of your guests, in fact, the vast majority of the population, feel the same way.
Choose a bed that has a medium or medium-firm comfort level, and everyone should be happy.
Need more help? Check our complete guide to Mattress Firmness Scale.

Choosing the Best Size Bed
If you want more bang for your buck, consider sizing down from a Queen to a Full. If you tend to host individuals, you can even get away with a twin-size. You may be able to save $100 or more just by downsizing to a Full.
And to put things in perspective, it's not much smaller. You'll lose about five inches in length and seven inches across. For most individuals and couples, there will be plenty of room left over. Take a moment to think about the types of guests you're hosting and decide if it would matter if you got a smaller size.
Check Out Our Comparison: Full vs. Queen Bed
Consider a Sleeper's Needs
This is easy to do if you have the same guests each time, but a little more challenging if you've got more of a revolving door situation.
Here are some things to consider about your guests' preferences:
Cooling and airflow: If you live in a warmer climate or are hosting people that tend to feel hot, you'll want a mattress that has either temperature-neutral or cooling properties. Coil and latex beds naturally sleep cool, but if you're set on memory foam, look for a product that has either gel or copper infused in the top layer. Gel has cooling properties and copper draws heat away from the body, so both of these materials will help your guests stay comfortable.


---

Motion isolation: If you're hosting couples, opt for a bed that has excellent motion isolation, meaning that if one person moves around or gets up, their partner won't feel disrupted.


---
This is an especially important feature because we don't tend to sleep as soundly when we're in a new or strange place. The last thing your guest needs is to be kept awake by a restless sleeping mate.
Memory foam performs best here, hands-down.
Ease of movement: If your guests need to be able to move freely around the bed or they have health challenges that make it more difficult to get up, look for something that doesn't cause the body to sink in. So, in short, avoid memory foam and seek out something like latex or coils.


---

Support and spine alignment: If you've ever slept in a guest room or hotel and woken up with a stiff neck or an achy lower back, it means that the mattress didn't provide proper support and alignment for your back.


---
In the world of hosting guests, this is a host fail.
The ideal bed will offer the perfect balance of comfort, pressure relief and support to allow the body to remain at a neutral. Higher density memory foams tend to perform best here.

Tips for a Better Guest Bed Experience
Consider a Great Mattress Topper
If you've already got a bed in the guestroom, but it's getting kind of tired, you can revive it with a mattress topper. These range from $20 to more than $100, but even if you get one that's top of the line, it's still way cheaper than getting a whole new bed.
Toppers can be incredibly helpful in softening up a too-firm mattress or evening out the surface of a sagging one.
Use Mattress Protectors to Increase Lifespan
Having guests, especially children, can expose your mattress to accidents, especially of the liquid variety. Having a waterproof mattress protector will create a barrier to damaging materials and help keep your mattress looking new.
Also, if you have a warranty issue, most of the time it will be voided if there are any stains on the mattress, so getting one can help create a safer investment.
Rotate the Mattress
Rotating the surface of the bed will help prolong its life. Since people tend to sleep in the same general area, that localized part of the bed experiences the most wear and tear. By flipping or rotating your mattress, you can balance the wear throughout the mattress. It's almost like rotating your tires.
We will warn you though; rotating a mattress is a bit of a hassle. It's not a necessary exercise for everyone, but if you've got an aging or heavily-used sleeping surface, you might be able to extend its life by a couple of years.
What If You Do Not Have Enough Space?
Consider Portable or Foldable Beds
If your guest room also functions as a sewing room, office, or American Ninja Warrior training ground, you might not have room for a bulky piece of furniture.
A portable mattress for guests can provide ample comfort but be stowed away when not in use. Typically, a bed that folds and has wheels at the base of the frame is especially handy, so you can roll into the closet when you don't need it.
This type of bed is reminiscent of the cots that you get at hotels, but some are much more comfortable.
Read Our Full Guide: Best Rollaway Bed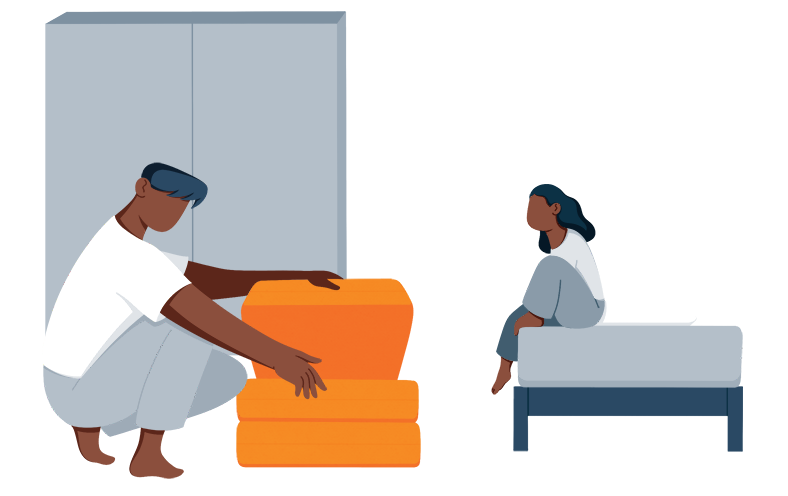 Consider Using an Airbed
Airbeds can serve a variety of functions other than just a guest bed. They're ideal for camping, too, though if you get one for outdoor use, you might need to look for different features than you would for something in the bedroom. This option is ideal as a temporary sleeping solution, is not recommended for long-term, everyday use.
Since you're probably storing it when not in use, getting something that's easy to inflate is probably a top priority. Choose something that has the ability to auto inflate, or at least a brand that comes with a portable compressor.
Or a Japanese Futon
Futons are the most basic form of bedding, usually consisting of just a relatively thin, no-frills mattress on a foldable base. We appreciate futons for their versatility. If you only need a temporary bed for guests and plan on using the spare room for other purposes, a Japanese futon bed can serve double duty as a sofa.
Over the years, companies have made a concerted effort to make them more comfortable and better simulate the experience of sleeping on a traditional bed. The only word of caution here is that these tend to be firmer than a regular mattress. If you have houseguests with medical or pain conditions, this might not be the best choice for them.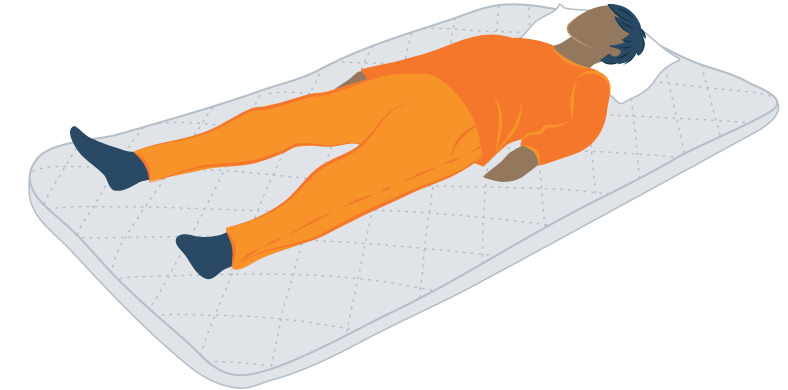 FAQ about Mattresses for Guest Room
Should you keep sheets on a guest bed?
The answer to this question is a matter of preference, and it is a hotly debated issue in the online forums.
There are two schools of thought, which we'll explain.
Some say that it makes no sense to leave a bed naked when it would look so much nicer being fully made. They reason that since no one is sleeping on the bed and it will be covered in a bedspread, the sheets won't get dirty, dusty or musty.

---

Others say that the sheets do indeed collect dust and grow stale over time. They strongly believe in keeping sheets off the bed until it's time for a guest to come over.
---
Sheets can get dusty and lose their feeling of freshness if they're kept on the bed for weeks or months. Therefore, you can cover your bare mattresses with a washable bedspread, and then a day or two before guests arrive, wash the bedspread and put fresh sheets on the bed.
Regardless of preference on this topic, it can be good to make sure the bed is made when your guests arrive. It can stress your guests out to get to your home and not have any sheets on the bed, especially if they come over late at night.
How durable does it have to be?
Unless you have a permanent guest, you can save a lot of money by compromising a little bit on durability.
That being said, you should still make sure that the bed you buy is of decent quality, so your guests can get a restful night of sleep. A good rule of thumb is to buy a bed with a long, risk-free trial and warranty period of several years. Brands with generous policies like that tend to stand behind their products, and you find some reasonably priced beds with some of the best policies around.
Conclusion
We hope this guide has helped you choose the perfect mattress for your guest bedroom. Remember, the most important factors to consider are how often the mattress will be slept on and your individual guest's preferences. Once you have this information in hand, you'll be able to use our helpful tips to get the most value for your budget.
Jill Zwarensteyn is a content writer for Sleep Advisor and is enthusiastic about providing helpful and engaging information on all things sleep and wellness.
Based in Los Angeles, she is an experienced writer and journalist who enjoys spending her free time at the beach, hiking, reading, or exploring new places around town.
She's also an avid traveler who has a personal goal of being able to successfully sleep on an airplane someday.