Transparency Disclosure – We may receive a referral fee for products purchased through the links on our site...

Read More

.
There are surprising advantages to sleeping on a Japanese futon rather than a soft mattress, as they've been traditionally believed to help align the spine and promote healthy posture.
Shortly after World War II, Americans adopted the futon trend as an homage to minimalism and economic bedding. However, the futons that we sleep on in the Western world are vastly different from Japan's originals.
Surprisingly to some, these slim beds have many advantages. One of our favorites is that this is a green bedding alternative. There's no bulk, and in fact, you can roll these beds up for easy transport. Also, there are far fewer plastics and chemicals found in many Eastern-style futons and sleeping mats.
If you're looking to make a difference in the environment and help your back in the process, you may want to look into a Japanese bed.
Shopping Recommendation:
Are you confident that a Japanese futon mattress is the perfect option for you? If so, continue exploring this page!
If you're unsure or want to learn about more great mattress options available then we recommend you check out our best mattress guide for 2023. It is a great starting place for most mattress shoppers because it includes a diverse list of mattress picks based on various preferences, styles, and needs. It also includes links to an additional 60+ best mattress pages from Sleep Advisor (example: best bed-in-a-box).
Top 8 Japanese Futon Reviews
Oriental Furniture
Foldable Mat and Pillow
Foam construction
2 Inches Thick
Traditional Rush Grass Outer
This traditional Japanese futon combines the look of the tatami mat with a soft foam layer inside to deliver support and comfort and includes a matching pillow. When you're not using the pillow, it's foldable, doubling as a mat for sitting or meditating.
Traditional tatami mats are heavy, but this version from Oriental Furniture is lightweight, making it a popular favorite for the home and travel.
The outer layer is made with traditional rush grass, wrapped over soft foam for a cozy feel. The bed is completely foldable and portable, making it perfect for those who live life on the move or enjoy van life.
What do we love about it?
The portable design makes it great to throw into a backpack and take along on camping trips.
This foldable futon comes with a beautiful exterior, making it a decorative home addition and for portable needs.
Emoor
Pad Includes Comforter and Pillow
100% Cotton Cover
2.5 Inches Thick
Made in Japan
This three-piece set is an entire bedding system that costs a fraction of what you'd expect to spend on a Western mattress, duvet, and pillow, making it both an environmentally and economically sound choice.
The mat's thickness is two-and-a-half inches, filled with a firm polyester pad, and comes in twin, queen or king sizes. You'll notice that the sleeping surface is likely firmer than what you're used to, but it's still soft and supportive. Some customers have recommended buying two and layering them together as your spine acclimates to sleeping on a firmer surface.
Why did it make the list?
Part of what makes this option a terrific value is its inclusion of a comforter and pillow in the price.
This product makes for an excellent option for overnight guests, especially in small spaces, as this bed folds up for easy storage.
FULI Shiki
Five sizes
100% cotton cover
3 inches thick
Made in Japan
If you want an authentic Japanese bedding experience, look no further than the FULI Shiki. This futon is surprisingly soft and luxurious, given its economical price point. This airy Japanese futon is excellent for providing support, comfort, and an environmentally sound retreat at the end of the day.
We like that the surface is anti-bacterial and dust mite resistant, which, if you live in a cooler climate and can't hang your Shiki futon out to dry daily, then this feature is a must. The inner stuffing is made from a mixture of polyester and polyurethane foam to provide a comfortable combination of support and pressure relief.
What do we love about it?
This product makes an excellent option for someone needing a bed long-term or looking to take their lives on the road and needs something more portable.
The futon is enormously convenient as it's made to be rolled up during the day to provide versatile floor space.
Luxton Home
100% natural and organic cotton

Lightweight

Soft filling

Made in the USA
Luxton Home's Japanese Shiki Futon Foldable Mattress is specially designed for sleep and travel. Whether you travel on occasion or all the time, this futon's lightweight design and easy foldable setup can help you get a good night's rest no matter the time zone or destination. 
The product's cover is made with 100-percent natural and organic cotton, ensuring you are getting a more sustainable and safe mattress. Inside the futon is a soft filling that offers a slight cushion. Don't let the item's thin build fool, though; These types of futons are made to be comfortable and promote optimal spine alignment for good back health.
Why we love it
Luxton's Home Shiki Futon is made in the United States, which is great for shoppers who value purchasing a locally-sourced product. 

The mattress can also double as a yoga or meditation mat.
Ikehiko
100% Rush Grass
Rug / Futon Foundation
0.5 Inches Thick
Made in Japan
The Ikehiko tatami mat is a truly authentic experience. It's made of 100% Japan-grown rush grass, infusing a lovely fresh scent into your home, brightening up any environment. This product is versatile and can be used as a sleeping mat or even as a floor mat, providing a beautiful touch of Asian culture.
If you enjoy sleeping on the floor to better connect with nature, this is a great product. The non-woven fabric core and back provides a unique texture wonderful for natural sleeping and spinal alignment.
Keep in mind that this item is the mat only, and you'll still need to acquire a futon to top it with when sleeping.
What makes it unique?
The Ikehiko is the only product on the list made of 100% Japan-grown rush grass, making it a more traditional design.
This mat is a great foundation for a futon and can double as a decorative floor mat.
DHP 8-Inch Premium
Hybrid Construction
Double as a Couch
8 Inches Thick
Western Style
The DHP is more like the western futons that you're accustomed to seeing, and it's got an eight-inch thickness for plush comfort. The futon folds nicely in a frame, so it can double as a sofa when you're not sleeping on it. The product also has a tufted button feature that gives the mattress a more modern look.
What makes it great?
The interior is coil and foam, so you benefit from a hybrid mattress feel that offers a springy bounce combined with cushioning support.
At this price, you really can't go wrong. If you want something affordable, economic, and environmental that should easily pack up and store well; this is a great product. The bed can even be used as a longer-term mattress for yourself, providing firm spinal support and a durable option. We give this futon top marks.
SINWEEK
Removable, washable cover

High-density foam

4 inches thick

Tri-fold design

30-day return policy
Sinweek's tri-fold design is perfect for folks looking for a portable sleeping pad or something that can be easily stored away while not in use. The product features four inches of high-desnity CertiPUR-US certified foam for ultimate support. The cover is made of soft velvet for a luxurious touch that should deliver added comfort, while the non-woven lining fabric helps protect the inner foam from damage. 
Adding to this product's appeal is its convenience when it comes to cleaning. The cover is easily removable via zipper, and you can wash the material in a washing machine, saving you time and energy.
Why did we pick it?
The Sinweek comes with a 30-day return policy, which should give customers ease of mind when making their purchase. They can use the 30-day window to test out the pad to be sure it's a good match.
D&D Futon Furniture
Cotton, Foam, and Polyester
80 Inches Long
3 Inches Thick
This Japanese futon combines simplicity and comfort to offer a quality product. It's got a basic roll-up design with the added benefit of ties to hold everything together, giving users a soft yet practical product.
The mattress should come highly compressed upon arrival, and it's best to allow it a couple of days to air out and expand to its true dimensions so that you can fully enjoy its full surface potential.
What makes it great?
The product won't feel like a plush memory foam mattress at three inches thick, but many love how it fees on a sore back. It also doubles as a yoga or exercise mat, a play mat, or cushion for additional seating during a casual dining occasion.
This product is lightweight and portable, making it great to take on the road, overnight house guests in limited space, or camping in a tent for additional plush comfort.
What is a Traditional Shikibuton Floor Mattress?
A shikibuton is a floor mattress, and can be referred to as a Shiki futon or a bedroll; it's a slim cushion designed for sleeping. It's a staple of Japanese culture and the people have been sleeping on them for thousands of years.
They're normally three inches thick, though some are four inches. They may be stuffed with cotton, and often this cotton is organic. The Japanese lay these futons on top of a straw mat called a tatami mat, and they use a blanket and a slim-profile pillow when it's time for bed. In the morning, the sleeper will often hang their shikibuton in the sun to freshen it up and kill any bacteria.
When it's inside, these beds are rolled and either used as a cushion for seating or tucked away in a closet out of sight.
If you're starting to see how convenient these beds are and how they could take the hassle out of moving, you're starting to get the picture of why these have maintained their popularity in Japan for so long.
Shikibuton Therapeutic Effects
Most of us tend to think that if we have back pain, then we should sleep on something soft and cushiony. However, the opposite is true! The reason is that a plush surface can cause the back to settle in an unnatural position that can make the back pain even worse.
Get More Info: How to Tell If  Your Mattress Causing You Back Pain
The advantage of a shikibuton is that it's firm, yet still supportive. It allows your back to form a natural alignment while still offering an ideal level of comfort so that you will be able to sleep peacefully.
Also, being nearer to the ground also has the effect of connecting better with nature. Even though you're not technically touching the earth, sleeping on the floor most closely simulates what it's like to sleep outside under the stars.
Pros of Japanese Futon mattress
Natural
The use of natural fabric is a clear advantage over the plastics, chemicals and petroleum products in Western mattresses. And, if you do opt for an organic mattress at a traditional outlet, then be prepared to pay a pretty penny.
By contrast, a Japanese bed is usually green by nature and costs a fraction of what you'd pay for a memory foam bed.
Prevents Night Sweats
Even though advances in memory foam have allowed the material to sleep cooler, people who tend to run hot still have some challenges with the foam. When they switch to Japanese bedding, they're more likely to notice that they sleep much cooler.
The reason is that the authentic Japanese mattresses are 100% cotton. Cotton is a natural fabric that wicks away and absorbs moisture from the body.
Portable
The absolute worst thing about moving is having to move a mattress from one place to another. And if you have more than one bed, then that hassle is multiplied. With a shikibuton, all you have to do is roll it or fold it, and you're all set.
It's lightweight and portable. Some people even bring theirs camping!
Space Saving
The advantage of a Japanese bed is that you can stow it away when it's not in use. The only time it's out and taking up room is when you're unconscious. What we love about this is that all of your rooms will now seem so much larger and you can do so much more with them once you don't have to decorate around a giant king or queen-size mattress.
Allergen-Free
Western beds cause many to suffer allergies for two reasons:
The coils or dense foam can trap dust mites, pollen, and environmental pollutants
The chemicals used in the bed's material can trigger an allergic reaction
Sunlight kills bacteria and has a cleansing effect. That's why the Japanese hang their shikibutons outside, and you should too if you get one. Exposure to the sun's rays kill bacteria and other allergy-causing factors. And when you beat the bedding, usually with a tennis racket or something similar, it knocks off dust and pollen, too.
Can you imagine trying to do this outside with a memory foam or innerspring bed?
Good for Back and Posture
Some doctors and chiropractors are starting to recommend Japanese bedding to help with pain and conditions like scoliosis. The theory that a soft mattress is ideal for healing and health has long ago been debunked, but we're still somewhat resistant to ditch the fluff and adopt a more streamlined style of bed.
Inexpensive
Beds are expensive! Even with online bedding companies offering fantastic deals, you can still get a futon bed for less than half the price of a decent memory foam bed.
If you're not ready to take the plunge and make a shikibuton your primary sleeping surface, try getting one bed for a spare or a guest bedroom, and then see how you (and your guests) like it.
Cons of Japanese Futon Bed
Firm Cushioning
If you're used to a plush mattress, you're in for a rude awakening. The Japanese futons are known for having a firmer surface. While this is usually the healthier option, it takes some getting used to.
If you've been sleeping on a traditional Western bed for 40 years, it's understandable that you might not fall in love with a shikibuton overnight. It'll take some time to adjust.
Difficult to Find
Sadly, these beds aren't available everywhere. In fact, most futon stores won't even have them. Fortunately, we live in the age of the Internet, where just about everything is available online.
Moisture Absorption
Even though cotton helps wick away moisture, keep in mind that the human body loses up to a pint glass of water every night when we sleep. Some of that gets evaporated, but a lot of it ends up on the sleeping surface.
There are a few things you can do to prevent too much moisture build-up:
Invest in a tatami mat to put under your shikibuton
Make sure you use a cover and clean it regularly
Whenever possible, hang your shikibuton out to dry, and expose it to sunlight
Flip models that can be flipped (check your care instructions). If flipping is not possible, then regularly rotate the bed so that the head area is now at the feet, and vice versa.
Japanese Shiki Futon Care Tips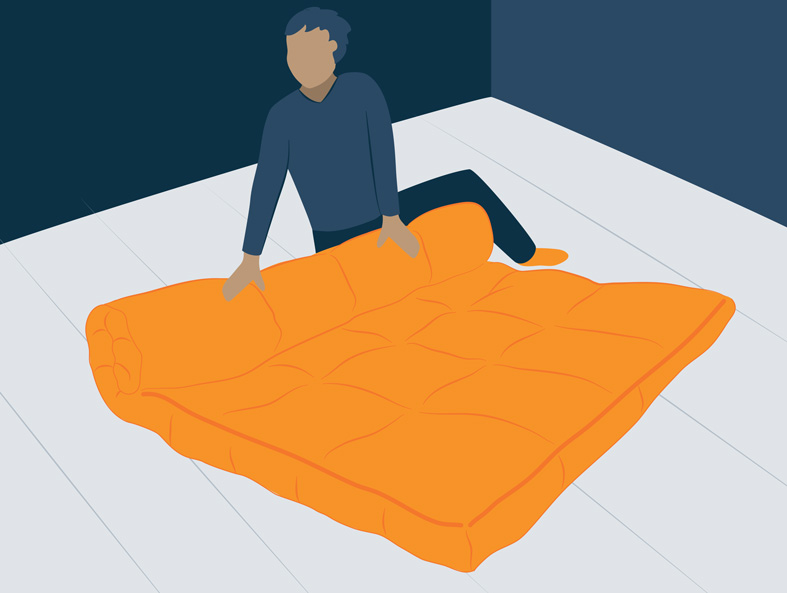 Keep it Dry
Don't leave your shikibuton out in the same place day after day. Instead, allow it to air dry in the sun on a regular basis. The sun not only dries it, but it also kills odor-causing bacteria. The Japanese do this weekly, if not daily, but if that's not convenient or doable based on where you live, then opt for two times per year.
Flip It
Another tip is to flip it frequently. When it's new, make it a goal to flip it once a week. After doing this for a couple of months, you can switch to flipping it once per month.
Fold it During the Day
When it's indoors and not in use, keep it rolled and store it in a closet. Leaving it out and exposed is an invitation for moisture, including spilling accidents.
Fluff It
Regular fluffing serves to both keep the futon dry, and it also helps it to hold its shape and fluffiness. To fluff your futon, hang it up to dry and beat it with a tennis racket.
Use a Protective Pad
Some shiki futons come with a protective cover or pad. If yours doesn't, then invest in one. Ideally, get one that's washable, so you'll be able to keep your sleeping surface clean on a regular basis.
View Our Complete Guide: Top Rated Mattress Protectors
Frequently Asked Questions about Japanese Futons
Are these comfortable to use every day on a Japanese floor?
Are Japanese futons recommended for guests?
Does it look good in a minimalist bedroom?
Why do Japanese people sleep on the floor?
Conclusion
If you've never considered Japanese bedding before, it may be time to think about making the switch. These beds boast lower prices, greener fabrics, and portability that no other bed can match.
You may be nervous about committing. That's understandable as it's a huge transition. How about trying one of these futons in a spare bedroom and testing it out first? If you decide to go for it, let us know what you think!
Rachael is a content writer for Sleep Advisor who loves combining her enthusiasm for writing and wellness. She's had a passion for writing since she was a kid when she wrote awful poetry. She's honed her craft quite a bit since then and considers herself a lucky duck to get paid to do what she loves.
Embracing the remote work life, she occasionally takes her work on the road and lives out her travel writer pipe dream.
In her free time, she attempts to meditate regularly, rides her bike to Trader Joe's, and enjoys trying every type of food that she can get her hands on.