Transparency Disclosure – We may receive a referral fee for products purchased through the links on our site...

Read More

.
Disclaimer - Nothing on this website is intended to be a substitute for professional medical advice, diagnosis, or treatment...

Read More Here

.
Limited space can be a challenge, especially when you're figuring out where to put your bed. If you're struggling to find enough room to get comfortable, a fold-out bed with a futon mattress could be an excellent fix.
Futons, while considerably thinner than a normal mattress, can offer significant back support, keep the spine in alignment, and even reduce aches and pain for many users. They're also a great option for frequent overnight visitors when you want to avoid a blowup mattress or sleeping on the floor.
Below, we'll share some of the best futon mattresses we've found for saving on space without sacrificing comfort.
The Best Futon Mattresses
Top 4 Best Futon Mattresses, Reviewed
Kodiak Furniture Futon Sofa – Editor's Choice
Kodiak Furniture Futon Mattress
This futon mattress stands out for its hybrid construction of both foam and coils. This gives it a great balance of comfort and support that side sleepers should love.
The Kodiak futon mattress embodies what a great futon should offer: affordability, convenience, and comfort. Its tufted surface adds an element of class when it's in its sitting position, and at 8 inches thick, its cushioning should feel downright cozy.
This bed features a hinged innerspring unit with 276 coils and a high-density foam construction meant to support your body while you sleep, making it a great choice for back or side sleepers. The bed's hinged design should make the transition from sitting to sleeping much easier, and there are additional soft cotton layers for added comfort.
Why we love it
This bed is CertiPUR-US® certified, which means it's built using trusted safety standards and is free of hazardous materials.
The product is available in multiple colors and fabrics, so you can choose the one that best fits your personal style.
Milliard Futon – Best Memory Foam Futon Mattress
Milliard Memory Foam Futon Mattress
The Milliard Memory Foam Futon Mattress utilizes a bamboo cover and multiple memory foam layers to provide a cooler, more durable, and more comfortable sleep.
Sleep Advisor Score
4.70 / 5
When most people think futon, they might think of an uncomfy rock-hard surface fit only for college dorms. That's not the case with Milliard's Futon: thanks to its memory foam construction, this futon contours like no other.
The two layers of foam work together to provide pressure relief and support, perfect for folks who love the traditional memory foam feel. Just be aware that you'll have to purchase the frame separately.
Why we picked it
Cleaning this futon is a breeze since the cover is machine-washable.
This mattress can be used with a bed frame or a sofa frame based on your specific needs.
IULULU Futon Sofa Bed – Best Luxury Futon Mattress
IULULU Futon Sofa Bed
Sleep Advisor Score
4.20 / 5
The ILULU sofa bed is perhaps the most versatile option on our list. You can choose from four positions (sofa, bed, split-back, and lounge), whether you need a quick nap or extra seating to entertain guests.
It also has adjustable arms for added customizability, and some options even come with a detachable cup holder. To ensure a comfortable yet solid foundation, this bed is composed of memory foam fill along with a spring support system.
Why do we love it?
Made for small spaces, this futon's compact design works great for apartments or rooms with limited space.
It comes in four cool colors (black, dark gray, brown, and purple), so you can match it to your decor aesthetic. The black and brown options look especially sleek with their leather-like finish.
Mozaic Trupedic – Best Budget Futon Mattress
Mozaic Trupedic Futon Mattress
Made with CertiPUR-US certified foam, this futon mattress uses foams that are certified to be safe and have fewer emissions than other foams, and comes in a variety of colors.
Even though you want comfort and good quality from your futon bed, you might not want to spend too much money on a mattress you may not use very often. This mattress, however, is a fantastic choice for those consumers on a budget. It's 8 inches thick and features a foam build wrapped in cotton with an upholstery-grade polyester cover on the outside.
According to their site, the company believes futon mattresses don't have to be boring, and this product comes in a stylish dusty blue color that should accommodate varied aesthetics. For those looking for a locally made product, the Mozaic Trupedic is also made in the USA.
Why we chose it
The mattress is listed as medium-firm, which means it should be an ideal fit for back, stomach, and side sleepers — a versatile option for those who plan to use their futon as an overnight bed for guests.
Futon Mattress Buying Considerations
Purpose
Consider how often you will be having guests over to use the mattress and what type of guests they may be. Children may not require as much space as multiple adults. In case you need to use it on occasion just as a guest bed, you may consider getting a cheaper option made from less expensive materials, such as a cotton-filled bed.
On the other hand, if you plan to use your futon every night as your regular bed, you ought to consider a high-quality, reliable, possibly hybrid futon bed with the proper structure and comfort.
Keep in mind that sleeping on a mattress that is not fit for your posture is capable of causing some serious issues. If your cheap bed causes you to develop a spinal misalignment, it could end up costing you more money in the long run due to doctors' bills or missed work.
If you're looking for alternative beds, you may consider a Japanese-style futon which may be an entirely different and intriguing option for you to explore.
Check Out Our Full Guide: Best Japanese Futon mattress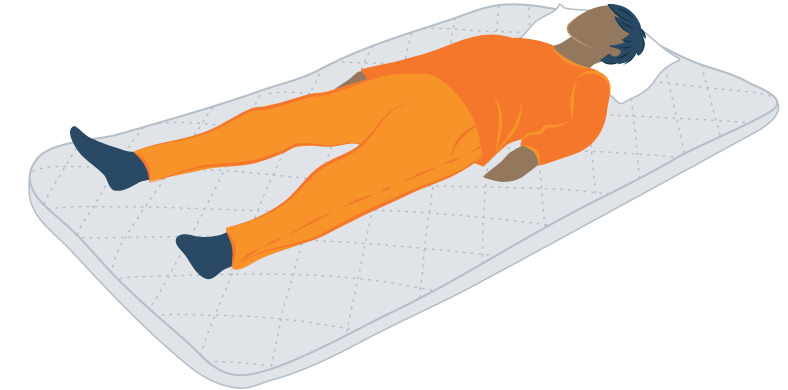 Aesthetics
While price is certainly an important consideration, don't underestimate the style of the bed you're looking for. If your couch will be front and center for guests, you'll want it to match your home decor, but also function well for a good night's rest.
Even though coil-filled futon mattresses are usually regarded as particularly comfortable, some can be much more likely to lose a lot of their shape as time passes.
On the other hand, some memory foam futon beds can hold and maintain their shape for a substantially longer period. Additionally, the latter is sometimes considered better for futons that are commonly used as couches.
Comfort
Comfort is just about the most important thing that you'd want to look forward to when picking your futon mattress. Remember, though, that comfort is not just about sleeping well but also about sitting comfortably as well. This is not a regular comfortable mattress – it's a futon, so it has to serve a dual purpose.
Make sure that you get a bed which is going to be comfortable not only for sleeping, but for sitting too. The materials which are used to craft the solution are ultimately going to determine the comfort that you get from it.
Want to know more? Learn how to make a futon more comfortable.
Thickness
The type of futon that you have alongside its overall structure would determine the thickness of the mattress.
While it's true that a sleek and thin futon mattress may look better than a bulky one, you might have to go for a thicker option if your sofa bed is made out of wood, for instance. The mattress needs to match the structure to make sure that you get a comfortable sleeping solution.
So, for instance, a futon mattress that is about 8 inches thick can offer quite a lot more comfort for an adult sleeper in comparison to a six-inches thick one; it depends on the materials used. An additional consideration to account for here is the weight of the person who will usually sleep on it – it's generally advisable that the heavier the person, the thicker the mattress needs to be to help prevent bottoming out.
Number of Folds
You will either get a bi-fold or a tri-fold mattress. If it is bi-fold, it is going to fold just once in two separate pieces. If it is a tri-fold, it will fold twice into three separate pieces.
The number of folds is solely dependent on the type of frame that you have. With this in mind, it's important to check with the manufacturer to determine whether you need a tri-fold or a bi-fold unit. If you are replacing an existing bed, simply check the folds that you have currently and purchase a unit accordingly – it's as simple as that.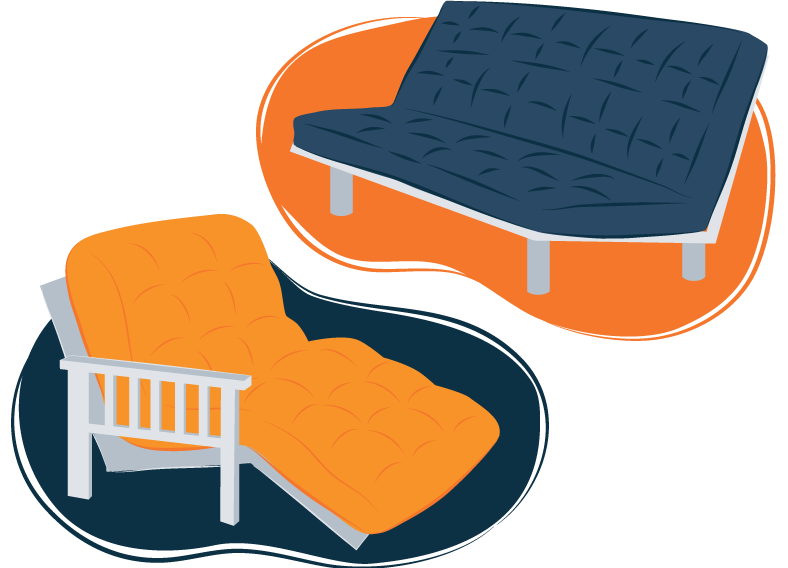 The Frame Matters
As we've mentioned above, a bed frame could have a serious impact on the type of mattress that you buy. The quality of the frame should properly support the mattress. Would you invest in an expensive frame only to top it with a budget futon bed or vice versa?
For example, if you have a wooden frame and you plan to have your futon for a longer period, you can make sure that your mattress matches your intentions.
On the other hand, if you are looking for a solution that you are unlikely to use for more than a few years, you can afford to purchase something cheaper. This is where wood composite or particleboard frames are particularly useful and you can pair them with a less expensive bed of lower quality.
Durability
The durability of the bed is mainly determined by the materials which are used to create it. As a general rule of thumb, you ought to go for a futon mattress which is made up of materials which should last longer while also providing you with the necessary comfort and convenience.
Additionally, you also want to take a look at the warranty periods. This is going to show you the approximate amount of time that the manufacturer thinks the mattress will last without manifesting any issues.
However, it is also important to understand that if you want your bed to last longer, you ought to make sure that it is properly taken care of.
Size
The size of your mattress would be solely determined by the size of the frame. There is nothing specific here – just make sure that the former matches the latter perfectly. If you're looking for a specific size mattress, check out our mattress size guide.
Should You Buy a Futon Pad?
A futon pad is a cover that you put on top of your mattress to make it more comfortable. There are a few things that you might want to account for here. Right off the bat, this is something that has the potential to significantly prolong the life of your mattress as it can protect it tremendously. Therefore, you can save quite a lot of money in comparison to how long it lasts, depending on the product.
On the other hand, adding another layer on top of your existing mattress could make the entire thing a lot bulkier than you may want. This is something that puts a lot of people off this choice, and they prefer to use a regular blanket, a slim cover, or nothing at all.
A futon pad could be used to adjust the comfort of the mattress, but that's not needed if the bed is already comfortable enough. These are some considerations to take into account if you are wondering whether it's a worthwhile investment or not.
Are Cheap Futons Worth It?
Different people will have different responses to a fold out couch. The thing that you want to place a lot of attention on is the purpose. If you intend to use the futon as your go-to sleeping bed because you don't have enough room, then you should consider investing a proper amount of money in a quality mattress.
Budget futon options usually pose a compromise on some of the points mentioned above, which may not be what you want if you are sleeping on this mattress every night.
On the other hand, if it's just something that you place in your guest room to increase the number of people you can accommodate for an overnight stay, a cheap futon bed sounds like an excellent idea to a lot of people.
Read More: Futon vs Air Mattress
Final Thoughts
As you can see, the lack of necessary room in your house doesn't mean that you can't make it work. Taking advantage of a convenient and comfortable memory foam futon mattress or an innerspring option is an inexpensive way to add some additional sleeping space without a lot of hassle.
All of the products mentioned above are worthwhile, and even though they are all quite cheap in comparison to the premiums, they offer a significant amount of comfort, support, and appropriate aesthetics.
For more mattress picks, check out our best mattresses of 2023 here.