Transparency Disclosure – We may receive a referral fee for products purchased through the links on our site...

Read More

.
Disclaimer - Nothing on this website is intended to be a substitute for professional medical advice, diagnosis, or treatment...

Read More Here

.
Folding mattresses are quickly taking over the market as the go-to storable bedding for travel, entertaining, and camping. Most of them are easy to store and carry, but you'll want to make sure that the one you own is as cozy to sleep on as it is convenient.
We've selected some of the best folding mattresses out there for our list of recommendations. Whether you're looking for a tri-fold bed that tucks neatly into a kid's room or something for adult guests, there's a folding mattress on this list for you.
Best Folding Mattress: Our Top Picks
Top-Rated Fold Up Mattresses Reviewed
airweave Futon – Editor's Choice
Airweave Futon
A firm but versatile folding mattress, the airweave Futon should hold up for years.
Sleep Advisor Score
4.80 / 5
The airweave Futon might have "futon" in its name, but it doesn't need a frame in order to shine in the comfort department. This folding mattress can be used on the floor, on top of a regular mattress, and anywhere else you have enough space to snooze. It's made of proprietary airfiber® material, which promotes beathability throughout the mattress and also makes the whole thing washable.
As the most luxurious item on this list, the airweave Futon should last you for years of use. Its design is both thin and exceptionally firm. If you're looking for spinal alignment and support in a non-traditional mattress, this painstakingly designed piece will absolutely fit the bill.

Why we love it
The cover has a warmer and cooler side to correspond with different seasons or temperatures. Simply flip to whichever surface feels best.

It's got carrying handles for easy maneuvering, and you can fold it in more configurations than most other folding mattresses.
Cushy Form – Great for Travel
Cushy Form Floor Mattress
This foam mattress comes with a handle to meet your travel needs.
Sleep Advisor Score
4.40 / 5
This portable and compact option easily folds into a matching zippered tote, making storage easy, convenient, and stylish. Gone are the days of stuffing an air mattress into a tiny case and hoping it won't rip open. The single/twin bed can be great for kids' sleepovers or family movie nights since they can easily lay side by side.
The mattress is made of dense polyfoam, making it a firmer choice ideal for stomach sleepers, but it is still ultra-lightweight to transport around.

Why do we love it?
The product smells like the lavender air freshener that comes in the package.
The bed's CertiPUR-US certification means this product is a safer option for families who want to limit exposure to hazardous materials.
Milliard – Great for Travel
Milliard Tri-Folding Mattress
Easy portable with supportive memory foam, the Milliard is a great option for sleepers on the go.
Sleep Advisor Score
4.70 / 5
Millard's 6-inch twin memory foam option checks all the boxes. With a 1.5-inch memory foam topper supported by 4.5 inches of polyfoam, this twin should offer enough support to make sleeping on the go comfortable and easy.
Although memory foam is denser than other materials, the Millard fold-up should still store and transport easily, making it a great option for travel and overnight guests.

Why we picked it
The twin option is very spacious and can cater to taller and heavier users as well.
This is a great product for camping since the foam insulates sleepers from the cold ground while inside a tent.
This is a useful item for moms who may want to take the bed into their baby's nursery so that they can sleep and care for their baby's needs.
Best Choice Products – Best for Children's Room
Best Choice Products 4in Portable Mattress
With its versatility and washable cover, this folding mattress is a great choice for kids.
While foldable mattresses may be convenient for unexpected overnight guests, they still take up valuable storage space that not everyone can spare. Best Choice Products has solved this issue by creating a product that doubles as a floor sofa, perfect for movies or extra guest seating.
The gray cover is both washable and dryer friendly, making after-movie cleanup a breeze, especially with its sewn-in handles that make the bed ultra-portable. Made of four inches of dense poly-foam, this option provides medium support, which is best for side and back sleepers and is light enough to be carried anywhere.
Additionally, the bed comes in three size options: twin, full, and queen. This allows shoppers to find the best fit for their space and needs.
What makes it stand out
This can be a resourceful option for travelers on the road who want to save money on hotels and use this bed instead.
Best Price Trifold – Great for Guests
Best Price Mattress Trifold Memory Foam
High density foam and a variety of seizes make this a great choice for all sleepers looking for a great value.
This memory/polyfoam bed is available in nine sizes, ensuring a good fit for the space you have available. With 1.5 inches of memory foam on top of 2.5 inches of high-density foam, all-night comfort and convenient portability can be yours at an excellent price point.
The mattress is shipped with a carrying case with durable handles, allowing ease of transportation, and the Certi-Pur label means this is a safer foam since it's not made with hazardous materials and produces fewer VOC emissions.

Why it made our list
Reviewers love the tri-fold design that reduces segment separation, making the creases feel undetectable while sleeping.
The light-weight material allows these beds to be more transportable, and the smaller sizes should fit easily in closets or beneath box springs.
Some campers have used the cushions inside their RV for better sleep on the road.
Cozzi – Great for Guests
Cozzzi Folding Mattress
The Cozzzi's firm and supportive foam makes it a great alternative to an air mattress when you're on the go.
Sleep Advisor Score
4.40 / 5
This tri-fold mattress is intended for a variety of activities, and customers can expect the material to hold up through it all. Whether you use it for tumbling, sleeping, or as a floor couch, the bed is built for support and durability.
Made from high-quality, long-lasting foam, this twin offers four inches of support wrapped in a removable cover that is washer-friendly. Lightweight with carrying handles, users should have no problem transporting or storing the product.

Why did it make our list?
We love this brand for its ability to keep its shape after long periods of use, making it an excellent travel companion for those constantly on the road.
The lightweight handles make it convenient to transport around.
The mattress offers firm support and should not compress or bottom out.
The design should allow plenty of space for active or taller sleepers.
What is a Foldable Mattress?
A foldable mattress is a lightweight, portable kind of mattress that you can easily fold up and store. They're more affordable and travel-friendly than traditional mattresses, but they aren't a substitute for them. Typically, they're used as a sleeping surface while you're on the go, whether you're a guest in someone's home or on a camping trip.
Folding mattresses are also often called tri-fold mattresses, because they commonly have three segments that you stack on top of one another when you fold the mattress back up. But some foldable mattresses will have more than three segments, or a different kind of folding design. (A few even fold up to resemble a small couch or loveseat.)
Benefits of a Folding Bed
With how cost-friendly and convenient foldable beds are, the more obvious question is why should you not buy one, but here are a few convincing reasons anyway.
Overall Portability
Many foldable mattresses are made to fit easily under a bed frame for storage, and even have cases or velcro snaps, to keep segments together while not in use. They can unfold to fit in awkward spaces, and if you are short on storage space, some options are multi-functional and can double as a couch, daybed, or even a chair.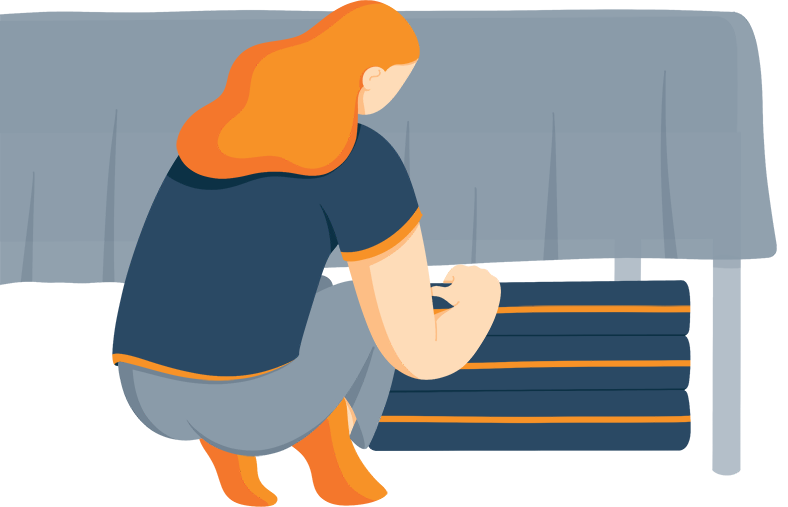 Convenient for Guests and Sleepovers
For customers with family and friends visiting from out of town, or children with frequent sleepovers, foldable mattresses are a quick, easily stored option that should not require too much time for set-up. After guests leave, the cushions are easy to clean and store. Some beds are even light enough for children to stow.
Affordable Solution
While other options for travel and overnight guests include trundle beds, pull out couches, or multiple air mattresses that may only get a few uses each, foldable alternatives cost less and often last longer. Many companies offer a variety of sizes, so you only pay for the amount of space you need.
Convenient for Campers
Whether you love to sleep under the stars, or in your tent, safe from mosquitos, foldable mattresses are a great option for comfort. For insulating sleepers from the cold ground and elevating your back from roots or pebbles, a light-weight foldable bed has the power to transform a camping experience, without taking up too much storage space.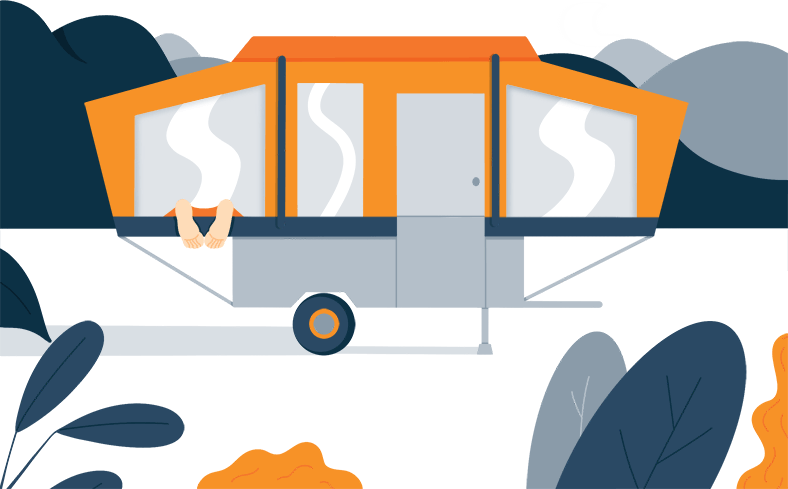 Travel Hack
Long road trips can wreak havoc on a traveler's mental and physical state, making a good night's sleep extra important, especially with time zone changes. Bringing along a foldable mattress can ensure wherever you end up stopping, there will be a bed with your name on it. Many travelers even use their foldable mattress to convert the back of their cars into a sleep oasis with the help of some pillows and blankets.
Folding Mattress Buyers Guide: Things to Look For
The Cover for a Folding Mattress
Removable covers protect the mattress from stains, moisture, dirt, or potential allergens. As not every brand includes them your purchase, you may consider buying a cover separately or choosing a brand with better protection.
Covers can also add to the comfort, style, and usefulness of a bed. Non-slip grips may be necessary if the beds are being used on slippery flat surfaces or inclines. While most are made from polyester material, some claim to be softer or more comfortable than others. Reading customer reviews may help verify these claims.
Want to see more? Check out our guide for the best mattress protectors.
The Materials Inside a Folding Mattress
Foldable mattresses are made primarily of two types of foam, polyurethane, and memory. Some offer a combination of memory foam toppers, and polyurethane layers for support, while others are made completely of polyfoam. While memory foam is better for back support, it is much denser than polyfoam and may make the bed heavier and less transportable.
Polyfoam offers less support and can sometimes feel softer, but it can be much less dense and is often a less expensive option. Some customers choose to buy polyfoam foldable mattresses with separate toppers if they need additional support.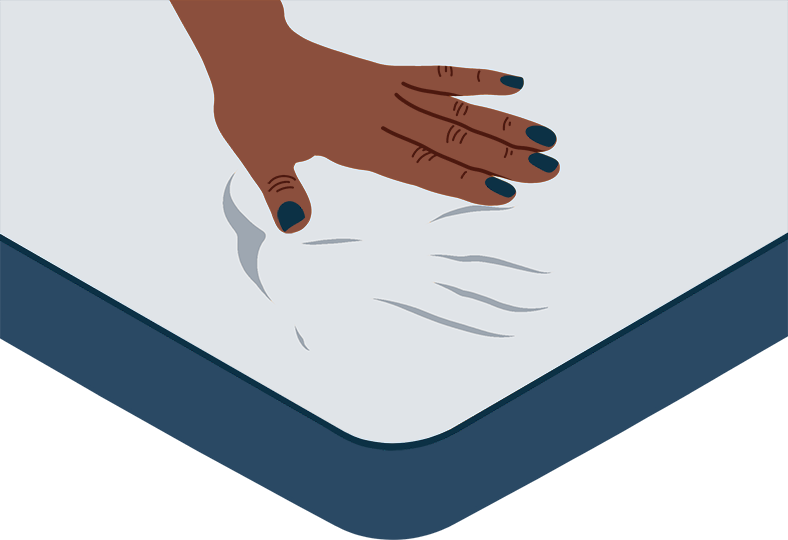 As with any bed-in-box option, the mattress may come out of the box smelling strongly of chemicals until it airs out, in a process called "off-gassing." While there are no studies specifically linking off-gassing to cancer or serious medical conditions, buyers who are sensitive to smells may experience headaches, sinus discomfort, or coughing as a result.
To avoid this, buyers can simply let the bed air out for a full twenty-four hours before use, or simply look for the Certi-PUR logo on company websites. This certification ensures that the company complies with specific standards regulating the amounts and types of chemicals used in the mattress foam. The result should be less off-gassing and a less noticeable scent upon unboxing.
Thickness/Height
Foldable beds come in a variety of thicknesses ranging from 3 to 6 inches, generally corresponding to prices. In most cases, a thicker layer of foam means better support, however, in some cases, four-inch memory foam may offer more support than a polyfoam six-inch mattress, as memory foam tends to more effectively offer support as it hugs curves and relieves pressure points.
As foldable beds are often used without a base, it is important to make up for the lack of stability or support. Opting for a higher-density polyfoam with at least medium firmness will likely afford reliable support, cost less, and ensure the foam does not compress and wear out over time.
Firmness
Most foldable mattresses are stuffed tightly to make up for the lack of stability from a base, or springs, resulting in firm support. While this is great news for stomach and back sleepers, firmer options may not be the best long-term option for side-sleepers.
Some options with lower density foam are softer than others, which may be more comfortable for side sleepers as long as the bed does not compress too much and leave you on the floor in the morning. Mattress firmness is largely a matter of preference, so reading reviews may not be as helpful in this department. It might be best to go with a brand that offers a money-back guarantee, or at least a reasonable return policy if you feel you may need to try a product out for yourself.
Folding Mattress Sizes
Foldable mattresses are available in a variety of sizes and prices, with some conforming to the traditional twin, full, queen range, and others offering extra small singles to extra-large California kings.
It is important to check the dimensions before ordering to make sure your bed can fit in your tent, car, or preferred location before it arrives on your doorstep. The table below provides a common approximate dimension across a variety of brands for each listed size, with the height varying by customer selection.
When the mattress is solely for the use of children, smaller sizes provide plenty of space and make for easy storage. However, when your bed may be used to accommodate a variety of adults, sometimes the extra money for the next size up may be worth the many nights of good sleep the increased legroom may provide.
Size
Dimensions in inches
(W x L x H)
Single (Extra Small)
25 x 75 x 4
Junior Twin
30 x 75 x 4
Twin
36-39 x 75 x 4
Twin XL
39 x 80 x 4
Full
54 x 75 x 4
Short Queen
60 x 74 x 4
Queen
60 x 80 x 4
King
76 x 80 x 4
California King
72 x 84 x 4
Need more info? Visit our full mattress size chart guide.
Dimensions of a Folding Mattress When Folded
While a bed may be light enough to carry on your next camping trip, you will want to make sure it can reasonably fit in your car or other intended storage space. The length and width may be standard by size, but the mattresses fold in a variety of ways, even if they are all trifold. The folded dimensions should be available in each available size on the company's website.
Total Weight of a Folding Bed
Even the smallest size memory foam will probably out-weigh larger poly-foam options because of their substantial density. Be sure to consider the total weight and intended purpose of each product before buying, so you do not end up in the lurch with a fifty-pound mattress the night before your big solo camping trip.
Ease of Movability
For mattresses that need to be brought on vacations or stowed and used frequently, keep an eye out for options that increase movability. Handles, securable segments via velcro straps, and totes are all useful in this effort.
Additional Considerations When Looking for a Folding Mattress
Built-in Pillow
Some beds offer a built-in-pillow option for added comfort, which can eliminate the need to provide your own for yourself or guests. For non-pillow snobs, this may be a convenient feature to consider.
However, if the foldable mattress you choose doesn't come with this option, take a look at some of our top picks for best pillows.
Budget
While foldable beds are generally an affordable alternative to luxury air mattresses or cots, some foldable mattresses are pricier than others. For a one-time activity or event, the cheaper option may be best for budget mattress shoppers. These products however don't tend to last as long, so if you see yourself using it more than a few times a year, a few extra dollars might be worth a few extra Zs.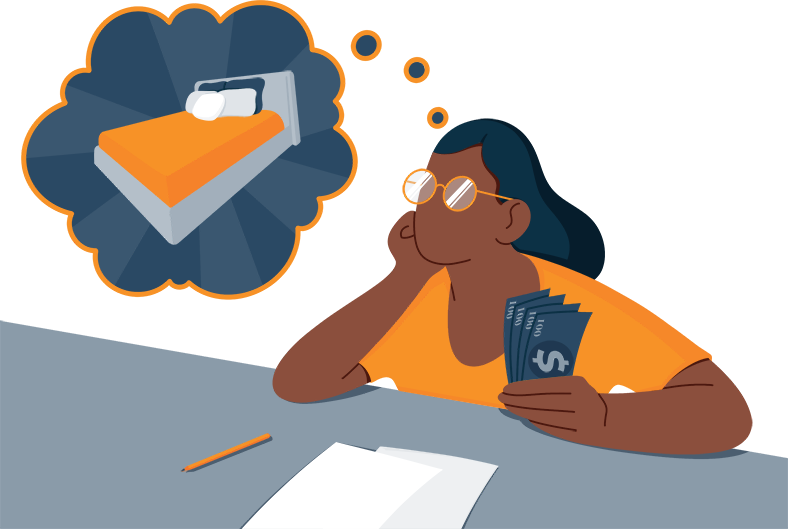 Storage Capacity
A few extra inches of foam may make a grand difference for heavier sleepers but also amounts to more storage space when not in use. Consider who will be using the bed before buying. Lighter sleepers like children may benefit from a thinner mattress that stores easily in a closet.
Read More: How to Properly Store Your Mattress
Warranty
If you are unsure about the type of bed you want, choose one with a warranty that will allow you to easily return your product if a feature does not work well for you. Many brands offer a 100% customer satisfaction guarantee to ensure you get what you pay for.
Remember that even with a guarantee, it is a good idea to order with enough time to take advantage of a possible exchange before you need the bed. The internet is littered with tales of shoppers who have a warranty and a receipt, but not enough time to return something before the event they bought it for. Be wise, order in advance.
Compatibility with Sleeping Position
While traditional mattresses can cater well to specific sleeping positions, foldable mattresses have less to offer in terms of variety. However, a few key considerations should help shoppers make the most of their purchase.
For back sleepers and stomach sleepers, medium to firm support offers the necessary support for hips and spinal positioning, and the good news is that foldable mattresses naturally fall into this category.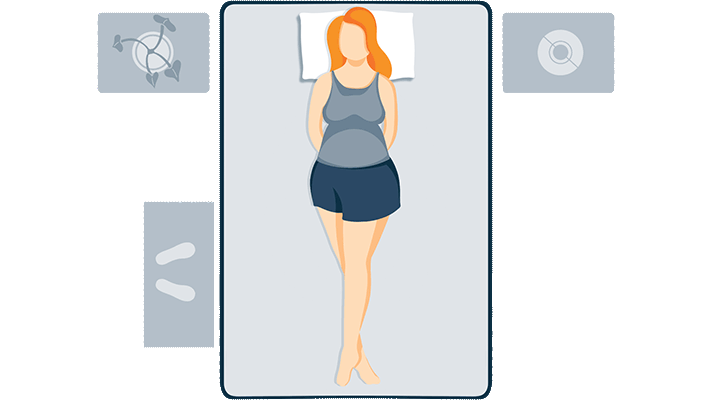 For side sleepers, softer to medium firmness is preferable, as long as there is enough support to stop the foam from compacting under your weight. Softer foldable mattresses are not as common as they require additional layers of support, so a good alternative is the memory foam option. Memory foam cradles pressure points on the shoulders and hips but rises to support the waist and legs.
Other Uses of a Folding Mattress
If you are short on space, consider purchasing a multi-functional option that folds into a chair or couch, like one of our picks for best futon mattresses. These mattresses are great for dorm rooms, movie nights, and children's rooms, as they provide extra seating or bedding in a snap and do not need to be stored at all.
Some colorful options double as room decor and bedding for sleepovers. Other customers have combined the product with their creativity to pad RV benches during the day, and then unfold them for a full sleeping arrangement at night.
Conclusion
Foldable mattresses have a seemingly unlimited number of uses, and a good quality bed has the ability to provide life-changing comfort to customers for years. From camping to road trips and everything in-between, these beds are a game-changer.
While improving sleep for yourself and guests is a plus, the easy storage, transportation, and multi-functional options make this purchase a no-brainer for travelers and entertainers. With a variety of colors and low-cost alternatives, there truly is something for everyone in the world of foldable mattresses.