Transparency Disclosure – We may receive a referral fee for products purchased through the links on our site...

Read More

.
Do you love hosting guests but struggle to know where to put them? Small-space living is on the rise, and—thankfully—so is multi-functional furniture. If you're looking for a bed that can do it all, a daybed may be the way to go.
These sofa-like pieces can replace regular beds in your home and also make great spots for guests, allowing for a real mattress rather than stiff cushions. During the day, you can use them for lounging or storage. Many even have space-saving trundles, which are great for multiple visitors or sleepovers for kids.
We've put together a list of the top-rated daybed options available to choose from.
9 Top-Rated Daybeds Reviewed
Modern metal frame
Rounded Victorian finials
Sturdy design
Roll-out trundle
Holds up to 400 pounds
DHP is a company that specializes in ready-to-assemble furniture for small-space living. Whether you're furnishing your dorm, condo, or smaller home, if you're short on space, DHP has solutions for you. This Manila Metal Framed Twin Daybed is one example of a multi-functional piece that's great for accommodating guests.
Built with a uniquely modern look that has a blend of sophistication and flair, this bed should complement any existing decor. Rounded Victorian finials add a timeless element that never goes out of style.
Crafted with a metal frame and metal slats, the sturdy design is built for durability and can hold up to 400 pounds. For sleepovers and visiting guests, the roll-out trundle on easy-glide castors can accommodate a Twin size mattress and an additional 225 pounds. Assembly should be a breeze with everything you need in one box.
Dorel Living –
Best Wooden
Solid wood design
Multiple colors to choose from
No boxspring required
Accommodates a trundle (sold separately)
If you're having trouble deciding between an extra sleeping space or a comfy sitting area, the Kayden Twin Daybed by Dorel Living may be the perfect solution so that you can have both. The stylish slatted design offers a relaxed modern look that should easily blend into your existing decor. This versatile and functional piece can transform any space into a cozy spot for reading or a comfy spot for guests to sleep.
The solid wood construction adds durability that should last for years to come. Wooden slats mean you can add a mattress without any box spring, saving you space and money. If you're looking for even more space-saving solutions, the Kayden can accommodate a trundle purchased separately.
The Kayden features clean lines and a beautiful finish. It comes in white, black, or espresso, so you can match your existing furnishings. To use as a sofa, simply add some extra-large throw pillows, and it's ready to go.
Twin size
Easy assembly
Durable steel frame
Affordable
If you're looking for the best Twin option at an affordable price, look no further than this budget-friendly Brandi Quick-Lock Day Bed by Zinus. This quick-lock easy assembly system is patent-pending and is designed so you can slide the slats in place to secure tightly. The included installation manual should help you have this product assembled and ready to use within minutes.
The strong steel frame is built to be sturdy and durable, accommodating one Twin size mattress. This unique design can be used alone without the need for a box spring.
You can use this daybed as an extra sleeping space or a comfortable seating area in your guest room, den, or office. With a modern and stylish look, it should fit well with any existing decor. The overall dimensions are 39.7 x 76.5 x 25.5 inches, making it a great solution for smaller spaces.
Modern and chic design
Metal construction
Side rails
Built-in trundle
1-2-3 assembly
High-end design
If you're looking to add an element of style to your smaller space, this Bright Pop Twin Metal Daybed by the popular Novogratz designers is sure to please. It features a sturdy metal construction with side rails and metal slats, so no additional foundation is required. Available in black, white, and turquoise, this impeccable design is both modern and chic.
This multifunctional piece also comes with a trundle underneath so it can be used to accommodate up to two guests. The 1-2-3 assembly is designed to make set-up quick and easy so you can start enjoying comfy lounging or sleep in no time.
Husband and wife duo Cortney and Robert Novogratz have a mission to create a boutique experience for modern families. As parents to seven children, they are well aware of the space-saving needs of bigger families. For over 25 years, they've been working together designing functional and stylish spaces around the world, and now they've launched a line of products to bring trendy and affordable furnishings into every home.
HOMERECOMMEND –
Best Metal
Superior stability and support
Noise-free design
Supports up to 300 pounds
No box spring required
Corrosion resistant
This Metal Daybed by HOMERECOMMEND features 12 steel metal slats and 7 reinforced legs for greater stability and support. The noise-free design means you should never hear creaks or scratching when the screws are tightly secured. The heavy-duty headboard and steel cross boards were built for durability and can support up to 300 pounds with no box spring required.
This bed is available in black or dark copper with accents like round finials and a powder coating finish that is corrosion resistant in dry environments. With 12 inches of clearance underneath, there's plenty of space for storage or a trundle.
All the tools you need for installation are included in the package, including easy-to-follow instructions for assembly. HOMERECOMMEND has been a top home-furnishing manufacturer since 1997, designing high-quality products for retailers and families. The company is proactive in product research and development, so you know that you are getting a well-constructed product that should last.
Hillsdale Furniture –
Best Elegance
Wood and iron elements
Solid square wooden posts
Additional trundle available
Solid headboard
Can be used as a sofa
Hillsdale Furniture is a brand that is all about functionality and style. This Madison Daybed features wood and iron elements for a look that's both modern and elegant. The solid square wood posts have a cherry finish, while the metal is a simple black that should complement any existing decor. With beautiful scrolls and decorative detailing, this classic and traditional piece will make a statement in any room.
With a solid headboard, this piece would make a great sofa for lounging with the addition of a few throw pillows. This sofa can also accommodate a Twin size mattress for comfortable rest. For sleepovers or guests, a separate trundle is available that can be stored discreetly underneath.
Hillsdale Furniture is a leading manufacturer of furnishings for bedrooms, guest rooms, and kids' rooms. They offer a variety of simple and classical designs that are functional yet stylish.
Little Seeds –
Best Trundle
Classic, sophisticated design
Diamond tufted
Velvet upholstery
Multiple color options
Built-in trundle
The Little Seeds Monarch Hill Ambrosia Diamond Tufted Daybed features beautiful velvet upholstery and is available in a variety of colors including blue, pink, ivory, and teal. With padding on the sides and back, this piece could be used as a comfy sofa for lounging or a bed for children or guests. This multifunctional piece also has a built-in trundle that pulls out from underneath.
This mid-century style piece is both classy and sophisticated, designed to reflect Old Hollywood glamour. If you want a look that is simple yet chic, this furnishing could be it. Little Seeds built this item with a bentwood slat system to provide better ventilation for your mattress so it stays fresher longer.
Little Seeds is a brand that is dedicated to providing families with high-quality furniture with great style. This company also cares about the environment and has partnered with the National Wildlife Federation's Garden for Wildlife program that is working to save the monarch butterfly.
Victorian style
Holds up to 330 pounds
No box spring required
Space underneath for storage
Easy installation
This multifunctional Victorian styled metal daybed by VECELO is large enough to accommodate a Twin size mattress and can hold up to 330 pounds. With 12.2 inches of space underneath, there's plenty of room for storage or an additional trundle (sold separately) for family, friends, or sleepovers. Premium metal slats provide durability and support, so no separate box spring is required.
The white, Victorian headboard features finial detailing for an added touch of sophistication in any room. This piece would work well for comfortable seating, a child's bedroom, or as a multifunctional piece in a smaller space. You can change the look of this item simply by adding different types of throw pillows.
This item ships directly to your door in a box and comes with everything you need for easy installation. There's no need to worry about purchasing separate tools because everything is provided.
Discovery World Furniture –
Best Bookcase
Solid wood design
Built-in bookcase
Adjustable-height shelves
Twin-size trundle
Drawers for extra storage
Easy-assembly kit
This solid wood Bookcase Daybed by Discovery World Furniture could be a solution to your storage needs. This would make a great bed for a child's bedroom with space for books, trophies, an alarm clock, and more. The headboard has two adjustable-height shelves, there are three drawers in the front on top of the pull-out trundle, and there are even drawers on the ends of the bed that can be used as hidden cubbies.
The solid pine construction adds a look of class and durability and comes in both honey and merlot finishes. The European glide drawers feature positive stops, so you don't have to worry about kids pulling the drawers out. The Twin trundle is on wheels and slides directly under the drawer unit.
This functional piece is classy and elegant with plenty of storage. Wooden slats can accommodate a Full size mattress without requiring any additional box spring. The easy-assembly kit comes with everything you need for installation.
Daybed Buyer's Guide
Daybeds are multifunctional pieces of furniture that are great for saving space in your home, office, or bedroom. Most feature a frame and three sides, similar to the look of a sofa, only with a deeper area for seating. They come in a range of shapes and sizes, and some even have roll-out trundles to accommodate guests or for sleepovers.
Are They Suitable For Adults and Kids?
Many families choose to use a daybed in their child's bedroom, but they can also be great in a guest room or other area of the house for when people come to visit. Most are available in Twin and Full sizes, but the main difference will be in the depth of the mattress, not the frame.
Best Features
Minimalist living, tiny homes, and multi-generational living are becoming commonplace, and multifunctional furnishings are a great solution. Daybeds can be used as regular beds, for accommodating guests, sleepovers, or as a sofa for lounging. With so many stylish options to choose from, you can change the entire look of a room with this focal piece of furniture.
These beds are great for transitioning little ones from four-sided cribs to a "big kid" bed because they still have the comfort of three sides. Children love feeling snug and cozy in their own little space. When they have friends come for sleepovers, roll-out trundles are a much comfier alternative to sleeping bags on the floor.
If you're short on space, this functional piece of furniture can serve as a bed and a sofa. The area underneath can be used for storage or to accommodate a trundle. You can save space and money by only having to purchase one item instead of two.
Main Parts
When you're shopping around, you may come across some words that you aren't familiar with while reading the product descriptions.
Think of the mattress support system as the structure that holds the mattress in place. The support system is intended to act as a strong foundation and can be used in lieu of a box spring. This holds the mattress and supports the weight of anyone sitting or sleeping on the mattress.
There are different types of support systems depending on the type of frame. Some have metal slats and others feature wooden slats. Another type of support system is link springs, which are grid-like metal pieces that connect to the side panels.
The frame is what encloses the mattress on three sides. The back may be a solid piece, similar to a headboard, or a single piece of metal or wood. Likewise, the sides may consist of single pieces of wood or metal.
The advantage of solid pieces of material is that they work better for lounging and use as a sofa. Otherwise, the bed would need to be positioned against a wall with multiple cushions for comfort.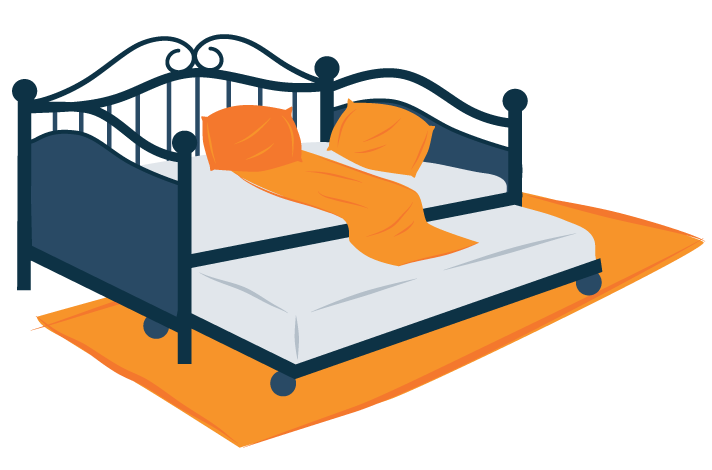 For an extra sleeping spot for guests or sleepovers, these beds can be hidden away and rolled out when you need them. Some also pop up to the same height as the daybed, creating one larger bed for couples or just for extra sleeping space.
The majority of brands offer trundles as an optional addition, although some feature trundles built in underneath. Even if this isn't something offered by the company you choose, most have enough room that they could accommodate a Twin size trundle sold separately.
Trundles may be built like a drawer that can be pulled out from underneath the mattress or a separate frame that rolls out. This can also be used as a space-saving solution for siblings who share a room.
Common Daybed Types
Just like regular beds, there are many different styles to choose from. Frames may consist of metal, wood, particleboard, or a combination of different materials.
---
If you're looking for an option that can accommodate more than one person at a time, a trundle could be the way to go. During the day, they can be tucked away discreetly while you use the space for lounging. At night, you have a comfortable sleeping spot.When guests come to visit, you have an extra bed that can be rolled out from underneath instead of having to resort to a couch or inflatable mattress. This is a functional and discreet alternative to a guest room that is wasted space most of the time.
Learn more: Our top rated trundle bed picks
---
This style of furniture features a curved or scrolled headboard and sideboards that looks similar to a sleigh (which is how it got its name). This style is often made with wood and is based on the early 19th-century French and American Empire period. With solid pieces on three sides, this style is well-suited for children and younger guests and also works well as a sofa for lounging.
---
A traditional design features three sides that encase the mattress in the middle. This is similar in style to a sofa, only it is deeper in order to accommodate a mattress.The type of materials, finishings, solid versus single-piece frames, and color may all vary, so there is still plenty of room for style with a traditional design. You can select these elements based on preference or to match the current decor of your home.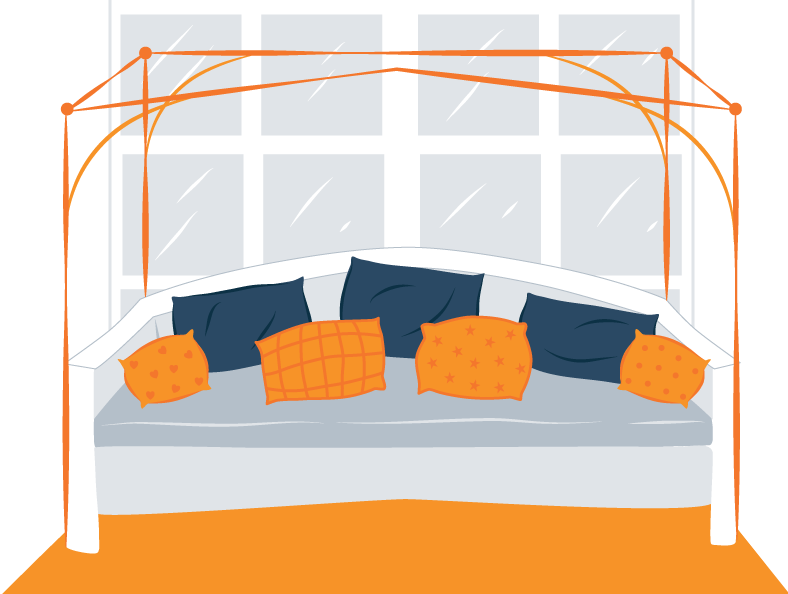 ---
When the frame is built much higher than the mattress, it creates a look of class and elegance. Canopies have been used for centuries, dating back to medieval Europe when they were used by noblemen and lords for warmth and privacy. Curtains are optional with canopies but can transform the feel of the bed, making your guests feel like they are an exotic vacation to some faraway land. Curtains can be made from material like mosquito netting or drapery.
---
A chaise is a very popular design that has a frame on three sides and an area for a mattress in the middle. It looks similar to a deep sofa that is often found in a therapist's office.Most chaises are made from solid material, similar to upholstery that is used for couches. Many people mistake chaises for being purely decorative, but they can be used for relaxing, reading, lounging, or sleep.
Typical Considerations When Buying a Daybed
Design
With so many different designs to choose from, you can customize the look based on your current decor or to transform a space in your home.
Size of the Room
If you're working with a smaller space, it's important to measure beforehand to be sure you have enough room for the design you choose.
Sturdy vs Simple Assembly
Buying furniture online is convenient and provides a greater selection of affordable options, but one drawback is that some assembly may be required. If you're a DIY type, this may not be an issue—but for the rest of us, the idea of having to follow complicated directions is daunting.
Some frames have minimal parts and are quick to assemble, but others may come with tools and a whole box of tiny pieces. More elaborate models that feature built-in trundles, fancy headboards, and additional storage may be enticing, but these will also come with added parts to put together.
Mattress Type
Mattresses must be purchased separately, and the size of the bed will be based on the type of frame. Most designs can be purchased in Twin or Double sizes, but trundles typically only come in one size—Twin. While most mattress sizes are standard, the height may be a factor when it comes to accommodating the space underneath the bed.
Style
Style is another element that is mostly based on preference, but it can also influence what you use your daybed for. If you plan on using it for lounging or as a sofa, having solid pieces will be important so you have something to rest against. For bedrooms, having extra storage is a plus.
Storage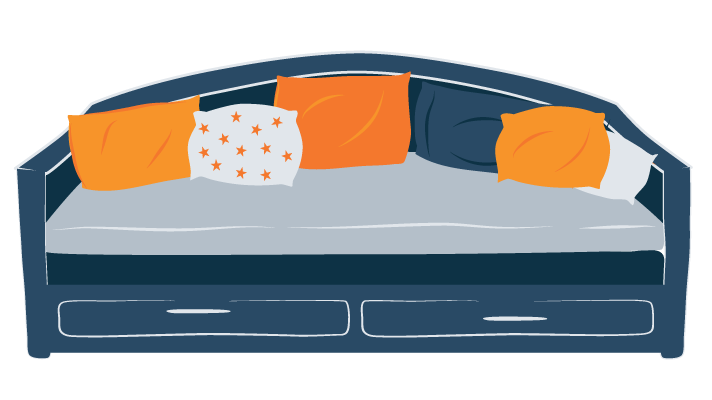 One of the major drawbacks of smaller spaces is less room for storage. Daybeds can be useful for small areas because they are taller than standard beds, providing lots of room underneath for storage. Some also have built-in drawers and shelving too.
Number of Pillows
If you plan to use this piece of furniture as a sofa, you may need to consider how many pillows you need to make it comfy.
Price Tag
Before you start shopping around, think about how much you want to spend. Keep in mind that mattresses, bedding, pillows, and other accessories are sold separately.
Functionality
What is your goal in buying this piece of furniture? Are you looking for an extra spot for guests? Do you need a bed that can also function as a sofa?
These items can be multifunctional, used for sleeping, lounging, storage, and more. Some designs are more functional than others, so consider your needs as you're shopping around. For guests or sleepovers, a trundle is a nice feature to have.
Conclusion
In a world of high-rise condos and tiny homes, space-saving solutions are a must. Daybeds are multifunctional pieces that can transform the look of a room or office, serving up a comfy spot for lounging or sleep. They make the perfect transition bed for children, and the addition of a trundle underneath is a huge bonus for sleepovers and guests.
If you're short on space, a daybed could be the solution you're looking for. Relaxing sofa by day, cozy sleeping spot by night, storage for all your random stuff the rest of the time. What's not to love?