Transparency Disclosure – We may receive a referral fee for products purchased through the links on our site...

Read More

.
Note: All mattresses selected for this page are queen size and priced under $1,000 (as of December 27th, 2021). Smaller beds (like a twin size) will be priced lower than the queen size listed. And bigger beds (like a king) will be priced higher than the queen, and therefore, might be above the $1,000 price point.
Our Best Rated Mattresses Under $1000
What are you searching for?
We want to help you find the best product for your needs.
Click on your preferred option below and it'll lead you to our picks for a selected category.
The thought of buying a new mattress can make wallets shudder; beds are often hefty investments. Fortunately, there are plenty of comfortable and durable mattresses for under $1000. These noteworthy products could provide significant savings and a good night's sleep.
With the rise of online merchandise available, there are many more budget-friendly options than ever before. You can find many quality mattresses within the $1000 price range – something which was not easy just a few years ago. However, knowing which ones are worth their price and which will have you replacing your product a year later can be difficult.
We've done the work for you by picking the best beds and highlighting each mattress's most essential features to help make your choice easy. In this article, we'll detail our favorite budget mattresses that offer more bang for your buck.
Helix Midnight
Hybrid Mattress
Best for Side Sleepers
Firmness Level: 6-7/10
100-Night Trial
10-Year Limited Warranty
The Helix Midnight is a good choice if you're looking to get the best for your money. The mattress promotes cooling, supports the body, and features quality materials that bring durability and comfort.
The bed is rated 6-7/10 on our firmness scale, so it's best for side sleepers looking to relieve pressure on the neck, shoulders, and hips. The Midnight is a hybrid mattress with coils and memory foam to bring the best of both worlds. The foam cradles the body and soothes pressure points, which side sleepers may appreciate. People sleeping on their back and stomach may prefer a firmer bed, but combination sleepers should like the Helix Midnight. The mattress has thicker-gauge perimeter coils for edge support, allowing sleepers to sit and sleep near the edge.
Why do we love it?
The foams used in the Helix Midnight have a CertiPUR® certification, meaning that they're free of chemicals, heavy metals, and toxins.
Signature Hybrid
Hybrid Mattress
Best for All Sleepers
Firmness Level: 4/10 (Soft) 6/10 (Medium) 8/10 (Firm)
120-Night Trial
10-Year Warranty
While many hybrid brands can quickly climb above $1000 due to the nature of the materials, Brooklyn Bedding has worked hard to offer customers significant savings with their Signature Hybrid model. Innerspring hybrids are generally great for cooling due to the ventilated springs and pressure relief, depending on the materials used.
The Signature Hybrid excels in both arenas, combining pocketed coils with multiple foam layers for a premium sleep experience doubled with excellent motion isolation. The company created their own foam, TitanFlex™, which is included in the quilted cover and first comfort layer. This hyper-elastic material is similar to latex and is designed to contour like memory foam.
Why do we love it?
With an 8-inch layer of pocketed coils, the bed was made to provide optimal spinal alignment.
As a bonus, those who sleep hot should find this mattress to be effective at ventilating heat and keeping you cool.
Tuft & Needle
Memory Foam Mattress
Best for Couples and Combination Sleepers
Firmness Level: 5/10
100-Night Trial
10-Year Limited Warranty
The Tuft and Needle mattress is on the softer side, so it's best for combination sleepers who change positions throughout the night. The bed is good for couples thanks to the mid-range firmness, motion isolation, and the surface bounce it provides.
The Tuft and Needle features a breathable polyester cover that allows the air to circulate so that the foam doesn't overheat. The construction allows a deeper cradle you'll notice when you lay on the bed. The foams hug the body to relieve pressure on the hips, shoulders, and neck without allowing you to fall into the layers. This memory foam mattress is good for lightweight and heavy individuals and has good motion isolation so that partners don't disturb one another when sleeping.
What stands out?
The Tuft and Needle is a versatile bed with a price below the industry average, especially given that it's an all-foam mattress. The bed features cooling properties and quick-responsive technology that add to its value.
Best Memory Foam Mattress
Nectar
Memory Foam Mattress
Great for All Types of Sleepers
Firmness Level: 7/10
365-Day Trial
Forever Warranty
Nectar offers a mix of savings and quality features at a reasonable price point, earning its designation as an Exceptional Value mattress. This bed has a medium firmness that should work well for the majority of sleeping positions.
Nectar is soft to the touch due to the Tencel and long-staple cotton cover that wicks away heat. A cooling gel memory foam is incorporated into the cover, followed by another layer of thick gel memory foam, an Adaptive Hi Core Memory Foam, and a breathable base. The materials should work together to create a seamlessly cool sleeping experience.
What's our favorite part?
Nectar is both a great value and a low-risk investment. The company gives sleepers 365 nights to try out their beds with hassle-free returns and free shipping.
The bed boasts both CertiPUR-US® and OEKO-TEX® certifications, meaning the mattress has passed strict third-party requirements and uses materials that are safe to sleep on and have in your home.
Best Mattress for Back Sleepers
Bear Original
Memory Foam Mattress
Best for Back Sleepers
Firmness Level: 6.5/10
120-Night Trial
Lifetime Warranty
The Bear Original is rated 6.5/10 on our firmness scale, which should fit most sleeping positions. Back sleepers should appreciate the support and pressure relief targeting the lower back and hips.
The construction of the Bear Original starts with a graphite-gel memory foam under the cover. This layer should help with cooling by pulling the heat away from the body. The second layer is made of responsive transition foam, which should help relieve pressure on the hips and shoulders. The base layer is 5 inches of high-density foam that holds the upper layers, preventing them from collapsing.
Why does it stand out?
The Bear Original should work for couples as memory foam layers isolate motion. Partners with different sleeping preferences should be able to toss and turn without disturbing one another.
Bear offers a lifetime warranty and a 120-night trial for sleepers to test the mattress before purchasing.
Layla Memory Foam
Memory Foam Mattress
Best for Back Sleepers
Firmness Level: 4/10 (Soft), 7/10 (Firm)
120-Night Trial
Lifetime Warranty
Layla is a dual-side mattress with one soft and one firm side. This makes the bed versatile and more durable since you can use both sides. The firm side is better for back and stomach sleepers, while side sleepers should appreciate the soft side.
The construction starts with 3-inch copper-infused memory foam if the soft side is up. Copper is antimicrobial and a good heat conductor, important for hot sleepers. Next is the 2-inch Air Flow support foam layer that enhances breathability and helps with temperature regulation. Further down is the 4-inch foam that's the mattress foundation, followed by the 1-inch base made of the same copper-infused foam. The Layla memory foam mattress is flippable, so you get two beds for the price of one.
What stands out?
The soft model cradles the body, relieving pressure on the hips, shoulders, and other areas where pressure builds up when you sleep on your side.
Looking to learn more? See our Layla bed review.
Best Customizable Mattress
Dreamfoam Essential
Memory Foam Mattress
Best for Back, Side, and Stomach Sleepers
Firmness Level: 5-6/10 (Medium), 6.5/10 (Medium-Firm), 8/10 (Firm)
120-Night Trial
10-Year Warranty
The Dreamfoam Essential is a customizable mattress available in 6, 8, 10, 12, and 14-inch heights and three firmness levels. You can choose the height and firmness based on your preferred sleeping position.
The Dreamfoam Essential is a memory foam mattress suitable for couples and single individuals. The height of the bed depends on the model you choose, so the thinner models have thinner layers. All models have dense polyfoam and gel memory foam for pressure relief and cushioning. The 12-inch and 14-inch mattresses are the most supportive, thanks to the VariFlex™ transition foam layer. The firmer models should fit stomach and back sleepers looking for support, while the medium mattress is good for side sleepers.
Why it stands out
The Dreamfoam Essential features open-cell technology that enhances breathability and airflow. When combined with gel memory foam, the open-cell technology is ideal for hot sleepers.
Cocoon Chill
Memory Foam Mattress
Best for Back, Side, and Stomach Sleepers
Firmness Level: 6/10
100-Night Trial
10-Year Warranty
Hot sleepers know the struggle of trying to fall asleep when sweating and overheating. One of the best ways to prevent this is by using a cooling mattress like the Cocoon Chill.
The Cocoon Chill is a memory foam mattress with cooling properties that help prevent overheating. This comes from the Phase Change Technology in the cover that helps with temperature regulation. The bed is 10 inches tall, featuring three separate foam layers. The design starts with Cocoon's Perfect Fit Memory Foam, followed by a 2-inch Responsive Comfort Foam layer. The first two layers provide comfort, pressure relief, and motion isolation. The base is a 6-inch Essential Support Layer that gives structure and support. All layers work together to prevent sinkage and allow proper spinal alignment.
Why it stands out:
The DreamFoam Chill features open-cell technology that enhances breathability and airflow. When combined with gel memory foam, the technology is ideal for hot sleepers.
Best Medium Firm Mattress
Puffy Original
Memory Foam Mattress
Best for Side, Back, and Stomach Sleepers
Firmness Level: 5.5/10
101-Night Trial
Lifetime Warranty
The Puffy Original is rated 5.5/10 on our firmness scale, so it should be good for all sleeping positions. The medium-firm foam layers support the body, provide healthy spine alignment, and reduce pressure on the lower back.
The top layer is the 2-inch Cooling Cloud Foam layer that adapts to the sleeper's weight. The layer is designed to compress or pushback, depending on how much weight you put. The second layer is the 2-inch Climatecomfort™ Foam that acts as a transition layer, providing pressure relief on the hips, legs, and shoulders. The base of the bed is a 6-inch Firm Core Support Foam that gives stability while preventing you from sinking into the bed. Stomach and back sleepers should like the support, but some side sleepers may want a softer mattress.
Why we like it:
The Puffy Original is good for couples because the memory foam absorbs vibration and reduces motion transfer. This allows partners to toss and turn without disturbing one another.
What to Expect at $1000 Range?
As you can see from the above, there is no need for you to spend $5,000 to get a truly amazing mattress. Support, reliability, and comfort can easily be achieved for a lot less than that. A high-quality mattress under $1000 is not too hard to find and their characteristics and added benefits are to be seriously considered.
For a bed under $1000, you can expect high-quality and high count of springs, should you decide to go for a mattress with an innerspring construction. If you want to opt for a memory foam, you would be able to find a solution providing several layers of high-end foam to enhance the support. The latter will usually vary within the range of soft, medium or firm, which covers the vast majority of options and popular demand.
For this budget, you can also expect to get premium stitching, which are designed to last for a long time as well as a comprehensive and reasonable warranty that you should able to take advantage of if you need to.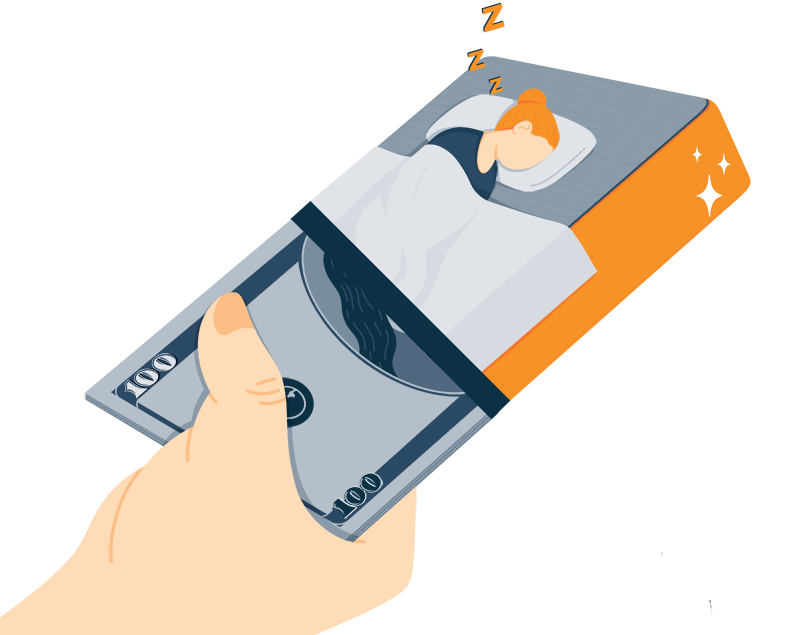 All in all, there isn't much of a difference between a $1,000 and a $5,000 bed when it comes to fulfilling needs. Sometimes, it comes down to the actual manufacturer and the mark-ups. That's why it might not even be worthwhile for you to overspend on a mattress as the value that you'd receive could ultimately be the same.
One of the main differences is the lifetime warranty offered by the majority of extremely expensive and premium products. However, not all mattresses will last or be used for a lifetime and warranties tends to only be good against manufacturer defects and not regular wear and tear.
Get More Info: How Much Does a Mattress Cost
Choosing the Ideal Type and Material for Bed under $1000
Innerspring
Innerspring solutions within the $1,000 range are generally going to be rather good. The materials they are made out of, however, are likely to vary to a certain extent.
What is more, more expensive solutions also tend to use the same steel from which swords are made of. While this should make them more reliable and durable, whether or not they are worth the additional money is a matter of personal values.
There are two primary types of innerspring setups that you will be able to choose between.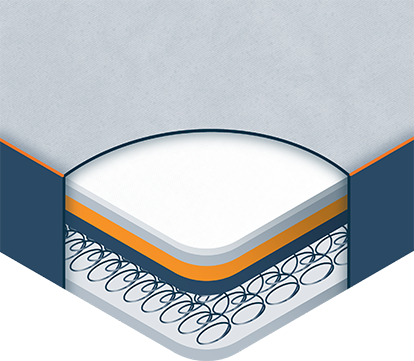 Within the given price range, you could take advantage of either one. Linked/connected coils are the solution that you've probably grown up with.
These are the kind which are not going to absorb any motion at all, making the entire bed bounce up and down when someone moves around it. While it might provide the ultimate jumping grounds for your kid, it may not always provide premium comfort levels.
On the other hand, there is an innerspring construction with individually wrapped coils that is often seen as superior to the connected type. These pocketed coils are wrapped in some sort of cloth and they are conveniently lined within the bed. In certain situations, they might be filled with foam or with some other types of materials for added comfort.
Read Our Full Guide: Top Rated Innerspring Mattresses.
Memory Foam
At the given price range, rest assured that you're conveniently set for pretty much anything available on the market for this type. The quality of your memory foam mattress is highly likely to be top notch, making the bed feel incredibly comfortable and providing you with serious longevity at the same time.
When it comes to the density as well as the durability of the foam, these are characteristics which may determine the comfort and support brought by the mattress. The higher the density is, the more reliable the product should be.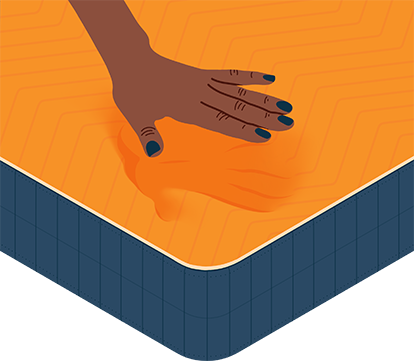 The general rule of thumb for a premium solution would be about 4 lbs. per cubic foot of density concentrated in the comfort layer of the mattress. At $1,000 price tag, you could get even better.
The thickness could range between 10 and 15 inches, but some products have slightly less and are still high quality. This is a broad spectrum that is capable of accommodating the vast majority of sleeping positions and preferences.
Latex
Paying latex mattresses the necessary attention could be to your benefit as this is a great alternative to the most traditional memory foam options for a range of different reasons. The most considerable differentiation hides behind the fact that latex, at least the majority of it, is a natural material. This makes it a renewable resource unlike the chemical solutions used to create memory foam, and therefore preferable to many.
There are two types of latex available at this price point, both of which are geared towards bringing a different result, Talalay and Dunlp.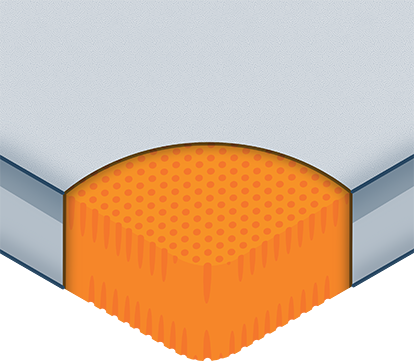 Dunlop latex is very elastic and dense. It's also typically a lot more affordable in comparison to the other option. It is made in thick sheets that are usually softer ontop, transitioning into a fimer base, allowing it to transition well, which makes it a great option for overweight people.
Talalay latex is the more premium of both solutions. This type uses a contruction method that removes the air, giving it a feel that tends to make it a lot lighter and softer in terms of appeal and sensation.
Get More Info: Best Latex Beds
Hybrid
There are different types of hybrid solutions available at the $1,000 price range. You can combine innerspring with memory foam and latex for a firmer, less bouncy, and reliable sensation. The benefit of hybrids has been optimized thanks to the contemporary individually wrapped coil system of modern innerspring solutions.
If you want to diminish the cradling effect of memory foam, you can opt for a hybrid with latex that offers higher bounce and enhanced movability.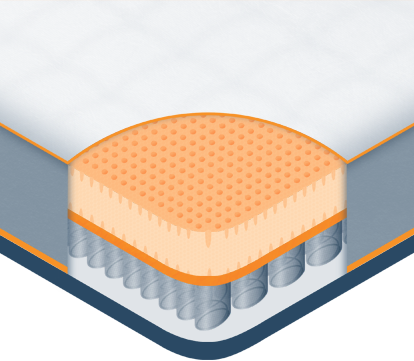 Our Final Thoughts
There are quite a few things that you ought to account for when picking your mattress. The good news is that $1,000 or less than that is a suitable budget to find a premium and high-end solution for your bed.
Many options costing more than that can reflect higher markups, brand reputation, organics, and enhanced warranty. The latter, as we've already determined, is typically for manufacturer defects.
So, you needn't worry about spending a small fortune on your mattress as there are plenty of effective, comfortable, and incredibly supportive solutions for a fraction of the cost.
Rachael is a content writer for Sleep Advisor who loves combining her enthusiasm for writing and wellness. She's had a passion for writing since she was a kid when she wrote awful poetry. She's honed her craft quite a bit since then and considers herself a lucky duck to get paid to do what she loves.
Embracing the remote work life, she occasionally takes her work on the road and lives out her travel writer pipe dream.
In her free time, she attempts to meditate regularly, rides her bike to Trader Joe's, and enjoys trying every type of food that she can get her hands on.