Transparency Disclosure – We may receive a referral fee for products purchased through the links on our site...

Read More

.
Bedsores, also known as pressure ulcers, are painful wounds that result from prolonged pressure on certain areas of the body. They're most common in people who spend a lot of time reclining or sitting in the same position. For this reason, specialized mattresses have been designed to help prevent bedsores from developing or worsening.
For people who are largely bedridden and often in hospital-grade beds, alternating pressure mattresses or mattress toppers are a good option for keeping pressure ulcers at bay. These electrically powered mattresses steadily inflate and deflate different chambers inside of them to keep changing the distribution of pressure on the user's body.
Traditional mattresses can also be useful in providing pressure relief. If you're hoping to prevent bed sores in the future, investing in a mattress that reliably takes the strain off of key pressure points can help.
Here, we've collected our favorite alternating pressure mattresses and traditional mattresses that may guard against bedsores.
Best Mattresses for Pressure Ulcers and Pressure Relief
Best Alternating Pressure Mattresses for Bedsores
Best Traditional Mattresses for Pressure Relief
The Best Alternating Pressure Mattresses to Prevent Bedsores, Reviewed
Best 16-Cell Alternating Pressure Mattress
Vive 8″ Alternating Pressure Mattress
16 Air Chambers

Ultra-Quiet Pump

Waterproof Vinyl Cover

Variable Pressure Settings

Head Stabilizing Cushion
The Vive alternating air mattress is designed to use 16 different air chambers that employ a variable air pump to mitigate prolonged stress and offer soothing relief. This preventative product is made to manage and treat ulcers to keep your loved one comfortable in the event of limited mobility or extended bed rest.
Aiming to offer maximum comfort, Vive has implemented customizable settings to alternate inflation and deflation frequency and regularly vary the overall air pressure for comfort and health. The cells at the head of the bed remain statically inflated to keep the user's head stable, minimizing disruption, and the product includes a static setting for non-medical use.
Some individuals enjoy the sound of a dull fan, however, others can find these sounds irritating. If the user is sensitive to noise, this mattress features an ultra-quiet pump to foster peaceful sleep.
Best Budget Alternating Pressure Mattress
Proactive Medical 80030 Protekt Aire 3000
Quiet Pump

Customized Air Settings

Static & Interval Modes

Temperature Relief Air Holes

Rapid Deflation
This budget mattress is an excellent value for the money to help prevent your loved one from developing dangerous spots while they're immobile. The Protect Aire 3000 is an ideal pressurized product that allows for deep submersion and superior stress redistribution. The bed boasts 20 individual cells that support soothing relief for high-risk patients.
The powerful yet quiet pump is user friendly, limiting tricky setup, and the mattress it inflates is designed to treat bedsores at any stage. The pump switches in 10-minute intervals to adjust the airflow, and the dial allows for customized air settings for individual needs, making it an excellent budget option.
You can even leave the mattress in static mode if the user needs a break occasionally from the slight adjustments. This product offers a remarkable value to treat serious injuries and prevent and treat painful ulcers with care.
Best Alternating Pressure Mattress with a "Whisper Quiet" Pump
Drive Medical Med-Aire 8″
Rapid Deflation

"Whisper Quiet" Pump

20 Removable Deep Air Cells

Fluid-Resistant Cover

Stabilizing Head Pillow
Sensitivity to noise could be an issue with mattresses that use motorized air pumps. However, the Drive Medical Med-Aire utilizes a "whisper quiet" mechanism to provide a peaceful night of rest. This eight-inch mattress offers an alternating pressure system and low air loss therapy to provide maximum pressure redistribution and manage bedsores.
The product is created using 20 deep air cells that can be easily removed and replaced to treat unhealthy spots, mitigate discomfort, and minimize skin ulcer development. The pillow function at the head of the bed can be switch into static mode for patient comfort, and the rest of the cells can also be put into static mode to provide a rest from the alternating pressure mechanism.
The nylon cover is fluid-resistant, vapor permeable, low shear, zippered and quilted for optimal comfort. This product is made to last, and function with ease using spring lined air tubes to prevent airflow disruption and kinks.
Best Easy-to-Use Alternating Pressure Mattress
Medacure Alternating Pressure Air Mattress
8 Ventilation Cells

Emergency Deflation Valve

17 Removable Air Cells

Customizable Air Settings

Removable Cover
This simple to operate Medacure Alternating Air mattress is hospital-grade to offer premium support and tension relief. The bed works to prevent bedsores by switching inflation levels regularly and boasts eight customizable pressure levels to accommodate your loved one's unique needs. The options allow you to adjust the feel to various soft, medium, and firm levels.
This easy to use bed is designed to inflate with ease and should deflate without hassle. The cushion even has a CPR emergency function to deflate in seconds by merely tugging a tag, allowing emergency measures to be taken quickly without the cushioning getting in the way.
Eight ventilation cells work to make sure the bed retains air and keeps individuals and skin ulcers dry. Additionally, the 17 air cells are created to hold air securely even during transport and are easily removable and straightforward to snap back in place. The removable cover works to maintain dryness and comfort.
Best Alternating Pressure Mattress with a "Cell on Cell" Design
Drive Medical Med Aire Low Air Loss Mattress
"Cell on Cell" Design Prevents Bottoming Out

Customizable Settings

Stabilizing Head Pillow

24 Hours of Power Outage Protection

Intelligent Diagnostic Alarm Pump
This low air loss mattress works efficiently to reduce the appearance of bedsores and repair afflicted areas. The combination therapy system offers both alternating low air loss and pressure to maximize air distribution and care for skin maceration. This product should prevent, treat and manage bedsores when your loved one is rendered immobile or bedridden for long term care.
A digital pump equipped with diagnostic alarms provides customizable settings to suit individual needs. Due to the sensitive nature of skin ulcers and the need for constant air redistribution, this product will automatically return to alternating pressure mode when left on static mode for over two hours.
This brand's innovative cell on cell design works to prevent "bottoming out", keeping users comfortable. In the event of a power outage, it should provide up to 24 hours of power protection, keeping users comfortable and safe even when technology fails.
The Best Traditional Mattresses for Pressure Relief, Reviewed
Saatva Solaire
Multiple Firmness Options

Free White Glove Delivery

Made in the USA

365-Night Trial

Lifetime Warranty
The Saatva Solaire is an innovative mattress that features an air chamber from vulcanized latex that can be adjusted via remote control. The user is able to modify air pressure in the chamber to whichever firmness feels most comfortable. For example, if you need extra relief for pressure ulcers, you can set the chamber to a softer feel to help melt away pressure buildup. 
The Solaire's chamber's settings go from 1 to 50. This wide range allows the bed to accommodate all kinds of body types, making this a quality investment for many shoppers.
What stands out?
The Solaire's unique air chamber design is excellent for creating a customized sleep space.

This bed should provide exceptional pressure relief through multiple comfort materials, including a 5-zone Talalay latex layer and a gel memory foam layer.

Saatva offers customers free white glove delivery with their purchase, so a team of professionals can do the heavy lifting for you.
Best Memory Foam Mattress for Pressure Relief
Tempur Adapt with Tempur-Ergo Smart Base
Free White Glove Delivery

90-Night Trial

10-Year Warranty

Foam or Hybrid Version
The TEMPUR-Adapt from Tempur-Pedic is available as an all-foam or hybrid model, giving shoppers the chance to choose whichever type suits their needs best. The foam version of this bed is available as a soft, medium, or firm model. However, the hybrid version is only available in a medium firmness.
The company also sells a TEMPUR-Ergo® Smart Base that is compatible with this mattress. The TEMPUR-Ergo® Smart Base should help those experiencing pressure ulcers by allowing them to modify their sleep position for improved comfort and reduced pressure. This advanced base also uses Sleeptracker®-AI to monitor the sleeper, including their behavior and environment.  
What makes it special?
In addition to a high-tech adjustable base, shoppers get the benefit of customization right from the start. Customers can decide between a foam or hybrid version, and for those who want the foam, there are three different comfort levels.
Best Smart Mattress for Pressure Relief
ReST Bed
CertiPUR-US® Certified

90-Day Trial

10-Year Warranty

Made in the USA
The ReST® Bed is a smart mattress that features five adjustable zones for optimal comfort. These zones include the head, shoulders, lumbar region, hips, and legs. The opportunity to modify your comfort level in these specific areas is especially advantageous for side sleepers, who can experience extra pressure buildup in this position, most notably in the shoulders and hips.
The mattress uses a smart sensor technology that detects pressure buildup and is made to respond to this pressure in real-time. Furthermore, the gel memory foam incorporated into the top of this bed should relieve pressure.
Why should you consider it?
This bed should be helpful for those with pressure ulcers because it uses smart technology to help prevent pressure buildup as soon as it's detected, reducing the risk of exacerbating the issue. 

The company offers a 90-day trial, giving shoppers plenty of time to test out this mattress for themselves.
Best Cooling Mattress for Pressure Relief
Pod 3
CertiPUR-US® Certified

100-Night Trial

10-Year Warranty

Made in the USA
The Pod 3 Mattress from Eight Sleep comes with an 11-inch profile and three high-quality foam layers. The initial foam layer should deliver a nice cushion against your pressure points. However, the second transitional layer should respond to pressure more quickly.
This bed also comes with highly appealing cooling features for folks who tend to sleep hot. The Pod 3 features a dual-sided temperature control system. This feature allows you and your partner to adjust the temperature of your side of the bed. So, even if you sleep hot but your partner doesn't, both parties can rest comfortably. 
What stands out?
The Pod 3 works with an app that tracks helpful health-related details including the sleeper's breathing rate, heart rate, and REM Sleep. 

If you're unsure about the bed, the company offers a lengthy trial period that should give you enough time to decide before committing to your purchase.
Bedsore Mattress Buyer's Guide
Ulcers can be dangerous if not treated with care and consideration. Here is our buyer's guide on how to pick one that best suits your needs.
What Causes Pressure Ulcers?
Pressure ulcers, commonly referred to as "bedsores," develop by prolonged pressure. They typically arise in people confined to wheelchairs or beds due to health or mobility reasons. Due to their predicament, individuals who lack mobility or have undergone surgeries or treatments are typically more prone to these injuries, as they're rendered stationary.
Skin ulcers are progressive and difficult to treat once developed. However, they are mostly preventable by the use of a stress-relieving mattress. These sores commonly appear on the heels, elbows, spine, and hip regions due to these areas' bony nature and exposure to pressure. These injuries can be serious, so prevention is paramount.
Bedsores get progressively worse but can be identified early if you know how to look for the signs. Below we discuss what to look for.
Stage 1
Some individuals begin to complain about an itching or burning sensation. The spot is red and warm to the touch.

---

Stage 2
The skin around the sore becomes discolored, and the area develops into an open sore or blister. The open wound is often painful.

---

Stage 3
Due to the damage below the skin, the wound becomes crater-like in appearance, and the pain continues to worsen.

---

Stage 4
The wounds become considerably large and severely damaged. The muscles, bones, and tendons are now at severe risk, and infection could strike at any moment.
How Can a Mattress Help in Pressure Ulcer Prevention
A mattress can help prevent bedsores from appearing by evenly distributing the weight so that no one spot receives an overly concentrated amount of pressure. This is often challenging with individuals who are bedridden or immobile, however, frequent adjustments are critical for prevention.
Various types of mattresses work well for preventing these ulcers.
Air loss cushions work by simulating a weightless sensation, relieving pressure from the afflicted area. Dynamic beds work by inflating bubble cells for support and deflating ones near the infected region for relief.
Static mattress work by using modern foams to distribute weight and reduce the chance of bedsores and prolonged tension. Finally, hybrid mattresses are a combination of a static and a dynamic mattress, using features beneficial to both designs, and work well for high-risk individuals.
What to Consider When Choosing a Pressure Relief Mattress
There are many features to keep in mind when searching for an accommodating mattress; we dive into the details to help you know what you're looking for.
Development of the Bedsores
Pressure ulcers can develop in multiple ways; however, it's always through prolonged pressure of some type. When they arise, it's critical to assess how serious the bedsore is and take appropriate care to treat it. If the damage is already moderate to advanced, a dynamic or bubble-style mattress where you can deflate cells near the sore should work best.
Mobility of the Patient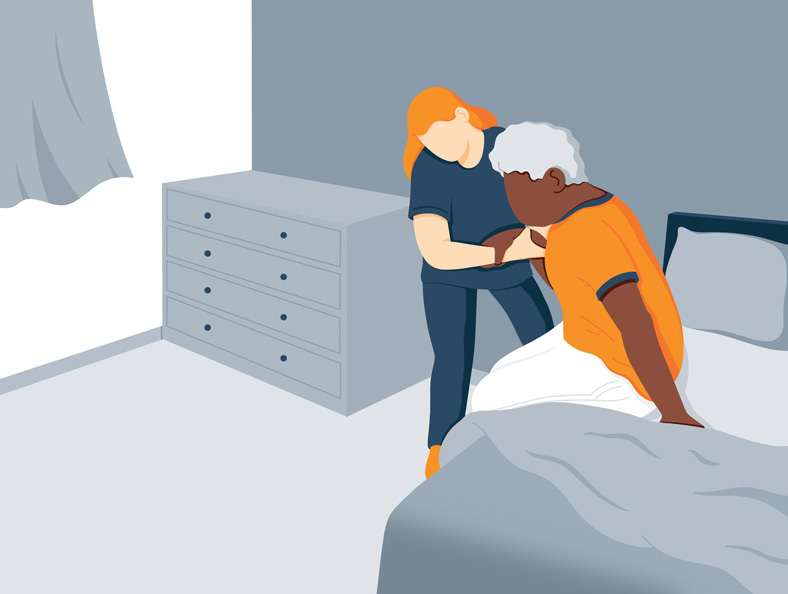 When an individual is rendered immobile, a mattress that can be inflated and deflated regularly and allows for multiple positions could help. Movement and stress adjustment is imperative for bedsore prevention. Pressure ulcers can take months to heal, and it's much easier to take preventative measures than responsive action.
Many types of mattresses can be preset to make automatic adjustments throughout the day so that no one area receives prolonged exposure, which can help prevent this type of injury.
The Weight Capacity
When loved ones become immobile and bound to a bed or wheelchair, weight gain is typical due to the lack of exercise and movement. Once you realize they need a particular mattress to prevent or treat ulcers, be sure to check the weight capacity and account for possible weight gain. For example, if they weigh 160 pounds, get one that supports 260 pounds to be safe and account for weight gain.
Find Out More: Air Mattress Weight Limits
Quality of the Mattress
It may be tempting to pick a mattress that saves you a few dollars; however, keep in mind this is something your loved one will use daily if not 24 hours a day in some circumstances. If they cannot comfortably sleep on the product, you may have to buy a new one.
Look for 100% nylon or medical grade PVC; you'll want to be sure you're getting full comfort from the bed and the maximum benefit of the alternating pressure mechanism.
The Price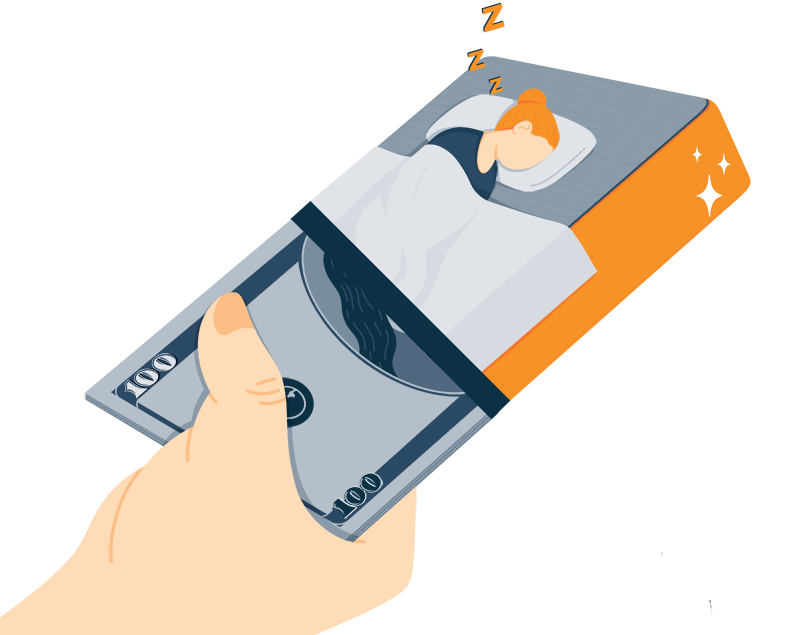 Some budget mattresses may work just fine considering the specific need or the individual resting on the product; however, keep in mind how it will be utilized. It's wise to invest in a high-end bed if the damage to their body is already significant. However, if the product is only used preventatively or won't be used for a long time, the price may not be an essential factor.
Mattress Design
Multiple mattress models are available for pressure ulcers; typically the best ones use bubble cells or alternating air pressure. You'll want to carefully research how your loved one will be using the mattress, what the specific need is— preventative or treatment— as well as your budget.
Alternating Pressure Air Mattress
Air beds that use alternating air work by a connected series of air bubbles that are alternatively inflated and deflated prevent any one area from becoming overexposed to pressure. These types are also fantastic for minimizing the amount of moisture build-up that gathers around the body, which could exacerbate sores.
Additionally, this prevents the product from gliding on the skin (friction can cause ulcers) and continuous tension. These types help relieve stress through alternative bubble inflations, flexible design, and by promoting blood flow. The innovative design works to prevent dangerous bedsores and infections.
Another excellent option when choosing a mattress for bedsores is a low air loss product. The name can be a bit confusing, and we'll explain what's behind it. These beds are powered by a blower, which works to circulate air throughout the mattress continuously.
Low air loss products are great for keeping patients dry, and these types are considerably more delicate, making them a great choice for individuals with susceptible conditions. These models can run at a higher cost and are often thought to be more challenging to set up, but considered more comfortable and conducive to healing.
Mobility of the Mattress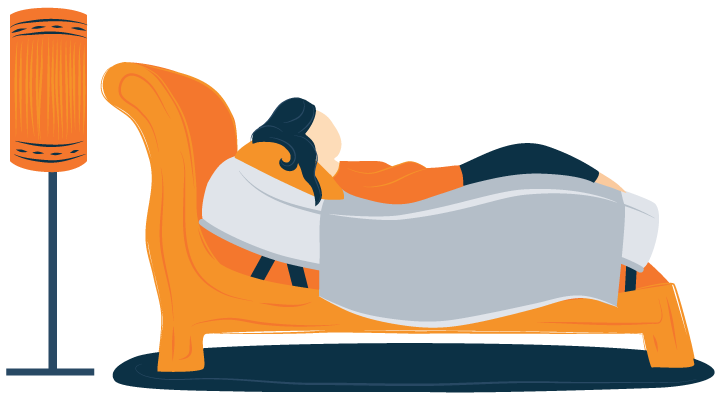 Keep in mind how you'll be setting up the product. Some people need to use them at home in their existing beds on top of their mattress. While some families will be bringing home a hospital bed and using them on top of this. Either way, consider the size of your base and how big the mattress is because you'll want it to fit securely without slipping off the edges.
The Noise It Produces
Low air loss mattresses rely on a blower to continuously pump air day and night. The mechanism constantly works without relief. Some people are happy to sleep through loud background noise and find it soothing to drift off to. However, others could find it difficult to ignore and lose sleep as a result.
How to Prevent Pressure Ulcers
Maintaining a watchful eye on a loved one's skin and keeping them comfortable with frequent adjustments is key for preventing these dangerous and painful sores. If someone needs to rest in bed at all times, shift their position often to reduce the amount of pressure applied to one spot.
Additionally, make sure they're kept dry. Moisture can lead to ulcers, so using a moisture barrier cream to protect against wetness can help keep skin clean and dry. You may need to keep their clothes and bedding switched out regularly.
If your loved one uses a wheelchair predominantly, foams can relieve pressure from sitting in the same position all day. Shifting an immobile person is a lot of tough work, but ultimately should keep them happier and healthier.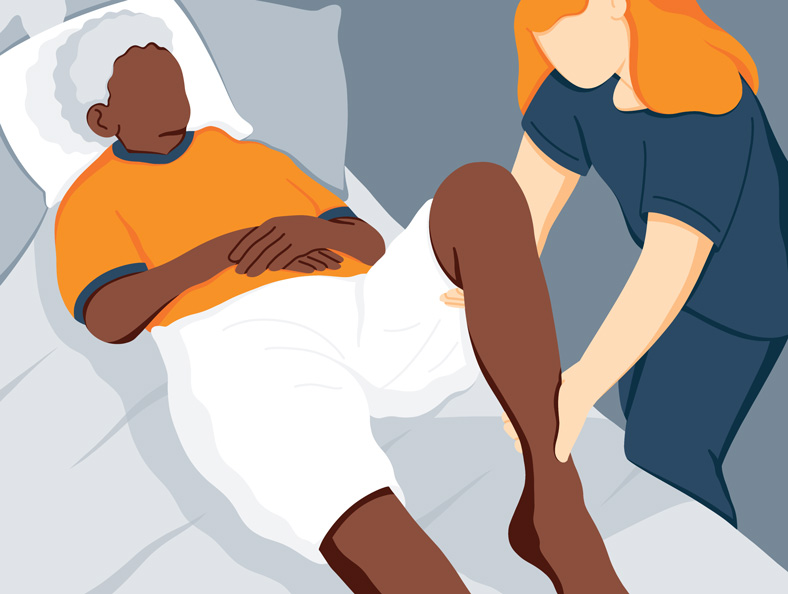 Frequently Asked Questions About Mattresses for Pressure Ulcers
What is the best sleeping position for bedsores?
Resting on your back should help to distribute weight evenly. However, it's always a good idea to adjust one's position regularly. Having someone work around the clock to reposition a person could be challenging to organize, however enormously helpful if possible.
There are still ways to mitigate potential sores if you cannot move someone regularly through the night. Another way to prevent bedsores if unable to switch positions frequently is to use additional pillows or cushions around the shoulders, hips, knees, and ankles to reduce pressure. The extra padding should lessen the friction caused by grazing the mattress and help to relieve tender areas.
Can using a waterbed and an air mattress together relief pressure ulcers?
While there is limited data showing how a waterbed could be used to treat pressure ulcers, there are a few studies which have shown correlations in recovery and care. A waterbed's delicate nature, as well as revolving air pressure in an air mattress, could provide significant relief to individuals suffering from bed sores.
If you're thinking about employing a waterbed to treat or help care for a loved one, consult your doctor to discuss the best strategy of care.
View Our Guide: Best Rated Waterbed Mattress
How dangerous can pressure ulcers be?
Bedsores can be extremely dangerous if not detected or left untreated. While they may create only mild discomfort in the beginning stage, they can quickly grow irritated, hot to the touch, and severely uncomfortable. Not only do they physically hurt the individual afflicted, but they could cause other severe conditions.
When pressure ulcers go untreated, they can grow into enormously painful open wounds and become severely infected. Infections are dangerous because these can lead to additional consequences like sepsis. Sepsis is known for causing organ failure, tissue damage, and even death.
When should a person see a doctor when it comes to bedsores?
Every case regarding pressure ulcers is unique, and a medical professional should always be consulted when treating any severe condition. In the beginning stages of bedsores, they can sometimes be treated using at-home care, like a pressurized mattress, additional cushioning, frequent rotation, and regular cleaning.
However, because each case is different, you never know how it will progress. If a patient has a history of these types of ulcers, has already developed a significant wound, or is considerably immunocompromised, it's wise to consult a doctor for professional help to be sure you're doing all you can.
Conclusion
Pressure ulcers are terrible wounds that can cause serious injury and even lead to death when left untreated. They're not fun to treat and enormously inconvenient. However, bedsores are a common reality when dealing with immobilized individuals and loved ones.
Keep in mind what we've discussed above and research your specific needs. You should be able to find a suitable product to accommodate your requirements. Knowing the various types of mattresses available, the severity of the phases, and being mentally prepared to treat these injuries should help combat these unfortunate afflictions.
Rachael is a content writer for Sleep Advisor who loves combining her enthusiasm for writing and wellness. She's had a passion for writing since she was a kid when she wrote awful poetry. She's honed her craft quite a bit since then and considers herself a lucky duck to get paid to do what she loves.
Embracing the remote work life, she occasionally takes her work on the road and lives out her travel writer pipe dream.
In her free time, she attempts to meditate regularly, rides her bike to Trader Joe's, and enjoys trying every type of food that she can get her hands on.