Transparency Disclosure – We may receive a referral fee for products purchased through the links on our site...

Read More

.
Responsive Surface Technology, aka ReST, designed a smart mattress that would have fit right into your favorite 80's sci-fi flick. ReST Bed was honored at the CES innovation awards, an annual competition that honors exceptional design and engineering in consumer products.
The bed comes with a Samsung Galaxy tablet where live pressure mapping is shown. It automatically adjusts firmness to promote optimal comfort, support, and pressure relief.
These are essential aspects you look for in a mattress option and will all be covered in our in-depth review of ReST™ Bed.Our analysis will also look at preference based categories that may or may not be important to you.
Keep reading for the full scoop or jump to the end for our summary.
You will love this mattress if you:
Want controlled and customized comfort – This product is truly unique as it allows users to make real-time adjustments to the firmness of the five zones in the mattress. This development should ensure that users receive targeted relief for every joint, pressure point, and curve.
You are a tech guru – ReST is a choice selection if you are into the latest and greatest smart technology (sleep trackers, cooling devices, firmness adjustment technologies, etc.). The bed operates using the ReST app and the ReSTdash™ feature that communicate with the smart cover. The company reports that the features included with this product will continue to grow, with the possibility of biometric monitoring in the near future.
Are a couple – You like a firm bed, while your partner loves a softer mattress. Maybe this issue has kept you from investing in a new bed for quite some time? ReST helps resolve this issue because both sides of their mattress adjust independently of each other, allowing each of you to have your preferred firmness, so both of you can sleep comfortably.
You might not like this mattress if you:
Are not into smart technology – This product requires the use of a smart device to track, control, and monitor sleeping habits. The company developed a tutorial and instructions, truly making it simple enough to use, even for those who might consider themselves to be a tech newbie. At the end of the day, if smart technology is not your style, you might prefer a more traditional sleeping option.
Construction (Materials & Quality)
When customers order this product it comes with White Glove Delivery. A two-man team shows up at your home and places ReST on your frame of choice. Inside the packaging are the pumps and cords needed for additional assembly.
This product is compatible with just about any adjustable base, box spring, or frame. It is important to remember you will need space under the bed to store the pumps and have open access to the accessory cords and air tubes.
The Sleep Skin cover is a moisture-wicking fabric, similar to modern athletic clothing. It is made from polyethylene polyester and a polyurethane spandex blend. This extremely breathable cover has a zipper along the perimeter to facilitate machine washing.
Underneath the cover is an elastic and breathable sensor that tracks nearly 2,000 pressure points. This is an extremely durable, yet soft, warp knit nylon-polyester blend. It is 100% pure fabric so there are no nagging cords or wires up against your skin.
This bed stands at an impressive 13 inches tall and is comprised of four layers.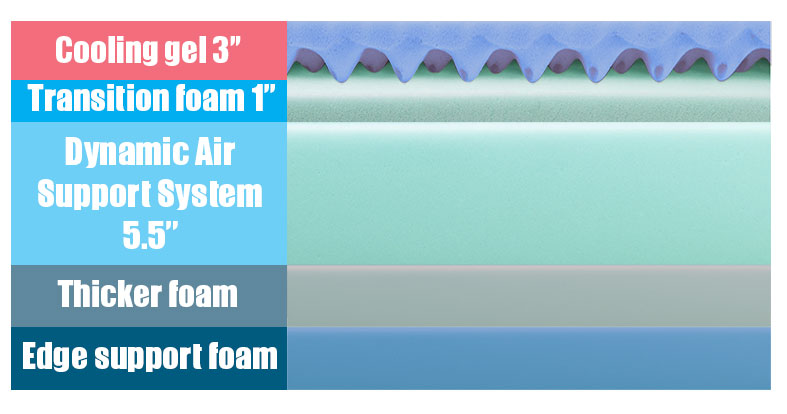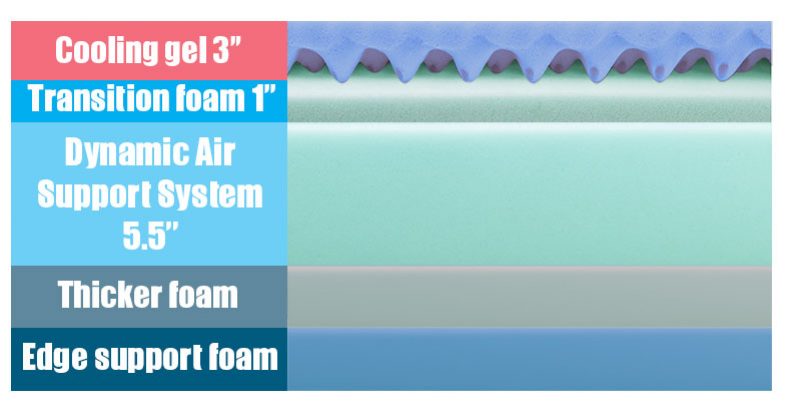 The first layer is a 3-inch memory foam infused with cooling gel. This layer influences temperature regulation near your body so it can immediately wash away heat that enters the mattress. This foam should also relieve pressure and provide comfort by contouring to your individual anatomy.
The second layer is a 1-inch transition foam that eases the body's weight into the air chambers below. This foam should ensure that weight is evenly distributed and provides mid-level support to introduce your pressure areas into the layer below.
The third layer is the 5.5-inch dynamic air support system. The sensor communicates to the pumps to fill the polyurethane air chambers in this layer to adjust the five firmness zones in the mattress. These have been welded shut so no air should escape, allowing these zones to adjust independently so you can sleep on your preferred levels of firmness.
The base is a thicker foam that provides a platform for the mattress. It protects the air chamber layer from getting damaged by the bed frame and vice versa.
The perimeter is lined with interlocking edge support foams that maximize the sleeping surface. This prevents the sides from sagging when there is an increase in pressure on the edges.
Note: The brand does not publish full specifications online.
Smart Technology (Features & Connected Apps)
ReST comes with a Samsung Galaxy tablet which connects to the mattress via WiFi.
The sensor and app included with ReST allow users to set how and when they want their firmness adjusted. Each side of the mattress has independent sensors, which were originally designed for hospital beds that allow for comfort customization. ReST offers three modes, which are:
Manual Mode – users can set exactly how they like their firmness in each of the five zones.
Auto Position – on the ReST app, users pre-set how they want the mattress to feel when they are lying on either their back or their side, and the mattress automatically adjusts to your preferences as you move around at night.
Automatic Mode – ReST continuously and automatically changes to meet to your desired firmness. Whenever you move the air chambers inflate or deflate to provide targeted support.
This product is compatible with Android devices through the Google Play store. The company indicates that compatibility with Apple devices should be available by the beginning of 2019.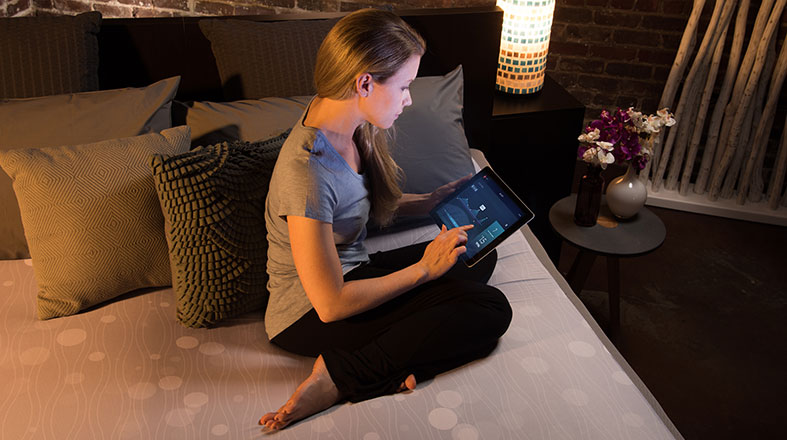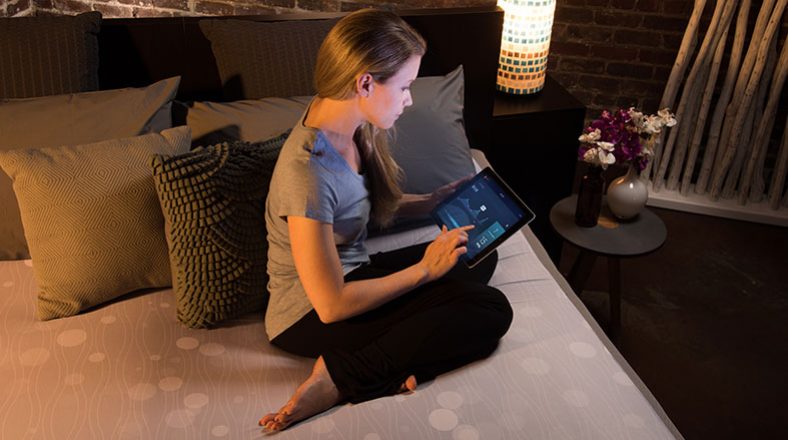 Firmness (Support & Feel)
Typically we rate the firmness using our 1 to 10 scale, with 10 being the firmest. ReST is a special circumstance since sleepers are free to adjust the firmness of the mattress. We rate the Automatic Adjust mode at a 6 on this scale.
This firmness should be great for most sleepers and the air chambers should continually perform firmness adjustments while you sleep. For the remainder of our "Firmness (Support and Feel)," section we will rate ReST as if it is set to Automatic Adjust Mode.
Laying on this product should be a unique experience for most sleepers. The top foam contours your shape and it feels like a fairly cool mattress when laying on the surface. As you adjust, you should be able to feel it adjust firmness.
The soft memory foam on top slowly contours to your shape. If you push down deep enough you should find some firmness that responds more quickly, allowing you to easily adjust your sleeping position. There is light to minimal bounce with this product.

Back sleepers should feel well supported. The bed adjusts itself to fill in the gaps between your hips and shoulders. The top foams should feel extremely comfortable while the inner air chamber layer does the bulk of heavy lifting to keep your spine aligned and your weight supported.
Side sleepers should find ample pressure relief from this bed. It adjusts so areas like the hips and shoulders can sink in while keeping the spine aligned. These areas for side sleepers often cause nagging pains because they typically put a concentrated weight down onto a smaller surface area.
Stomach Sleepers should not worry about their hips sinking too deep into the mattresses' foams. The air bladders inflate to increase firmness and keep your hips aligned with the rest of your body. These folks should enjoy a supportive and cozy nights' rest on this mattress that works well for stomach sleepers.
This product really should be a good fit for most people in the market for a new mattress. It is set to conform to your body to provide optimal comfort and support. Sleepers can also mix it up by setting the mattress to manual mode to give them an even more preferred comfort level.
The bed has a weight limit of 750 pounds per side, so this should work nicely for most individuals, even as a solution for heavier individuals.
Motion Transfer
A bed with good motion isolation properties stops motion at its source. Couples who share a bed typically like a mattress with motion isolation because it allows them to sleep without feeling their partners movements. Because this product is topped with 4 inches of memory foam, it should do an excellent job at keeping motion to only one side of the bed.
Edge Support
Beds with edge support maximize the area of the bed by allowing sleepers to lie along the perimeter without feeling like they are going to topple off. ReST comes equipped with interlocking edge foams that strengthen its sides. This should help folks feel secure as they lie along the edge, as well as prevent sagging when sitting on the side of the product, or engage in nighttime bedroom activities.
Other Considerations
Adjustable Firmness – This mattress supports three modes: Manual Mode, Auto Position, and Automatic Mode. These allow users to customize their side of the bed or let the mattress do it for them.
Trial Period – Customers have 90 days to return their purchase for a full refund if they are not satisfied.
Warranty – A 10-year non-prorated warranty covers this product. Parts and foams can be replaced if they were to go out or started to sag before this time.
White Glove Delivery – When purchasing this product online you pay for a two-man crew to deliver and set up your ReST Bed. Shipping to Canada, Alaska, and Hawaii are an additional fee.
CertiPUR-US® Certified – The foams in this bed were certified as safe by a third party organization the checks for potentially harmful substances.
Adjustable Base Compatible
Made in the USA
| Size | Dimensions (inches) | Price (w/o discount) |
| --- | --- | --- |
| Twin XL | 38" x 80" x 13" | $4,174 |
| Queen | 60" x 80" x 13" | $5,449 |
| Easter King | 76" x 80" x 13" | $6,249 |
| Cali King | 72" x 84" x 13" | $6,249 |
| Split King | 38" x 80" x 13" | $8,348 |
| Split Cali King | 36" x 84" x 13" | $8,348 |
Final Thoughts
---
Amazing
ReST Bed's smart technology should allow customers to customize comfort level and optimize pressure relief and support.
As options like ReST Bed gain traction and become more affordable, we have no reason to doubt that this may be the future of sleep technology. The amount of control ReST offers to users gives them little to no reason why they should not night find a wonderful night's ReST.