Transparency Disclosure – We may receive a referral fee for products purchased through the links on our site...

Read More

.
Smart beds utilize advanced technology to help boost the quality of your sleep. You've probably already heard of sleep trackers, and yes, a smart bed can do the same kind of monitoring. But these mattresses don't stop there—they can also adjust their own surface temperature, change their firmness levels, actively contour to your body, wake you up at a designated time, and even make you a cup of coffee.
Because these products are still relatively new, it can be tough to pinpoint the best smart beds on the market. But some brands have done better than others at executing on the promise of a virtual sleeping assistant. We've created this guide to share the most innovative smart beds we've encountered so far.
The Top 4 Smart Beds, Reviewed
Best Smart Bed for Back Pain
Saatva Solaire
Multiple Firmness Options

Free White Glove Delivery

Made in the USA

365-Night Trial

Lifetime Warranty
If your current mattress isn't cutting it for alleviating back pain, Saatva's Solaire model features an advanced design that could be a game-changer. The Solaire's most interesting design feature is its air chamber from vulcanized latex. 
The sleeper can use a remote control to modify the pressure in the air chamber to reach their preferred firmness. The chamber's settings range from 1 to 50, allowing this bed's overall firmness to go from soft to hard. The Solaire's customized design means this mattress can accommodate all types of sleepers, and for those with back pain, it's a better chance of having a supportive enough bed to minimize discomfort. 
What stands out about it?
Setting up a heavy mattress isn't a good idea if you've got back pain. However, with a Solaire purchase, Saatva provides you with complimentary white glove delivery, which means a team of professionals will do the heavy lifting.
Want to read more? See our full Saatva Solaire bed review.
Best Smart Bed with a Smart Base
TEMPUR-Adapt® with TEMPUR-Ergo® Smart Base
Free White Glove Delivery

90-Night Trial

10-Year Warranty

Foam or Hybrid Version
Popular mattress brand Tempur-Pedic is making waves with the TEMPUR-Adapt®, which uses premium proprietary materials for enhanced sleep. The Adapt is a medium-firm bed that's available as either an all-foam or hybrid model. 
The Tempur-Adapt® Medium foam bed features a TEMPUR-ES® Comfort Layer followed by the Original TEMPUR® Support Layer. The Medium Hybrid version contains these two layers plus a layer of premium spring coils for advanced support.
What makes it unique?
For a more advanced sleep experience, you can also purchase the brand's TEMPUR-Ergo® Smart Base. This adjustable base also uses Sleeptracker®-AI to monitor you through the night. The technology will analyze your behavior, sleep patterns, and bedroom to help you improve your rest. 

The company provides an app you can download that's compatible with the base to track and improve your sleep habits. For example, if the technology senses you snoring, it will automatically raise the head of the base to help reduce snoring.
Looking for more info? See our full guide to Tempur-Pedic beds.
Pod 3
CertiPUR-US® Certified

100-Day Trial

10-Year Warranty

Made in the USA
Eight Sleep believes that your sleep health goes beyond the mattress, and with the help of their wellness app, they want to give you all the information and features you might need to maintain a healthy and consistent sleep pattern.
The Pod 3's smart alarm clock triggers you to awaken when you are in the lighter part of your sleep cycle, so waking up is not as jarring. The mattress is also integrated with dual-sided temperature control so you and your partner can adjust the temperature to your liking, which is great for folks who sleep hot. 
What makes this mattress unique? 
The app paired with this mattress collects information on 15 different biometrics, including breathing rate, heart rate, and REM Sleep. Eight Sleep's approach to smarter nights begins and ends with information, believing you can improve your life if you study your sleep.
Interested in more details? Check out our Pod mattress review.
Best Features in a Smart Bed
ReST Bed™
CertiPUR-US® Certified
90-Day Trial
10-Year Warranty
Made in the USA
The ReST Bed™ not only allows you to adjust your preferred firmness setting, you can adjust that setting at five different zones in the bed so that your pressure relief and support needs are met from head to toe.
The system is oriented to address the specific needs of sleepers' back pain and caters to athletes. The smart system's app can be used on any wireless device supporting Android operating system. Compatibility with Apple iOS is expected to come shortly. Users can also enjoy the mattress by using the Samsung tablet that comes with every purchase.
What is its best feature? Those with back pain want to avoid any potential build-up of pressure as it can trigger their pain, and athletes needs may vary depending on their performance on any given day. This mattress is built to address changing needs by adjusting firmnesses in different areas of the mattress in response to pressure points detected by sensors that are integrated into the performance fabric in the mattress.
In the new era of wellness, knowledge means the power to improve your performance and increase your vitality.
Want to know more? Read our full review for The ReST Bed™ here.
What is Smart Bed Technology?
The first thing that comes to mind when hearing the word "smart bed," is a question of whether previous generations of mattresses don't have technology in them. There are plenty of amazing beds out there. However, smart mattreess technology has the potential to further revolutionize the way we sleep.
This type of technology encompasses one or more of the following features:
Analyze sleep patterns


---

Provide helpful information to optimize sleep


---

Actively perform useful functions to improve sleep


---

Communicate with your home appliances and lights to switch them on and off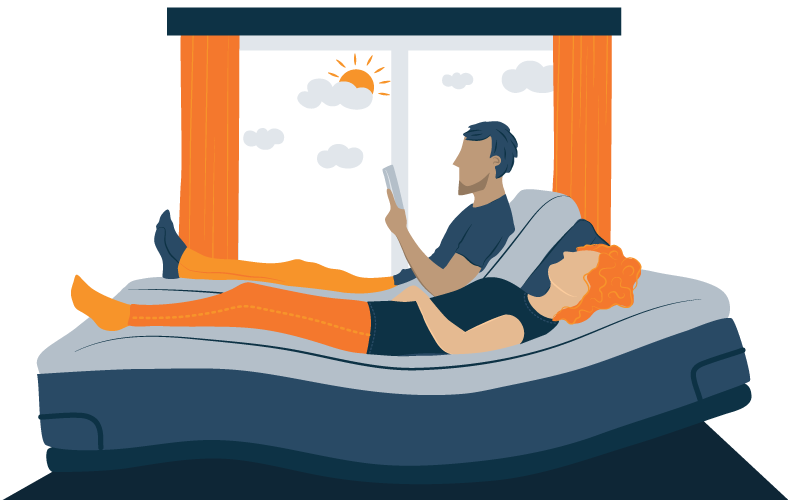 The prevalence of Wi-Fi connectivity and the "Internet of Things" allows for more connectivity than ever before. The technology to remotely control devices has been around since the early 1980s, but it didn't become commercially available until 2013.
It has evolved from simple tasks like turning on your home's heating and cooling system when you're getting close to home to more sophisticated processes like adjusting the position of the mattress when you start to snore.
The most basic products in this category do little more than track your sleeping activity and give you a report in the morning. The concept is, "what gets measured improves." By tracking your sleep and receiving suggestions on how to optimize your sleep each night, the theory is that you'll be able to make improvements and get a better night of rest.
But what if you want a bed that actually helps you sleep better? This is where the newer generations of smart mattresses enter the picture, and these brands may just be the future of sleep.
Read More: Apple Smart Mattress – The Future of Mattress Technology
Is this Technology Right for You?
Most people would agree that a good night of rest is better than a bad one. The National Institute of Neurological Disorders and Strokes reports that 40 million Americans suffer from a chronic sleep disorder, and another 20 million have occasional sleepless nights.
Added to that is the fact that one-third of Americans don't get enough sleep each night, at least according to data released by the CDC (Centers for Disease Control) in 2016. We wouldn't be surprised if that number has climbed in just the last two years.
The reality is that busy schedules and stress make it harder than ever to get the rest we need. If you're willing to invest a few extra bucks on a mattress to get a better night of sleep, then you'll probably wonder how you ever survived without a smart brand.
One thing to keep in mind: you will need an internet connection for some of these beds to work.
Smart Bed Buying Considerations
Features
You no longer have to enroll in an expensive laboratory study to track your sleep. With an intelligent mattress, you'll be able to monitor your movement, environmental factors, and even some of your biological functions.
Depending on the brand you choose, you'll be able to track a number of the following:
The time you get into bed


---

When you fall asleep


---

How long it took to fall asleep


---

When you wake up, as well as when you get out of bed


---

The amount of time spent in deep and light sleep


---

How often you wake up during the night


---

Sleeping positions and frequency of switching


---

Heart rate


---

Breathing cycle


---

Body temperature


---

Room and bed surface temperature


---

Ambient light
Each night your mattress (depending on the model) will give you a "sleep score" and provide tips on what you can do to improve.
This feature is only available in more advanced models, but can be well worth the investment.
It works by adjusting the firmness level of the mattress depending on your unique preferences, and it can automatically adjust itself throughout the night.
For example, it can be set to automatically become firmer when you switch from sleeping on your side to your back. Or if you have an injury and want the bed to be softer for a few days, you'd be able to adjust that as well.
If you sleep with a partner who has vastly different temperature preferences than you, then this feature could end up saving your relationship. This feature works by allowing each partner to set their desired temperature for the surface of the mattress.
An adjustable base is certainly nothing new. The first commercially available electric models showed up in mattress showrooms in the early 1980s. However, remote control and Bluetooth options are relatively new inventions. Some brands even offer the ability to automatically adjust upwards when they detect snoring.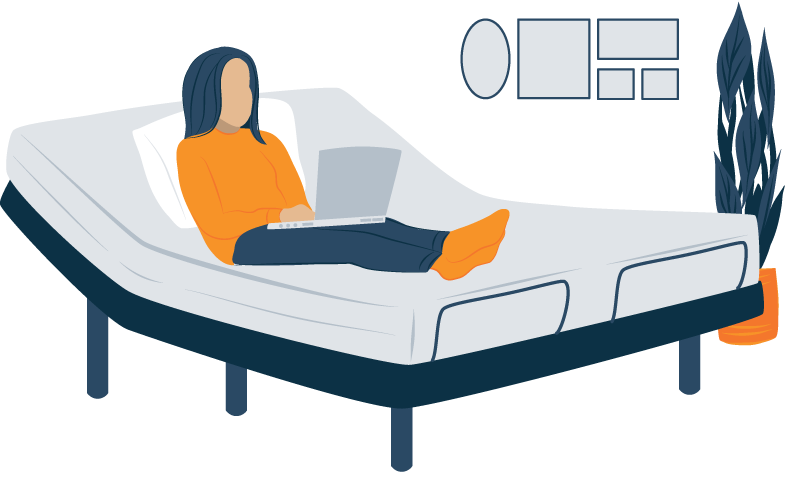 Being able to control your bed through your smartphone, tablet or Amazon's Alexa device is another wondrous feature of smart mattresses. Smart devices have user-friendly interfaces that not only allow for sleep tracking, they also let users set timers for temperature control.
Some apps also integrate "If This Then That" (IFTTT), which is a logic-based technology that lets you set up rules for your bed to follow while you're asleep. For example, you may want to create a rule that says if the room temperature gets below a certain point, raise the temperature of the mattress.
This type of alarm is much more adaptive than a standard alarm clock that blares loudly at a set time each morning. Instead, this can be set to wake you up during your lightest stage of sleep, which means you'll be able to get more easily and resist pressing snooze.
Find Out More: Best Smart Alarm Clocks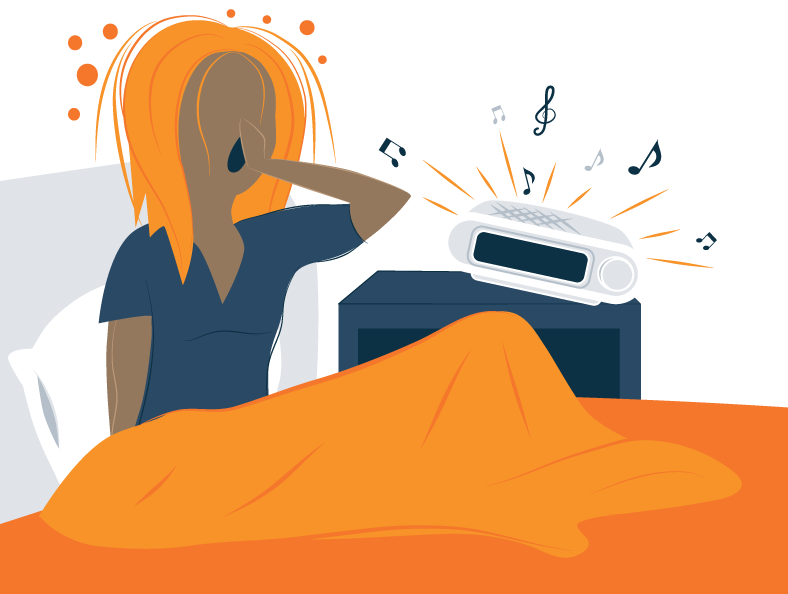 Budget
As with any new technology, the price tends to start high, and as more companies enter the market, the price will naturally drop. There are a couple of manufacturers that have managed to produce quality smart mattresses for under $1,000, but most brands tend to run between $1,000 and $2,500 or more.
And that's only for a queen-sized mattress. If you're looking at a king, the prices will be even higher.
Trial Period & Warranty
Humans spend around one third of their lives in bed, so it's imperative that you're satisfied with the mattress you buy. Most companies allow you to try their mattress risk-free for around 90 to 100 days. Then, if you don't like it, you can return it, or have it donated for a refund.
The warranty, by contrast, doesn't allow you to get a refund simply for not liking the bed. Rather, there has to be something wrong with it, like a manufacturer defect or excessive sagging over a set number of years. Most companies offer anywhere from a 10 to 20-year warranty, though there are brands that offer a lifetime warranty.
One thing to pay close attention to as you shop for smart mattresses: not all companies consider this new technology to be covered under warranty. Other companies will cover it, but only for a couple of years.
Learn More: How To Return a Mattress
Different Smart Bed Systems
You don't necessarily need to buy a whole new mattress to take advantage of smart mattress technology. There are alternatives. Some companies that make toppers, covers, and even pillows that integrate some of the smart features. That way, you can test the waters of this technology without buying a whole new bed.
Mattress Topper
If you're looking for a mattress topper that utilizes this technology, you'll have to wait a bit longer as none exists quite yet. There are electric, digitally controlled options, but you'll need to get a smart plug like a Belkin WeMo plug to be able to connect it to a smartphone or Alexa.
However, there are mattress covers that you can get instead that already have this functionality built-in.
You may be wondering, "what is the difference between a mattress topper and a mattress cover?"
A lot of people use these terms interchangeably, but a topper is more of a pad that people use to make their mattress softer or firmer. A cover, on the other hand, is more of a protective layer, and it sometimes has padding to make a mattress more comfortable.
Mattress Cover
The right smart mattress cover can do everything its bed counterpart can do, but they do it at a fraction of the price. This is because it packs all of the technology of the mattress in a slim fitting cover.
It will include an electronic hub that connects to the mattress and uses Wi-Fi to perform all the tasks you'd expect, like sleep tracking, temperature color, and communicating with your appliances.
WiFi Heated Mattress Pad
This is the same thing as the mattress toppers and covers described above.
Smart Pillow
There are low-tech options that label themselves as "smart pillows." These typically include multiple layers that allow you to customize the height and firmness of your pillow. There are more robust options, though.
New companies have emerged within the last couple of years that pack all of the smart bed functionality into the size of a single pillow. These pillows provide sleep trackers, sleep analysis a vibrating snore alarm, and IFTTT technology that integrates with smart phone and Amazon devices.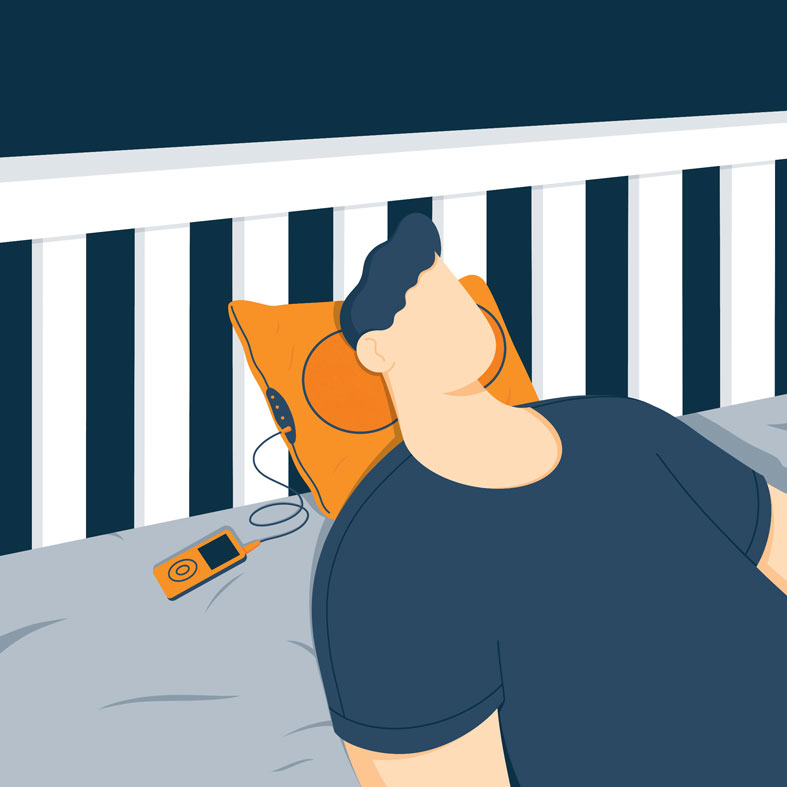 Frequently Asked Questions about Smart Mattresses
Can a smart mattress make itself in the morning?
This is so close to becoming a reality! A couple of years ago, two companies ran successful crowdfunding campaigns for beds that made themselves within a few seconds of you getting out of bed.
Now, these companies are in the final stages of production, and they should release their smart mattresses to the mass market any day now. Stay tuned!
Will my smart system make me coffee?
Surprisingly, yes! Many have this functionality and these smart systems can detect when you get out of bed and start the coffee machine. By the time you make your way into the kitchen, there'll be a fresh, steaming cup, just for you!
How does Sleep IQ measure heart rate?
Sleep IQ is a system developed by Sleep Number, one of the top innovators in the mattress industry. The SleepIQ system can accurately measure your heart rate without the use of wires or any obtrusive equipment.
We won't get too technical, but essentially, they use something called "ballistocardiography," which measures ballistic forces on the heart and creates a graph based on those measurements. It measures the subtle rise and fall that occurs from the blood flow associated with each heartbeat.
This same process is also used to track motion and breathing rates.
Conclusion
It may have taken awhile for the mattress industry to wake up to smart technology, but now that they're on board, expect to see even more innovations from these top companies. For example, research projects in the works include detecting heart attacks and alerting emergency services and sharing outpatient data with hospitals to help monitor and speed up recovery.
Our team covers as many areas of expertise as we do time zones, but none of us started here as a so-called expert on sleep. What we do share is a willingness to ask questions (lots of them), seek experts, and dig deep into conventional wisdom to see if maybe there might be a better path towards healthy living. We apply what we learn not only to our company culture, but also how we deliver information to our over 12.7M readers.
Sleep research is changing all the time, and we are 100% dedicated to keeping up with breakthroughs and innovations. You live better if you sleep better. Whatever has brought you here, we wish you luck on your journey towards better rest.