Transparency Disclosure – We may receive a referral fee for products purchased through the links on our site...

Read More

.
What does the future of sleep technology look like?
For several years Eight Sleep has dominated the bedding industry with their release of smart products. The newest addition to the Eight sleep line-up has the potential to make your science fiction bedroom dreams a reality.
The Eight Sleep Pod Mattress uses smart technology in its cooling cover, biometric monitoring, and home automation to help sleepers find their best night's rest.
How did these high-tech features perform during testing? Our in-depth Eight Sleep Pod mattress overview takes a look at all these unique features, as well as its performance in categories like support, pressure relief, and more. We analyzed the nuts and bolts of this futuristic bed so you can decide if it's the right fit for you.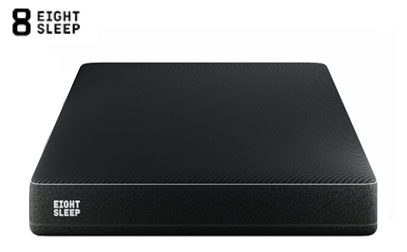 Get The Pod Mattress
Due to its variety of innovative features, the Eight Sleep Pod mattress provides sleepers with a technology-driven way to a better night's sleep.
Click the button below to get The Pod Mattress.
Who We Recommend The Pod For:
Folks who love home automation – This model connects to several devices including the Amazon Echo, Google Home, Philips Hue lights, Google Nest, and even your Wemo coffee maker. Customers can also track their sleep fitness through the Eight Sleep App and receive sleep coaching through their smartphone.


---

Those who sleep hot – This mattress uses thermoregulation to warm or cool each side of the bed independently. You can turn on warming or cooling manually and/or you can let the app do it for you while you rest according to your unique sleep patterns. This is done by circulating water through the Active Grid where it is warmed or cooled. This Grid is connected by the Hub which sits by the side of the bed.


---

Pressure relief seekers – The Eight Sleep Pod uses a series of foams to evenly distribute the sleepers weight and melt away strain in areas like the hips, shoulders, and lumbar. Sleeperswho want to wake feeling refreshed without the usual aches and pains might really enjoy The Pod.
Who We Don't Recommend The Pod For:
People who don't care for smart tech – This bed takes a step into the future with a series of automated features as well as improved sleep tracking. Customers looking for a more standard mattress might do better with a different brand.


---

Those who value durability – The Pod is an all-foam mattress, and this sometimes means that it may need to be replaced sooner than other mattresses, such as innerspring or hybrid beds.


---

Sleepers who prefer a more traditional feel – The mattress cover may remind you of an air mattress – maybe even a water bed. It may not be a huge deal for some and there are easy fixes, but it's something to be mindful about when shopping.
First Impressions: Firmness & Feel
Firmness Scale: 6/10 (Medium Firm)
Please remember that firmness is a subjective characteristic and your shape will dictate how you experience a bed. A heavier person whose weight can more easily push through softer comfort and support layers may experience a bed as softer than a lightweight person. The way you are shaped could also play a role here. Consider your weight, shape, and size when evaluating firmness scores.

A mattress that meets your specific needs is the foundation for a good night's rest. When deciding on a mattress, it is important to understand your preferred firmness level. We rate mattress firmness on a 1-10 scale, with one being ultra-soft and 10 being extra firm.
The Eight Sleep Pod mattress ranks at a 6 out of 10 on this scale, making this a medium-firm mattress. This sort of feel on an all-foam bed typically promotes a gentle cradle sensation that helps relieve pressure.
Remember that firmness is relative to your body type and sleeping preferences but we think most sleepers should enjoy the conforming foams and pressure-relieving properties of this mattress. Average-weight side and back sleepers are a good match for this mattress in particular since they should benefit the most from the Pod's more balanced feel.
This mattress also includes poly foams that should be responsive, allowing for smooth transitions between sleeping positions. These might even be slightly springy, but the memory foam should help to dampen some of that bounce.
How Does It Feel?
When you first sink into the Pod, you should feel an initial layer of comfort foam. Beneath that layer lies two more polyfoam layers before you come into contact with the high-density foam base.
The cooling cover on top also gives this mattress a breathable, yet somewhat slippery feel. It may feel reminiscent of a water bed so that's something to keep in mind going forward.
What We Like About The Pod
Dual-cooling features – The Pod allows partners who prefer different temperature settings to set their own temperature so that your ideal temperature setting doesn't interfere with that of your partner's.


---

Easy-to-use app – The Pod's app should make a number of activities a breeze: Changing your mattress temperature, drowning out external sounds with white noise, and analyzing your sleep data are all made easy in the app.


---

Individualized sleep data – This mattress gives you daily feedback on your sleep patterns and other biometrics. If you're interested in learning how to improve your rest, this data could be especially useful.
Our Pod Complaints
The price – The technology and materials used in this mattress means that it comes with a hefty price tag. Budget shoppers may want to look elsewhere.


---

High-maintenance design – This mattress requires general maintenance every 2-3 months, including changing the water and hydrogen peroxide mixture in the Hub. If you're looking for a low-maintenance bed, you might want to opt for a standard mattress sans smart tech.


---

Cover might be off-putting to some – The Pod's cover has a somewhat plastic feel that is reminiscent of an inflatable mattress or water bed.
Testing the Pod: How it Performed
When testing mattresses, we look at the materials performed across key categories like motion isolation, pressure relief, and support.
Additionally, different body weights and preferred sleeping positions are taken into consideration, as both of these factors can affect how well one sleeps on a given mattress. Given the technology features of the Pod, special attention was paid to the functionality of both the mattress and the app.
Sleeping Positions for Different Body Types
The Eight Sleep website states that all the mattresses in the Pod series have a weight capacity of 500 pounds.
While sleepers have different considerations, we think that this mattress should work well for the majority of people. However, sleepers with heavier weight considerations may want to look into a different model.
| Weight | Side Sleepers | Back Sleepers | Stomach Sleepers |
| --- | --- | --- | --- |
| Lightweight Sleepers (-130 lbs) | ★★☆ | ★★★ | ★★☆ |
| Average-Weight Sleepers (130-230 lbs) | ★★☆ | ★★★ | ★★★ |
| Heavyweight Sleepers (+230 lbs) | ★★☆ | ★☆☆ | ★☆☆ |
Side Sleepers
Lightweight Sleepers – The Pod's medium-firmness should work well for lightweight side sleepers, although some may find this mattress is a little too firm. The upper comfort layers offer adequate cushioning, but some side sleepers may want a softer mattress they can burrow into more.
Average Weight Sleepers – Side sleepers who weigh between 130 and 230 pounds should sink just enough for pressure relief without losing any support.
Heavyweight Sleepers – The medium firmness level of this mattress does a good job of supporting the hips, but heavier side sleepers who weigh above may feel that they sink too far into the bed.
Back Sleepers
Lightweight Sleepers – All-foam beds such as the Pod tend to be great choices for lightweight back sleepers since they provide plenty of cushioning. The Pod's medium-firm feel also helps ensure lightweight back sleepers are well-supported.
Average Weight Sleepers – When it comes to average-weight people who sleep on their backs, the Pod hits a sweet spot. The medium firmness should support their hips so that the spine stays aligned.
Heavyweight Sleepers – Heavier back sleepers may need a firmer, more supportive mattress altogether. The Pod's medium-firm feel and all-foam design may cause these sleepers to sink too deep into the mattress, sacrificing spine alignment.
Stomach Sleepers
Lightweight Sleepers – Lightweight stomach sleepers should be well-supported with this mattress. These sleepers should enjoy how the Pod's foam layers keep their spine aligned and hips raised as they snooze.
Average Weight Sleepers – Stomach sleepers who weigh between 130 and 230 pounds should find a nice balance of comfort and support with the Pod. They'll sink just enough into the poly foam layers for pressure relief around the chest and shoulders, while the denser foam underneath should keep their spine aligned.
Heavyweight Sleepers – Unfortunately, the Pod is likely to fall short on support for heavyweight stomach sleepers. This group typically needs the most support out of any other position and the Pod's medium-firm feel may not be up to the job. These sleepers may prefer a firmer hybrid mattress that uses coils for greater support.
Pressure Relief & Pain
Using a series of foam layers, the Pod should do an excellent job of relieving pressure along sensitive spots. The topmost comfort layers contour along the hips, shoulders, and lumbar regions, allowing your body to sink just enough for deep pressure relief.
Back Pain – People who deal with back pain should find the Pod feels mostly supportive. The medium-firm feel combined with the variety of foams promotes a supportive, yet comfortable sleep experience. However, heavyweight sleepers may need a firmer mattress for adequate relief.
Hip Pain – Those with hip pain may want to flip to their stomach or back to avoid putting more pressure on this area. The comfort layers in the Pod should contour nicely around the hips, relieving stress by providing comfortable support.
Shoulder Pain – Shoulder pain is often experienced because side sleepers put a lot of pressure on a relatively small body part. This all-foam mattress should relieve pressure from this area well. However, heavier sleepers will likely sink too deep into the Pod to achieve proper spine alignment which can contribute to greater pressure around the shoulders.
Support
The Pod's support comes primarily from its 5-inch thick, high-density poly foam base. This sturdy base should do a nice job of pushing back against your movements and maintaining spine alignment. However, heavyweight sleepers may sink too deep into this mattress, compromising their support. The Pod's level of support should work best for lightweight to average-weight sleepers.
Motion Transfer
Motion transfer is important for couples who do not want to feel their partner's movements at night. All-foam mattresses typically perform best when it comes to motion transfer since foam does a great job of isolating motion.
This sentiment rings true with the Pod. As you get in and out of the Pod, a combination of memory and poly foams help to trap motion. This mattress was made to keep sleepers doing what they do best – sleep.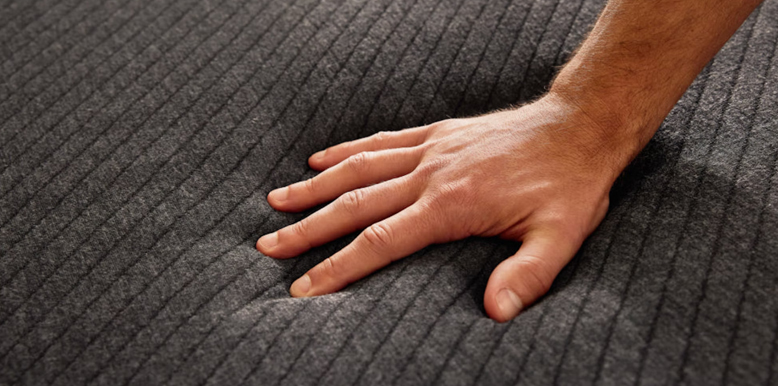 Temperature Regulation / Cooling
The Pod uses technologically-advanced features such as thermoregulation that allows you to control the temperature on each side of your bed. This means that even if you have couples where one person sleeps hot while the other gets cold throughout the night, they can each set the mattress to their preferred sleeping temperature.
Performance for Couples
The Pod should work nicely for most lightweight to average-weight couples. It isolates motion well, which should translate to uninterrupted rest regardless if your partner tosses and turns. The Pod also has good responsiveness and bounce so it should benefit sexually-active couples as well.
The individualized cooling features are also a big plus for couples – especially for couples where one partner sleeps hot and the other prefers to feel warm at night. However, heavyweight couples may not get the support they need from this mattress. A hybrid or innerspring bed may be a better option.
Preference-based Features
Active Grid
The Pod's Active Grid is made of sensors and water tubes. Depending on your temperature setting, the grid pumps either hot or cold water through the tubes for nightly temperature regulation. The grid also measures the amount and quality of sleep that you get and provides you with new data every time you wake. This is an excellent way for sleep trackers to get reliable information about their snoozing patterns.
Eight Sleep App
The Pod uses an iOS and Android compatible app that guides you through the bed's technology-driven features such as mattress set-up, care instructions, and temperature controls. Additionally, you receive daily feedback in regards to your sleeping patterns as well as data on your heart rate, respiratory rate, and other biometrics.
Built-in Alarm Clock
Adding to its list of high-tech features, the Pod comes equipped with a GentleRise vibration alarm. This alarm wakes you up gently by chest-level vibrations and subtle temperature changes.
Construction: What's Inside The Pod?
The Pod 3 mattress from Eight Sleep is covered in polyester and cotton and is broken down into five layers that add up to a total profile of 12 inches tall. Additionally, this bed comes with a special electronic hub that can be used for temperature regulation, health and sleep metrics, and a gentle, vibrating alarm.
Under the cover is where the Pod 3 bed's active electronic grid is located. This unique section has biometric sensors that track a variety of metrics, a great asset for tech-savvy shoppers.
The airflow top layer is located below the active grid, and this section helps keep air flowing, which cools the mattress down and could be useful for those prone to overheating.
The Supportive Air Technology™ layer is next. This 1-inch section provides initial support and helps ease you into the denser foam layers below.
Underneath the transition layer is the 4-inch FlexSpring Technology Core.
The Pod 3 has a 4-inch durable premium base that provides overall stability to the entire mattress.
The Hub is a water pump that will need to be filled with water and 3 percent hydrogen peroxide. This external reservoir should be placed next to your bed so that it can be plugged into the water tubes. The water can be both heated or cooled depending on your personal preference.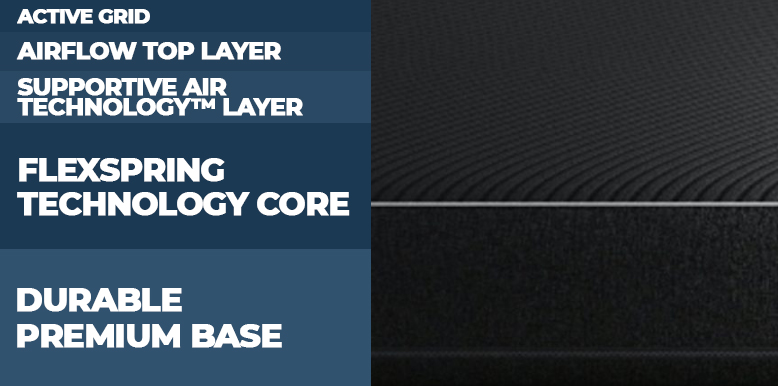 Unboxing & Off-Gassing
The Pod is a bed-in-a-box mattress, and as such it will be compressed into a box. Upon arrival, simply cut open the top, slide the mattress out, and carefully cut through the plastic. Then, position the mattress in its final resting place – on top of a stable base or foundation. Keep in mind that it may take a full 24 hours for the mattress to fully decompress.
There will most likely be an off-gassing odor. While this is normal and harmless, be sure to leave the mattress in a well-ventilated area or a room where you can open windows so the smell can dissipate quickly.
Certifications
CertiPUR-US® Certified – The foams in this bed are CertiPUR-US® certified. CertiPUR-US® is a third-party program that ensures the foams meet rigorous health and safety standards. This means they don't contain harmful substances like ozone depleters, PBDEs, heavy metals, formaldehyde, and phthalates. They should also have low volatile organic compound (VOC) emissions.
Coupons, Trials, Warranties, and Shipping
Shipping – Eight Sleep offers free delivery of the Pod within the contiguous United States.
Optional White Glove Delivery – A delivery team will install your product and remove the customer's old mattress for an additional charge.
Trial Period – This 100-night trial allows customers to try the product in their home and if they are not satisfied they can ship it back for a full refund.
Warranty – The foam portion of this mattress is covered by a 10-year limited warranty. The technology layer, fabric, sensors, and other components have a limited two-year warranty.
Return Policy – This mattress comes with a 100-night trial that starts on the day of delivery. Should you decide it's not the bed for you, make sure to return it within the trial period so you can earn a full refund.
Sizes & Prices
| Size | Dimensions | Price (without discount) |
| --- | --- | --- |
| Full | 53" x 75" x 11" | $2,695 |
| Queen | 60" x 80" x 11" | $2,995 |
| King | 75" x 80" x 11" | $3,395 |
| Cali King | 70" x 84" x 11" | $3,395 |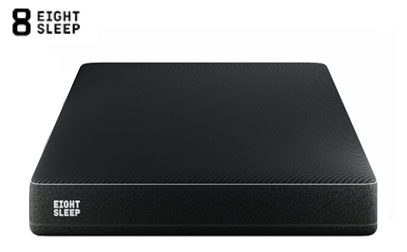 Get The Pod Mattress
Due to its variety of innovative features, the Eight Sleep Pod mattress provides sleepers with a technology-driven way to a better night's sleep.
Click the button below to get The Pod Mattress.
Frequently Asked Questions
How Much Does the Pod by Eight Sleep cost?
This technologically-driven, all-foam smart bed ranges in cost from $2,695-3,395.
Does the Pod Mattress Need Wi-Fi?
Yes the Pod mattress needs Wi-Fi to function. The Hub (an attached water pump that controls the temperature regulation of the mattress) functions primarily off of Wi-Fi. You won't be able to collect your sleep data without it.
What is the Temperature Range for the Pod Mattress?
The temperature-regulating features on the Pod allow for a range between 55-115 degrees fahrenheit.
The Pod vs Other Brands
The Pod vs Saatva Solaire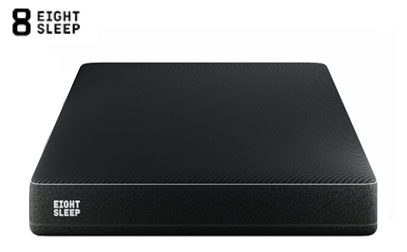 Check pricing and availability by clicking the button below
100-night trial
Tracks sleep data available
Dual-side temperature settings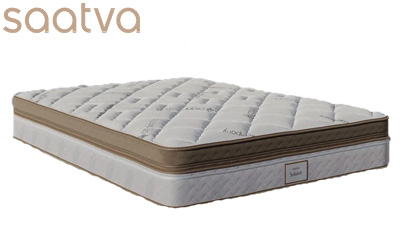 Check pricing and availability by clicking the button below
Firmness levels controlled via remote control
Complimentary white-glove delivery
Lifetime warranty
Who We Recommend the Pod For
Couples who prefer to sleep at different temperatures
Sleepers who run hot
Lovers of data
Who We Recommend the Saatva Solaire For
Back pain sufferers
Those who want a customized sleep experience
People who want others to set up their mattress
The Pod vs ReSt Bed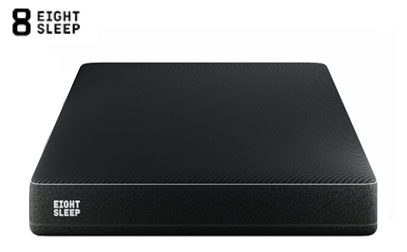 Check pricing and availability by clicking the button below
Sturdy all-foam feel
Free shipping
Built in white noise capabilities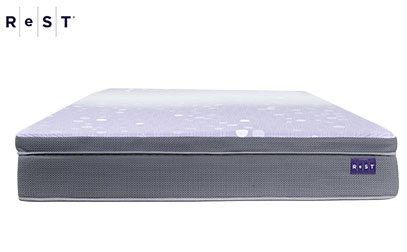 Check pricing and availability by clicking the button below
10-year warranty
Back pressure relief
CertiPUR-US ® Certified
Who We Recommend the Pod For
Sleepers who change position throughout the night
Gadget and tech lovers
Those who want to use an adjustable base
Who We Recommend the ReST Bed For
Athletes who may experience various levels of back pain
Fans of Android platforms
Those who want their mattresses firmness and support adjusted as needed
The Pod vs Other Eight Sleep Models
The Pod vs The Pod Pro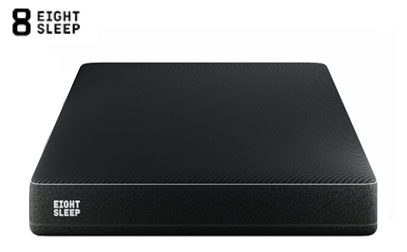 Check pricing and availability by clicking the button below
Optional white glove delivery
Compatible with several smart home devices
Free delivery and returns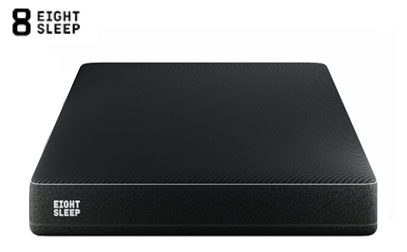 Check pricing and availability by clicking the button below
10 year mattress warranty; 2 year tech warranty
Smart climate response
Lifetime subscription to the 8+ membership
Who We Recommend the Pod Original For
Lightweight side sleepers
Those who like to connect their smart home devices
People interested in sleep coaching
Who We Recommend the Pod Pro For
Those with a large budget
Sleepers interested in tracking their heart variability
People who prefer being awakened by gentle vibrations
Overall Summary
The Pod is a technology-driven mattress that helps people find their best night's sleep through automation and customization. Although it comes with a hefty price tag, if you enjoy smart features and data, you may want to consider this mattress.


This mattress was designed to help alleviate pressure and pain in areas such as the hips and shoulders. This is extremely beneficial for side sleepers as they put a decent amount of pressure on relatively small parts of their bodies.


This bed should support most back sleepers. The dense all-foam makeup of this mattress should promote spine alignment, while the comfort foam up top contours to the lower back.


When it comes to stomach sleepers, those of average weight may find the firmness of this bed much to their liking, as they will be cradled without sinking too far in. However, lightweight snoozers may find this bed too firm to obtain optimal comfort, while their weightier counterparts may prefer more support.


For those who like to mix up their sleep positions through the night, this bed should be relatively easy to move around on. However, if you're a lighter or heavier sleeper who spends a lot of time on your stomach, you may not be as keen on this position. Average-weight combo sleepers will love the freedom of being comfortable with whatever they choose.


The Pod should work well for couples who want different bed temperatures and those who are sexually-active. It also isolates motion well, so it should work well for partners bunk with a restless sleeper.


The Pod has a weight capacity of 500 pounds. Therefore, heavyweight sleepers may want to look for a more supportive bed.


If you are a lightweight sleeper who enjoys a firmer feel, the Pod could make a great addition to your bedroom. However, if you prefer a little more softness, this may not be the best choice for you.


This bed's medium-firm feel and supportive all-foam design should work well for most average-weight sleepers. The topmost comfort layers provide contouring while the high-density support foam underneath adds support.
The Pod's integration of smart technology as well as the ability to automate it with existing technology in your home make it a dream for the tech-lovers. For those who love data and are interested in tracking their sleep, the Pod may be a good match.
However, it comes with a steep price tag that may not prove worthy to some shoppers.
Our Verdict
When bedding manufacturers dream big and get creative, they develop innovative products like The Pod. This is the type of mattress shoppers would expect to find in an age dedicated to technology and progress. This bed's cover syncs up to your phone for a night time experience you can monitor and improve.
Shoppers who love innovation and appreciate the benefits it can offer would do well checking out The Pod. Average-weight back and side sleepers are also a good match for this mattress. Couples who want the ability to control their side of the bed's temperature may also enjoy this mattress.
However, heavyweight sleepers – particularly those who rest on their back and stomach – may prefer a more supportive mattress. Additionally, the Pod's cover may feel off-putting to some sleepers who may be better off with a standard mattress sans technology.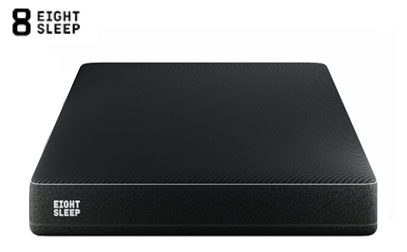 Get The Pod Mattress
Due to its variety of innovative features, the Eight Sleep Pod mattress provides sleepers with a technology-driven way to a better night's sleep.
Click the button below to get The Pod Mattress.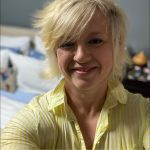 Sosha Lewis is a staff writer for Sleep Advisor.  Lewis is happy that she is able to combine her love of sleep with her love of writing. Lewis also has had articles featured in The Washington Post, Huffington Post, MUTHA Magazine, Charlotte Magazine, and The Charlotte Observer. Her weekly column, Soshally Awkward, is featured on the nationally-syndicated radio show, Bob & Sheri.
She lives in Charlotte, NC with her husband, daughter, and lovable trash-panda of a dog, Olive.