Disclaimer - Nothing on this website is intended to be a substitute for professional medical advice, diagnosis, or treatment...
Read More Here
.
There's no doubt that bunk beds are a convenient solution for families with multiple children and a limited number of bedrooms. They save space, and they can make a smaller bedroom seem a lot bigger.
However, cautious parents have safety concerns. What are the dangers of falling out of bed? What kinds of injuries can happen? How common are they? Do the risks outweigh all the features and benefits?
In this article, we'll answer the question, "Are bunk beds safe for kids?"
Facts About Bunk Bed Injuries
In the US, there are thousands of bunk bed-related injuries every year. On average, there are 36,000 per year, and the sad thing is that they're completely preventable. Because of the height associated with the loft levels, these injuries are often more serious than if the same type of injury occurred on a regular furniture item lower to the ground.
Most injuries occur from falling off of the top during sleep or play. While it seems like bruises or broken bones would be the top type of injury sustained, it's actually cuts that are most common, especially on the head and neck area.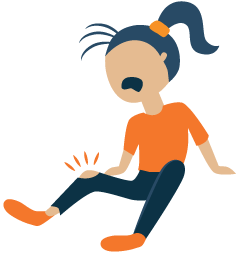 Parents can find comfort in the fact that the injuries are mostly due to how children use and behave on loft beds. With a little bit of parental guidance and some preparation, you can help ensure that your child's room is a safe haven for sleep, rather than an accident waiting to happen.
Loft Bed Safety Tips
Use Guardrails
Guardrails will help prevent accidental falls that would occur from rolling off the edge. At a minimum, there must be guardrails on the top level with only a single opening for getting into and out of bed. They should extend at least five inches above the top of the mattress. Also, the width of the opening should be no more than 15 inches across.
Older models weren't manufactured to the same specifications as their modern counterparts, so if you buy a used one, you'll have to be extra diligent in evaluating safety. In addition to the presence of a guardrail, check to make sure that the space between the rails is no more than 3.5 inches, which is a preventive measure against strangulation.
Check Mattress Foundation
The foundation of the structure should be sturdy and firm. If you put pressure on it and push it, it shouldn't feel rickety, wobbly, or otherwise unstable. Also, make sure that the size of the bunk bed mattress is appropriate for the foundation. For example, don't try to size up or down, as that could make it easier to roll off or get stuck.
Age Limit
If you have children under six years old, they should not be allowed to sleep on the top. Since more than half of the victims of these injuries are under the age of five, this is an automatic rule.
No Playing on the Bed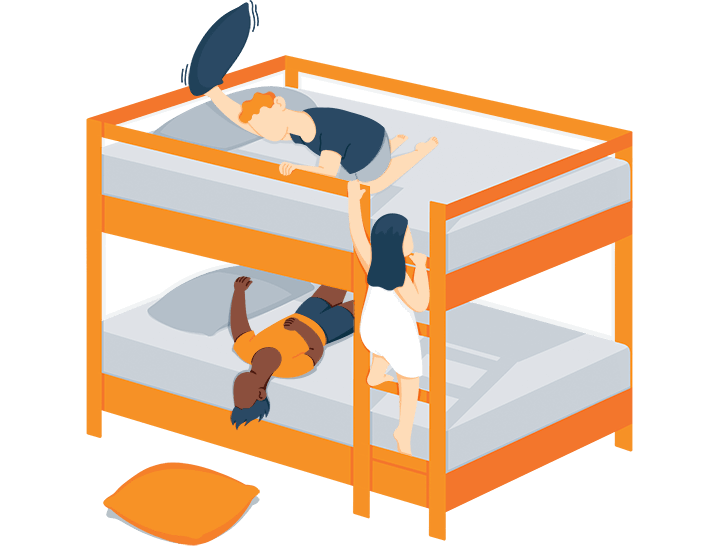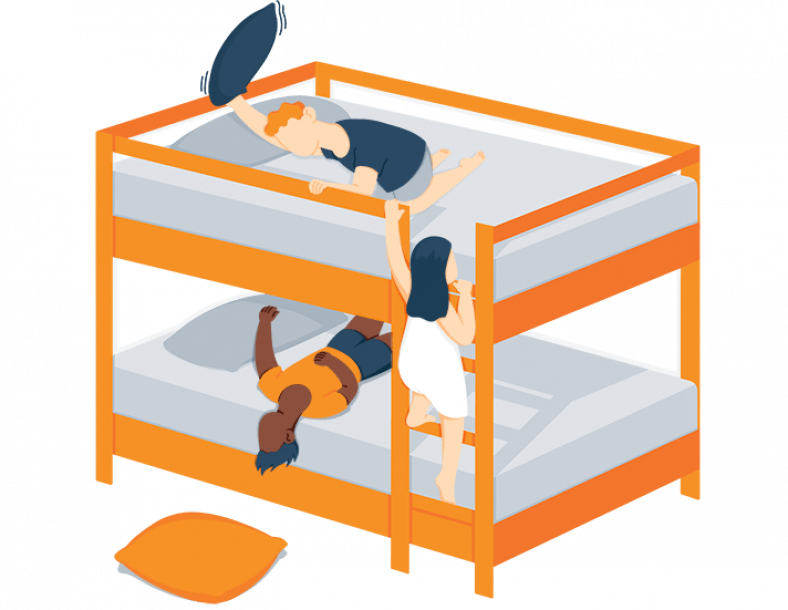 Horsing around on bunk beds is fun, and most of us have fond memories of playing on them. But many of us also have some not-so-fond memories of falling—and possibly broken wrist or two.
Boys are much more likely to be injured, just like they're statistically more apt to play and push the limits of loft-style designs.
And while it goes without saying that no one should be playing on the top loft, it should also be noted that playing under the bed can be equally dangerous.
Use a Night Light
Your child should be able to see their surroundings when there's a top bunk involved. At the very least, put a light right next to the ladder so your child can turn on a light without having to descend into utter darkness.
Read Complete Guide: Best Night Lights for Toddlers
Implement Safety Rules and Guidelines
From day one, your child (or children) needs to understand the rules that you set forth for safety. In addition, if your child has friends over, they need to be fully briefed on these rules as well. Even if your child exhibits model behavior on their own, all it takes is the wild kid next door to throw all order out the window.
Stop Hanging Personal Things
It may be tempting to use this piece of furniture as storage for hanging things, especially if closet space is at a premium. Resist the urge to hang items like scarves, belts, jump ropes, etc. These pose a major strangulation threat.
One Person Per Top Bunk
If your children want to hang out together to read, color or take a nap, make sure they stick to the bottom level if they're going to be close to each other. As a general rule, only one person at a time should be on the top loft.
Need more details? See our complete guide on how to make the loft bed sturdy.
Construction Guidelines
Not only is falling out of bed a significant risk but getting stuck between the wall and the bunk is also something to consider. This is why it is imperative that the kit comes with guardrail barriers on both sides, even if one side is flush against the wall.
Surprisingly, it wasn't until 2000 that the US Consumer Product Safety Commission defined a strict set of requirements for all US-made bunk beds. Better late than never, we suppose.
In addition to specific rules about guardrails, they must have warning labels about the under six age limit as well as information either imprinted or affixed to the bed about the manufacturer, model number, and mattress size specifications.
Where to Safely Place It
First and foremost, your child should be able to get in and out of bed easily. You should also take safety considerations into mind, and these will be dependent on the layout of the room. Here are some basic rules to keep in mind:
Avoid putting it directly underneath or next to ceiling fans or light fixtures.


---

Don't put it up against a window.


---

Check that there is ample room for your child to sit without hitting his or her head on the ceiling.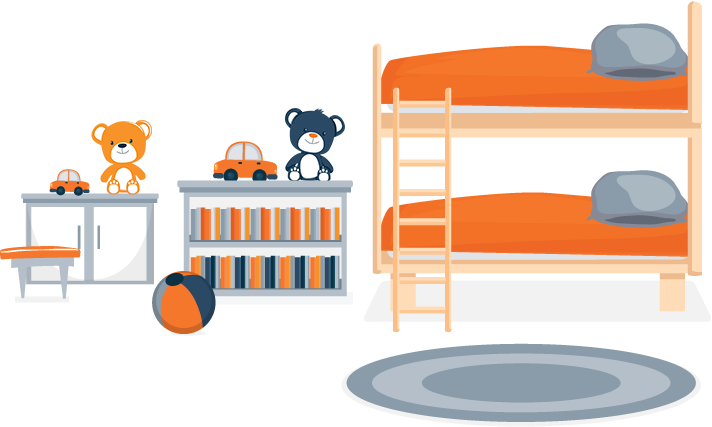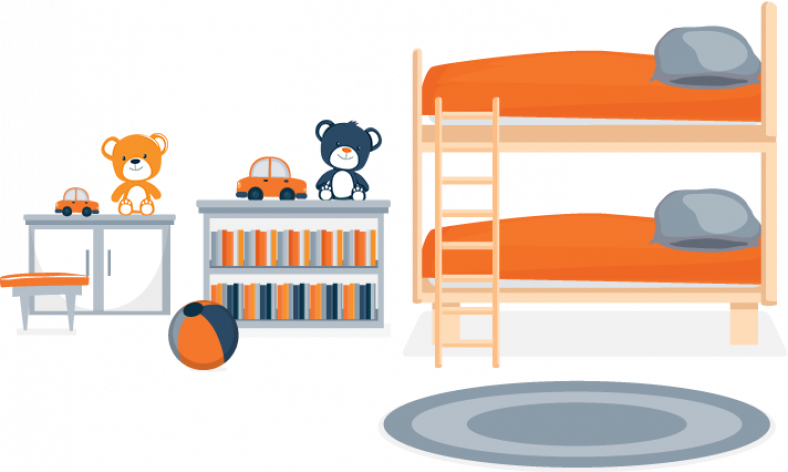 Frequently Asked Questions
Can the bunk bed collapse?
If it's not assembled properly, yes it can collapse. Make sure there are no missing pieces and everything is tightened sufficiently. Before allowing your child to climb in and go to sleep, push on all sides to test for sturdiness.
Want to read more? Check out our complete bunk beds guide here.
Are these safe for adults?
Yes, absolutely. These pieces of furniture are ubiquitous in dorm rooms and military bases, so they are certainly safe. However, make sure you review the label for any weight limitations.
Should I "cushion" the ladder?
Adding cushions or padding to the ladder can be an additional safety feature. Padding may provide more security, a better grip and prevent slipping.
Conclusion
Bunk beds have evolved in both safety features and design since the days that we were kids. From Disney princess styles to modern, industrial designs, there's something that fits just about any style. However, they do come with dangers. As parents, it's important that we're aware of what can happen if we're not careful and attentive, and take every step we possibly can to prevent an injury.
With proper precaution, we can enjoy all the benefits that bunk beds have to offer!
Consider exploring our top picks for the best mattresses for kids.