Transparency Disclosure – We may receive a referral fee for products purchased through the links on our site...

Read More

.
Disclaimer - Nothing on this website is intended to be a substitute for professional medical advice, diagnosis, or treatment...

Read More Here

.
Memory foam and spring mattresses are two common mattress types. If you're shopping for a new mattress, you may be wondering which is best for you.
Our team of sleep experts is here to help.
Spring Mattress
Buying a good mattress is important for your health and well-being. Sleep is a valuable time for our bodies to rest and heal, and the quality of rest you get will largely depend on where you sleep.
For many years, spring mattresses were the standard model, but the bedding market has changed. This change is in large part due to the discovery and commercial applications of memory foam.
Spring mattresses are based on an old design in which springs are embedded inside a layered cushioned structure. These cushions provide the base where your body rests. The main disadvantage of this approach is that it reduces comfort.
The springs that provide support will push back with a certain force on the body on top of the cushioned surface. This manifests as increased and uneven pressure on certain body parts of your body while sleeping, possibly causing poor blood circulation and muscle aches.
Want to learn more? Check out this guide on what is an innerspring mattress.
Many types of innerspring mattresses offer different features and benefits. One of the most popular types is the open-coil innerspring mattress. This is also known as the traditional innerspring with coils interconnected in a metal mesh. The system features hourglass-shaped springs to provide even support across the surface.
Another option is an innerspring mattress with pocketed coils. A pocket-coil mattress has metal coils individually wrapped in a fabric pocket. The fabric sleeve allows the springs to move independently for minimal motion transfer.
There's also the offset coil with a flat top and bottom. The flat segments are then connected with helical wires to conform to your shape.
Lastly, you may come across continuous coils, otherwise known as Mira-coils. These have an S-shaped curve and are more stable and durable.
They are great for the quality of sleep
The positive side of using a spring mattress is that the coils allow for decent airflow, which is helpful for hot sleepers. Some premium models offer multi-layered grime and anti-bacterial protection, while others come in double-sided forms with two firmness options. Spring mattresses also deliver sufficient bounce, making it easier for sleepers to reposition and
The coils in these mattresses provide excellent support and are highly durable, but they aren't immune to wear and tear. Spring mattresses will experience sagging over time, causing the mattress to become softer and less supportive. Spring mattresses usually last between seven and ten years before needing a replacement.
Standard innerspring beds are usually a great budget option for shoppers. Buying a mattress is a significant purchase, so many consumers looking to save money may prefer the lower cost of these beds. That being said, some innerspring models, such as high-end hybrid mattresses, will cost more because of their advanced design.
View Our Full Guide: Best Innerspring Mattresses
Memory Foam Mattress
Memory foam has been around since the 1960s. NASA created the material to provide more safety for astronauts. Once used only for the space program – it is now available to anyone.
Memory foam is a type of polyurethane foam known as viscoelastic. This synthetic material has small cavities where air can be trapped – almost like a sponge – allowing it to mold under exhibited pressure. The foam then returns to its former shape after the pressure disappears.
Memory foam also reacts to temperature. When heated, it softens up and when exposed to cold, its structure becomes more rigid and stiff.
Memory foam's density means it's a highly durable material but one that is prone to heat retention. However, many manufacturers have improved the material to include cooling features for added comfort.
The market for bedding and accessories is booming with memory foam-based products. From pillows to mattresses and covers – everyone is raving about it. Memory foam's popularity is understandable since its ability to conform to the shape of your body promotes optimal comfort and pressure relief.
Standard memory foam is otherwise known as viscoelastic polyurethane foam or low-resistance polyurethane foam. This classic material is created by adding multiple additives and compounds to polyurethane. Standard memory foam typically runs the hottest because it doesn't have additional cooling properties.
The open-cell foam contains the same ingredients as standard memory foam but has a different internal structure. As its name indicates, open-cell memory foam has internal pockets for better ventilation and heat dispersion.
Gel memory foam is another type that's suitable for hot sleepers. This is traditional memory foam infused with gel microbeads that help keep the foam from overheating.
Learn More: What is Memory Foam?
Getting the best possible rest
Memory is considered a useful product for helping people achieve more comfortable rest. When a body lies on memory foam, the material displaces the sleeper's weight evenly throughout its surface. Memory foam's ability to absorb motion is helpful for couples since there's a reduced risk of a partner's movements waking up the other person.
People experiencing muscle or joint pain should benefit from these mattresses as well. Memory foam's ability to cradle the sleeper is great for pressure relief, which is important for many shoppers in the bedding market.
Read Our Complete Guide: Top Rated Memory Foam Mattresses
Despite its many benefits, memory foam comes with some drawbacks that shoppers should consider.
Depending on the quality of the foam structure, memory foam beds can cost significantly more than spring options. Memory foam's advanced design delivers a durable, high-quality product that may be a larger investment. However, the value these beds can provide toward better rest is often worth it for many people.
As mentioned, memory foam's density means it often traps heat, which could be a downside for people who struggle with overheating at night. However, technological innovations like open-cell and cooling can help with this.
Lastly, memory foam is a synthetic material, so you are likely to experience some off-gassing after unboxing your new bed. Off-gassing is normal and usually goes away within the first few days, but people sensitive to smells could experience symptoms like headaches, nausea, and dizziness.
Differences Between Innerspring and Memory Foam Mattresses
Innerspring and memory foam mattresses deliver different levels of support, pressure relief, and comfort. Both types have advantages and drawbacks, so choosing one is usually a matter of preference.
Firmness
Both innerspring and memory foam mattresses are available in different firmness levels. However, innerspring mattresses are slightly firmer than memory foam models. This makes innerspring beds better for those who need a bit more support. Although innerspring beds may include several layers of memory or other foam, these mattresses are usually on the firmer side compared to all-foam beds.
Learn More: Mattress Firmness Guide
Motion Isolation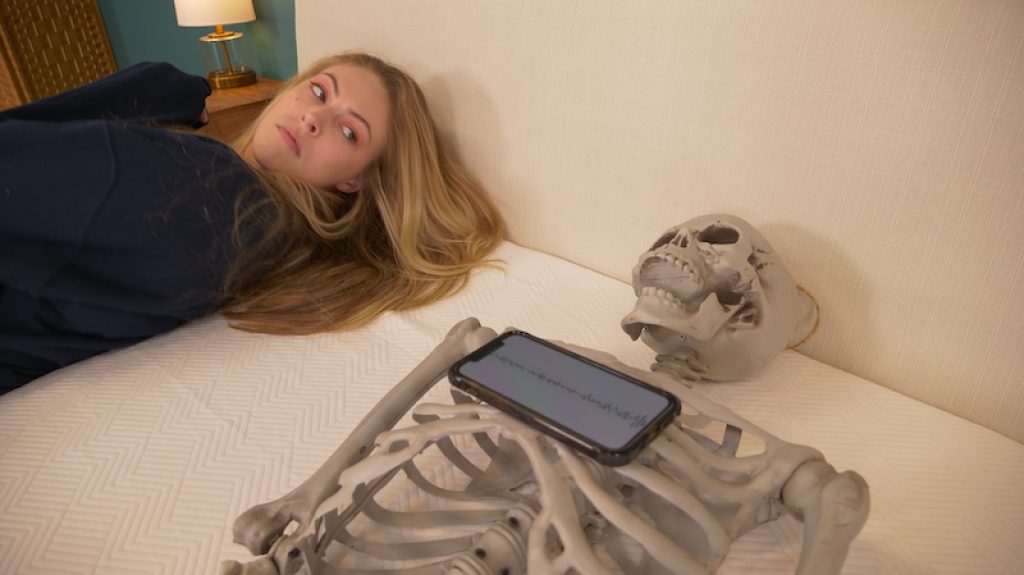 Memory foam beds are great for motion isolation regardless of the firmness level you choose. Innerspring beds don't perform very well in this area, so couples may like memory foam better. However, innerspring mattresses with individually-pocketed coils will offer more motion isolation compared to traditional innerspring units.
Cooling
Memory foam is known to overheat at night because of its density. The material absorbs and traps heat, so it may not be the best option for hot sleepers. However, some brands use gel to help dissipate the heat, keeping the bed layers cool. Innerspring mattresses don't typically have this problem because coils foster airflow.
Read More: Best Cooling Mattresses
Sleeping Position
Both innerspring and memory foam mattresses should work well for all sleeping positions. Your preferred sleeping position should determine the firmness level you choose, which may be more important than anything else. For example, you may like soft memory foam if you're a dedicated side sleeper. On the other hand, you may like innerspring beds more if you're a combination sleeper because these promote easier repositioning.
Body Weight
Your body weight might play a significant role in choosing between innerspring and memory foam mattresses. As said, innerspring mattresses are firmer, which should prevent your body from sinking into the bed, which is helpful for heavier individuals. However, some firmer memory foam beds should work for heavier sleepers as well. Lightweight sleepers will likely find the pressure-relieving capabilities of memory foam more ideal for their frame.
Price
Traditional innerspring mattresses are typically more affordable than memory foam ones. This is because the materials used in innerspring beds are cheaper. The manufacturing process of a memory foam mattress is more expensive, which is why these beds usually have a higher price. Some innerspring models, like hybrids, are priced higher than all-foam memory beds because their advanced design features both foam and coils. That being said, most shoppers should be able to find innerspring and memory foam models at varying prices, including low-cost options.
Durability
In terms of durability, innerspring mattresses may be more durable than memory foam because the steel coils are considered to last longer. However, the durability of your bed depends on different factors, such as maintenance, frequency of use, and the quality of the materials the manufacturer uses. Memory foam is also considered a durable material, and these mattresses should last seven to ten years if it's high-quality, dense, and thick.
Learn More: How Long Do Mattresses Last?
Bounce
Memory foam has almost no bounce because it absorbs motion and pressure. This means no motion transfer, which is good for partners with different sleeping habits. Conversely, innerspring beds are bouncy regardless of the firmness level you choose. This allows excellent mobility that combination sleepers should appreciate the most.
Sinkage
Memory foam is dense and responds slowly to pressure, featuring noticeable sinkage. However, sinkage depends on the quality of memory foam and its firmness, so not all memory foam beds will produce the same amount of sinkage. Innerspring mattresses don't allow as much sinkage, so you'll feel more on top of the bed than in it. Some models may include soft foam layers on top that may hug the body a bit.
Who Should Sleep on a Memory Foam Mattress
Memory foam mattresses should work well for most sleepers, particularly side sleepers and couples.
Side sleepers often struggle with pressure build-up, and a good memory foam bed should help with this problem. These beds offer sinkage and body contouring to prevent pressure from building up.
Firmer memory foam models should work well for back and stomach sleepers who need more support.
Hot sleepers interested in these beds should look for gel-infused memory foam to prevent overheating.
Lastly, couples who are frequently disturbed by their partner's movements should find that memory foam does a great job of reducing motion transfer for better rest.
Who Should Sleep On an Innerspring Mattress
The people who should consider sleeping on an innerspring mattress include combination sleepers, people with limited mobility, stomach sleepers, and hot sleepers.
Innerspring mattresses offer a lot of bounce, and their quick response is ideal for combination sleepers and people with limited mobility since it will help them move around easier.
Firmer innerspring beds come with little sinkage, making them ideal for stomach sleepers, who need something that'll keep their midsection level. Innerspring mattresses are often cooler than memory foam ones, so this may be a better option for hot sleepers.
Frequently Asked Questions
What is the difference between memory foam and innerspring?
Most memory foam mattresses are made entirely of foam, whereas innerspring beds have steel coils. Some innerspring mattresses, like hybrids, may include memory foam layers toward the top. There is also the difference in how the two types perform and the advantages and drawbacks they come with. Memory foam has a slow-moving feel, while innerspring beds have a quicker response.
Which is better, memory foam or innerspring mattresses?
It's difficult to say which of the two is better since this depends on the sleeper's needs and preferences. For example, side sleepers may like memory foam better for pressure relief, while stomach sleepers may prefer innerspring mattresses for support. Hot sleepers may also like innerspring models for cooling, while memory foam is better for couples looking for motion isolation. Hybrids are often a popular choice for people torn between the two since many hybrid beds include coils and memory foam.
Are innerspring mattresses good for back pain?
Most high-quality innerspring beds should help mitigate back pain. The steel coils in their construction offer solid support, especially in firmer models. Good body support is key to treating back pain, which often arises from poor spine alignment.
Read More: Best Mattresses for Back Pain
Conclusion
Whichever type of mattress you decide to choose, make sure to test it thoroughly. Most companies offer general trial periods, allowing you sufficient time to try out the mattress before committing to the purchase. Some people say that they can never go back to using spring mattresses, especially once they've used the foam-based ones. Assess the pros and cons of each type and how these relate to your individual needs. This will give you the best chance of finding the most comfortable mattress for a great night's rest.