Note: Casper has recently released an updated model and this review includes the older model. We will review the updated version soon.
This is a clash between two established authorities on the market. While one of them takes advantage of an additional layer-design, the other implements a next-generation material in an attempt to revolutionize the market.
Leesa vs. Casper: Which one seems to be the more effective approach? Both resonate well within the community but could there be a clear winner?
Let's find out!
Also, you can read our full review of the individual product via the link below:
Comparing Materials/Layers/Construction
Casper Construction
Traditionally, Casper beds take advantage of 4 layers of foam. The top one is 1.5 inches thick, and it takes advantage of responsive poly foam. The next one is the middle layer which is also 1.5 inches, and it uses traditional memory foam.
The third layer is made out of poly foam, and it's also 1.5 inches. The base layer which is intended to serve as the foundation for the entire thing is 5 inches, and it is made out of support foam.
The entire bed design is a hybrid of different foam types which are known to provide enhanced cooling and comfort thanks to the initial poly-layer. Additionally, the support is also on point thanks to the thick base support layer.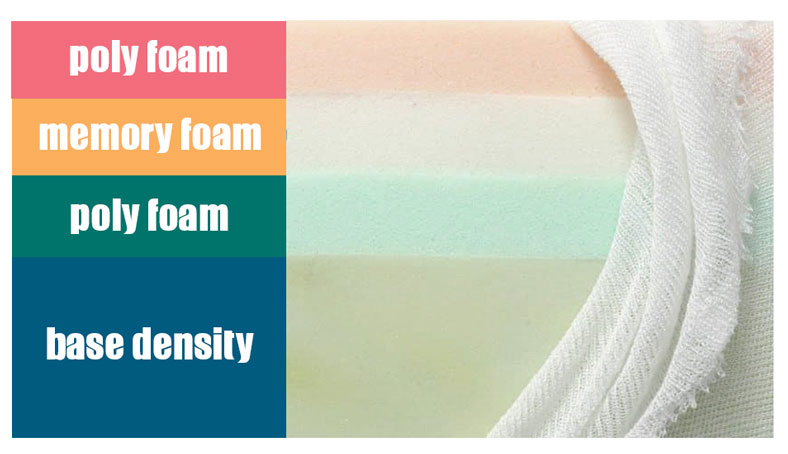 Leesa Construction
Unlike Casper, Leesa takes advantage of 3 layers. The top one is 2 inches thick, and it is made out of fantastic Avena foam. This is an alternative to regular memory foam, and it sleeps just like latex. It's a next-generation material which offers increased support and durability than traditional foam or latex. It compares splendidly to both types.
Additionally, the middle layer is made out of regular memory foam, and it's 2 inches thick while the support foam base layer is 6 inches to provide enhanced support to your back.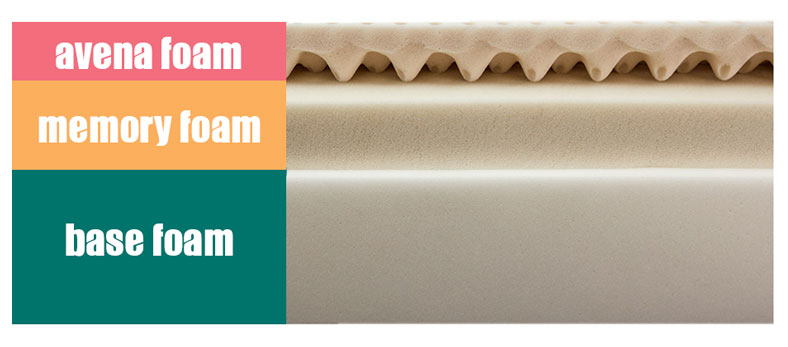 Comparing Firmness/Comfort/Support
Casper Firmness
The firmness of the mattress is easily ranked as medium to slightly firm. It ranks 6 to 7 of 10 when it comes to the firmness scale with 10 being the most firm.
If you are heavier, you are likely to feel that the bed is a tad bit firmer. This is because your weight will cause your body to interact with the firmer layers of the bed as the sinkage would be more expressed.
Leesa Firmness
Out of 10, we'd have to rank Leesa as a six on the firmness scale. It provides a well-balanced level of a hug as well as sinkage and perfect body contour. This is mainly due to the Avena foam top layer. It does feel soft enough, but it's not too much to make you feel stuck. The product offers an excellent feel for a range of different sleepers and sleeping positions which are always a check in the pros column.
On the offside, heavier sleepers might feel that it's a tiny bit softer than it should be.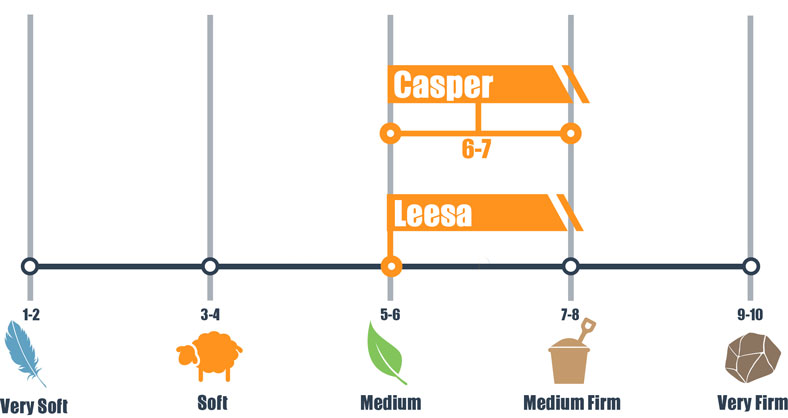 Casper vs. Leesa Mattress Compared Side by Side
| | | |
| --- | --- | --- |
| Material and Cover | Poly foam, memory foam and support foam | Avena foam, memory foam and support foam |
| Height | 9.5 inches | 10 inches |
| Firmness | 6-7/10 | 6/10 |
| Motion Transfer | Minimal | Minimal |
| Support | Average | Good |
| Warranty | 10 years | 10 Years |
| Trial Period | 100 Nights | 100 nights |
Should I Buy the Casper or Leesa Bed?
Both mattresses perform splendidly and provide more than you could ask for in this price range.
If you liked our comparison and you want to know where you can buy one, check out the links provided below for each product:
Author:
Mark Reddick
When I'm not learning about sleep, you can find me hanging out with my wife and close friends.
I absolutely love entrepreneurship and learning how to improve yourself daily. We only get one life, and I want to make it the best one possible.
I hope that everyone that finds our site takes a new approach to sleep. The world needs to stop thinking about it as something "we just do," but rather something that allows us "to do every day."