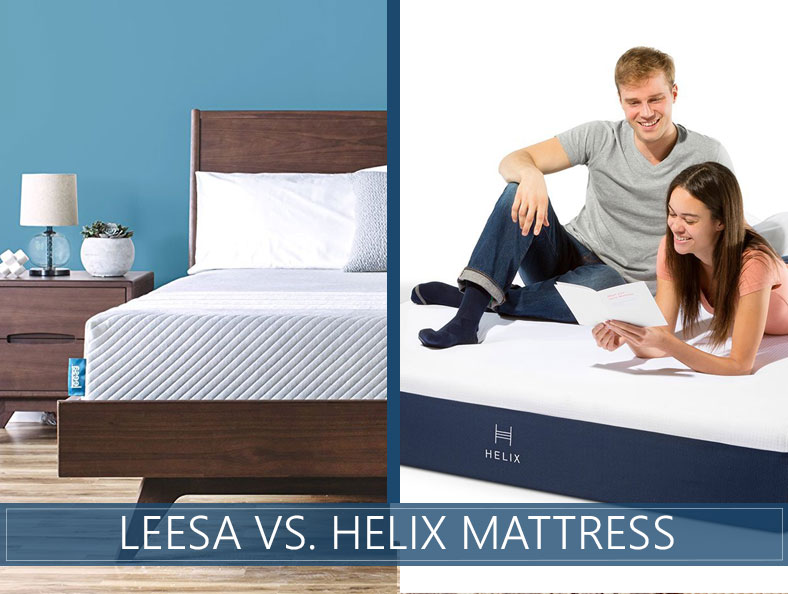 We've decided to pin two popular mattresses this year against each other in an attempt to understand which one performs better. It goes without saying that both of those units provide a lot of capabilities and conveniences to the sleeper and it's going to be a tough call.
While the mattress brought by Leesa manages to fit the need of the majority of sleepers thanks to its rather universal comfort, Helix takes a notably different approach. The latter allows the customer to individualize their bed based on their personal preferences as well as their sleeping patterns based on a questionnaire which they fill in advance.
Will this unique approach manage to knock the veteran Leesa off its podium? Or is the old-school proven formula going to prevail once again? Let's find out in the battle of Helix vs. Leesa!
If you want to know more you can check out our individual reviews:
Materials/Layers/Construction
Leesa Construction
The mattress comes at 10 inches high, and it is a synergistic blend of three layers of foam which are rather distinct. The unique thing about this particular bed is the proprietary foam called Avena. This is what sets the company apart from the crowd.
The 1st layer is 2 inches thick, and it's made out of the Avena foam, as mentioned above. The material is particularly interesting. It acts as a foam, but it does bring a greater bounce, responsiveness and cooling effect. What is more, the material is a lot more durable in comparison, which offers greater value for your investment.
The 2nd layer is 2 inches thick, and it's made of conventional memory foam. This layer is intended to relieve pressure and to increase the overall support of the mattress. The manufacturer has done a fascinating integration which is supposed to meet the needs of a variety of different sleepers. It's an excellent approach to claiming a substantial market share as the majority of users would prefer this particular level of firmness.
The 3rd layer is the one which acts as a foundation. It is 6 inches thick, and it is designed to be the base of the mattress. It allows for the deep compression support, hence making the unit ideal for people who are heavier regarding weight. Furthermore, this layer keeps the bed in proper shape, and it allows the air to flow through.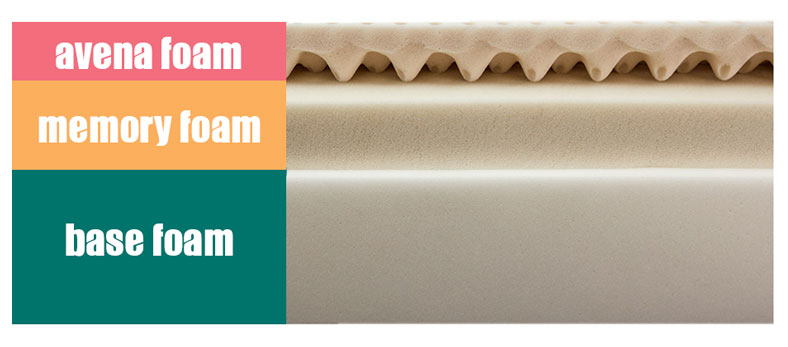 The next thing that you'd like to take a look at is the cover. Leesa takes advantage of a cover made of polyester and Lycra. This is a convenient combination which gives the cover proper stretchiness and enhanced durability without sacrificing or dampening the cooling effect of the top Avena foam layer. The cover is also very nice looking regarding aesthetics, and this is something to account for.
Helix Construction
As we mentioned, the Helix is entirely customizable by the client. What is more, you can design one of the sides to be firm and the other to be soft if you want to.
Regardless, though, every bed is built from four comprehensive layers of micro coils and poly foam and comes with a 10 inches total thickness. To customize the feel, comfort, firmness and other characteristics of the kind, you'd have to take a comprehensive and quick quiz. Nevertheless, let's have a look at the construction that's by default.
The 1st layer is designed to bring in comfort as well as cooling. It is 2 inches thick, and it's made out of Dynamic foam that's proprietary to Helix. It is a responsive material that's also quite comfortable. It resembles latex as it brings the necessary cooling, response time as well as bounce. However, you can configure the softness of the foam in the quiz.
The 2nd layer is intended to deliver the necessary bounce and pressure relief. It is made out of micro coils, and it's 2.4 inches thick. It's going to produce a serious amount of support as well.
The 3rd layer is made of 2 inches poly foam. It is primarily supposed to enhance the support of the mattress. That's why it is usually a bit firmer in comparison to the layers which are placed on top of it. That's something which brings the firmer feel and enhances the deep compression support. The layer is also intended to serve as a comprehensive transition between the base and comfort layers.
The 4th layer is also the one that's referred to as foundational. It is 4 inches thick, and the foam here is supportive and high-density. As it is with the majority of beds, it is intended to provide a strong base and foundation for all of the layers mentioned above which are located on top of it.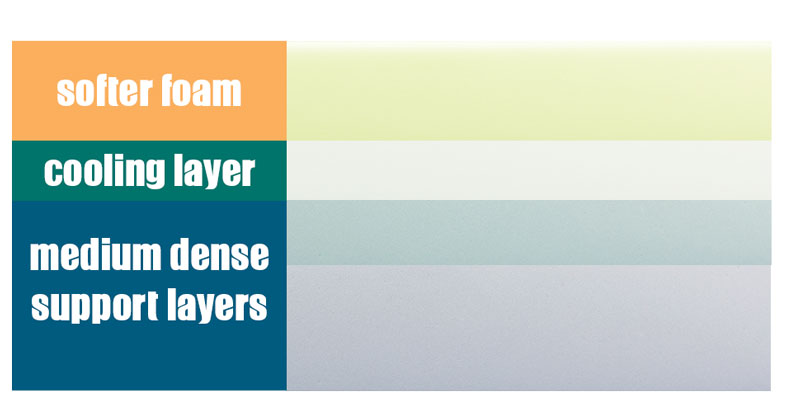 When it comes to the cover, it's safe to say that it's sleek and aesthetically pleasing. It's blue and white, and it's entirely made of polyester. The pattern is checkerboard which does bring a nice contrast with the blue which is implemented on the sides. It is also a rather thin cover which doesn't bring additional padding or quilting. It enhances the breathability and the cooling.
Firmness/Comfort/Support
Now, it's obviously important to measure some of the paramount metrics concerning the firmness, the comfort and the support of both mattresses.
Leesa Firmness
Leesa scores 6 of a total of 10 on the unified firmness scale. This is as medium and average as it can get. This is why the bed manages to hit the so-called sweet spot, and it delivers a universal firmness, support, and comfort that at least 80% of sleepers prefer.
When you lie down on the mattress initially, the softness that will envelop you is considerable. The bed is overly comfortable, and it's very cool. This is all thanks to the very effective layer of Avena foam. As you start easing into the bed, the memory foam begins doing its job, allowing for an excellent compression, support and acute pressure relief. These materials look together synergistically to ensure that you receive an exclusive sensation of this bed and no other.
You can rest assured that this bed brings one of the most balanced sleeping sensations on the market. The multi-layer design, support, firmness, nature of the materials as well as the thickness of the foams are intended to work in sync to deliver comfort for people with different weight, sleeping preferences and others of the kind.
For those of you who are looking for a well-rounded mattress and a medium firmness, the Leesa manages to get the job done perfectly, striking perfect balance throughout the board.
It is also worth mentioning that the mattress also has a reasonably fast response time. This is an added bonus for those of you who are active and move a lot in their sleep. In other words, it is not going to make you feel trapped, which is characteristic of low-quality memory foam beds.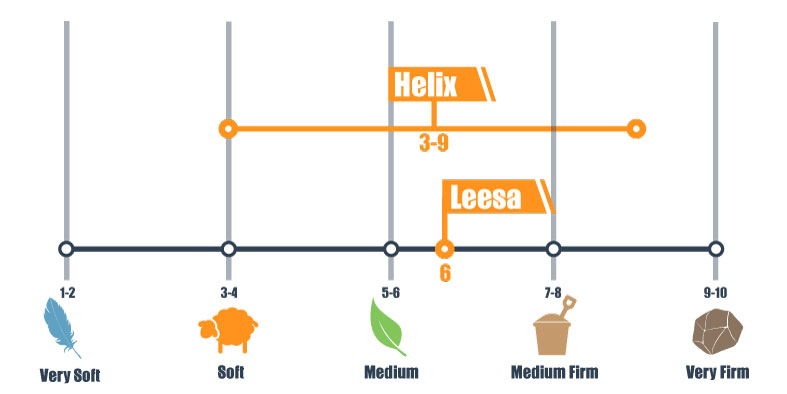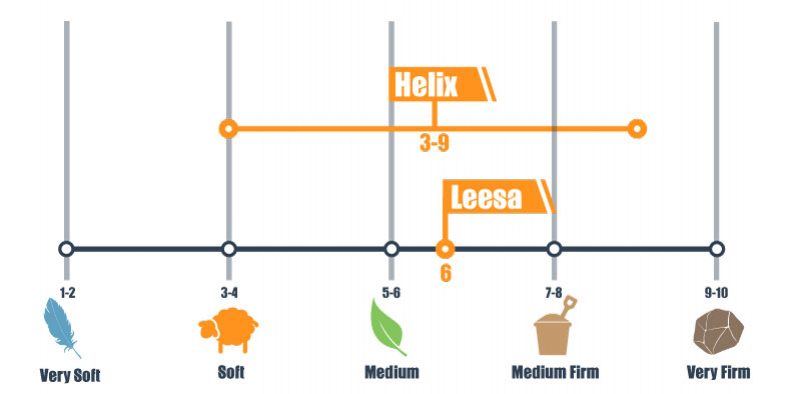 Helix Firmness
Now, this is where things become particularly interesting. As we mentioned above, Helix isn't your regular mattress brand. Instead of offering a few different options like the majority of its competitors, Helix takes a different approach.
You will be allowed to fill up a comprehensive questionnaire of the point elasticity, the temperature regulation, feel and support of your mattress on your own. As soon as you place your order, the company is going to manufacture your mattress as per the answers to this questionnaire. You will be the proud owner of a unique bed, tailor-made for you alone.
What is more, Helix has accounted for couples as well. You are now able to configure both sides of the mattress differently. Therefore, if you prefer a firmer feel while your mate loves softer beds, you can configure one of the sides as per your preferences and the others – as per your partner's. This is quite enticing and very convenient when it comes to it.
What we managed to determine is that the mattresses are quite responsive and offer a nice bounce thanks to the micro-coils layer. They are well aerated. Hence, the cooling effect is quite substantial – you won't wake up in the middle of the night – no need to worry about it. The contouring is well-thought out and expressed enough without making you feel trapped.
Side by Side Comparison
| | Helix | Leesa |
| --- | --- | --- |
| Materials | Poly Foam, Support Foam and Micro Coils | Avena Foam, Memory and Support Foam |
| Height | 10" | 11.0" |
| Firmness | 3-9/10 | 6/10 |
| Motion Transfer | Minimal | Minimal |
| Support | Very Good | Very Good |
| Warranty | 10 Years | 10 Years |
| Trial Period | 100 Nights | 100 Nights |
Should I Buy the Leesa or the Helix?
If we take all things into account, we firmly believe that this is one of the tough draws. Both Leesa and Helix have their merits. The Leesa is a great option for those of you who like the universal firmness, pressure relief, quick response, bounce, and comfort. If you are looking for a mattress that's an all-in-one solution, it doesn't get any better than this.
On the other hand, we have the Helix with their particular and incredibly enticing approach. Do you want less hug? No problem – just order it. You want a softer unit – just point it out in their questionnaire. The ability to customize your bed entirely down to the tiniest detail is something that's been lacking in the mass market.
We would recommend the Leesa mattress if you:
Are looking for medium firmness – with a solid 6 out of 10 on the unified firmness scale, it doesn't get any more average than that. This is the perfect firmness for about 80% of the sleepers.
Look for an overly balanced feel – all materials in the Leesa bed are designed and laid out to work in perfect synergy. That's why the bed manages to bring optimal comfort, support, and firmness.
Are not particularly aware of your preferences – the Leesa is likely to fit the sleeping preferences of 8 out of 10 buyers. That's thanks to its approach towards achieving a universal feel. It's perfect for those of you who are not yet sure what they want.
We would recommend the Helix if you:
Want to customize your bed – the materials are very convenient. However, you are the one who gets to choose their functionalities. This is something quite powerful.
Want to accommodate you and your partner – it goes without saying that purchasing a mattress that fits both you and your sleeping partner is challenging. With Helix, you can modify both sides of the bed to suit your preferences without sacrificing the comfort of your spouse.
Know what you want – this is probably the only thing to consider here. You need to be aware of the metrics and what they stand for. Helix does an excellent job in explaining them, so there's nothing to worry about.
Final Thoughts
---
Both options are particularly formidable. They are not expensive and yet they bring incredible capabilities and high-end feel. This is something that you'd normally have to pay a premium for.
While Leesa is an established authority and a firm leader amongst mattresses which have the universal approach, Helix is quickly catching up. And that's quite reasonable. They put together a comprehensive strategy which captures the user's preferences and pins them down together in the perfect mattress. Long gone are the days when you had to wander around countless brick and mortar stores to find the bed you are looking for.
Author:
Jill Thompson
I've been self-employed for almost four years and I would not change it for anything! I believe that anyone can achieve their goals with the right attitude and determination.
I'm an avid traveler (25+ countries and counting) that loves to meet new people doing amazing things.
When I'm not researching for the Sleep Advisor, you can find me reading, running, traveling, golfing, or meditating.
I wish you the very best on your journey!