Transparency Disclosure – We may receive a referral fee for products purchased through the links on our site...

Read More

.
We've decided to pin two popular mattresses this year against each other in an attempt to understand which one performs better. It goes without saying that these beds provide a lot of conveniences to the sleeper and it's going to be a tough call.
While the mattress brought by Leesa manages to fit the need of a majority of sleepers, thanks to its rather universal comfort, Helix takes a notably different approach. The latter allows the customer to select an individualized feel based on their personal preferences as well as their sleeping patterns based on a questionnaire that they fill in advance.
Will this unique approach manage to knock the veteran Leesa off its podium? Or is the old-school proven formula going to prevail once again? Let's find out in the battle of Helix vs. Leesa!
If you want to know more you can check out our individual reviews:
Quick Comparison: Helix vs. Leesa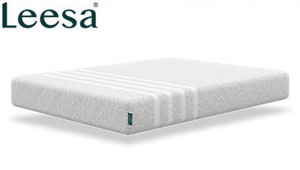 Check pricing and availability by clicking the button below
Offers increased support and durability
Soft and springy to the touch
100-night risk-free trial
Use Coupon Code
MATTRESS18
or click the button below
Customizable bed
Hybrid foam and innerspring
100-nights trial period
Materials/Layers/Construction
Leesa Construction
The mattress comes in at 10 inches high, and it is a blend of three layers of foam which are rather distinct. The unique thing about this particular bed is the top layer; this is what sets it apart from the crowd.
The 1st layer is 2 inches thick, and it's made out of a foam with pinholes. The material is particularly interesting. It acts as a foam, but it does bring a greater bounce, responsiveness, and cooling effect.
The 2nd layer is 2 inches thick, and it's made of conventional memory foam. This layer is intended to relieve pressure and to increase the overall support. The manufacturer has done a fascinating integration which is supposed to meet the needs of a variety of different sleepers.
The 3rd layer is the one which acts as a foundation. It is 6 inches thick, and it is designed to be the base of the mattress. It allows for the deep compression support. Furthermore, this layer keeps the bed in proper shape and it allows the air to flow through.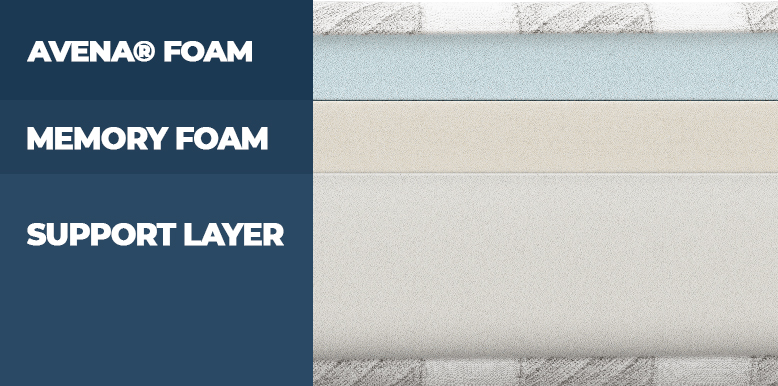 The next thing that you'd like to take a look at is the cover. Leesa takes advantage of a cover made of polyester and Lycra. This is a convenient combination which gives the cover proper stretchiness and enhanced durability without sacrificing or dampening the cooling effect of the top foam layer. The cover is also very nice looking regarding aesthetics.
Helix Construction
As mentioned, the Helix is customizable by the client, and the company will select a feel from their line of 9 constructions that best fits the individual's needs. What is more, you can order one side as firm and the other to be soft if you want to.
Regardless, though, every bed is built from four layers of micro coils, memory materials, and poly foam that comes to 12 inches total thickness. (Models built for extra pressure relief contain the company's proprietary mix of memory foams, and the model designed for heavier sleepers is 13 inches tall.) To customize the feel, comfort, firmness, and other characteristics, you have to take a comprehensive quiz. Nevertheless, let's have a look at the construction of the most versatile medium choice, the Helix Dusk.
The 1st layer is designed to bring in comfort as well as cooling. It is 2 inches thick, and it's made out of Dynamic foam that's proprietary to Helix. It is a responsive material that's also quite comfortable. It resembles latex and is similarly temperature neutral, quick to respond and has a bit of bounce.
The 2nd layer is intended to 

transition to the support system with a firmer layer of high-grade poly foam.

The 3rd layer is made

from individually pocketed micro coils that cradle the body and support the spine. These are reinforced around the edges for additional edge support.

The 4th layer is

the foundation, made with DuraDense foam that is supportive and lends the bed its durability

The cover is aesthetically pleasing and differs in color depending on what model is selected for you. It is lightweight and exceptionally breathable. You may also select a specialized cover that incorporates phase change technology that can further help regulate the temperature of your bed.
Firmness/Comfort/Support
Now, it's obviously important to measure some paramount metrics concerning the firmness, the comfort and the support of both mattresses.
Leesa Firmness
Leesa scores 6 of a total of 10 on the unified firmness scale. This is why the bed manages to hit the so-called sweet spot, and it delivers a universal firmness, support, and comfort that at least 80% of sleepers prefer.
When you lie down on the mattress initially, it should feel very cool. This is all thanks to the very effective top layer of foam. As you start easing into the bed, the memory foam begins doing its job, allowing for an excellent compression, support, and acute pressure relief. These materials look together synergistically to ensure that you receive an exclusive sensation.
This bed is among a balanced sleeping sensation on the market. The multi-layer design, support, firmness, and nature of the materials, as well as the foam's thickness are intended to work in sync to deliver comfort for people with different weights, sleeping preferences, and shapes.
For those of you who are looking for a well-rounded mattress and a medium firmness, the Leesa could be for you, striking balance across the board.
It is also worth mentioning that the mattress also has a reasonably fast response time. This is an added bonus for those of you who are active and move a lot in their sleep. In other words, it shouldn't make you feel trapped, which is very important to some.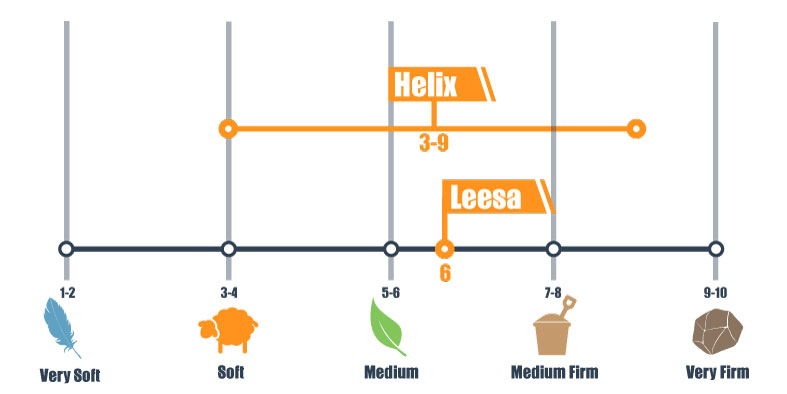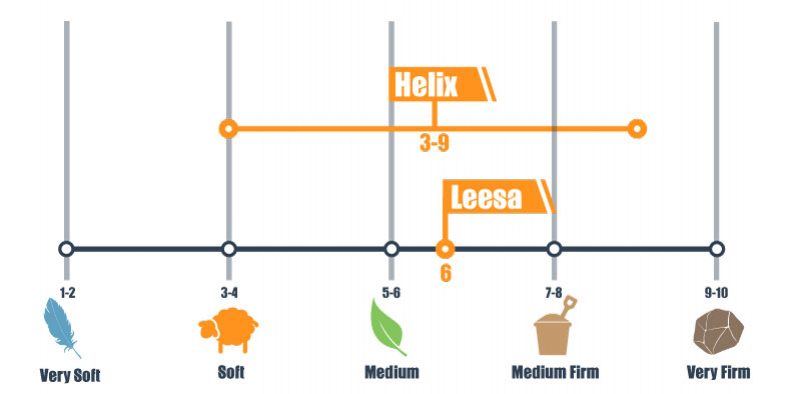 Helix Firmness
Now, this is where things become particularly interesting. As we mentioned above, Helix isn't your regular mattress brand. Instead of offering a few different options like the majority of its competitors, Helix takes a different approach.
You will be allowed to fill out a comprehensive questionnaire about point elasticity, the temperature regulation, feel, and support of your mattress on your own. As soon as you place your order, the company will select from one of nine different feels that they manufacture based on the answers to this questionnaire. You can be the proud owner of a unique bed, specially selected for you.
What is more, Helix has accounted for couples as well. You are now able to configure both sides of the mattress differently. Therefore, if you prefer a firmer feel while your mate loves softer beds, you can configure one of the sides as per your preferences and the other as per your partner's. This is quite enticing and very convenient for a lot of people.
Overall, the mattresses are quite responsive and offer a nice bounce thanks to the micro-coils layer. They are well aerated. Hence, the cooling effect is substantial—you shouldn't wake up too hot in the middle of the night. The contouring is well-thought out and expressed enough without making you feel trapped.
Side by Side Comparison
| | Helix | Leesa |
| --- | --- | --- |
| Materials | Poly Foam, Support Foam and Micro Coils | Memory foam and polyfoams |
| Height | 12" | 11" |
| Firmness | 3-9/10 | 6/10 |
| Motion Transfer | Minimal | Minimal |
| Support | Very Good | Very Good |
| Warranty | 10 Years | 10 Years |
| Trial Period | 100 Nights | 100 Nights |
Should I Buy the Leesa or the Helix?
If we take all things into account, this is one of the tough draws. Both Leesa and Helix have their merits. The Leesa is a great option for those of you who like the universal firmness, pressure relief, quick response, bounce, and comfort.
On the other hand, the Helix has a more customized approach. Do you want less hug? No problem—just order it. You want a softer unit? Just point it out in their questionnaire.
We would recommend the Leesa mattress if you:
Are looking for medium firmness – With a solid 6 out of 10 on the unified firmness scale, this is within the range. This is the perfect firmness level for about 80% of the sleepers.
Look for a balanced feel – All materials in the Leesa bed are designed and laid out to work in perfect synergy. That's why the bed manages to bring optimal comfort, support, and firmness.
Are not particularly sure what you need – Leesa is likely to fit the sleeping preferences of 8 out of 10 buyers. That's thanks to its approach towards achieving a universal feel. It could be perfect for those of you who are not yet sure what they want/need.
We would recommend the Helix if you:
Want to customize your bed – 

With guidance, you can customize your sleeping experience so you know your bed matches your needs.

Want to accommodate you and your partner – I

f you and your spouse have very different preferences, a quiz might help you narrow down the best bed for you both that doesn't feel like a compromise. 

Have specific needs –

Helix's questionnaire asks very specific questions to choose a bed that's perfect for your individual needs from a wide variety of choices.
Final Thoughts
---
Both options are particularly formidable. They are not expensive and yet they bring incredible capabilities and high-end feel. This is something that you'd normally have to pay a premium for in-store.
It's worth noting that both models take the guesswork out of bed buying by offering a little something for everyone. Leesa accomplishes this with a more adaptable feel, and Helix delivers with a guided selection process. Long gone are the days when you had to wander around countless brick and mortar stores to find the bed you are looking for.
While Leesa is an established authority and a firm leader amongst mattresses which have the universal approach, Helix is quickly catching up. They put together a comprehensive strategy which captures the user's preferences and pins them down together in one solution.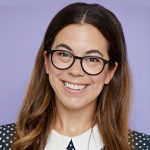 Jill Zwarensteyn is the editor for Sleep Advisor and a certified sleep science coach. She is enthusiastic about providing helpful and engaging information on all things sleep and wellness.
Based in Los Angeles, she is an experienced writer and journalist who enjoys spending her free time at the beach, hiking, reading, or exploring new places around town.
She's also an avid traveler who has a personal goal of being able to successfully sleep on an airplane someday.