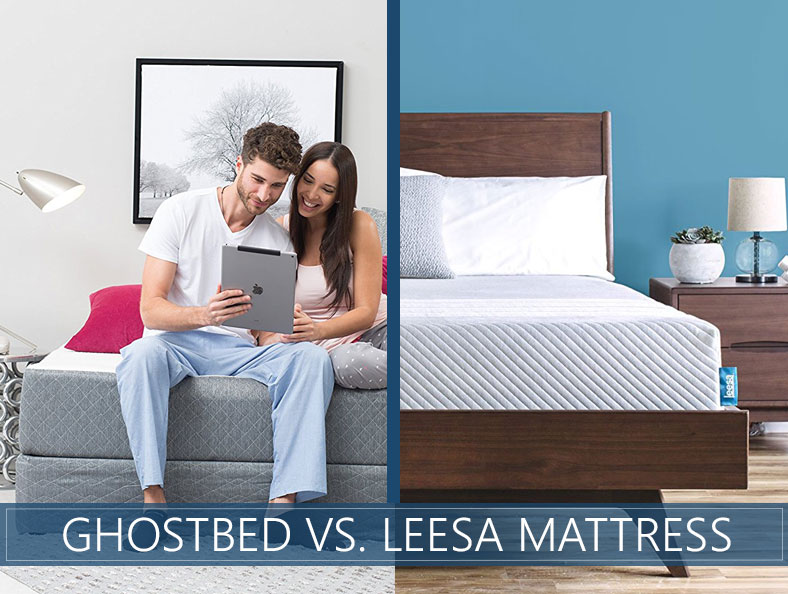 Transparency Disclosure – We may receive a referral fee (at no additional cost to the buyer) for products purchased through the links on our site or other applicable pages. To learn more, please read our full disclosure page here. We also encourage you to read about how we may research and/or test Products here.
In this particular mattress comparison, we've decided to stack up against each other one of the veterans in the online mattress industry, Leesa, against the well-known and high-performing Ghostbed. Both of those units have a lot of merits and a serious fan base behind them as they bring good capabilities.
However, which one is better? Is there a clear-cut winner between Leesa and Ghostbed? We know that Leesa performs well against a range of other companies but can it take up the Ghostbed? Let's find out.
Quick Comparison: Leesa and Ghostbed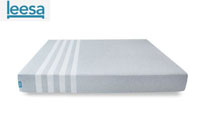 Check pricing and availability by clicking the button below
Offers increased support and durability
Soft and springy to the touch
100-night risk-free trial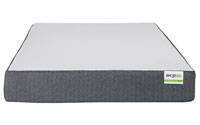 Check pricing and availability by clicking the button below
Reduces heat retention
Good motion control
Medium level firmness
Materials/Layers/Construction
It's obvious that the materials, as well as the overall construction of both beds, are quite important for the comparison. In fact, these are amongst the critical characteristics to consider. Let's have a detailed look.
Leesa Construction
One of the first things that you have to take into account about the Leesa is that it has a 10-inch construction and it's layered with different levels of high-end memory foam and polyfoams.
The mattress construction comprises the following layers:
The 1st layer is intended to bring the cooling and comfort. With that said, it is made out of aerated foam, and it is 2 inches thick. It is also quite responsive and brings that specific slight bouncy appeal which is characteristic of the latex surface. The top layer and the core of the bed are intended to work in proper sync so it can bring a feeling that's adaptive and particularly comfortable for the different types of sleepers.
The 2nd layer is intended to bring the necessary support and pressure relief. It is crafted out of standard memory foam, and it is going to help align your spine and bring the needed pressure relief. You can rest assured that the mattress does its best to alleviate as much pressure points between your body and the bed as it can so that there is no strain and pain.
The 3rd layer is designed to act as its overall foundation and base. It is made of high-density support foam, and it offers deep compression support. The base layer is 6-inches thick, and it provides the proper bed shape and helps makes sure that it doesn't sag.
There is also a nice-looking cover, and it's a blend of Lycra and polyester, which holds additional attributes to the overall comfort and sleeping sensation of the mattress.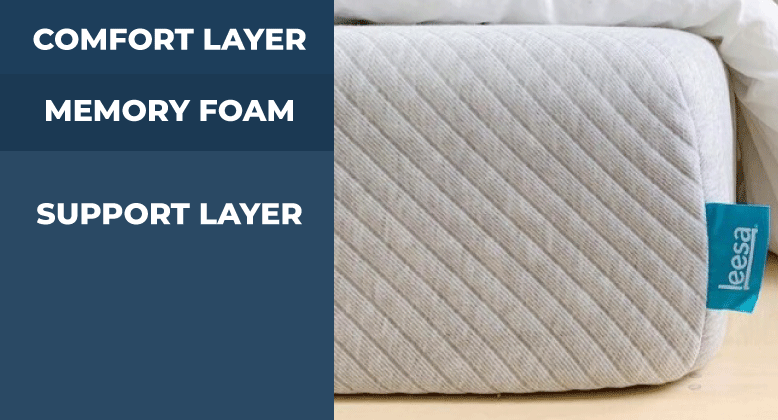 Ghostbed Construction
This one also comes with a layered composition, taking advantage of three layers altogether. In this regard, it reveals a lot of similarities to the Leesa mattress as they are all made out of foam as well.
The Ghostbed's 1st layer is made out of aerated latex foam. Its overall thickness amounts to 1.5 inches. It is intended to bring bounce, great responsiveness, and increased cooling capabilities. On top of all that, the layer is also going to help relieve a lot of pressure and is intended to relieve pressure points between the mattress and your body.
The 2nd layer is the one which is designed to bring additional spinal support. The layer, unlike the one in the Leesa bed, is made out of gel memory foam. It intends to add to the pressure relief and to increase the support without jeopardizing breathability and comfort. It is also far less responsive which balances out the overall feel of the mattress.
The 3rd layer is the foundation. It is a thick, 7.5-inches layer which is made out of high-density support foam. It is going to help keep the previous layers in line to make sure that the shape and form of the bed are maintained through the years.
Even though the overall construction is fairly similar, there is a clear difference in the mid-layer and the distribution of thickness between the three layers.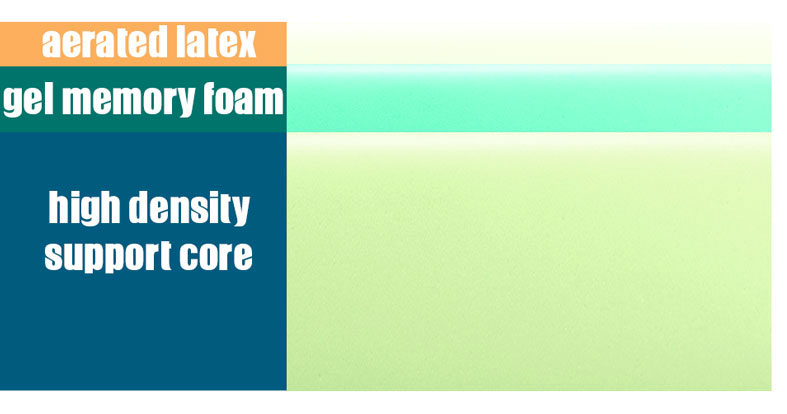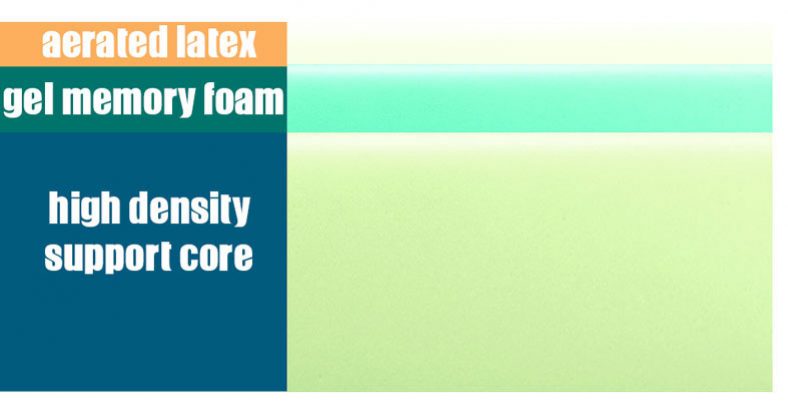 Firmness/Comfort/Support
Leesa Firmness
This is a brand which is well-known for its intentions to manufacture beds which are hitting the sweet spot for the majority of sleepers. Since an approximation of 80% of people would prefer a range of medium firmness, comfort, and overall feel, Leesa is giving them just that.
It scores 6 out of 10 on the firmness scale. The initial sensation that you will get as you lie down should be soft and comfortable due to the upper pinholed foam. It is a combination of comfort and responsiveness.
There is a slight push-back to align your spine and to trigger the contouring. The bed is also designed to be cool.
The support that is brought by the bed should accommodate all sleeping positions, even though heavier stomach sleepers might want to go for something slightly firmer.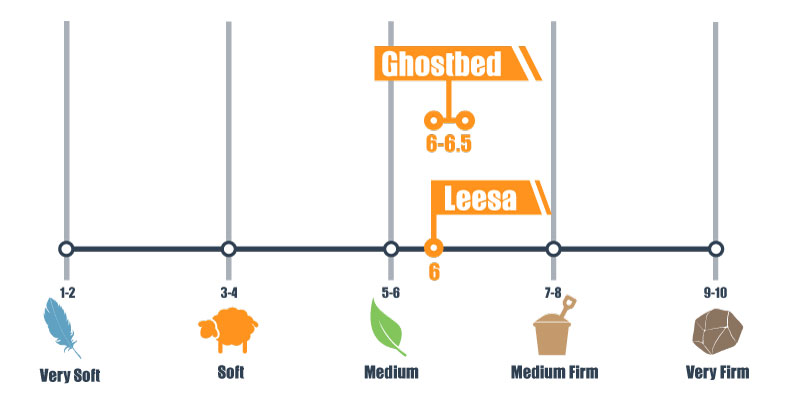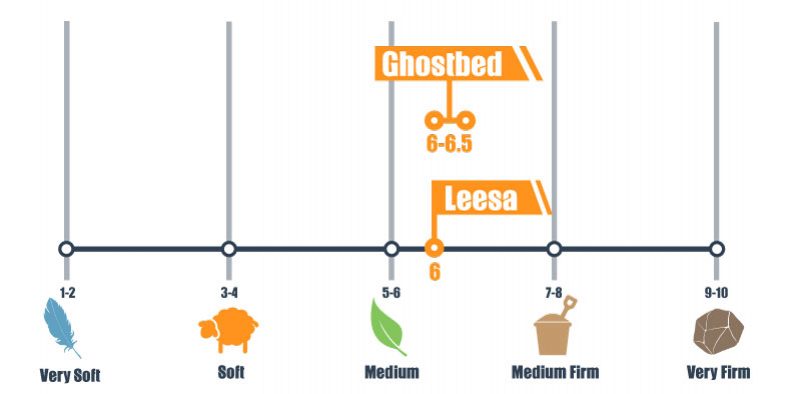 Ghostbed Firmness
The Ghostbed doesn't step down here, and it also performs well. What is more, the aerated latex top layer also brings superior breathability. You shouldn't have to worry about waking up due to high temperatures in the middle of the night.
The initial sensation might be that it is a bit firmer but this is due to the top layer of latex. It does get a lot softer and comfortable as you lay down for a few more moments. The Ghostbed mattress brings a combination of firmness and comfort, which is something that a lot of people are looking forward to.
It relieves the pressure conveniently, aimed to make sure that your spine is perfectly aligned. It should be comfortable for all kinds of sleepers. Once again, though, because of the company's intention to deliver a medium-firm solution, heavier sleepers might go for something a bit firmer. This, of course, is to be expected.
Side by Side Comparison
| | Leesa | Ghostbed |
| --- | --- | --- |
| Materials | Memory foam and polyfoam | Aerated latex, gel-infused memory foam, regular memory foam |
| Height | 10" | 10.5" |
| Firmness | 6/10 | 6-6.5/10 |
| Motion Transfer | Very Minimal | Very Minimal |
| Support | Great | Great |
Should I Buy Leesa or Ghostbed?
We've come to the final part of the battle between both beds. Is there a clear-cut winner? Not really. Some people would always prefer the slightly more traditional sensation brought by the Leesa. It holds up and stands the test of time, making sure that this is one of the most reliable and consistent options that you can take advantage of.
On the other hand, there are the enhanced capabilities of latex and gel in the Ghostbed. Its foundation is also slightly thicker, attributing to increased deep compression support. On the other hand, the top layer of foam on Leesa really excels.
With all that said, we think that this is an easy call—it's a draw. Both are are suitable, and we recommend that you get the one that appeals to your personal preferences.
We would recommend Leesa to those of you who:
Are unwilling or just can't afford to spend top dollar on a mattress but want premium-like quality. That's where the Leesa bed excels at.
Are looking for a truly universal sensation – if you prefer your mattress to have a universal feel, keep in mind that the Leesa has made huge strides in this area, which is great for couples.
Believe in a good cause – for every ten mattresses that they sell, Leesa donates one to people in need. So far, they've donated over 5,000 units.
We would recommend Ghostbed to those of you who:
Want a slightly more responsive mattress – the top layer of the Ghostbed is made of aerated latex which brings a bit more responsiveness.
Are looking for a truly cooler mattress – the combination of latex and gel in the first two layers guarantees perfect heat transfer and dispersion.
All in all, this is a clean-cut draw. Both of the solutions have a lot of merit to them. Will you choose one?