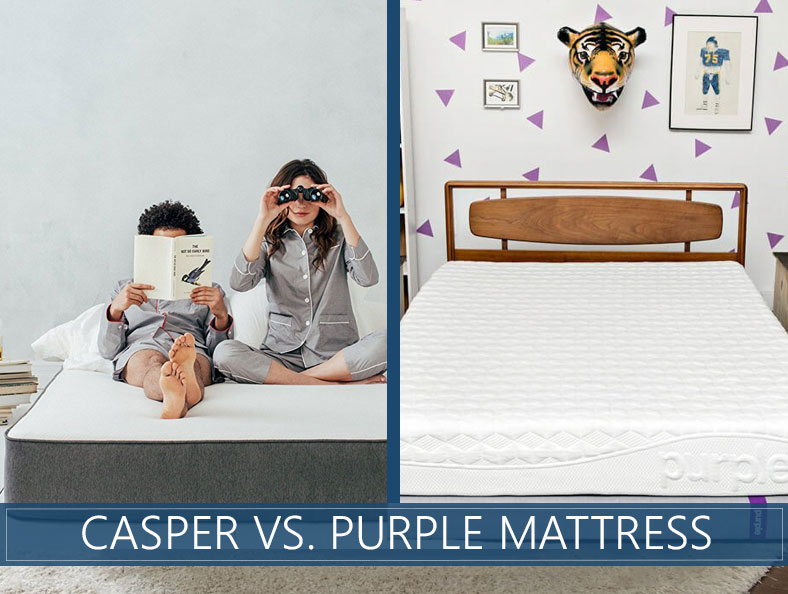 Casper vs. Purple is an exciting mattress battle, rivaling for the prestigious title of the best overall mattress of 2018. While Casper represents a well-known and established authority, Purple comes with the spirit of the new product, determined to take on the market by a storm.
Will it be able to do so? Or will the reliable and familiar maintain its current positions? Let's have a look at the way they compare and see for ourselves.
In addition to the comparison, we recommend reading our review of each mattress:
Comparing Materials/Layers/Construction
Purple Construction
Purple beds come with a convenient, triple-layered polymer construction and they represent the 9.5 inches thickness. This is somewhat odd as it differentiates from the regular 2-layer technology.
The top layer is 2 inches, and it's made out of hyper-elastic polymer, and it's designed for heat distribution and cooling.
The mid-layer is 3.5 inches thick, and it's made out of polyurethane foam while the bottom layer is the foundation and it's 4 inches of polyurethane foam.
The overall construction and material are similar to latex. In case you want to see our top beds made from latex – you can see them here.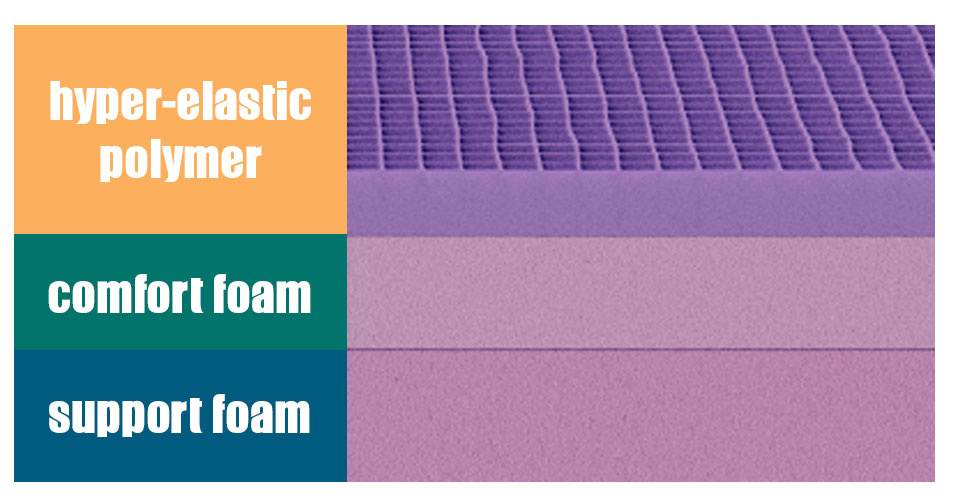 Casper Construction
Casper, on the other hand, replies with four layers of memory foam.
The top layer is 1.5 inches of responsive poly foam which provides good bounce and heat regulation.
The second layer is another 1.5 inches of memory foam to prevent heat retention.
The support foam layer is 1.5 inches, and it works as a transitional layer in between, making way for the 5 inches bottom layer which acts as the foundation of the bed.
Although Casper uses custom and not memory foam, I recommend that you check out our best picks from that category. (see the winners here)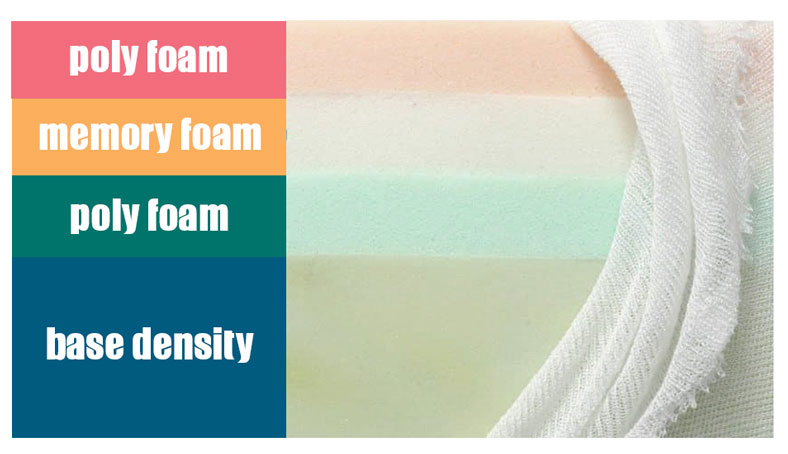 Comparing Firmness/Comfort/Support
Purple manages to stand its ground when it comes to the feel that it brings to its customers. It sticks to a convenient 6.5 out of 10 on the firmness scale where 10 is the firmest.
The bed is clearly designed to accommodate the vast majority of sleepers, regardless of their preferred sleeping position which is undoubtedly something worth accounting for.
This is additionally attributed by the polymer material which brings a slightly similar appeal as if you are sleeping on latex but it differentiates conveniently, adding a more convenient overall sensation.
Casper, at the same time, brings a 6 to 7 out of 10 on the firmness scale and it also accommodates the vast majority of sleepers and sleeping positions.
However, if you are a heavier sleeper, you'd feel it more like a 7 instead of a 6. This is due to the fact that the bed provides increased sinkage which would engage you with the harder and denser foams thanks to the additional layer which lacks in the Purple mattress. This is something worth accounting for.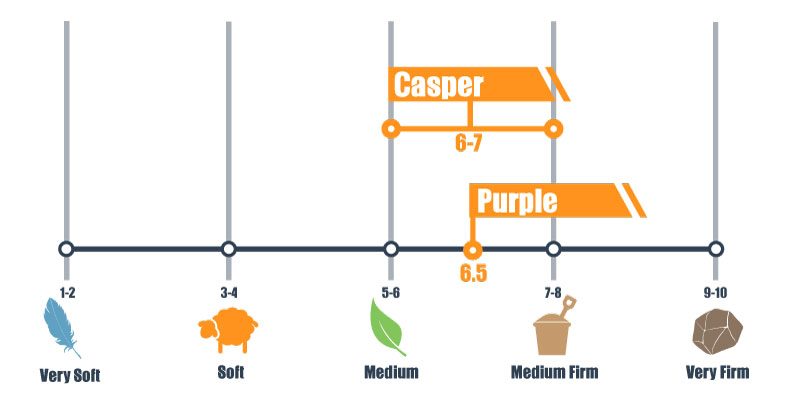 Purple Mattress Vs. Casper Compared Side by Side
| Features | Casper | Purple |
| --- | --- | --- |
| Material and Cover | Poly foam, memory foam and support foam | Polymer, memory foam, polyurethane foam |
| Height | 9.5 inches | 9.5 inches |
| Firmness | 6-7/10 | 6-6.5/10 |
| Motion Transfer | Minimal | Minimal |
| Support | Average | Good |
| Warranty | 10 years | 10 years |
| Trial period | 100 Nights | 100 Nights |
Should I Buy the Purple or Casper?
Of course, this is the million-dollar question – which bed to buy – Casper or Purple? After extensive research and quite a few nights spent sleeping on both of these, it's safe to say that it's pretty much a draw.
While both beds reveal particular high points, choosing a better one amongst them would be widely unfair.
This is mainly due to the fact that the differences are relatively minimal while both beds provide significant results, enhanced comfort, and the necessary support.
However, we've also broken down a few points which would hopefully guide you towards making the right call when it comes to it. So, let's give it a go.
We Would Recommend Buying the Casper if you are Looking for:
Medium to firm density. While the difference on the firmness scale is rather inconsiderable, the additional second layer of the Casper mattress does make a difference if you are a heavier sleeper. This is due to the fact that it provides increased sinkage which would put you in a further engagement with the harder foams.
Lighter sleeping sensation. The multiple layers are perfectly scaled to ensure that light sleepers are not given that sensation of being trapped in the memory foam. This is mainly thanks to the top layer which increases the bounce and overall movability.
Average support. It goes without saying that the support brought by the Casper bed is average. It's predominantly delivered by the top responsive layer which also attributes to proper cooling and prevents serious heat retention, hence enhancing your sleep.
We Would Recommend Buying the Purple  if you are Looking for:
Enhanced cooling capabilities. If the temperature is something that you are forced to struggle with when it comes to sleeping, the Purple mattress is your obvious choice. Thanks to the smart grid design, the cooling system is absolutely flawless, and it will perform up to the highest standards.
Serious spine alignment. The truth is that Purple, being the new kid on the block, did extremely well when it comes to maintaining the proper and stable spine alignment. It does so by conveniently bringing full body support.
Enhanced movability. If you are worried that the memory foam will keep you trapped in a sense that most beds do, Purple is the better option for you. This is due to the top layer which resembles a latex-like sensation, enhancing movability and bounce.
Straightforward medium firmness. If that's what you're looking for, there's no doubt that Purple will get the job done. Landing a little above average on the firmness scale, it's yet within the accepted boundaries.
As you can see, both options are particularly convenient with each one of them performing slightly better regarding different capabilities.
The differences are somewhat inconsiderable in general but could really make an impact if that's what you're specifically interested in.
That's why we advise taking a closer look into the options before making a conclusive decision. That's the only way to ensure that everything is handled as per the highest standards.
Author:
Sarah Cummings
I think we're all nerds, but I'm probably the biggest nerd in the group. When we were in college, Mike and Jill would always be the first to fall asleep during our study nights.
As you can tell by my picture, I have a book in my hand almost around the clock. So yes, I'm a nerd just like Sheldon Cooper!
My hope is that everyone who visits our site will walk away with a fresh perspective. I think too many people in society downplay the importance of sleep. In my opinion, it's the difference between an average life and an amazing one.