Transparency Disclosure – We may receive a referral fee for products purchased through the links on our site...

Read More

.
Disclaimer - Nothing on this website is intended to be a substitute for professional medical advice, diagnosis, or treatment...

Read More Here

.
Insomnia is caused by a variety of factors that prevent us from falling asleep. Some of these include:
Health conditions: allergies, acid reflux, back pain, arthritis
Medications: thyroid, birth control, antidepressants, blood pressure
Sleep disorders: sleep apnea, restless leg syndrome
Stress and anxiety: money troubles, coworker disagreements, relationship conflicts, overwhelm
Depression: mood and hormones
Unhealthy lifestyle choices: coffee in the evening, working into the wee hours, smoking cigarettes.
This list is by no means exhaustive (haha, a pun!), but you get the idea. There are a lot of things that can keep us up at night. It's a wonder we get any sleep at all!
But here's the chicken/egg question: do these conditions keep us awake or do we have these problems because we're not sleeping enough?
It turns out they are closely linked. And if you spend too many nights not getting the shuteye you need, it can have other dire consequences that we haven't even gotten to yet!
Even though we can't solve all of your woes in this article, we can guide you to a great bed for insomnia, so you have a better chance of falling asleep.
Shopping Recommendation:
Are you confident that a mattress for insomnia is the perfect option for you? If so, continue exploring this page!
If you're unsure or want to learn about more great mattress options available then we recommend you check out our top overall bed picks for 2023. It is a great starting place for most mattress shoppers because it includes a diverse list of mattress picks based on various preferences, styles, and needs. It also includes links to an additional 60+ best mattress pages from Sleep Advisor (example: best mattress for sleep apnea).
Our Best Rated Mattresses for Insomnia
Top 8 Beds for Insomnia Reviews
Nectar
CertiPUR-US® Certified
365-Night Trial
Forever Warranty
If pressure points are at the root of your restlessness, memory foam may be a solution. Nectar's deeper hug and updated temperature control help keep pressure points from building without making you wake up in a sweat.
Nectar's value comes from its attention to detail and exceptionally attractive price point that makes high-quality memory experience more attainable.
What makes it stand out?
If you're worried that a lower price point means a sacrifice in quality, you need not worry with Nectar. The bed keeps prices down by reducing overhead costs that add up for beds in retail stores and drive up costs, and by selling online, Nectar can offer a premium product for much less.
Memory foams of a bygone era usually had problems with excessive heat retention and were characterized by a "stuck feeling," but these concerns are mitigated by gel foam and a breathable poly-blend cover. While you will sink into the mattress, you shouldn't have to struggle to reposition, a feeling that could disturb your sleep.
Want to learn more? Read our full Nectar mattress review.
Best Mattress for Combination Sleepers
Helix Midnight
Hybrid Mattress
CertiPUR-US® Certified
Made in the USA
100-Night Trial
10-Year Limited Warranty
Combination sleepers who are dealing with insomnia may find it even harder to stay asleep if they can't reposition as easily as they'd like. A responsive mattress is ideal for this group because it fosters easier movement, meaning there's less of a chance they'll be disturbed when trying to change positions.
The Helix Midnight is a hybrid mattress that delivers responsiveness through buoyant coils that should help combination sleepers rest more peacefully. Adding to this bed's appeal is its medium-firm rating which should be a good middle-ground feel for most sleep preferences.
Why did we pick it?
The Helix Midnight comes with two foam layers above the coils that should give the sleeper sufficient pressure relief, further promoting a good night's rest.
Becoming too hot can also hinder sleep, so the Helix brand has incorporated a breathable soft-knit cover to combat overheating.
Looking for more info? See our in-depth review for Helix Midnight mattress.
Best Mattress for Side Sleepers
DreamCloud Premier
CertiPUR-US® Certified
365-Night Trial
Lifetime Warranty
Side sleeping is the most popular sleep position. However, side sleepers can quickly experience uncomfortable pressure buildup that can disrupt their quality of rest. A great mattress for side sleepers, especially those dealing with insomnia, has high-quality materials to alleviate pressure.
The DreamCloud Premier is built with some impressive features valuable to side sleepers, such as the luxurious Eurotop with two foam layers quilted into it. One of those foam layers is memory foam, easily one of the top materials for pressure relief. Below the Eurotop is an additional layer of gel memory for added plushness that should allow side sleepers to rest comfortably.
What makes it special?
By keeping overhead and shipping costs low, the company offers their customers plenty of savings.
The comfort system blends both memory and conventional foams over a system of individually wrapped coils that should offer the right amount of support where you need it.
Looking for more info? See our in-depth review for DreamCloud Premier mattress.
Best Innerspring Mattress
Saatva Original
Certified Organic Cotton
CertiPUR-US® Certified
365-Night Trial
Lifetime Warranty
Made in the USA
Before they introduced their memory and latex beds, Saatva was known for their flagship mattress that is built with classic innersprings.
Modernized details set Saatva apart from traditional innerspring mattresses, and this bed was built to reduce motion transfer with individually pocketed micro coils while providing exceptional support that can help you fall asleep comfortably with good alignment.
What's its best feature?
Saatva uses a coil-on-coil system that conforms to your shape while maintaining excellent support. Under a Euro-style pillow top with a centered layer of memory foam, there is a layer of pocketed micro coils that molds to your body, while a sag-resistant Bonnell system underneath provides durable support.
Poor spine alignment can cause your back to arch, which could lead to sleep disturbances or aggravate your insomnia. With Saatva's classic innerspring design that promotes airflow and eases repositioning, you may find the solution you need for a more restful sleep.
Looking for more details? Read our full Saatva mattress review here.
Best Mattress for Couples
Nolah Evolution
Multiple Firmness Levels

Made in the USA

CertiPUR-US® Certified

120-Night Trial

Lifetime Warranty
For those who share a bed, even if one person has insomnia, it can also affect the other's sleep. Sleep deprivation can impair a person's quality of life, and therefore, it's vital to find a bed that's able to rise to the occasion and help couples get better rest. 
The Nolah Evolution is equipped with features that could prove useful for couples dealing with insomnia. The Evolution comes in three firmness levels, allowing couples to select a more customized feel that could work better for them. For example, if both partners are stomach sleepers, they're more like to feel more comfortable on the Evolution Firm as opposed to the Plush. 
Why we love it
Though the Evolution is a hybrid, the coils do a good motion of curbing motion transfer and remaining quiet, which is great for couples who don't want to disturb their partner with movement. 
Looking for more details? Read our full Nolah Evolution mattress review here.
Best Mattress for Back Sleepers
Bear Star Hybrid
CertiPUR-US® Certified
120-Night Trial
Lifetime Warranty
Children's Charity Initiative
Made in the USA
Research suggests that a more active lifestyle can relieve stress and reduce the likelihood of chronic insomnia. Still, if your body is not adequately recovering while you sleep, it may become more difficult to pick up the pace. The Bear Star Hybrid aims to promote healthy and active lifestyles and has incorporated brand new technology to help their cause.
According to Bear, the secret to their success is in Celliant®, a high-tech material that makes infrared energy from the energy you produce by moving around. This new energy is shown in early studies to promote circulation and tissue oxygenation, and if you're interested in this developing science, we encourage you to look into its ongoing developments.
Why we picked it
Back sleepers should enjoy the Bear Star Hybrid's medium-firm feel, which balances pressure relief and firm support.
Bear comes with an industry-leading lifetime warranty and a 120-night sleep trial.
Need more info? See our Bear Star Hybrid mattress review here.
Best Mattress for Heavy People
WinkBed Plus
CertiPUR-US® Certified
OEKO-TEX® Standard 100
120-Night Trial
"Any Reason" Guarantee
Lifetime Warranty
Made in the USA
Heavier people are prone to several different conditions that could disrupt a healthy sleep cycle, and it may be difficult to find a bed that can offer the unique blend of pressure relief and additional support that a heavier frame may require.
WinkBeds' goal was to create that blend so that people over three hundred pounds could feel comfortably cradled.
What makes it special?
Beds designed for people in an average weight range often break down quicker under the weight of someone substantially heavier, and this can lead to areas with sagging or broken coils that can ruin a night's sleep. WinkBed Plus has been specifically tested to maintain durability under heavier people so they can also enjoy the sustained comfort that comes with a bed built to last.
Heavier folks are often relegated to the firmer end of the mattress spectrum to find the support they need. Uncomfortable pressure points under their lighter body parts could potentially aggravate their sleep or force them to sleep on their back, which could trigger sleep apnea. With the medium-firm feel of WinkBed Plus, heavier people can enjoy greater versatility and more sleep position options to help them find a better night's rest.
Want to see more? Check out full review for Winkbeds Plus mattress here.
Best Memory Foam Mattress
Layla Memory Foam
Dual-sided Firmness
CertiPUR-US® Certified
120-Night Trial
Lifetime Warranty
Made in the USA
The most important part of any mattress shopping endeavor is establishing the correct fit because even a truly excellent mattress built with high-end expensive materials probably won't help you improve your sleep if it doesn't match your individual shape and preferences. Layla has a dual-sided firmness that doubles the likelihood that the mattress will be the perfect match to wipe away your pressure points.
What's great about it? If your mattress is too firm, you can build up uncomfortable pressure points that can signal your body to roll over and potentially ruin your sleep cycle. The memory foams in Layla use copper to keep you cool and provide you with two different feels: a deeper hug or a gentle cradle; it all depends on what side you choose.
This brand also comes encased in a fully-removable cover that uses performance cooling materials to keep your body from overheating, whichever side you prefer. However, if you are someone who changes positions a lot at night and think a deeper hug may inhibit your movements, we may suggest the firmer side of the mattress.
Need more details? Check out our Layla mattress review here.
Can The Wrong Mattress Disrupt Sleep?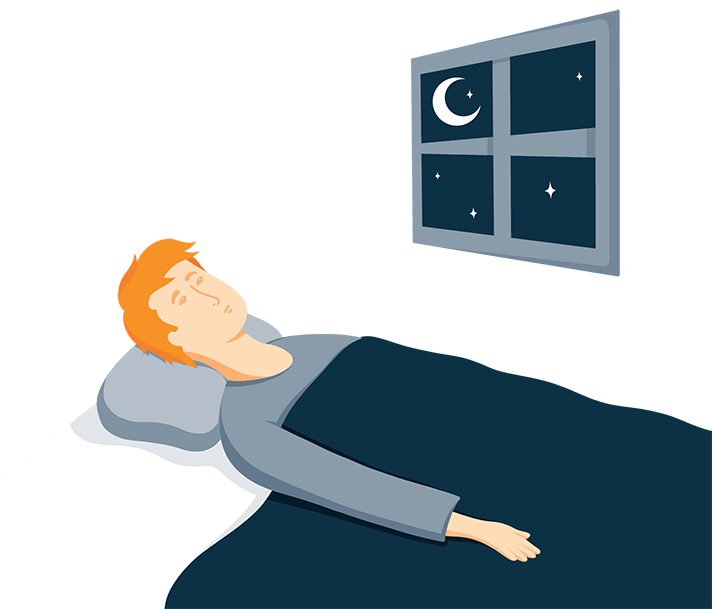 The wrong mattress can prevent you from getting a full night of sleep. There are a couple of reasons why:
If you're not comfortable in bed, you're not going to be able to fall asleep. This might seem like common sense, but you'd be surprised by how many people complain about not sleeping well. And then, when you ask them if they've got a decent mattress, they look at you like, "what does that have to do with anything?"

Instantly, the lightbulb goes off in their head, and they realize that they've been sleeping on a bed that's not a good fit for their needs.

---

If you're in pain, it's going to be challenging to fall asleep and stay unconscious. For example, if you've got back pain, you can imagine that it might be uncomfortable enough to prevent you from falling asleep. Whether your pain is caused by an injury or the wrong mattress, having the right sleeping surface is bound to help improve your situation.
Learn More: How to Cope With Pain and Sleep
Can The Right Bed Help With Insomnia?
Have you ever had a tough day and all you could think about was going home and crawling under the covers? You thought that if you could just snuggle up with your pet and a good book, then everything would look brighter in the morning.
Or maybe you've just had an average day, but the thought of going to bed has you feeling anxiety because you anticipate yet another night of tossing and turning, unable to fall asleep.
Your bed should be a sanctuary, something you to look forward to getting into every night. Considering how many years of our life we spend in bed, it makes sense to own a mattress that makes us feel comfortable, relaxed, and pain-free.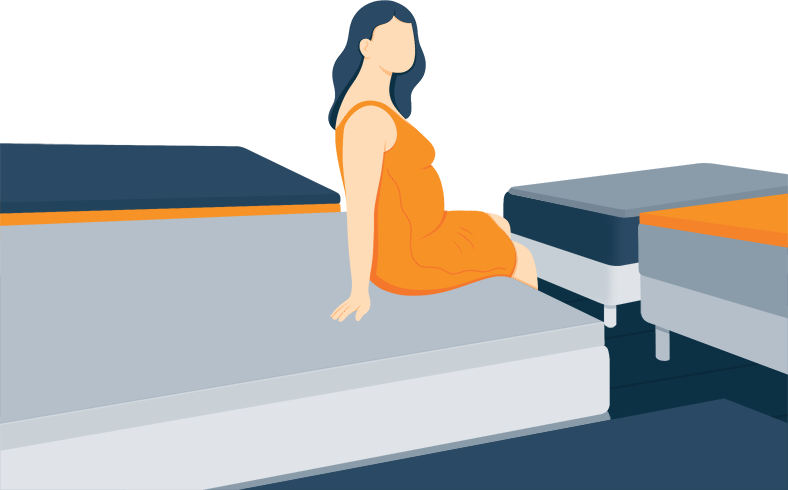 Despite the fact that most look pretty similar, there are several kinds of mattresses. They're made out of different materials like foam, latex, coils or a combination. They come in different firmness levels, too.
It's also important to note that depending on your sleeping position, some mattresses are better for you than others. If you lie on your side, the bed you should get could be vastly different than what you'd buy if you prefer to sleep on your back or stomach.
The last time you bought a bed, you might not have done a lot of research. We applaud you this time around for taking the bed-buying process seriously, and making an extra effort to find out which mattress is best for your unique needs.
FAQ about Mattresses for Insomnia
Can insomnia cause psychosis?
What's the difference between insomnia and parasomnia?
Can melatonin help with insomnia?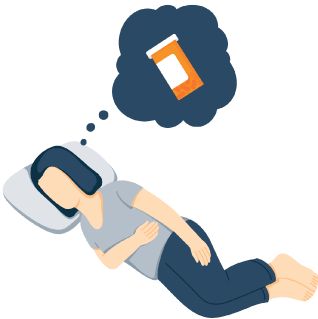 Is sleep apnea a related condition?
Conclusion
You're not doing yourself any favors by sleeping on the wrong mattress. Not only does it contribute to insomnia, but the inability to sleep can make any health condition you have worse, and it may even lead to new ones!
Our team covers as many areas of expertise as we do time zones, but none of us started here as a so-called expert on sleep. What we do share is a willingness to ask questions (lots of them), seek experts, and dig deep into conventional wisdom to see if maybe there might be a better path towards healthy living. We apply what we learn not only to our company culture, but also how we deliver information to our over 12.7M readers.
Sleep research is changing all the time, and we are 100% dedicated to keeping up with breakthroughs and innovations. You live better if you sleep better. Whatever has brought you here, we wish you luck on your journey towards better rest.