Transparency Disclosure – We may receive a referral fee for products purchased through the links on our site...

Read More

.
Disclaimer - Nothing on this website is intended to be a substitute for professional medical advice, diagnosis, or treatment...

Read More Here

.
There are few issues more maddening than not being able to sleep. While there are several factors that can cause insomnia, a bed not suited for your body type or preferred sleep position may be a factor.
If you're struggling with insomnia and are unable to function during the day, you should seek professional medical help. However, in addition to talking to your doctor, there are steps you can take that may help you get a better night's sleep, such as finding the best mattress for insomnia.
We've assembled a list of the best beds for those who experience insomnia. In this guide, we break down why each bed may help insomniacs sleep better, including their best features, as well as links to the full review of each mattress.
Our Best Rated Mattresses for Insomnia
Compare the Best Beds for Insomnia
| | | | | | | | | |
| --- | --- | --- | --- | --- | --- | --- | --- | --- |
| | | | | | | | | |
| | Nectar Mattress | Helix Midnight Mattress | DreamCloud Premier Mattress | Saatva Mattress | Nolah Evolution Hybrid Mattress | Bear Star Hybrid Mattress | WinkBed Plus Mattress | Layla Mattress |
| Rating | | | | | | | | |
| Firmness | Medium-firm: 6.5/10 | Soft: 6/10 | Soft: 5.5/10 | Multiple firmness options | Multiple firmness options | Soft: 6/10 | Medium-firm: 6.5/10 | Multiple firmness options |
| Material | Foam | Hybrid | Hybrid | Innerspring | Hybrid | Hybrid | Hybrid | Foam |
| Cooling | — | — | | | — | | | |
| Warranty | Lifetime warranty | 10-year warranty | Lifetime warranty | Lifetime warranty | Lifetime warranty | Lifetime warranty | Lifetime warranty | Lifetime warranty |
| Shipping | Free shipping | Free shipping | Free shipping | Free white glove delivery | Free shipping | Free shipping | Free shipping | Free shipping |
| Trial Period | 365 nights | 100 nights | 365 nights | 365 nights | 120 nights | 120 nights | 120 nights | 120 nights |
| Best For | Back Sleepers, Side Sleepers, Hip Pain, Joint Pain | Couples, Back Sleepers, Side Sleepers | Back Sleepers, Hot Sleepers | Back Sleepers, Stomach Sleepers, Back Pain, Hot Sleepers | Side Sleepers, Back Sleepers | Joint Pain, Side Sleepers, Back Sleepers, Hot Sleepers | Back Sleepers, Stomach Sleepers, Hot Sleepers | Side Sleepers, Back Sleepers, Stomach Sleepers, Hot Sleepers, Couples |
| | | | | | | | | |
Top 8 Beds for Insomnia Reviews
If pressure points are at the root of your restlessness, memory foam may be a solution. Nectar's deeper hug and updated temperature control help keep pressure points from building without making you wake up in a sweat.
Nectar's value comes from its attention to detail and exceptionally attractive price point that makes high-quality memory experience more attainable.
What makes it stand out?
If you're worried that a lower price point means a sacrifice in quality, you need not worry with Nectar. The bed keeps prices down by reducing overhead costs that add up for beds in retail stores and drive up costs, and by selling online, Nectar can offer a premium product for much less.
Memory foams of a bygone era usually had problems with excessive heat retention and were characterized by a "stuck feeling," but these concerns are mitigated by gel foam and a breathable poly-blend cover. While you will sink into the mattress, you shouldn't have to struggle to reposition, a feeling that could disturb your sleep.
Want to learn more? Read our full Nectar mattress review or our best mattresses of 2023 for more options.
Combination sleepers who are dealing with insomnia may find it even harder to stay asleep if they can't reposition as easily as they'd like. A responsive mattress is ideal for this group because it fosters easier movement, meaning there's less of a chance they'll be disturbed when trying to change positions.
The Helix Midnight is a hybrid mattress that delivers responsiveness through buoyant coils that should help combination sleepers rest more peacefully. Adding to this bed's appeal is its medium-firm rating which should be a good middle-ground feel for most sleep preferences.
Why did we pick it?
The Helix Midnight comes with two foam layers above the coils that should give the sleeper sufficient pressure relief, further promoting a good night's rest.
Becoming too hot can also hinder sleep, so the Helix brand has incorporated a breathable soft-knit cover to combat overheating.
Looking for more info? See our in-depth Helix Midnight mattress review or explore our top picks for the best mattresses for combination sleepers.
Side sleeping is the most popular sleep position. However, side sleepers can quickly experience uncomfortable pressure buildup that can disrupt their quality of rest. A great mattress for side sleepers, especially those dealing with insomnia, has high-quality materials to alleviate pressure.
The DreamCloud Premier is built with some impressive features valuable to side sleepers, such as the luxurious Eurotop with two foam layers quilted into it. One of those foam layers is memory foam, easily one of the top materials for pressure relief. Below the Eurotop is an additional layer of gel memory for added plushness that should allow side sleepers to rest comfortably.
What makes it special?
By keeping overhead and shipping costs low, the company offers their customers plenty of savings.
The comfort system blends both memory and conventional foams over a system of individually wrapped coils that should offer the right amount of support where you need it.
Looking for more info? See our in-depth DreamCloud Premier mattress review or discover the best mattresses for side sleepers.
Before they introduced their memory and latex beds, Saatva was known for their flagship mattress that is built with classic innersprings.
Modernized details set Saatva apart from traditional innerspring mattresses, and this bed was built to reduce motion transfer with individually pocketed micro coils while providing exceptional support that can help you fall asleep comfortably with good alignment.
What's its best feature?
Saatva uses a coil-on-coil system that conforms to your shape while maintaining excellent support. Under a Euro-style pillow top with a centered layer of memory foam, there is a layer of pocketed micro coils that molds to your body, while a sag-resistant Bonnell system underneath provides durable support.
Poor spine alignment can cause your back to arch, which could lead to sleep disturbances or aggravate your insomnia. With Saatva's classic innerspring design that promotes airflow and eases repositioning, you may find the solution you need for a more restful sleep.
Looking for more details? Read our full Saatva mattress review here.
For those who share a bed, even if one person has insomnia, it can also affect the other's sleep. Sleep deprivation can impair a person's quality of life, and therefore, it's vital to find a bed that's able to rise to the occasion and help couples get better rest.
The Nolah Evolution is equipped with features that could prove useful for couples dealing with insomnia. The Evolution comes in three firmness levels, allowing couples to select a more customized feel that could work better for them. For example, if both partners are stomach sleepers, they're more like to feel more comfortable on the Evolution Firm as opposed to the Plush.
Why we love it
Though the Evolution is a hybrid, the coils do a good motion of curbing motion transfer and remaining quiet, which is great for couples who don't want to disturb their partner with movement.
Looking for more details? Read our full Nolah Evolution mattress review or browse our top picks for the best mattresses for couples.
Research suggests that a more active lifestyle can relieve stress and reduce the likelihood of chronic insomnia. Still, if your body is not adequately recovering while you sleep, it may become more difficult to pick up the pace. The Bear Star Hybrid aims to promote healthy and active lifestyles and has incorporated brand new technology to help their cause.
According to Bear, the secret to their success is in Celliant®, a high-tech material that makes infrared energy from the energy you produce by moving around. This new energy is shown in early studies to promote circulation and tissue oxygenation, and if you're interested in this developing science, we encourage you to look into its ongoing developments.
Why we picked it
Back sleepers should enjoy the Bear Star Hybrid's medium-firm feel, which balances pressure relief and firm support.
Bear comes with an industry-leading lifetime warranty and a 120-night sleep trial.
Need more info? See our Bear Star Hybrid mattress review or explore our top picks for the best mattresses for back sleepers.
Heavier people are prone to several different conditions that could disrupt a healthy sleep cycle, and it may be difficult to find a bed that can offer the unique blend of pressure relief and additional support that a heavier frame may require.
WinkBeds' goal was to create that blend so that people over three hundred pounds could feel comfortably cradled.
What makes it special?
Beds designed for people in an average weight range often break down quicker under the weight of someone substantially heavier, and this can lead to areas with sagging or broken coils that can ruin a night's sleep. WinkBed Plus has been specifically tested to maintain durability under heavier people so they can also enjoy the sustained comfort that comes with a bed built to last.
Heavier folks are often relegated to the firmer end of the mattress spectrum to find the support they need. Uncomfortable pressure points under their lighter body parts could potentially aggravate their sleep or force them to sleep on their back, which could trigger sleep apnea. With the medium-firm feel of WinkBed Plus, heavier people can enjoy greater versatility and more sleep position options to help them find a better night's rest.
Want to see more? Check out the full Winkbeds Plus mattress review or check out our top picks for the best mattresses for heavy people.
The most important part of any mattress shopping endeavor is establishing the correct fit because even a truly excellent mattress built with high-end expensive materials probably won't help you improve your sleep if it doesn't match your individual shape and preferences. Layla has a dual-sided firmness that doubles the likelihood that the mattress will be the perfect match to wipe away your pressure points.
What's great about it?
If your mattress is too firm, you can build up uncomfortable pressure points that can signal your body to roll over and potentially ruin your sleep cycle. The memory foams in Layla use copper to keep you cool and provide you with two different feels: a deeper hug or a gentle cradle; it all depends on what side you choose.
This brand also comes encased in a fully-removable cover that uses performance cooling materials to keep your body from overheating, whichever side you prefer. However, if you are someone who changes positions a lot at night and think a deeper hug may inhibit your movements, we may suggest the firmer side of the mattress.
Need more details? Check out our Layla mattress review or find our top picks for the best memory foam mattresses here.
What Causes Insomnia?
Insomnia is caused by a variety of factors1. Some of these include:
Health conditions and medications – Allergies, acid reflux, back pain, arthritis, depression, and other health issues and their symptoms can cause you to stay awake when you're trying to sleep. Furthermore, many of the medicines that help treat many of these disorders and others can also cause insomnia.
Travel and swing shifts – Traveling to different time zones and working night or swing shifts can disrupt your circadian rhythm and cause you to have insomnia.
Sleep disorders – Disorders like sleep apnea and restless legs syndrome can make it difficult to fall asleep and stay asleep once you do.
Stress and anxiety – External factors such as financial problems, work issues, relationship conflicts, and the death of a loved one can cause insomnia.
Poor sleep environment – Using smart phones or laptops, watching TV or playing video games before bed can interfere with sleep cycles. Additionally, inadequate mattresses and sleep accessories can keep you up.
Diet and alcohol – Eating too much late in the evening can cause physical discomfort that will make it hard to sleep.
Can The Wrong Mattress Disrupt Sleep?
---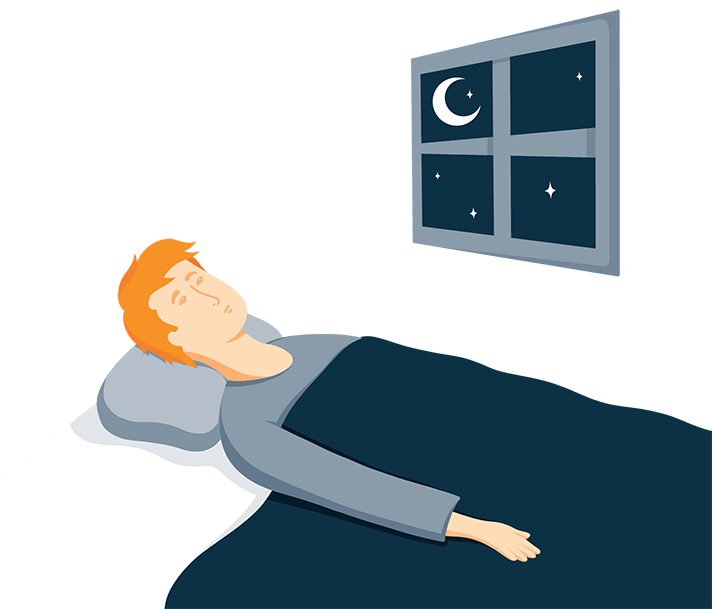 The wrong mattress can prevent you from getting a full night of sleep. There are a couple of reasons why:
Although some people can seemingly fall asleep anywhere, most people need a comfortable bed that supports a good night's rest. Sleeping on a bed that doesn't suit your needs or preference may lead to insomnia if you're uncomfortable and constantly tossing and turning.
If you experience back, hip, or shoulder pain, it may be difficult to fall asleep or stay asleep. Beds that are geared towards addressing these problem areas and providing pressure relief, can go a long way in helping to ease your pain and get a restful night's sleep.
Learn More: How to Cope With Pain and Sleep
Best Mattress Types of Insomnia
Memory Foam
Memory foam mattresses can be a good fit for those with insomnia because they can counteract many of the issues that cause sleep deprivation. These soft and contouring beds help support your joints and spine. This may help ease pain from diseases such as fibromyalgia and arthritis. Additionally, these beds can provide significant pressure relief around these areas. Co-sleepers who have trouble sleeping due to their partners or pets tossing and turning, will likely appreciate the motion-isolating properties of memory foam. Given that the symptoms of allergies are a possible cause of insomnia, the hypoallergenic nature of memory foam will help ease the symptoms of allergies which may allow for easier and better rest.
Latex
Body temperature is a huge component to getting a good night's sleep. Those who sleep hot may have a hard time staying asleep. If this is a cause of your insomnia, latex mattresses are a great choice to help keep you cool through the night. These types of bed could also be a good choice for those who sleep better on a mattress that offers more support and a firmer feel. Also, most latex beds are hypoallergenic.
Hybrid
Hybrid mattresses are built with both innerspring coils and foam. The foam can be memory foam, latex or other types of foam. The coils used in these mattresses provide them with good airflow and ventilation which makes them good for those who experience restless nights because they get too hot. Hybrids are also a solid choice for those who change positions through the night because of their quick response times. This means that those who are combination sleepers won't likely have to worry as much about waking because it takes too long to get comfortable again.
Tips for Dealing with Insomnia
Sleep is one of the most vital components to your health and well-being and those with insomnia may experience a multitude of mental and physical issues. To help you get better sleep, try these tips2 to deal with insomnia.
Stick to a sleep schedule – Going to sleep and waking at the same time every day – including on weekends – can help keep your circadian rhythms consistent.
Create a comfortable sleep environment – Investing in a comfortable mattress that suits your sleeping needs and keeping your bedroom dark and cool will likely lead to more restful nights.
Avoid late-day caffeine – Considering that caffeine is a stimulant, it is best to avoid it3 in the six hours before bedtime to avoid issues with falling asleep.
Drink in moderation– Although alcohol is a depressant, research shows4 it may lead to insomnia symptoms . It is a good idea to always drink in moderation or avoid alcohol all together if you're living with insomnia.
Don't multitask – The bedroom should be for sleeping and sex. It is best to avoid activities such as working, eating and watching TV in bed.
Melatonin may help – Melatonin is a natural and often effective sleep aid that your doctor may recommend as an alternative to sleeping pills. Melatonin is a naturally-occurring hormone that our body produces, signaling that it's time for sleep, and taking the supplement may help5 you fall asleep at bedtime. Stop taking melatonin if it isn't helping after a week or two. Your doctor may have other treatment options to help.
Address medical conditions – People with sleep apnea are periodically woken throughout the night when their airway becomes blocked and they struggle to breathe. While this is not the same as insomnia, ongoing research suggests6 insomnia symptoms are linked to sleep apnea.
Best Mattresses for Insomnia FAQs
Which mattress is best for insomnia?
The best mattress for insomnia is a highly personalized decision. It should be a mattress that fits your individual needs and preferences. Memory foam mattresses may counteract many of the issues that may cause insomnia as they typically offer soft contouring and pressure-relieving properties. They also tend to isolate motion well which will help keep people from waking due to the movement of their sleepmate. However, they tend to run hotter than latex and hybrid mattresses and lack of temperature regulation is a trigger of insomnia.
Can a mattress cure insomnia symptoms?
No, a mattress can't always cure symptoms of insomnia. However, finding the right mattress for you may help prevent the need for naps and low energy levels since you're more likely to get a good night's rest. Having a bed that adequately supports your body type and preferred sleep positions can increase your chances of a restful night's sleep.
Can insomnia cause psychosis?
It's not known for sure that insomnia can cause insomnia since psychosis occurs from many different conditions. However, research has found that insomnia leads to psychosis-like symptoms. A study published in the Journal of Neuroscience7 found that healthy people who went just 24 hours without sleep exhibited symptoms that mimicked schizophrenia.
We won't get too much into the science, but we'll explain a bit about how this happens. When we get the right amount of rest, our brains can process our environment without any trouble. But, when our brains our sleep-deprived, they detect that there's a threat, and they go through a re-wiring process that stimulates our fight or flight response.
Therefore, normal everyday stimuli are suddenly seen as something entirely different. Reactions vary, but it can be as simple as an over-reactive outburst or a full-blown hallucination.
Find Out More: Sleep Deprivation And Psychosis
What's the difference between insomnia and parasomnia?
Although the words sound similar and they're both sleep disorders, these are two radically different conditions. Insomnia is having habitual sleeplessness or the inability to sleep.
Parasomnia, on the other hand, is unusual behavior that you do while you're asleep. Technically, you're in more an in-between state of sleep and wakefulness. The most well-known form of parasomnia is sleepwalking. Others include night terrors, teeth grinding, restless leg syndrome, sleep sex, and sleep-related eating disorders.
Want to learn more? Check out our complete guide to insomnia.
Can melatonin help with insomnia?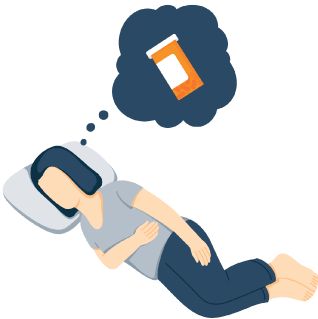 Yes, melatonin is a natural and effective sleep aid that your doctor may recommend as an alternative to sleeping pills. Melatonin is a naturally-occurring hormone that our body produces, signaling that it's time for sleep.
Fortunately, it's not addictive and has few reported side effects. The most common unintended result of taking melatonin is daytime drowsiness, and sometimes headaches. You can also boost your body's natural production8 of this hormone by eating things like eggs, milk, wheat, cherries, nuts, seeds, tomatoes, and peppers. There are also some grains like rice, barley, and rolled oats that can stimulate the production of melatonin.
Another thing to keep in mind is that light, even artificial light, interferes with your body's ability to produce this hormone. Therefore, we recommend keeping the lights and television off in the bedroom at night, and if you get up at two in the morning to use the restroom, consider a small toilet light or nightlight.
Check Out Our Guide: Best Melatonin Supplements
Is sleep apnea related to insomnia?
Folks with sleep apnea are woken hundreds of times per night when their airway becomes blocked and they struggle to breathe. While this is not the same as insomnia, ongoing research suggests that the two different conditions could be related. Many patients seen by sleep professionals who are complaining of insomnia are sometimes diagnosed with sleep apnea.
There are several different symptoms that, when paired with chronic insomnia, may indicate that you have. If this is a concern of yours, we suggest that you see a doctor who can tell you for certain if you have the condition and chart a course of treatment.
Learn More: Sleep Apnea Facts and Best Mattresses for Sleep Apnea
References:
"Insomnia." Mayo Clinic. Last modified October 15, 2016. https://www.mayoclinic.org/diseases-conditions/insomnia/symptoms-causes/syc-20355167.

"How to Conquer Insomnia: Tips to Get You Sleeping Again". Penn Medicine. https://www.pennmedicine.org/updates/blogs/health-and-wellness/2020/january/how-to-conquer-insomnia. 2020.

Drake PhD, Christopher., Roehrs PhD, Timothy., et. al. "Caffeine Effects on Sleep Taken 0, 3, or 6 Hours before Going to Bed". Journal of Clinical Sleep Medicine. https://jcsm.aasm.org/doi/10.5664/jcsm.3170. 2013.

Chakravorty, Subhajit., Chaudhary, Ninad S., Brower, Kirk J. "Alcohol Dependence and its Relationship with Insomnia and




Other Sleep Disorders". National Library of Medicine. https://www.ncbi.nlm.nih.gov/pmc/articles/PMC7486899/. 2016.

"Melatonin for Sleep: Does It Work?". Johns Hopkins Medicine. Last modified 2023. https://www.hopkinsmedicine.org/health/wellness-and-prevention/melatonin-for-sleep-does-it-work.

Cumpston, Evan., Chen, Philip. "Sleep Apnea Syndrome". National Library of Medicine. https://www.ncbi.nlm.nih.gov/books/NBK564431/. 2022.

Petrovsky, Nadine., Ettinger, Ulrich., et. al. "Sleep Deprivation Disrupts Prepulse Inhibition and Induces Psychosis-Like Symptoms in Healthy Humans". The Journal of Neuroscience. https://www.jneurosci.org/content/34/27/9134.short. 2014.

Meng Xiao., Li, Ya., et. al. "Dietary Sources and Bioactivities of Melatonin". National Library of Medicine. https://www.ncbi.nlm.nih.gov/pmc/articles/PMC5409706/. 2017.