Transparency Disclosure – We may receive a referral fee for products purchased through the links on our site...

Read More

.
RV mattresses are notoriously hard, flimsy, and uncomfortable. But when you're spending the night away from a traditional bedroom, you shouldn't have to compromise on the quality of your sleep. Whether you've temporarily caught the travel bug or you've embraced the carefree lifestyle of RV living, you'll want the best RV mattress available for your vehicle or camper.
Thankfully, many of the most trusted mattress brands now make their acclaimed beds in RV-friendly sizes. We'll go over our favorites here, as well as highlight which RV and camper mattresses are best for certain preferences and situations.
Our Top RV Mattresses, Reviewed
Dreamfoam Essential
Different RV Sizes Available

Different Thickness Options

Made in the USA

120-Night Sleep Trial

10-Year Warranty
Formerly known as the Wanderlust, the Dreamfoam Essential mattress has earned our Editor's Pick title for its versatility, affordability, and quality construction. With multiple RV Bunk, RV King, and Short Queen sizes available, this bed should accommodate many types of RV setups. You can also pick from five different thickness levels, ranging from 6 to 14 inches.
These customization options allow you to tailor your RV mattress to your and your family's needs, resulting in optimal sleep on the road. The Dreamfoam Essential is also budget-friendly, as it's priced well below its competitors.
What else should you know?
The mattress is a memory foam bed with two layers. The first layer is gel swirl memory foam and the bottom layer is a high-density support foam. However, the 12 and 14-inch modles also include a middle layer of VariFlex™ transition foam.
Best RV Mattress for Back Pain
Helix Midnight
Hybrid Mattress

CertiPUR-US® Certified

Made in the USA

100-Night Trial

10-Year Warranty
Back pain can put a damper on a vacation, but the good news is that a quality mattress can help alleviate or prevent this pain. The key to this is a highly supportive bed. A mattress with firm support layers can help ensure your spine stays aligned, which is important for mitigating back pain.
The Helix Midnight has a true medium-firm feel that should work well for most sleepers. The Midnight's supportive layers include an 8-inch thick pocketed coil system and a highly-dense foam at the base.
Why we think you'll love it
The Helix Midnight also comes with helpful cooling features to keep you comfortable for those summer camping trips, including a breathable cover and airflow from the coils.
You can try out the Helix Midnight for as many as 100 nights to be sure it is the best fit.
Best RV Mattress for Couples
DreamCloud
Cashmere-Blend Cover

CertiPUR-US®

365-Night Trial

Forever Warranty
If you and your partner plan to go RV camping together, you'll need a mattress that accommodates you both. The DreamCloud Original is a hybrid with some great advantages for couples.
The DreamCloud's medium firmness is a more universal feel that should work well for both partners. Additionally, the mattress comes with cooling features that should keep you from overheating. These features include cooling gel in the memory foam, airflow from the coils, and an absorbent cashmere-blend cover.
The DreamCloud also performs well for edge support, which means you should be equally supported along the sides. Edge support is great for couples because it allows them more useable surface space to spread out.
What's worth mentioning? 
DreamCloud offers customers an impressive trial and warranty deal. Shoppers not only get a full-year to test out the bed, but they also get a forever warranty with their purchase.
Aurora Luxe
RV King, RV Bunk, and Short Queen Sizes

Made in the USA

CertiPUR-US® Certified

120-Night Trial

10-Year Warranty
A cooling mattress can come in handy during those warm summer months when you're camping, especially if you're prone to overheating during the night. The Aurora Luxe should provide sufficient cooling for sleepers, earning its spot as our 'Best Cooling RV Mattress.'
First, the Aurora Luxe has TitanCool™ technology in the cover and the first foam layer. Second, the company infuses the memory foam layer with gel to keep the material from overheating, a common complaint of memory foam. Third, the coils in this hybrid mattress foster extra airflow in the bed's center.
Why should you buy it?
The Aurora Luxe comes in several RV-friendly sizes, including RV King, RV Bunk, and Short Queen.
The Aurora Luxe is made by Brooklyn Bedding, an American company based in Phoenix. All their products are manufactured in the U.S.
You can try out this mattress for up to 120 nights to decide if you like it.
Tuft & Needle Original
Made in the USA

CertiPUR-US® Certified

GREENGUARD Gold Certified

100-Night Sleep Trial

10-Year Warranty
Tuft & Needle's Original model gives budget shoppers a quality mattress at a cost-effective price. Sizes Queen and smaller for the Tuft & Needle are below the 1,000-dollar mark, giving consumers a lot of value for their money.
This mattress is an all-foam model that stands at 10 inches tall. The two foam layers in this mattress include three inches of proprietary T&N Adaptive® Foam followed by seven inches of polyfoam. T&N Adaptive® Foam is designed to provide the comfort of memory foam and latex. This foam is also infused with graphite and cooling gel to prevent the foam from becoming too warm. The polyfoam at the base serves as the support layer.
What makes it special?
The Tuft & Needle has two safety and health certifications: CertiPUR-US® and GREENGUARD Gold.
Customers get a 100-night sleep trial and a 10-year warranty with the Tuft & Needle.
Best Memory Foam RV Mattress
MobilePlush™
Available in RV Special and Short Queen Sizes

CertiPUR-US® Certified

GREENGUARD Gold Certified

100-Night Trial Period

20-Year Warranty
Memory foam is beloved for its pressure-relieving capabilities, and it's a fantastic way to add some luxury on the road. The MobilePlush™ RV from PlushBeds is an all-foam mattress specially made for RVs.
The bed has a 6-inch profile with memory foam and a soft-knit cover. The foam is denser so that it is still supportive and doesn't let the sleeper sink through the layers. The MobilePlush™ has a medium firmness, so it should work for many sleepers, but stomach sleepers and heavy individuals may opt for something firmer.
What stands out?
The mattress is hypoallergenic and comes with CertiPUR-US® and GREENGUARD Gold certifications.
The MobilePlush™ is available in RV Special and Short Queen sizes. The bed also comes in other standard sizes.
You get as many as 100 nights to test out this mattress for yourself to know if it's right for you.
Benefits of a Camper Bed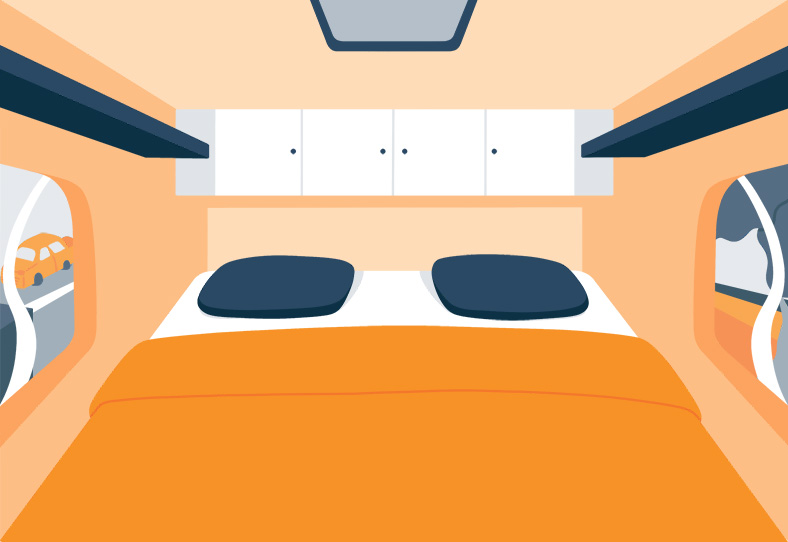 Being able to travel all over and know that you'll be able to sleep in your own bed at night is comforting, and it makes any obstacle you may encounter during the day bearable.
With the numbers of RVs being sold in the US on a steady rise, the quality and availability of these mattresses have also increased. It used to be that people who bought campers and RVs were retiring and wanted to mobilize themselves to see the all the sights that our nation has to offer.
However, millennials have become the fastest growing segment of RV owners. Many of them also appreciate being flexible and mobile. They don't want to be tied down, and of course, work-life balance is important to them. They tend not to be as attached to establishing roots, especially since they've delayed having children.
Again, these are generalities, but these circumstances have led to a dramatic increase in motorhome and RV sales. All of this translates into more choices and better options for quality in an RV mattress.
It used to be that since there were fewer of them made and they tend to require custom dimensions, the price would also be significantly higher. Fortunately, that's not necessarily the case any longer as you'll see in our reviews.
Camper Mattress Buyer's Guide
Bed Choice
If your camper didn't come with a mattress, you'll definitely need to get one! Alternatively, if it did have one included but you can't imagine a comfortable night of sleep on it, you'll probably want a whole new set up.
Keep in mind that you might need to get a custom size, especially if there are rounded corners or indents to allow for placements of other structures or areas, like a bathroom or a closet door.
A topper can be a life saver, and also breathe new life into a bed that is somewhat uncomfortable. Typically, toppers work to make a firm surface soft, but they aren't supposed to replace a sagging mattress to make it more supportive.
Want to know more? Visit our full best mattress topper guide.
For an RV with a pullout or sofa bed, your choices are more limited. The bed needs to be able to fold in and out, so toppers are usually the best choice. Be careful not to fold the topper into the sofa bed when not in use. Instead, store it on a flat surface or on top of the main bed.
Pop-up campers have less vertical space, so you need to be careful when selecting your sleeping apparatus. Steer away from thicker profile bedding. Instead, you can get a narrow topper that's comfortable enough for a restful night of sleep but won't get in the way. Some people might recommend an eggshell topper because they're easier to store, but not everyone finds them comfortable.
Many motorhomes have space and flexibility for you to buy a traditional mattress if you desire. Double check your measurements to see if this is the case.
Alternatively, some motorhomes have built-ins that can't be replaced easily. If that's the case, the only viable option is to add a mattress topper for comfort.
Type of Bed
This material is typically what comes standard in RVs and campers. It's usually thin, firm, uncomfortable and not durable. The advantage is that they're only about five to six inches thick, so they don't take up a lot of space. If you don't have room for something taller, look into getting a higher quality foam or a thin mattress topper.
How much time you spend on your camper mattress will dictate the amount you'll probably want to spend. A decent memory foam bed can cost anywhere from $300 to $800, though you can find some quality options at the lower end of the pricing spectrum.
These beds are typically constructed of a layer of soft memory foam and a sturdy foam base for support.

Similar to memory foam, latex offers a lot of comfort combined with support. Natural latex is made from a rubber tree. It's more natural than synthetic and will last you a lot longer. In addition, this material is known to be antimicrobial and dust-mite resistant, both important for furniture that is exposed to more of the elements.
Get More Info: Top Rated Latex Mattress
Innerspring mattresses are known for being high quality and providing superior comfort, but they're not always the best bet for mobile living. For example, they can be heavier, which means you might be able to use them in a pop-up camper. Plus, they contain metal, which increases the risk of rust and condensation inside the core of the bed.
If you're on the road in warmer climates, consider getting a gel-infused mattress. Manufacturers typically place cooling gel beads into the foam for an overall cooler sleeping experience.
Check Out Our Guide: Best Cooling Mattress
These vary widely in price, so if you're going to go down this route, make sure you get an air mattress that's specifically designed for RVs. Some choices are particularly durable and often shaped to fit the environment better. Higher end brands allow you to adjust the amount of air on each side, which is fantastic if you're sleeping with a partner who prefers a different firmness level.
While you're out exploring, if you decide to take a side excursion into the wilderness, you might consider taking a highly durable product geared for the outdoors and pick up an air bed for camping. Then, you can use it both outside and in the camper.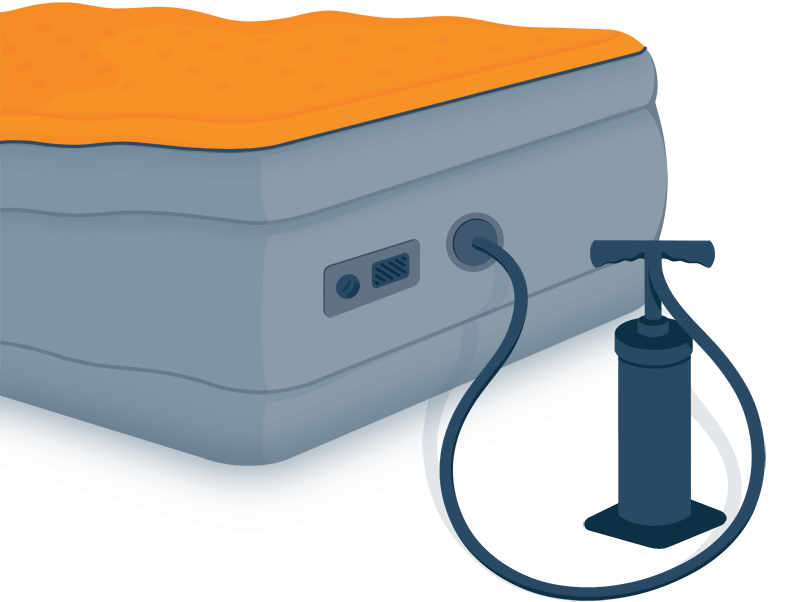 Size
A standard twin bed is 38 x 75 inches, but RV mattresses come in a variety of sizes, ranging from 28 x 75 to 40 x 80. This size is common in campers and is the standard for pop-ups.
Bunks are common in recreational vehicles designed for families. Again, there's variation in the sizes you'll find. The standard length is 75 inches, but the width can be either 28 or 35 inches. Every once in awhile, we run into a non-standard size. In that case, look for a truck bed. Those dimensions tend to be both longer and slightly wider.
You'll find full, also referred to as double, mattresses in many RVs and on the fold out sofas. The only difference between these and regular beds is that the RV versions are one inch wider.
As the name suggests, these beds are 75% the width of a standard queen size bed. Instead of the traditional 60-inch width, a three quarter is 48 inches. They're often found in RVs or sections that are narrow or oddly shaped.
Despite their reputation for having cramped quarters, many RVs and pop-ups feature queen-sized mattresses, which are 60 x 80 inches. If the vehicle has multiple sleeping areas, you'll usually find a queen in the main one.
These beds are five inches shorter, so they're 75 inches long instead of 80 inches. This size is ideal when you need to accommodate multiple sleepers, but your square footage is lacking in length.
Olympic Queens are wider than a standard queen. Instead of 60 inches across, the Olympic version is 66 inches.
King-size beds are surprisingly common in RVs and campers. The standard size is 76 x 80 inches in homes but tend to be slimmed down for mobility. You'll usually find RV sizes are 72 x 75 inches or 72 x 80 inches.
Eastern King beds in RVs are becoming more common. They're a little wider than a regular King, measuring 76 inches across instead of 72. They're ideal for couples who want extra room or those who are traveling with children but only have one bed.
You'll find this size bed more frequently in homes than in an RV. It's a longer mattress than a standard king, but slightly narrower. Instead of 76 x 80 inches, it's 72 x 80 inches. If you've got a longer mobile abode, you'll find this size can work well.
Life doesn't get much better than lying in the back of a pickup truck and falling asleep while looking at the stars. Trailer, or truck beds, come in two sizes: either 35 x 79 or 42 x 80 inches.
Firmness
Since RV mattresses are known for being firmer than average, you'll want to take that into consideration when finding the one that's best for you. Many are made of memory foam now, and that will provide extra softness.
Before making your choice, consider how often you'll be sleeping on it. The more nights you spend in your RV, the more durable the bed should be. If you get something that's slightly firm now, it will likely soften up over time.
Find Out More: Mattress Firmness Guide
Comfort
There's no sense in compromising comfort, even if you don't plan on spending a substantial amount of time in your RV. In our opinion, just one single night of torturous sleep isn't worth saving a few bucks. While you can't necessarily test out these mattresses before you buy, refer to our reviews above to see which bed best fits your needs.
Frequently Asked Questions about RV Mattresses
Can these RV mattresses be replaced?
For the most part, yes, they can be replaced. Every now and then, you might encounter a built-in, and your only option will be adding a mattress topper to make it more comfortable.
However, usually you can get a new one with no problems whatsoever. Make sure you take careful measurements before buying anything and double or triple check the website you're buying from to ensure the dimensions match what you need.
Where can I buy these beds?
More and more places are selling them, but we'll give you our top picks based on the quality of selection, customer service, and price.
Amazon: The world's largest online store has everything!


---

Camping World: This site has all you need for RV living and camping adventures.


---

Overstock.com: The selection is limited and sometimes strange, but the prices can't be beat.


---

Rocky Mountain Mattress: If your set up requires a unique or custom size mattress (think round and really odd corners and cutouts), this site is the best place to go.
What If I Need Space for Two?
Have you met that one person that you want to hit the road with? There's nothing better than sharing your life and your travels with the one you love, but what if your sleep needs don't line up as well as your thirst for adventure? You wouldn't be alone, as around 80% of couples have different body shapes and sleep preferences.
Shopping for mattresses as a twosome doesn't have to be a nightmare because there are many brands that are looking out for you by offering features like dual-sided firmness or greater versatility that can adapt to support different shapes.
Find Out More: Top Rated Beds for Couples
Conclusion
Bet you didn't know there were so many choices and sizes, did you? Hopefully, you found this guide useful, and you've got a clearer picture of the mattress that will work best for your RV or camper. Remember, even though you spend about a third of your life sleeping, don't forget to get out there and explore!
Our team covers as many areas of expertise as we do time zones, but none of us started here as a so-called expert on sleep. What we do share is a willingness to ask questions (lots of them), seek experts, and dig deep into conventional wisdom to see if maybe there might be a better path towards healthy living. We apply what we learn not only to our company culture, but also how we deliver information to our over 12.7M readers.
Sleep research is changing all the time, and we are 100% dedicated to keeping up with breakthroughs and innovations. You live better if you sleep better. Whatever has brought you here, we wish you luck on your journey towards better rest.