Transparency Disclosure – We may receive a referral fee for products purchased through the links on our site...

Read More

.
Are you in need of a mattress update but don't think your budget can stretch to meet your comfort needs?
Since 2010, Dreamfoam has been in the business of offering quality mattresses at affordable price points. Their parent company Brooklyn Bedding owns their factory, which allows them to pass on substantial savings to their customers.
In our in-depth review of the Dreamfoam Hybrid Mattress, we take a look at how Dreamfoam's entry-level mattress scored on support, pressure relief, and overall value. We'll also review the cooling technology included in this bed to see if it lives up to the company's claims.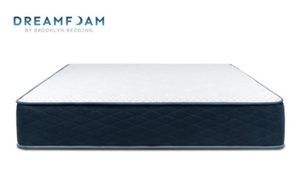 Get the Dreamfoam Hybrid Mattress
Dreamfoam's Hybrid mattress includes cooling technology and adaptive foam, offering comfortable sleep for a great value.
Click the button below to get the Dreamfoam Hybrid Mattress.
Who We Recommend the Dreamfoam Hybrid For:
Budget shoppers – By having their own factory, Dreamfoam is able to pass significant savings on to their customers while still offering quality materials.


---

Hot sleepers – This bed features a quilted plush top that's made with an advanced cooling panel. Furthermore, the addition of gel in the memory foam layer and airflow from the coils should help sleepers stay cool.


---

Folks seeking an all-foam bed with bounce – The top layer has a similar bounce and response time to latex, and the high-density supportive base provides some deep-level bounce. This helps with repositioning, and because this material can efficiently isolate motion, any movement on your end should be less likely to disturb your partner.
Who We Don't Recommend the Dreamfoam Hybrid For:
People who prefer all-foam beds – All-foam brands can provide superior motion transfer and a fantastic cradling feel, but the Dreamfoam Hybrid contains coils which gives it a bouncier feel than the traditional hugging sensation found in memory foam mattresses.


---

Stomach sleepers – There's a lot to love about this hybrid mattress but most stomach sleepers may find they need a bit more support. Stomach sleepers tend to need a firmer model as this position places the majority of their weight in the hips, which can cause excess sinkage in softer beds and compromise back alignment. However, side sleepers and back sleepers should find plenty to enjoy in this bed.
First Impressions: Firmness & Feel
Firmness Scale: 5/10 (Medium)
Please remember that firmness is a subjective characteristic and your shape will dictate how you experience a bed. A heavier person whose weight can more easily push through softer comfort and support layers may experience a bed as softer than a lightweight person. The way you are shaped could also play a role here. Consider your weight, shape, and size when evaluating firmness scores.

A big factor when considering purchasing a mattress is its firmness. We measure mattress firmness on a 1-10 scale, with 1 representing the softest. It's also important to remember that mattress firmness is subjective and depends on individual factors like your body weight and sleep position. In other words, what feels firm to a lightweight sleeper may feel just right to a heavyweight sleeper.
We ranked the Dreamfoam Hybrid Mattress a 5 out of 10 on our firmness scale, which classifies this mattress as medium-firm. This level of firmness is popular with a variety of sleep positions because it offers a balance of support and comfort.
How Does It Feel?
The Dreamfoam Hybrid's quilted top feels plush when you lie down, and right away, you should notice how much bounce the surface has. You should also feel the conformance of the comfort layer pushing into your curves without making you feel like you are trapped. Hot sleepers should especially appreciate the built-in cooling panel which helps keep the surface of the mattress comfortable and cool.
There is also a good amount of pressure relief thanks to the comfort and quilted top layers, while the innerspring unit should support your heaviest parts.
What We Like About the Dreamfoam Hybrid
Cool and comfortable – This mattress should help keep most hot sleepers cool. A cooling panel and gel-infused foam help promote airflow, while the coils promote airflow.
Quality at a budget price – The Dreamfoam Hybrid is a sturdy, entry level bed-in-a-box mattress that won't bust your budget.
Great for back sleepers – The individually-wrapped coil base and upper comfort layers provide good lumbar support for those who prefer sleeping on their back.
Our Dreamfoam Hybrid Complaints
Too much sinkage for some sleepers – Heavyweight sleepers may feel that they sink too far down in the foam comfort layers and aren't well-supported.
Subpar motion transfer – For those who bunk with a partner or pet, your co-sleeper's movement at night is a big deal. While the Dreamfoam Hybrid does a decent job of isolating motion, its hybrid construction may still disturb some light sleepers who are sensitive to their partner's changes in position.
Not supportive enough for all stomach sleepers – Although some stomach sleepers may fare well with this mattress, average-weight to heavyweight folks who prefer this sleep position may not find it firm enough.
Testing the Dreamfoam Hybrid: How it Performed
When we tested the Dreamfoam Hybrid, we examined the materials used, including how they contribute to the feel and functionality of the mattress. Additionally, we took body weight and sleeping position into consideration, as both of these factors can affect how well one sleeps on a given mattress. Besides testing the mattress in each sleeping position, we also noted how well it performed in categories like edge support, motion isolation, and pressure relief.
Sleeping Positions for Different Body Types
The Dreamfoam Hybrid mattress has a weight capacity of 950 pounds when placed on a sturdy surface with little to no flex. According to Dreamfoam, this mattress doesn't require a foundation although we recommend using one for optimal performance. While the Dreamfoam Hybrid's 10.5-inch height should provide enough support for most sleepers, Dreamfoam recommends plus-size sleepers opt for the Titan mattress instead which is designed to support heavyweight sleepers.
To that end, heavyweight sleepers may sink too deep into this mattress. Side and back sleepers who weigh closer to 230 pounds may appreciate the contouring effect, but heavier sleepers who rest on their stomach will likely need more support.
Lightweight to average-weight sleepers of any position should find the Dreamfoam supportive and pressure-relieving.
| Weight | Side Sleepers | Back Sleepers | Stomach Sleepers |
| --- | --- | --- | --- |
| Lightweight Sleepers (-130 lbs) | ★★★ | ★★☆ | ★★☆ |
| Average-Weight Sleepers (130-230 lbs) | ★★★ | ★★★ | ★★★ |
| Heavyweight Sleepers (+230 lbs) | ★★☆ | ★★☆ | ★☆☆ |
Side Sleepers
Lightweight Sleepers – Lightweight sleepers can sometimes feel too much pressure on their shoulders and hips, but with the Dreamfoam Hybrid they should be met with adequate support and softness.
Average-weight Sleepers – For those who like to nuzzle in on their side, the Dreamfoam Hybrid should offer a nice contouring effect thanks to the support of the foam layers and the comfort found in the medium-firmness level.
Heavyweight Sleepers – Heavyweight side sleepers could feel that they are being swallowed up by this mattress as they'll sink more into the upper comfort layers. However, folks who weigh closer to 230 may enjoy this hugging sensation.
Back Sleepers
Lightweight Sleepers – The hybrid makeup of this bed should give lightweight sleepers great spine alignment without sacrificing comfort.
Average-weight Sleepers – Average-weight back sleepers who are seeking proper lumbar support should enjoy the middle-of-the-road firmness combined with the comfort layers. The individually-wrapped coils underneath also support healthy spine alignment in this position.
Heavyweight Sleepers – Heavyweight back sleepers who weigh closer to 300 pounds may find themselves sinking too far into the Dreamfoam Hybrid, which can cause spine misalignment.
Stomach Sleepers
Lightweight Sleepers – Folks on the smaller side should enjoy sleeping on their stomach because the Dreamfoam Hybrid offers enough support to keep these sleepers' hips raised and spine aligned. Additionally, the topmost foam layers cushion the chest and shoulders.
Average-weight Sleepers -The Dreamfoam Hybrid is aptly named for average-weight sleepers, as this bed should be a dream for this weight class and sleeping position. It should keep their hips from sinking which can cause a build up of pressure in other, less supportive mattresses.
Heavyweight Sleepers – Unfortunately, heavyweight stomach sleepers may feel unsupported by this mattress. These sleepers may experience a good bit of sinking, which can lead to aches and pains in the morning as they may not have received adequate lumbar and hip support throughout the night.
Pressure Relief & Pain
As you lie down on a bed, excess weight on your pressure points could lead to pain and discomfort in your joints and muscles. Of course, no one wants to endure discomfort, which is why you should invest in a pressure-relieving mattress. The quilted top of the Dreamfoam Hybrid provides an initial soft feel. Directly below the cover is a 2.5-inch thick memory foam that is the primary comfort layer. Both layers allow most sleepers to sink into deep pressure relief.
Back Pain – The coils provide a good amount of support that can help alleviate back pain. This is particularly true for people who primarily sleep on their backs. When it comes to back pain for side and stomach sleepers, the level of pain relief will be highly dependent on their body weight. Lightweight to average-weight sleepers should experience maximum relief while heavyweight sleepers may need more support.
Hip Pain – Side sleepers can experience hip pain more than other sleep positions. This is because you're putting a lot of weight on pressure on a relatively small part of your body. Smaller to average-size sleepers should wake feeling refreshed, but those on the heavier side may find that this bed does not offer enough support for them to experience pain relief.
Shoulder Pain – Much like your hips, the shoulders are a small area of the body that tends to absorb a lot of pressure at night. The Dreamfoam Hybrid should help rid lightweight and average-weight sleepers of shoulder pain, but heavyweight sleepers may not fare as well.
Support
While contouring layers are optimal for pressure relief, you need to match that with a strong support system. Heavier parts of the body, such as the middle, tend to sink deeper than the lighter areas. Support features can help ensure your spine stays properly aligned.
This hybrid mattress features a supportive 6-inch coil unit. Each coil is individually-encased, allowing them to react independently from one another. The coils are designed to provide deep compression support against the weight of your body. A durable foam base located at the bottom adds additional support by reinforcing the coils as they compress.
Motion Transfer
When the movement of one sleeping partner disrupts the rest of the other, it is generally because a bed has too much motion transfer. That can lead to a lousy night of sleep. The coils of the Dreamfoam Hybrid do a pretty good job at keeping motion isolated because they're individually-wrapped. However, if you have a partner that tosses and turns a good bit, an all-foam mattress may be a better option for motion isolation.
Temperature Regulation / Cooling
With an advanced cooling panel and cooling gel in the memory foam coupled with coils that allow for ample airflow, this mattress should do a great job at keeping folks who sleep hot, cool, calm and collected.
Performance for Couples
Although some couples may find that this mattress doesn't isolate motion enough, sexually-active couples should enjoy the bounce. While the top layer isn't made from latex, it has a similar bounce and response time, and the individually-wrapped coils provide an even deeper bounce. Plus, these coils also help promote airflow which helps keep co-sleepers cool.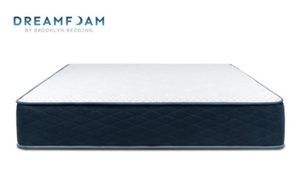 Get the Dreamfoam Hybrid Mattress
Dreamfoam's Hybrid mattress includes cooling technology and adaptive foam, offering comfortable sleep for a great value.
Click the button below to get the Dreamfoam Hybrid Mattress.
Preference-based Features
Edge Support
Edge support for the Dreamfoam Hybrid is as expected for a bed-in-a-box option. When sitting on the side, you may notice that your weight compresses through the softer top layers. However, you shouldn't completely bottom out because the coil base below offers additional support. You may also notice slightly more support when lying down near the edge as your weight should feel evenly distributed.
Adjustable Base Compatible
This bed is compatible with an adjustable base.
Handcrafted in the USA
Construction: What's Inside the Dreamfoam Hybrid?
Starting at the top, the Dreamfoam Hybrid mattress features an ultra-soft quilted cover that should provide the sleeper with plush comfort as it regulates temperature. This layer is .75 inches thick. The quilted top also includes an advanced cooling panel for maximum comfort for those who sleep hot.
In total, this bed stands at 10.25 inches tall and is composed of three main layers beneath the quilted top.
Below the top is a 2.5-inch comfort layer comprised of gel memory foam. While the memory foam in this unit should provide body contouring and responsiveness, the gel prevents the material from becoming too warm, a common issue with memory foam materials that lack cooling properties.
Going deeper, the innerspring unit is 6 inches thick and is made with individually-encased coils. This part of the Dreamfoam Hybrid bed is designed to offer sleepers enhanced compression support as they lie down while also reducing the transfer of motion – an excellent advantage for those who share a bed and want to avoid waking up the other person when they move about.
The bottom layer is a 1-inch high-density foam base and serves as the foundation for the mattress. This layer not only gives the Dreamfoam Hybrid long-lasting durability but it also reinforces the coils above as they compress under the sleeper's body weight.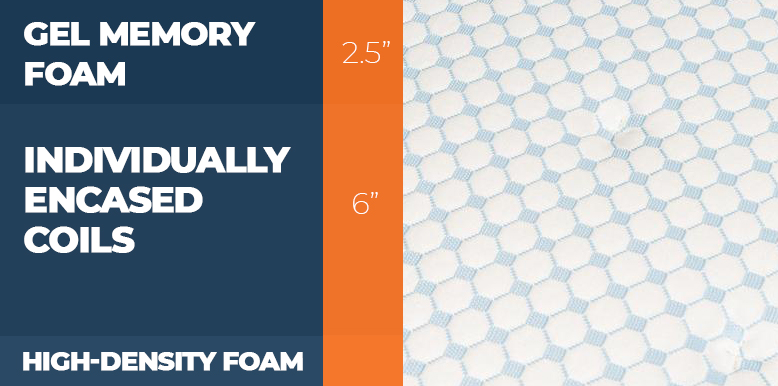 Unboxing & Off-Gassing
The Dreamfoam Hybrid will arrive compressed and rolled in a box. You may want to have someone help you carry the box. Also, make sure to unbox in the room where you plan to use the mattress. Once you have cut open the top of the box and removed the plastic, the mattress should begin to take shape.
As with most bed-in-a-box purchases, you may notice a distinct smell. This smell is known as off-gassing and comes from gasses that were trapped in the foam during the manufacturing process. These odors are harmless, but you may want to leave the mattress in a well-ventilated area for at least 24 hours before sleeping on it.
Certifications
Eco-Friendly Certifications
The foams in this bed are CertiPUR-US® certified. CertiPUR-US® is a third-party program that ensures the foams meet rigorous health and safety standards. This means they don't contain harmful substances like ozone depleters, PBDEs, heavy metals, formaldehyde, and phthalates. They should also have low volatile organic compound (VOC) emissions."
Coupons, Trials, Warranties, and Shipping
Shipping – Shipping is free within the contiguous United States. This product ships to Alaska, Hawaii, or Canada for an additional fee.
Trial – The company lets you keep the mattress for 120 nights risk-free, and if you do not think it is the right fit, you can return it for a full refund.
Warranty – The company offers a 10-year warranty for this mattress.
Return Policy – The company asks that you try the bed for at least 30 days. After the 30 days, you have until 120 days from the date of delivery to return the mattress for a full refund.
Sizes & Prices
| Size | Dimensions (inches) | Price (w/o discount) |
| --- | --- | --- |
| Twin | 38" x 75" x 10" | $532 |
| Twin XL | 38" x 80" x 10" | $599 |
| Full | 54" x 75" x 10" | $664 |
| Full XL | 53" x 75" x 10" | $799 |
| Short Queen | 60" x 75" x 10" | $799 |
| Queen | 60" x 80" x 10" | $799 |
| King | 76" x 80" x 10" | $999 |
| Cali King | 72" x 84" x 10" | $999 |
| Split King | 78" x 80" x 10" | $599 (per half) |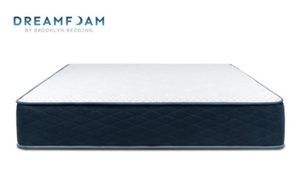 Get the Dreamfoam Hybrid Mattress
Dreamfoam's Hybrid mattress includes cooling technology and adaptive foam, offering comfortable sleep for a great value.
Click the button below to get the Dreamfoam Hybrid Mattress.
Frequently Asked Questions
Is the Dreamfoam Hybrid a good mattress?
We think so! The Dreamfoam offers a reliable, budget-friendly mattress that combines foam and coils. A variety of weights and sleep positions should enjoy this bed.
Where is the Dreamfoam Hybrid mattress made?
Dreamfoam is manufactured by Brooklyn Bedding who manufactures all of their mattresses in the United States.
Is the Dreamfoam Hybrid made with memory foam?
The Dreamfoam is made with a 2.5-inch layer of gel memory foam which sits on top of the coils. In addition, a 1-inch high-density foam base serves as the bed's foundation. This combines the supportive sensation of an innerspring bed with the comfort of memory foam mattresses.
Dreamfoam vs Other Brands
Dreamfoam Hybrid vs WinkBed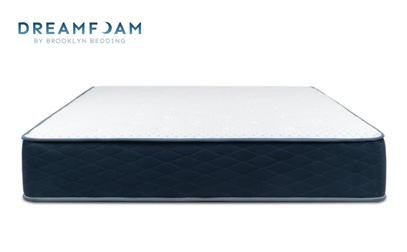 Check pricing and availability by clicking the button below
Affordably-priced
Cooling features
120-night trial period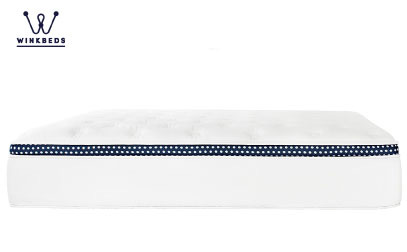 Check pricing and availability by clicking the button below
Four different firmness options
Lifetime warranty
Moisture-wicking cover
Who We Recommend the Dreamfoam Hybrid For
Folks on a budget
Sexually-active couples
Those who sleep hot
Who We Recommend the WinkBed For
People who want firmness options
Combination sleepers
People with back pain
Read our WinkBed Mattress Review if you think the WinkBed is right for you.
Dreamfoam Hybrid vs Bear Elite Hybrid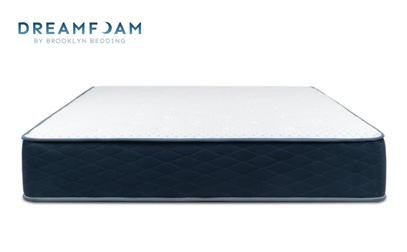 Check pricing and availability by clicking the button below
Budget-friendly
Cooling, quilted cover
Gel-memory foam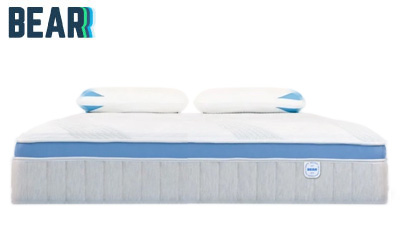 Check pricing and availability by clicking the button below
Lifetime warranty
Multiple cooling features
Variety of firmness levels
Who We Recommend the Dreamfoam For
Folks who want a bed with bounce
Side and back sleepers
People of average weight
Who We Recommend the Bear Elite For
Those who sleep hot
Stomach sleepers
Sleepers who like customization
Learn more in our Bear Elite Mattress Review.
Dreamfoam Hybrid vs Other Brooklyn Bedding Models
Dreamfoam Hybrid vs Brooklyn Aurora Luxe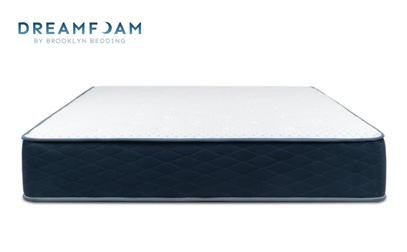 Check pricing and availability by clicking the button below
Additional unique sizes
Medium-firm feel
Responsive feel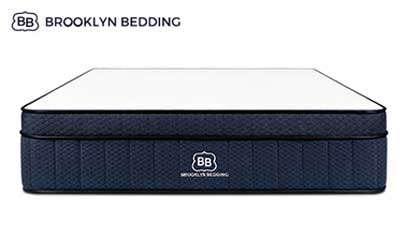 Check pricing and availability by clicking the button below
High-end materials
Cooling and comfort technology
Motion-isolating
Who We Recommend the Dreamfoam Hybrid For
Those who prefer a balanced feel
RV owners and those looking for non-standard sizes
Lightweight to average-weight sleepers
Who We Recommend the Brooklyn Aurora Luxe For
Hot sleepers
Folks who seek luxury
Those who like a bed with bounce
Check out our Brooklyn Aurora Luxe Mattress Review.
Overall Summary
The Dreamfoam Hybrid combines a cooling panel with gel memory foam and individually-wrapped coils to offer sleepers a cooling, comfortable, and supportive night's rest. More affordable than other mattresses of this standard, the Dreamfoam Hybrid offers a lot of value for the price.


Most side sleepers need relief along their hips and shoulders, as pressure tends to build when weight is concentrated in this position. The 2.5-inch comfort layer of gel memory foam should help relieve pressure, and the medium firmness should offer an ideal amount of support and comfort for this position.


Most back sleepers should feel the foam pushing up into their lumbar region for additional support as the supportive individually-encased coils and foam base work to help keep their spine straight. However, back sleepers who want a firmer hybrid may consider the company's Dreamfoam Latex in the Firm model.


Most stomach sleepers should sleep comfortably on this mattress. Lightweight to average-weight stomach sleepers should feel the mattress keep their hips raised for optimal spine alignment. However, heavier stomach sleepers may still prefer a firmer mattress. In that case, they should also look into the Dreamfoam Latex Firm model.


We scored the Dreamfoam Hybrid at a medium-firm on our firmness chart, which means it sits right in the middle. This is beneficial for combination sleepers who do best on a more universal feel that is adaptable to different sleep positions. Additionally, the responsive comfort foam layer should make repositioning a breeze.


Like combo sleepers, couples need a versatile firmness that can work for both individuals who may have differing sleep preferences. In addition, couples also highly benefit from beds that do well at motion isolation. The coils designed to minimize motion transfer should prevent partners from waking each other up if they move during the night.


With only three layers under the cover and a medium-firm feel, heavier individuals may find they sink too deeply into the Dreamfoam Hybrid and don't get the support they need. Heavy sleepers need a bed that offers enough support for a good night's rest. In this case, Brooklyn Bedding's Titan Plus mattress, which is designed for larger frames, may be the preferred option.


Sleepers who weigh lighter than average should do well with this mattress, especially those who sleep on their stomach or back. However, some petite sleepers who regularly rest on their side may prefer something more plush. The Dreamfoam Latex is a hybrid option that's available in a Soft model and may be better suited for these individuals.


Sometimes being average is the best thing to be, and when it comes to sleeping on the Dreamfoam Hybrid mattress, average-weight sleepers fare best overall. Although some strict stomach sleepers of average weight may want a firmer mattress, most sleep positions should enjoy the support and comfort they receive.
The Dreamfoam Hybrid mattress is a terrific value in the entry-level bed-in-a-box space, and the company's direct-to-consumer sales model allows them to offer a lot of good quality for the price. All in all, the Dreamfoam Hybrid mattress in a queen-size is one of the best bargains in this space.
Our Verdict
The Dreamfoam Hybrid is a mattress that offers a lot of bang for the buck. With its hybrid construction and features that work to keep sleepers cool throughout the night this bed, this mattress should land well with those who wake up hot.
Additionally, it's a solid choice for couples and a variety of sleep positions thanks to its medium firmness level and responsive, bouncy feel. However, heavyweight sleepers may need a firmer mattress to achieve an adequate level of support. The Dreamfoam Hybrid's construction best serves lightweight to average-weight sleepers.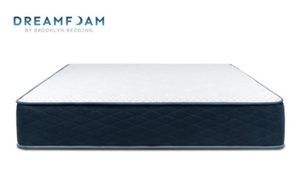 Get the Dreamfoam Hybrid Mattress
Dreamfoam's Hybrid mattress includes cooling technology and adaptive foam, offering comfortable sleep for a great value.
Click the button below to get the Dreamfoam Hybrid Mattress.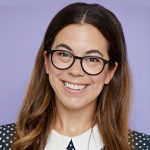 Jill Zwarensteyn is the editor for Sleep Advisor and a certified sleep science coach. She is enthusiastic about providing helpful and engaging information on all things sleep and wellness.
Based in Los Angeles, she is an experienced writer and journalist who enjoys spending her free time at the beach, hiking, reading, or exploring new places around town.
She's also an avid traveler who has a personal goal of being able to successfully sleep on an airplane someday.