In 2016, Nectar saw the need in the market for a memory foam bed like theirs, so they set out to work and the rest is history. The DreamCloud mattress helps you feel like you are resting among the clouds. They offer a luxury bed at an affordable price that can give sleepers the sensation of sinking into something like a cloud.
Does a thicker bed mean better comfort? You'll be the judge as you dive into the details surrounding these products.
Product
Firmness
Trial Period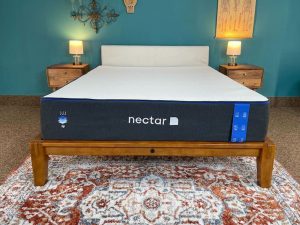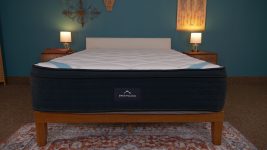 DreamCloud Premier Mattress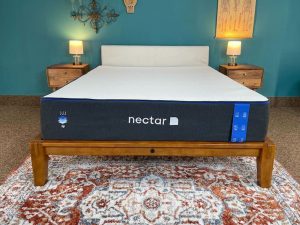 Firmness
Medium-firm: 6.5/10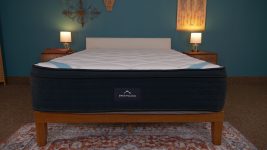 Product
DreamCloud Premier Mattress
Watch Our Video Comparison of the Nectar vs. DreamCloud Premier
Comparing Firmness, Support & Feel
Firmness
We rate mattress firmness on a 1-10 scale. The softest feel possible would be a 1, while the firmest feel would be a 10.Both of these products score in the medium range on our scale, with the Nectar at a 6.5 and the DreamCloud Premier at a 5.5. This makes Nectar the slightly firmer option between the two. Medium beds tend to work well for the largest variety of body types and sleeping positions.

Support
These beds feel pretty similar in regard to support and cushioning depth. Back sleepers should feel either of these options filling the gaps between their shoulders and hips. Side sleepers should find that the foams in the Nectar comfortably support their hips and shoulders and that the Premier fosters a similar experience. Some stomach sleepers might like the Nectar a bit more because of its added firmness, but those who prefer an exceptionally firm mattress may consider a different option altogether.
Feel
Both the DreamCloud Premier and Nectar mattresses should hold you in a deeper hug, which is common with beds containing memory foam. The DreamCloud Premier has a plush and luxurious feel to it that leaves sleepers comfortably cushioned, while the Nectar contours to each curve. Additionally, the Nectar may feel firmer at first, but it should soften as the sleeper gets settled in and more use out of the bed.
Comparing Sinkage and Bounce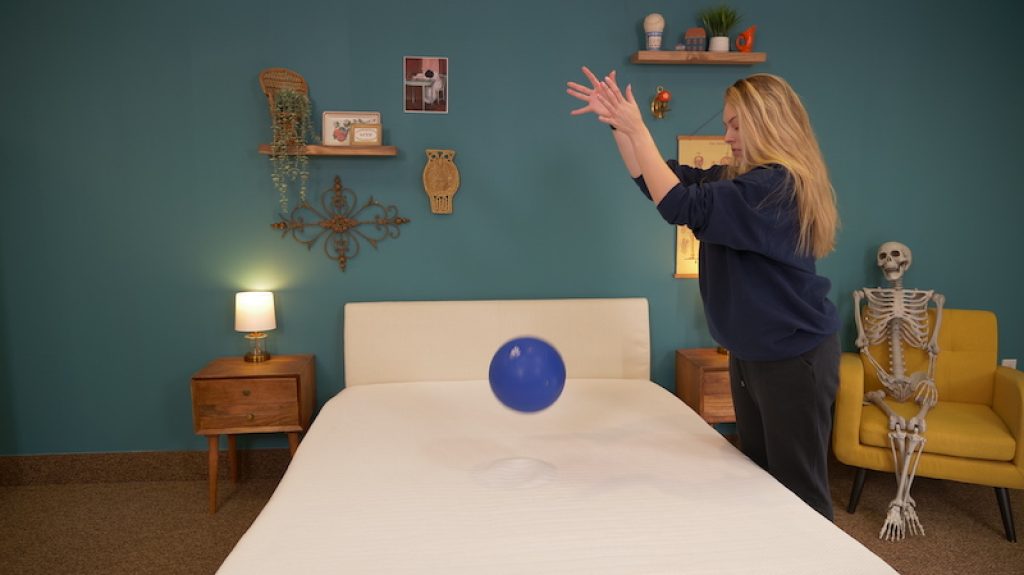 The Nectar has next to zero bounce, but the inner layers give sleepers a firmer foundation to push off of when repositioning. The top layers cradle sleepers in a deep hug that should keep them sleeping comfortably all night long.
The hybrid has a fair amount of bounce. The foam layers do suck up some of the buoyancy on top, but springs provide a good deeper-level response that repositioning sleepers should enjoy. The top 5.5 inches are finished with comforting materials that should allow sleepers to sink into the bed a bit.
If bounce is highly important to you, though, we wouldn't recommend either product.
---
Comparing Motion Transfer
The movements of an active sleeper can transfer across the surface and wake a partner or a child. This is why a bed with good motion isolation can be key for some couples sharing a mattress. Sometimes there is a clear winner and when comparing these two products the Nectar steals the show.
Memory foam is typically the mattress maker's material of choice when trying to create a product that isolates motion, and Nectar, with its pure foam design, rocks in this area. With that in mind, DreamCloud Premier stands its ground pretty well. Although a hybrid with springs, it performs better than many other innerspring compressed bedding options.
---
Comparing Cooling
Although memory foam is known to overheat, Nectar infuses gel into its memory foam layer to foster cooling. The bed also comes with a heat-wicking cover to further help keep the sleeper cool and dry.
Hybrid mattresses can usually offer more cooling than all-foam memory options because the coils foster extra airflow. However, the DreamCloud Premier has multiple foam layers and no gel in its memory foam layer, which can impact temperature regulation.
Despite its all-foam structure, we'd say the Nectar wins in the better cooling mattress category thanks to the gel and heat-wicking cover.
Comparing Construction (Materials & Quality)
Nectar Construction
Nectar gets vacuum sealed and packaged within a thick plastic bag before it is shipped to your residence. It has a memory material design that should wash away even those most annoying pressure points.
The bed's surface features a poly-blend material that is sewn to memory materials with gel. These materials allow air to pass freely through and wick heat away so sleepers can stay temperature regulated while they snooze. The cover protects the 12 inches of bedding beneath.
The top is 2 inches of memory foam material that should comfortably contour your shape. Surface heat washes away due to the infusion of gel in this layer.
The middle layer is made with soft, premium foam. This 3-inch-thick material fosters a facilitated transition for your body as it sinks into the thicker foundation of the bed.
The bottom layer is 7 inches of standard conventional foam that gives the bed a durable base
DreamCloud Premier Construction
This mattress is shipped either rolled up in a bag or with professional delivery, depending on your preference. The 2-inch luxury cashmere Euro cover is stuffed with two layers of plush foam for optimal pressure relief and comfort.
The bed is 14 inches tall and comprises five layers, including the two foam layers in the cover.
Below the Euro top cover are 2.5 inches of soft foam for additional pressure relief. This comfort layer provides a cushion for your body to relieve sensitive pressure points, like the shoulders and hips.
The individually wrapped coils located at the bottom of the bed are 8.5 inches tall. The unit contains inner and perimeter coils for edge support on all sides.
The support layer also functions as the base foam layer and is built with 1 inch of conventional foam. The base adds resistance, so you shouldn't feel the coils or sink too deeply into the bed.
---
Comparing Company Policies & Price
Warranty – Both brands have similar warranty deals that essentially just differ in name. The Nectar's is a Forever warranty, and the DreamCloud has a lifetime warranty.
Shipping – Both brands ship for free within the continental U.S., and there's an additional fee for shipments to Alaska or Hawaii.
Trial Period – Another similarity these brands share is their year-long trial periods that extend for 365 nights.
Returns – You can return a Nectar bed for free within the continental U.S., but there's a delivery fee for returns from Hawaii and Alaska. Returns are also free for the DreamCloud Premier and must be returned within the trial period.
Price – The DreamCloud Premier is going to be at least 400 dollars more expensive than the Nectar, and this gap is even greater the bigger the mattress size. That being said, it's common that hybrids cost more than all-foam models.
[table "418nbsp" not found /]
---
Nectar vs. DreamCloud Premier Compared Side-by-Side
| Features | Nectar | DreamCloud |
| --- | --- | --- |
| Height | 12" | 14" |
| Cover | Poly-blend quilted to memory foam | Cashmere blend |
| Materials | Gel memory foam and conventional foams | Memory foam, polyfoam, and coils |
| Cooling | Gel in the memory foam layer, breathable cover | Gel foam, breathable cover |
| Firmness | 6.5/10 | 5.5/10 |
| Support | Great | Great |
| Motion Transfer | Minimal | Medium |
| Edge Support | Good | Great |
| Sinkage | Deep Hug | Deep Hug |
| Bounce | No | Yes |
| Warranty | Forever | Lifetime |
| Trial Period | 365 nights | 365 Nights |
| Certifications | CertiPUR-US® | CertiPUR-US® |
| Adjustable Base Compatible | Yes | Yes |
| Shipping | Ships to U.S., White glove delivery is optional | Ships to the contiguous U.S., White glove service is optional |
| Made in the USA | No | No |
| Read Full Review | Nectar Mattress Review | DreamCloud Premier Mattress Review |
| Shop Now | Nectar Mattress | DreamCloud Premier Mattress |
---
Final Thoughts
The purpose of this comparison is to help you make a well-informed decision before dropping a mattress into your virtual shopping cart.
Each bed offers exceptional value when considering their price and the materials used. To make things harder, both brands provide a 365-day trial and lifetime warranty. The choice is truly up to the customer.
If you're still unsure, though, we encourage you to take a look at our in-depth written reviews on both of these products. Hopefully, they can ease your mind and allow you to make the best decision for your needs.
Product
Firmness
Trial Period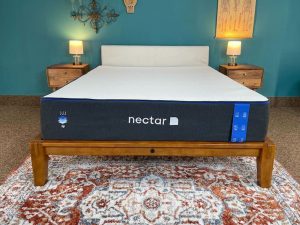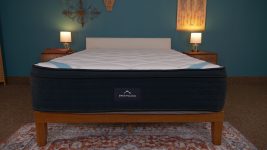 DreamCloud Premier Mattress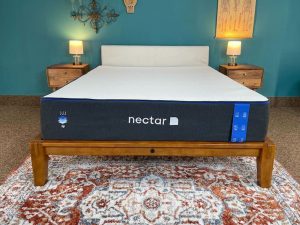 Firmness
Medium-firm: 6.5/10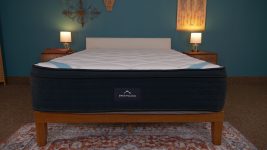 Product
DreamCloud Premier Mattress
Jill Zwarensteyn
Editor
About Author
Jill Zwarensteyn is the Editor for Sleep Advisor and a Certified Sleep Science Coach. She is enthusiastic about providing helpful and engaging information on all things sleep and wellness.