Transparency Disclosure – We may receive a referral fee for products purchased through the links on our site...

Read More

.
Disclaimer - Nothing on this website is intended to be a substitute for professional medical advice, diagnosis, or treatment...

Read More Here

.
For this epic mattress standoff, we've prepared something special. This time, we've decided to stack two beds which are made by the same company against each other – let the Loom & Leaf vs. Saatva comparison begin!
They are designed to be higher-end options on the market (yet affordable) and claim to provide a superior sleeping sensation. Is it true, though? Will they stand up to the claims, proving that they're better than a regular run-of-the-mill line? Let's find out if they are genuinely worth it.
Both beds scored highly in most areas during our reviews and, if you would like to take a look at the individual analysis, you can see them here:
---
Product
Firmness
Trial Period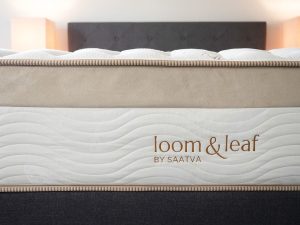 Multiple firmness options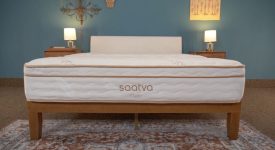 Multiple firmness options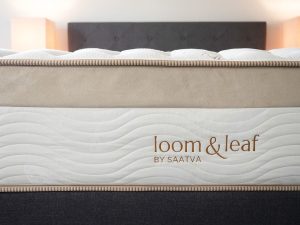 Product
Loom & Leaf Mattress
Firmness
Multiple firmness options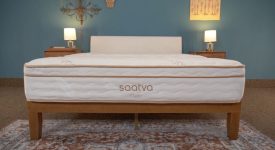 Firmness
Multiple firmness options
Materials/Layers/Construction
The materials, the layers, and the overall construction play an integral role in the functionality, comfort, balance, and cooling of the units, so let's have a closer look.
Loom and Leaf Construction
The Loom and Leaf mattress comes in a 12-inch construction that is distributed in 3 layers of different materials.
The 1st layer is 3 inches of memory foam that's designed to provide pressure relief by contouring to your natural shape. Added into this layer is a panel with zoned gel for cooling and spine support.
The middle layer is 2 inches thick and made of support foam. This part of the bed works as a transitional layer, allowing the comfort layers to transition appropriately with the base of the mattress.
The base is 6 inches of highly-dense polyfoam. It is intended to establish the solid foundation that you need for proper spinal alignment. The layer also adds shape to the bed. It is made so that it's breathable enough so you shouldn't wake up in the middle of the night.
The next thing that you want to take a look at is the cover of the Loom & Leaf bed. It is made out of entirely organic cotton, which brings a soft sleeping sensation alongside impressive breathability. The cover isn't going to dampen the overall characteristics of the mattress, which is its intention. It should simply enhance them. Right under the quilted cover, there is a thin layer made out of natural thistle. It acts as a fire retardant, used as a substitute for chemical-based materials.
Saatva Construction
The construction of Saatva is entirely different. The mattress comes with two separate layers made out of steel coils. There are also two height options available. Customers can choose between an 11.5-inch bed or a 14.5-inch bed. This foam and coil hybrid is designed to provide comfort, longevity, and support.
The construction is layered as follows:
The euro-style pillow-top is made with organic cotton and is stitched to a 3-inch comfort foam layer.
The next layer consists of memory foam and is placed in the center space of the bed to directly support the back's lumbar region.
Below the foam you'll find individually pocketed coils. These coils are made to contour to your body while also minimizing motion transfer and promoting airflow.
The second coil unit sits right below the first and features traditional, hourglass-shaped coils. This part of the bed is made to create a durable foundation that prevents sagging.
The perimeter aims to bring in serious edge support using a high-density foam that runs along the sides of the bed.
The cover is similar and effective like the one on the Loom and Leaf. The company uses organic cotton to help create their euro-style pillow top. The intention is to provide additional comfort and softness to the hybrid mattress. The cover looks similar to the one on the Loom & Leaf bed but this model has slightly less color overall.
---
Firmness/Feel/Support
Loom and Leaf Firmness
You will be given a choice between two different firmness levels. The first one, Relaxed Firm, scores a 6 on our scale of 1-10. The second option is the Firm model, which scores a 7.5. The different firmness choices allow Loom & Leaf to cater to differing sleep preferences and needs.
The first sensation that you get from the mattress when you lie on it is the cool cotton cover and the comfortable memory foam layer below that contours to your body.
The memory foam, as well as the gel used in the bed, are quite thick. This is why heavier sleepers can sleep without worrying so much that their spine would be somehow misaligned through the night. The bed comes with a thicker comfort layer which would typically reduce its responsiveness. Surprisingly, Loom & Leaf has managed to navigate past this potential issue for some, and their solution brings great response times. The sinkage is also fairly formidable, and it shouldn't make you feel as if you are trapped in your own mattress.
The mattress is particularly cool, and it should never have any issues with heat retention. This means that you wouldn't have to worry about waking up in the middle of the night, sweating through your PJs.
Saatva Firmness
For the convenience of their customers, Saatva beds are available in three different levels of firmness. You can choose between a firm, luxury firm, or plush soft bed. Based on a scale of 1-10, the softest option is rated at a 4, the luxury firm a 6.5, and the firm at an 8.
As you lie on the bed, you should notice the plushness that comes from the euro pillow top and the tension relief provided by the addition of memory foam further below.
Next, you should feel the buoyancy and support from the coil units. That's where the main difference lies. Unlike the Loom and Leaf, the Saatva has a more pronounced bounce and push-back feel.
You should also consider this bed's superior edge support. The mattress comes with an advanced system that uses high-density foam for durability and should make the process of getting in and out of your bed much easier.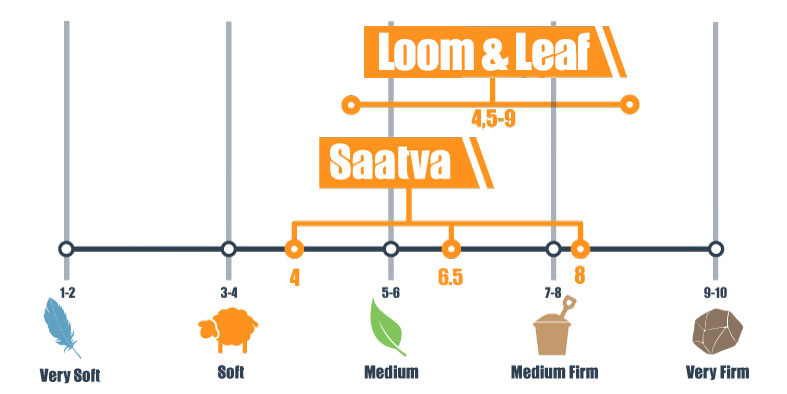 ---
Side by Side Comparison
| | Loom and Leaf | Saatva |
| --- | --- | --- |
| Materials | Memory foam and cooling gel | Memory foam and coils |
| Height | 12" | 11.5" or 14.5" |
| Firmness | Firm or medium | Firm, Luxury Firm, or Plush Soft |
| Motion Transfer | Rather Minimal | Slight |
| Support | Great | Great |
| Warranty | Lifetime | Lifetime |
| Trial Period | 365 nights | 365 nights |
---
Which One Should I Get?
Obviously, that's the million dollar question. With this in mind, both options are top performers, and it all comes down to your personal preference. They offer different materials, designs, and overall constructions, catering to different sleeping requirements.
We would recommend that you go for the L&L bed if you:
Want the expressed hug and cooling sensation – Loom and Leaf is undoubtedly very much ahead of the curve when you stack it against other competitors. The foam layers bring splendid responsiveness and they change according to your actual movements throughout the night.
Want traditional quilted and padded cover – this is actually true for both mattresses, and it's one of the things that stands out. It provides immediate softness, and it brings serious pressure relief as soon as you lie down on the mattress.
Are looking for the traditional contour and comfort of memory foam – the Loom & Leaf is a mattress which strikes a good balance when it comes to contouring and comfort. The support is also undeniable, and it brings a cradle without making you feel as if you are trapped.
Check LOOM & LEAF Pricing & Availability Here
We would recommend the Saatva mattress if you:
Are looking for a luxury coil feel – the contemporary coil-on-coil design is intended to bring support, bounce, and unmatched response. If you are a fan of the traditional feel brought by coils, you should really love this pick.
Are looking for a plush-style pillow top – the Saatva also comes with the 100% organic cotton pillow top and it is going to ensure that you get a nice, immediate softness as soon as you lie down.
Want an optimal edge support, bounce and cooling – there are a few different areas in which coils are unmatched. The mattress brings splendid bounce, excellent cooling, and unmatched edge support; everything you need for sexual activities.
Want a great support and soft feel – you have the option to choose between a soft, medium, and hard firmness levels. Loom and Leaf, on the other hand, offers Relaxed Firm and Firm options.
Check SAATVA Pricing & Availability Here
---
Final Thoughts
It's obvious that both beds are among the Best Mattresses of 2023 you can buy right now. While they are a bit more expensive than the average unit you'd find on the market, the quality that they bring to the table may just be worth every single dime, and they are still exceptionally affordable for the luxury you will receive.
In the end, it would really come down to your personal preference. If you are a fan of the traditional bouncy feel of spring beds (read our innerspring mattress guide), you can go for the Saatva. Keep in mind, though, that this is a comprehensive and contemporary coil system which is nothing like what you might be used to from old-times.
On the other hand, if you're looking for a more traditional memory foam cradle, but you also look for proper responsiveness and cooling, the Loom and Leaf may be for you. It all depends on your sleeping patterns and personal preference.
Product
Firmness
Trial Period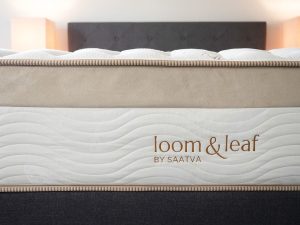 Multiple firmness options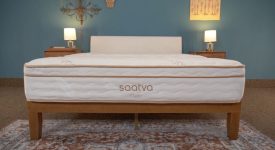 Multiple firmness options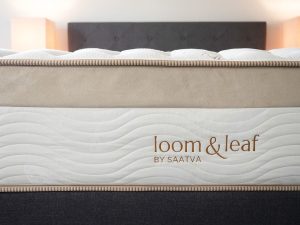 Product
Loom & Leaf Mattress
Firmness
Multiple firmness options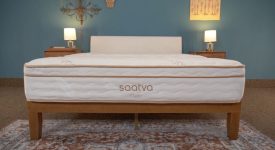 Firmness
Multiple firmness options