Transparency Disclosure – We may receive a referral fee for products purchased through the links on our site...

Read More

.
Buying a bed online can be overwhelming. There's a dizzying array of choices, and it seems like new brands pop up every day.
Although most of these companies offer generous trial periods and hassle-free return policies, have you caught yourself wondering if there was a way to find your perfect fit with less worry of a return? A way to get it right the first time? For most people planning on spending hundreds of dollars on a new bed, the right pick isn't as much a hope as a necessity.
But how?
Have you ever considered a customizable mattress? In this article, we'll share a few of the top-rated customizable mattresses and help you determine if this option is right for you.
This type of bed is one that you can either build yourself by answering a series of questions about your preferences, or it could be something that has different settings or options. For example, some brands have created beds that you can flip over or unzip to adjust the firmness levels.
A bed is one of the most important investments we make in our health and well-being. You already know that we spend more time in bed than just about anywhere else, so it's imperative that we make that time count.
Shopping Recommendation:
Are you confident that a customizable mattress is the perfect option for you? If so, continue exploring this page!
If you're unsure or want to learn about more great mattress options available then we recommend you check out our best-rated mattresses. It is a great starting place for most mattress shoppers because it includes a diverse list of mattress picks based on various preferences, styles, and needs. It also includes links to an additional 60+ best mattress pages from Sleep Advisor (example: best mattress for adjustable beds).
Top 9 Customizable Beds Reviews
Best Customizable Hybrid Mattress
Helix Midnight
Sleep Quiz
CertiPUR-US® Certified
100-Night Trial
10-Year Warranty
Made in the USA
Helix approaches customization with their customers through a helpful quiz. By answering a few easy questions about your sleep habits and preferences, you can have a mattress recommendation based on your body and needs. Your new bed will feature a blend of features that suit both you and your partner.
The Helix Midnight is one of the brand's more popular options because its high-quality design and medium-firm feel should complement most sleepers, including couples. The Midnight features materials such as Memory Plus Foam, High-Grade Poly Foam, individually pocketed coils, and DuraDense Foam. The mix of foam and coils should provide an excellent balance of pressure relief and support for a more restful slumber.
What's worth mentioning?
The Helix Midnight's coil unit is made from steel and is designed to distribute your weight evenly.
You can try out the bed under the 100-night trial period to decide if it's the right one for you.
Need more info? Read our complete guide for Helix Midnight mattress.
Best Customizable Mattress for Couples
Saatva Solaire
Zoned Support
Customized Firmness
Free White Glove Delivery
365-Night Trial
Lifetime Warranty
Saatva's Solaire model excels at delivering customized firmness, thanks to its innovative air chamber that's made from vulcanized latex. Sleepers can adjust the air chamber's settings from 1 to 50 to reach their desired firmness. As a result, the Solaire can go from plush to firm as needed and accommodate a wide range of sleep positions and body types.
In addition to the air chamber, the Solaire comes with other impressive layers. These include an organic cotton pillowtop, 5-zone Talalay latex, gel memory foam, a moisture barrier to prevent bacteria growth, and a Power Edge encloser for perimeter reinforcement.
What makes it unique?
The Solaire's high-quality design is further complemented by a free white glove delivery deal. Rather than setting up your new mattress yourself, a team of professionals will do it for you, so there's no heavy lifting involved.
Interested in more details? Read our full overview of Saatva Solaire bed here.
Best Mattress With Multiple Firmness Options
Brooklyn Bedding Custom
Customized Construction
Made in the USA
120-Night Trial
10-Year Warranty
The Custom Mattress is Brooklyn Bedding's answer to the idea of a build-your-own-bed consumer model.
To start, you decide on a single or split comfort. The split comfort is available for King or California King sizes. This is beneficial for couples with very different sleep preferences. Next, you can choose the firmness. The options include Soft, Medium, or Firm. If you select the split comfort option, each partner can pick their own firmness.
You'll then pick your comfort layer from either proprietary TitanFlex™ foam, Luxe Memory Foam, or latex. The standard support unit for the Custom is pocketed coils. The final decision is to select your cover fabric. The organic cotton is complimentary, but you can pay an additional 100 dollars for the Luxury Cooling or Recovery cover.
Why do we love it?
This mattress is the epitome of customization, allowing shoppers to find a bed that closely meets their specific needs and preferences.
Looking to learn more? See our our Brooklyn Custom bed review here.
Layla Memory Foam
Two Firmness Options
Made in the USA
120-Nights
Lifetime Warranty
One way to add customization to a mattress is with a flippable design. The Layla, a dual-sided memory foam bed, provides shoppers with two firmness levels in one product. One side of the mattress has a soft feel, and the opposite side has a firm feel. This gives you the chance to try out both sides and see which one you like best.
The Layla has a total of four layers. At the top is a copper-infused memory foam. While many brands use gel to help keep their memory foam cool, copper has an additional advantage because it not only conducts heat but it's antimicrobial to keep germs away.
The following three layers include the Air Flow Support Foam, a thick supportive foam, and another layer of copper-infused memory foam.
What's worth mentioning?
The Layla is designed and manufactured in the United States.
The brand offers customers a 120-night trial and a lifetime warranty with their purchase.
Looking to learn more? See our our Layla Memory Foam bed review here.
Best Customizable Mattress for Hot Sleepers
Amerisleep AS3
Hybrid and All-Foam Design
CertiPUR-US® Certified
Made in the USA
100-Night Trial
20-Year Limited Warranty
Amerisleep's AS3 is their medium-firm model, a great middle-ground feel that should suit most sleepers. The AS3 is available as either an all-foam or hybrid model, giving shoppers the chance to pick whichever design fits their needs best.
Each design has its advantages and disadvantages. While the all-foam version should perform better for motion isolation, the hybrid will deliver more bounce. Both versions contain important cooling measures to complement hot sleepers. These measures include proprietary Bio-Pur foam, which sleeps cooler than traditional memory foam, and an ultra-breathable cover. If you're an extra-hot sleeper, we recommend getting the hybrid because the coils will foster more airflow throughout the bed's center.
Why we picked it
Sleepers can choose from either an all-foam or hybrid design for a customized experience.
Both versions contain foams that are CertiPUR-US® certified.
Amerisleep beds are designed and made in the United States.
Want to see more? Read our complete guide for AmeriSleep AS3 mattress.
Best Customizable Eco-Friendly Mattress
PlushBeds Botanical Bliss
Certified Organic Cotton, Latex, and Wool
OEKO-TEX® Certified
GREENGUARD Gold Certified
100-Night Trial
25-Year Warranty
PlushBeds not only offers a more organic sleeping environment, they also give their customers a lot of choices when it comes to the height and feel of their all-natural latex beds.
Each Botanical Bliss uses a layer of wool and several layers of organic latex, offering high-quality comfort. All of the materials have cleared the industry's highest standards for natural materials and consumer safety.
What is its best feature? Not only can you choose between two different firmnesses for this mattress, you can choose between three different heights if you want a thinner or thicker mattress. The different firmnesses are Medium and Firm, and which you select will depend on your preference of more soft pressure relief or firmer support.
Latex can offer a lot of bounce and is very responsive, which means it should make it easy for you to reposition. This latex is sourced from natural rubber tree sources, and the company strives to eliminate chemicals from their manufacturing process for a more eco-friendly and organic product. The entire bed is wrapped in a flame retardant made from wool that also wicks away moisture, as well as an organic cotton cover.
Want to know more? See Our in-depth review of PlushBeds mattress.
Best Customizable Mattress for Stomach Sleepers
Dreamfoam Latex
CertiPUR-US® Certified
OEKO-TEX® Certified
120-Night Trial
10-Year Warranty
Made in the USA
Though it is rare to find customization in the budget-friendly space, Dreamfoam offers it with their Dreamfoam Latex bed, which is built to your exact firmness specifications.
Every sleeper is unique and needs a custom mattress to provide the best sleep experience possible. Dreamfoam provides consumers with three firmness levels: Firm, Medium, and Soft. Stomach sleepers will likely prefer the Firm version, as it should do the best job of preventing their midsection and hips from dipping too far into the mattress.
What stands out?
From temperature regulation to breathability and bounce, the combination of coils and latex offers many comfort advantages.
Talalay latex, which makes up the top 3 inches of the Dreamfoam Latex, is known to be more consistent and high-end, but Dreamfoam is selling this mattress for a price that is more accessible to budget-friendly shoppers.
Interested in exploring further? Visit our full review for Dreamfoam Latex mattress.
Best Customizable Innerspring Mattress
Nest Bedding® Owl
Certified Organic Option
CertiPUR-US® Certified
365-Night Trial
Lifetime Comfort Guarantee
Lifetime Warranty
Made in the USA
Depending on how hard or soft or eco-friendly a bed you prefer, Nest Bedding may have your solution with their highly customizable Owl bed that offers a blend of the best features of latex and coils. You can choose between standard and organic versions, as well as plush, medium or firm.
This company is known for designing high-quality beds that the company stands behind with exceptional customer service. Nest is one of few companies in the business that offer a lifetime comfort guarantee that allows you to swap out your existing Nest mattress for a new one for a percentage of the cost of a replacement. The bed is also covered by a lifetime warranty.
What stands out? Those who want to invest in a more organic sleep space may do so, or you may elect for a slightly more affordable option with fewer certifications and a few more synthetic components. If you and your partner have different feel preferences, you may also elect to have the King size bed built with split comfort or distinct firmness levels on either side.
Interested in exploring further? Check out our full review for Nest Bedding Owl mattress.
Best Customizable Mattress for Motion Isolation
ReST Bed
CertiPUR-US® Certified
90-Day Trial
10-Year Warranty
Made in the USA
ReST® Bed pairs with any smart device, or you can use a Samsung tablet that comes with your mattress purchase to track biometrics and adjust the sleeping surface to achieve your perfect night's sleep.
This bed takes zoned support to the next level with smart technology that can target five different parts of the bed where your body is resting to tailor the blend of pressure relief and support exactly to your shape and weight. These adjustments are made automatically when pressure points are detected by sensors integrated into the product's construction.
Couples, who typically benefit most from motion isolating materials, should find that the memory foam in this bed does a satisfactory job of limiting motion transfer across the bed.
What stands out?
The bed also collects information about your sleep patterns and other important information that can help you better understand your sleep habits and improve them for ultimate daytime performance.
Interested in more details? Read our full overview for ReST bed here.
What to Consider When Looking for a Customizable Mattress
Differing Tastes Amongst Couples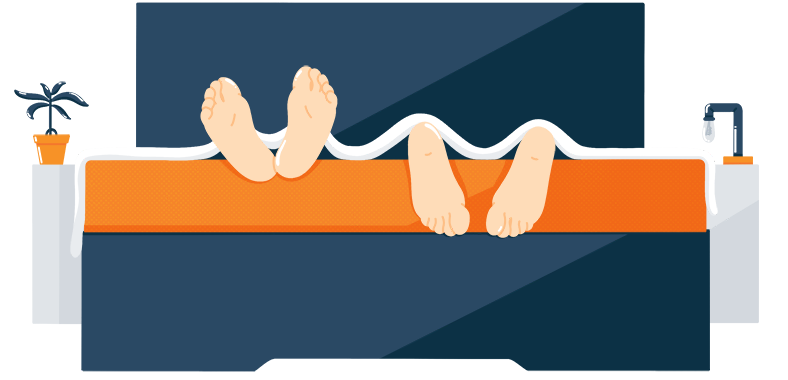 If you're in a relationship, chances are that you and your partner have different thoughts about your bed. This is normal, but it could lead to some arguments.
For example, if one person in the relationship is a side sleeper while the other sleeps on their back, they may feel quite differently about the same mattress. The side sleeper likely wants a softer sleeping surface, and the back sleeper could prefer something firmer.
Progressive bedding firms survey their customers to find out what positions their customers sleep in. Helix, for example, found out that 73% of their female customers are side sleepers while only 52% of men fall into that category.
A side sleeper and a back sleeper can interpret the comfort level of the exact same mattress quite differently. A back sleeper might find that a particular bed is way too soft for their taste, while their side-sleeping partner will think it's just right.
With a customizable bed, in many cases you are able to adjust how each side feels so both of you can be happy on your mattress for two.
Find Out More: Best Mattress for Couples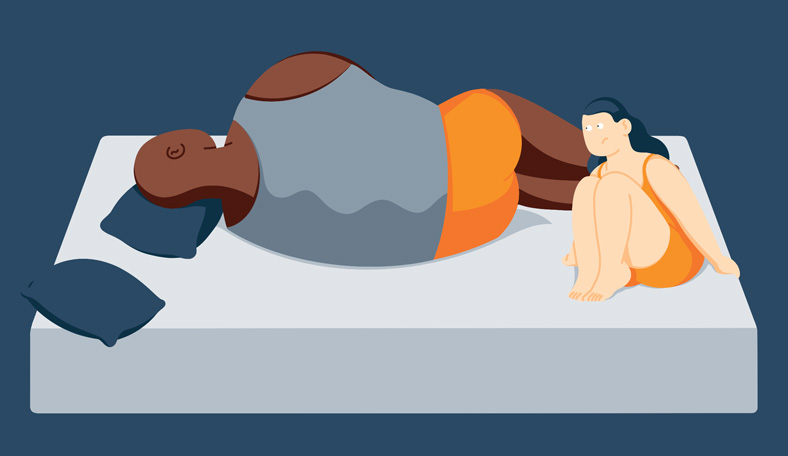 We mentioned a moment ago that a person's sleeping position can affect the way they perceive firmness as well as their tendency to prefer hard over soft.
Another reason that couples have distinct preferences has to do with the weight of the individual. Significantly heavier people need a firmer mattress most of the time; otherwise, they can sink into the surface too deeply and get a sagging, unsupportive feeling.
Extremely lighter individuals tend to need something softer that will contour to their bodies.
Most customizable beds allow you to adjust how each side feels, whether it's by specifying your settings at the factory level or physically adjusting the components when the bed arrives at your home.
Want to know more? Check out our ultimate mattress firmness guide.
It's not unusual for one person in the relationship to sleep hotter than the other. If one person in your partnership heats up at night and throws off the blankets while the other is a blanket hoarder, you may just be a prime candidate for an adjustable bed.
Again, most companies allow you to specify different settings for each side, so if one of you wants a cooler surface, many companies offer the ability to customize that easily.
If you're a light sleeper and the slightest movement from your partner jars you out of a peaceful sleep, then you'll want to look for something that has superior motion isolation. This means that when the weight shifts on one side of the bed, the other is completely unaffected.
In theory, a bed that performs well in the motion transfer category should be able to absorb the motion of your partner rolling or getting in and out of bed without waking you.
Most standard memory foam beds perform well, but a customizable bed can take it to a whole new level. If you buy from a company that divides the mattress into two separate pieces, there should be no motion transfer because you've got two separate sleeping surfaces!
This is referred to as a split mattress.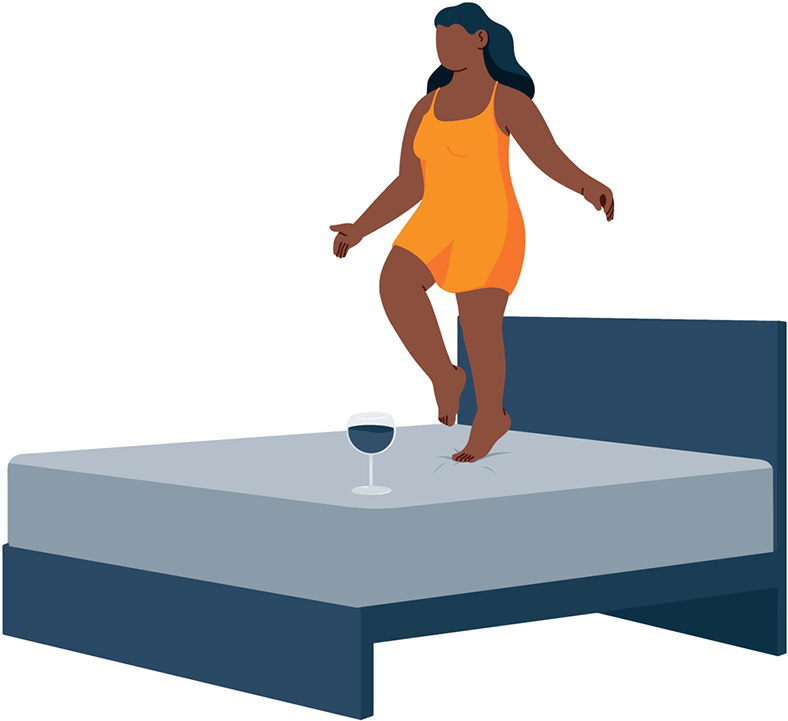 Your Preferences Change
As time passes, the way you sleep may change. Perhaps you were a back sleeper for years, but then you got diagnosed with sleep apnea, and your doctor recommended that you sleep on your side. Or maybe you read that article about how sleeping on your side can cause face wrinkles, so you decided to become a back sleeper.
If you already bought a mattress specifically for your once favorite sleeping position, you might find that your current bed doesn't cut it anymore if there has been a change. However, if you invest in a bed that can be flipped or adjusted easily in-home, your bed should be able to adapt to your needs.
The Case Against a Personalized Mattress
Usually a Higher Price Tag
It used to be that customization didn't come cheap. After all, it's more expensive to make things in small batches with extras bells and whistles that accommodate each person's unique preferences. Sometimes these beds were in the luxury bracket.
However, things change, and technology and manufacturing processes improve. We've found several affordable brands that come in under $1,000. By cutting out the middleman and selling direct to the customer, companies have been able to continually add features while simultaneously passing the savings on to you.
Read More: Top Rated Mattresses under $1000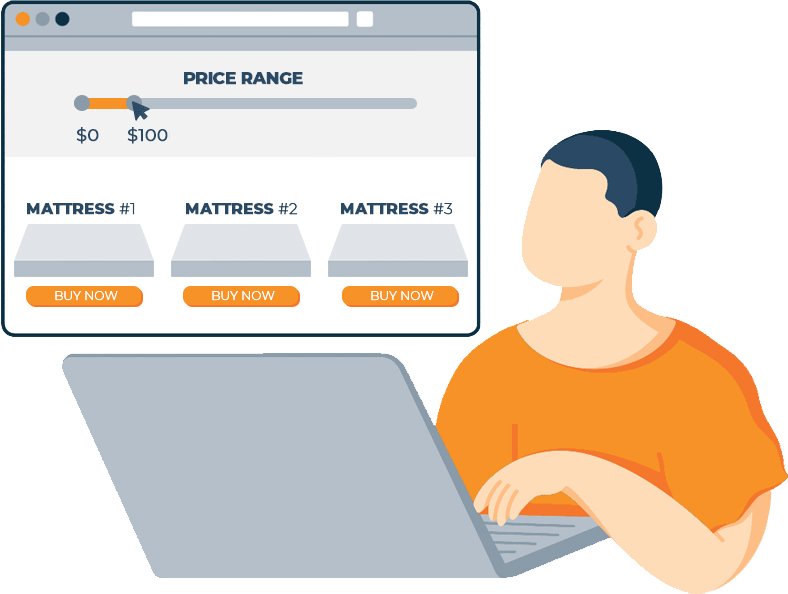 Frequently Asked Questions About Customizable Mattresses
How do I know which firmness is right for me?
There are a few factors that will help you determine the right firmness level for you.
The first is your sleeping position. Exclusive side sleepers tend to need a softer surface to contour their body and relieve pressure points. Pressure points refer to the denser parts of your body, like your hips and shoulders, that press harder on the mattress.
A soft mattress allows side sleepers to sink comfortably into the surface, but a firmer mattress could feel uncomfortable and could even cause numbness and tingling.
Back sleepers can enjoy more of a range of firmness in their mattresses as long as their spine is well supported, but it shouldn't be too firm that it doesn't allow the lower back to feel comfortable. Exclusive stomach sleepers tend to need the firmest of all the mattress types to support the hip area and prevent it from sinking too deeply into the surface, which would arch the back unnaturally.
As far as combination sleepers and their mattresses are concerned, something in the middle or medium-firm category tends to work very well.
Is it better to sleep hot or cold?
It's best to sleep at a temperature that brings about your best rest, but there is science suggesting that a cooler room is better for you than sleeping in a hot bedroom. The logic is that our bodies cool down at night when it's time for bed. By maintaining a temperature that's consistent with what our bodies are telling us, we ease the burden that our internal thermostat has to deal with.
That being said, if a room is either too hot or cold, it has the potential to make you uncomfortable and disrupt your sleep.
Learn More: What's The Best Temperature For Sleep
Conclusion
Mattress companies have done an excellent job of listening to what their customers want. Price decreases, convenience, and extended trial periods have all been commonplace for years. And now, you can even customize a bed to suit your exact preferences. What will they think of next?
Our team covers as many areas of expertise as we do time zones, but none of us started here as a so-called expert on sleep. What we do share is a willingness to ask questions (lots of them), seek experts, and dig deep into conventional wisdom to see if maybe there might be a better path towards healthy living. We apply what we learn not only to our company culture, but also how we deliver information to our over 12.7M readers.
Sleep research is changing all the time, and we are 100% dedicated to keeping up with breakthroughs and innovations. You live better if you sleep better. Whatever has brought you here, we wish you luck on your journey towards better rest.