Transparency Disclosure – We may receive a referral fee for products purchased through the links on our site...

Read More

.
If you strive to be environmentally-conscious, it may be hard to find a mattress that satisfies your needs.
Fortunately, Nest Bedding is a mattress company dedicated to sustainability. The brand's Owl Bed combines a small carbon footprint with a small price.
In this in-depth review of Nest Bedding's hybrid latex Owl Mattress, we break down the features of this bed and analyze key characteristics such as comfort, support, and overall quality. While this bed is offered in three different firmness levels, we concentrate on the medium firmness option in this review, aka the model that should accommodate the widest variety of sleepers.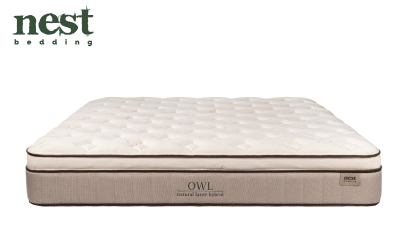 Get the Nest Bedding Owl Bed
This pillow top hybrid latex mattress is crafted using environmentally-friendly materials.
Click the button below to get the Nest Bedding Owl Mattress.
Watch Our Nest Bedding Owl Bed Video Review
Who We Recommend the Owl Bed For:
Eco-friendly shoppers – With both the Natural and Organic options of this product, Nest Bedding goes above and beyond to provide an environmentally conscious choice of mattress. The Natural version has both a GOTS and OEKO-TEX® certifications, while the Organic model boasts a GOTS and two GOLS certifications.


---

Want a traditional innerspring feel – The support layer in this product consists of pocketed coils that enhance the bounce and airflow of a traditional innerspring design by providing a latex comfort layer that enhances both comfort and motion isolation.


---

Folks who share a bed – Those that share their sleeping area with children or a fluffy friend appreciate a bed with great edge support because edge-to-edge support creates more usable space.
Who We Don't Recommend the Owl Bed For:
People who prefer the feel of memory foam – Unlike memory foam, latex is more quick to respond, and while you may sink into the bed, it does not conform as specifically to your body. When your body is cradled by a breathable material such as latex, you're less likely to overheat during the night.


---

Folks who don't like a lot of bounce – If you prefer a bed that lets you sink into it a little more, you probably want to steer clear of this mattress as it is pretty responsive and has a lot of bounce.
First Impressions: Firmness & Feel
Firmness Scale: 4.5/10 (Plush Soft); 6.5/10 (Medium Firm); 8.5 (Firm)
Please remember that firmness is a subjective characteristic and your shape will dictate how you experience a bed. A heavier person whose weight can more easily push through softer comfort and support layers may experience a bed as softer than a lightweight person. The way you are shaped could also play a role here. Consider your weight, shape, and size when evaluating firmness scores.

When it comes to firmness, which is simply how hard or soft a mattress feels when you lie on it, The Nest Bedding Owl mattress has you covered. It is offered in three firmness levels — soft, medium, and firm. The medium firmness is often a popular choice because it hits right in the middle of the scale which can make it a good choice for couples who may have slightly different desires. However, with Nest Bedding's innovative and earth-friendly exchange program, you can try out different firmness levels over the course of owning your mattress.
How Does It Feel?
The porous EcoFlex foam that is quilted into the plush cotton is what you will first come into contact with when the Owl is undressed. This cover provides sleepers with top layer experience similar to an ultra-thin memory foam mattress topper. When getting into the medium version, there is a noticeable amount of bounce, but as you lay down and sink into a gentle cradle, you can feel the comfort and support it provides.
What We Like About the Owl
The bounce – The coils and latex of this mattress combine to provide excellent bounce which makes this bed a great choice for couples and combination sleepers.


---

Multiple firmness options – This mattress is offered in three different firmness options, allowing you to pinpoint the right one for you more easily.


---

Lifetime Renewal Exchange – A first of its kind incentive, this program allows owners of select Nest Bedding, including the Owl, to exchange their current comfort level for a different one. This prolongs the life of the mattress and cuts down on landfill waste.
Our Owl Complaints
Expensive – Although it is made with quality, eco-friendly materials, has an exchange program, and comes with a lifetime warranty that makes it a very good value, it is still on the pricier side. This mattress may be expensive for those looking for a more affordable mattress.


---

May be too firm for lightweight sleepers – The medium-firm option that this review focuses on may be too firm for folks coming in under 120 pounds, and they may not get enough sinkage. Fortunately, they can choose the soft version of this mattress.


---

Not much sinkage – If you are a fan of getting a deep, cozy hug from your mattress, the Owl may not provide enough sinkage to optimize your sleeping experience.
Testing the the Owl Mattress: How it Performed
Considering that people come in a variety of body types, and that these body types don't sleep in the exact same positions, mattresses need to be put through tests to see how they perform for different size bodies and preferred sleep positions. Therefore, we evaluated how the Owl did in categories such as pressure relief, support, and spinal alignment with lightweight, average-weight, and heavyweight sleepers in various sleep positions.
Sleeping Positions for Different Body Types
The Nest Bedding Owl Mattress can hold up to 900 pounds.
| Weight | Side Sleepers | Back Sleepers | Stomach Sleepers |
| --- | --- | --- | --- |
| Lightweight Sleepers (-130 lbs) | ★★☆ | ★★★ | ★★★ |
| Average-Weight Sleepers (130-230 lbs) | ★★☆ | ★★★ | ★★★ |
| Heavyweight Sleepers (+230 lbs) | ★☆☆ | ★☆☆ | ★☆☆ |
Side Sleepers
Lightweight Sleepers – Lightweight side sleepers who like a firmer feel should enjoy the medium firm mattress, but many may find that they get better pressure relief from the softer Owl model.
Average Weight Sleepers – The Owl could cause too much pressure on an average weight side sleepers' shoulders. Those who want more contouring around their shoulders and sides may want to try the plush Owl mattress.
Heavyweight Sleepers – Although this mattress can handle up to 900 pounds, heavyweight side sleepers will probably want to opt for another Nest Bedding mattress. The medium-firm Owl will not provide a lot support and those on the larger side will quickly push through the layers of this bed.
Back Sleepers
Lightweight Sleepers – This mattress should serve lightweight back sleepers very well. This mattress will provide these sleepers with great spinal alignment while the softer layers contour around their lower back.
Average Weight Sleepers – The foam layers of the Owl offer excellent lower back support for average weight sleepers. The coils provide overall support and help keep pressure build up at bay.
Heavyweight Sleepers – Heavyweight back sleepers will likely want to go with the firmer model of this mattress because the medium firmness option probably won't provide enough support. These sleepers will likely push through this bed's layers which could cause pressure build up.
Stomach Sleepers
Lightweight Sleepers – Lighter folks who are fans of stomach sleeping, this bed should easily be considered a winner. Their hips will be supported which will keep their spine aligned, helping them wake pain free.
Average Weight Sleepers – Average weight sleepers may find it difficult to decide if they like the cozy upper layers or the hip supporting middle and base layers better. Either way they are likely to have an enjoyable experience on this mattress.
Heavyweight Sleepers – Stomach sleepers need a bed that won't allow their hips to sag too far into it. Unfortunately, most heavier stomach sleepers won't find that in this option of the Owl.
Pressure Relief & Pain
If you've ever been camping under a blanket of stars, you probably remember what it feels like to sleep without any relief for your curvier parts. Beds that excel in the area of pressure relief have materials that compress and conform, contouring to your body's shape.
Thankfully, this hybrid is one of those beds. The latex and foam layers offer contouring support, while the pocketed coils are designed to flex independently to provide pressure relief in areas like your hips and shoulders.
Back Pain – The Owl should help ward off back pain due to the soft, contouring foam layers that will support the lower back, and the medium firmness that will help alleviate pain from pressure build up.
Hip Pain – An exceptional bed for stomach sleepers, the Owl helps eliminate hip pain by not allowing hips to sag too far into the bed.
Shoulder Pain – Although heavier sleepers may experience shoulder pain due to pressure buildup from pushing through the bed too quickly. However, lightweight and average-weight shouldn't have much to worry about when it comes to shoulder pain after sleeping on this mattress.
Check out our best mattresses for back pain and our top picks for the best mattresses for shoulder and hip pain.
Support
On the far opposite end of the spectrum, sleeping on a surface that is too plush can leave your body sinking through to the layers and ending up in an unnatural position for your spine. That's why balance is key when it comes to what you sleep on.
This hybrid features supportive Dunlop latex that is known for being responsive and durable over time. The coil system is the main support system and offers individualized support by flexing according to your body weight and shape. Coil systems also add to the longevity of the mattress since they don't break down over time like foam.
Motion Transfer
On its own, latex does a decent job at maintaining motion isolation, and when coupled with the pocketed coils, motion transfer from one end of the bed to the other is exceptionally good for a latex hybrid. Unlike interconnected coil units, pocketed coils compress individually, preventing motion from traveling. Most sleepers should find they are not disturbed when sleeping with a partner on this mattress.
Temperature Regulation / Cooling
Unlike traditional foams, latex doesn't retain heat. It is also aerated with holes throughout that allow trapped heat to escape. Between the latex and the individually pocketed coils, this mattress should have good airflow that helps to keep sleepers cool throughout the night.
Performance for Couples
The Owl should make a great mattress for couples. The medium-firmness has wide appeal, and will likely work for sleep mates who may not completely agree on a firmness level. Additionally, the foam layers do an excellent job at keeping motion isolated which will be beneficial if one partner is a restless sleeper. Additionally, sexually active couples should appreciate the good bounce and easy repositioning.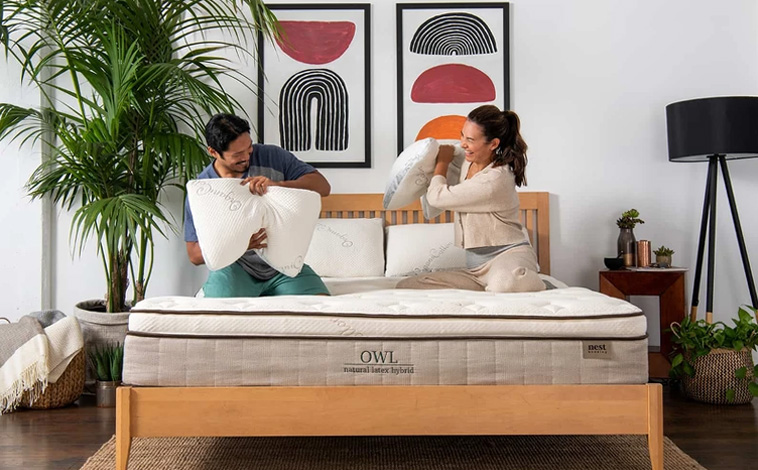 Preference-based Features
Multiple Firmness Options
Nest Bedding offers both hybrid models in three levels of firmness so shoppers can choose the option that best matches their body, weight, and sleep style.
At-home Customization
The zipper around the comfort layer allows you to change out the latex if you decide you need a different level of firmness or if it becomes less responsive over time.
Exceptional Edge Support
The Caliber™ Edge technology incorporated into this mattress provides a reinforced edge support that keeps you safely tucked in.
When sitting on the edge you should immediately feel supported by the steel coils. Compression on the cotton cover and top comfort layer is normal, but when lying on the edge, your weight should be comfortably supported by the strong coils below the surface.
High Bounce
The combination of latex and coils provides a good amount of bounce and responsiveness that should aid sleepers in repositioning. This could be a good fit for sexually active couples looking for a mattress that has a good deal of bounce.
Eco-Conscious Materials
Nest Bedding is dedicated to lowering its carbon footprint by offering products made with eco-conscious and organic materials. These models feature natural or organic latex, organic cotton, Joma wool, eco-friendly foams, and coils. In addition, they do not contain any chemical flame retardants and have multiple certifications.
Explore our picks for the best organic mattresses.
Adjustable Base Compatible
Construction: What's Inside the Owl Bed?
The non-removable cover is made with organic cotton and Joma wool and quilted with a thin, 1.5-inch layer of EcoFlex foam. Overall, the Nest Bedding Owl stands 12.5 inches tall and has 4 unique layers:
The first layer is 3 inches of Medium OEKO-TEX® Dunlop Latex. This responsive comfort layer conforms to curves and provides surface-level bounce to assist repositioning sleepers.
The second layer is a 1-inch layer of transitional Eco-Friendly Comfort Foam that helps to ease the sleeper's body into the support layer beneath.
The third layer is made of a 6-inch Caliber™ Edge pocketed coil system. This support layer adds comfort by providing deep compression support and supplementary airflow through the mattress. This helps reduce heat, so you can rest cool and comfortably.
The base layer consists of a 1-inch layer of transitional foam that acts to support and protect the coil layer. This foam is denser than the first layer and acts as an additional casing for the mattress.
The perimeter is reinforced with fabric encased steel coils that provide additional edge support. These coils are firmer than those in the center of the mattress.
The zipper opening is designed to allow sleepers to access the initial comfort foam layer for rotating and flipping (recommended every six months) or to update/change the feel of your bed.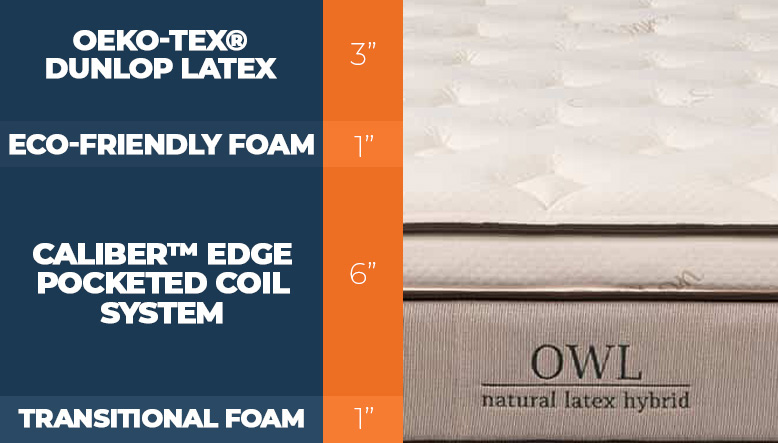 Unboxing & Off-Gassing
This Nest Bedding model is compressed in a box and delivered to your door. Once inside your home, four heavy-duty handles should make installation a breeze.
It is designed to rest on a flat, rigid, non-flexible foundation, and the manufacturer offers two suitable products on their website. It is also compatible with an adjustable base. You may notice a slight smell as your mattress begins to inflate. This is a normal part of the process and should dissipate quickly.
Certifications
CertiPUR-US® Certified – The foams in this bed are CertiPUR-US® certified. CertiPUR-US® is a third-party program that ensures the foams meet rigorous health and safety standards. This means they don't contain harmful substances like ozone depleters, PBDEs, heavy metals, formaldehyde, and phthalates. They should also have low volatile organic compound (VOC) emissions.
OEKO-TEX® Certification – The latex surpassed meticulous safety regulations that test for harmful chemicals.
Organic Latex Model Certifications – The organic model sports a GOTS and two GOLS certifications. GOLS confirms that the latex was made from over 95% of certified raw organic substances. GOTS is an international third-party standard that qualifies the cotton used in this product as an organic textile.
Noteworthy Updates:
Nest Bedding has implemented a Lifetime Renewal Exchange program. The program is an industry-first in the bedding retail space.
Under the program, customers who purchase a mattress from the company have the option to exchange their current comfort layer for a new one.
The Lifetime Renewal Exchange applies to select Nest Bedding mattresses, which include the Owl, Sparrow, and Finch.
The program aims to help expand the lifespan of the mattresses while also minimizing waste in landfills from discarded beds.
Coupons, Trials, Warranties, and Shipping
Shipping – Shipping is free in the contiguous United States and Canada. For those who want a traditional shipping experience, white glove delivery is available upon request.
Trial – There is a 365-night in-home trial which begins the day of delivery.
Warranty – This product comes with a Limited Lifetime Warranty.
Lifetime Renewal Exchange – Shoppers who purchase an Owl mattress can exchange their bed's current comfort layer for a new one to help extend the lifespan of their mattress.
Return Policy – If after trying your Owl Mattress for 30 days you decide that it is not right for you, you can contact Nest Bedding and exchange it for another comfort layer. However, if an exchange isn't an option for you, Nest Bedding will work with you for return options.
Sizes & Prices
| Size | Dimensions (inches) | Price (w/o discount) |
| --- | --- | --- |
| Twin | 38" x 75" x 12.5" | $1,492 |
| Twin XL | 38" x 80" x 12.5" | $1,759 |
| Full | 54" x 75" x 12.5" | $2,079 |
| Queen | 60" x 80" x 12.5" | $2.346 |
| King | 76" x 80" x 12.5" | $2,666 |
| Cali King | 72" x 80" x 12.5" | $2,666 |
| Split Cali King | 36" x 84" x 12.5" (per side) | $1,759 (per side) |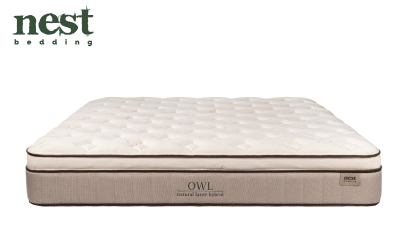 Get the Nest Bedding Owl Bed
This pillow top hybrid latex mattress is crafted using environmentally-friendly materials.
Click the button below to get the Nest Bedding Owl Mattress.
Frequently Asked Questions
Is the Nest Bedding Owl mattress a good bed?
Yes! The Owl mattress is a high quality mattress that is made from sustainable, eco-conscious materials. It is offered in a variety of firmness options, and Nest Bedding offers a unique exchange program that allows people to exchange the top comfort layer to prolong the mattresses life and cut down on waste.
Can I flip my Owl mattress?
No, you shouldn't flip the Nest Bedding Owl mattress. This mattress is designed with distinct sections with the most dense layer on the bottom. If the Owl is flipped, you will be sleeping on a firm and likely uncomfortable layer.
What if I don't like my Owl mattress?
Although this is a quality mattress, it is understandable that it may not be suitable for everyone. Nest Bedding provides a 365-night trial so that you can make sure that it is right for you. They ask that you sleep on it for at least 30 days, but after that you can exchange one comfort layer for a different one. However, if you simply want to return the mattress, Nest Bedding will work with you to do that.
The Owl vs Other Brands
The Owl vs Saatva Classic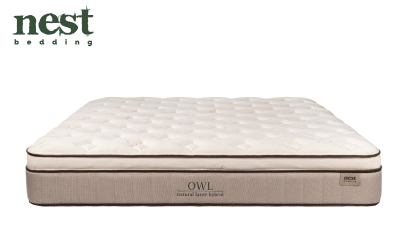 Check pricing and availability by clicking the button below
12.5-inch profile
Hybrid mattress
365-night trial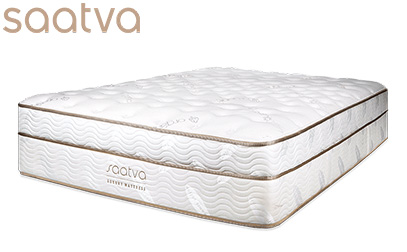 Check pricing and availability by clicking the button below
11.5 or 14.5-inch profile
Hybrid mattress
365-night trial
Who We Recommend the Owl For
Eco-conscious folks
Folks who sleep hot
Back sleepers
Who We Recommend the Saatva For
People who want more customization
Back, side, and stomach sleepers
Sleepers who like innerspring beds
Read our Saatva mattress review if you think the Saatva is right for you.
The Owl vs Nectar Hybrid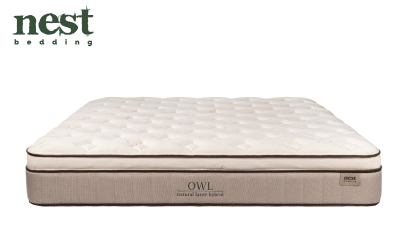 Check pricing and availability by clicking the button below
Provides pressure relief
Hybrid construction of latex, foam and coils
365-night trial period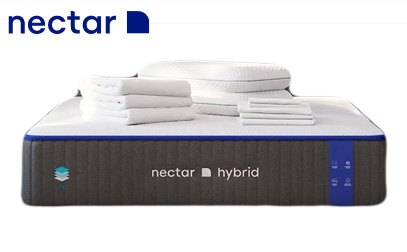 Check pricing and availability by clicking the button below
Relieves pressure
Memory foam and coils
365-night trial period
Who We Recommend the Owl For
Those who reposition through the night
Couples
Those interested in an adjustable bed
Who We Recommend the Nectar Hybrid For
Fans of memory foam
Co-sleepers
Back sleepers
Read our Nectar Hybrid mattress review if you think the Nectar is right for you.
The Owl vs Other Nest Bedding
The Owl vs The Quail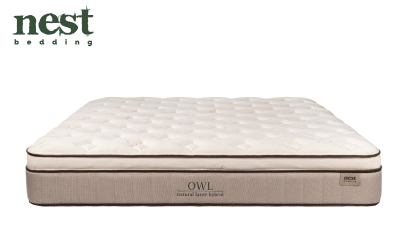 Check pricing and availability by clicking the button below
Hybrid construction
Three firmness options
12.5-inch profile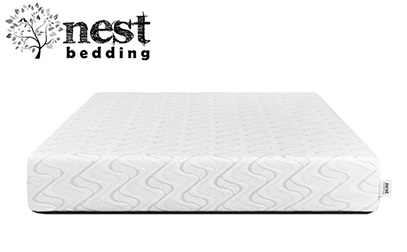 Check pricing and availability by clicking the button below
All-foam model
Two firmness options
10-inch profile
Who We Recommend the Owl Original For
Stomach sleepers
Co-sleepers who need motion isolation
Average-weight individuals
Who We Recommend the Quail For
Those looking for a bed with good bounce
Folks who sleep with a restless partner
Back sleepers
Read our Quail mattress review if you think the Quail is right for you.
Overall Summary
The Nest Bedding Owl is an eco-friendly mattress that provides exceptional comfort and support at a fair price.


The deeper coils help provide additional pressure relief in the shoulders and hips for side sleepers. For those that have lighter weight considerations or just like a softer bed, they may feel that they are not sinking into the mattress as much as they might desire. For these individuals, we would recommend the plush option.


Back sleepers should enjoy the pressure relief from both their lower spine and shoulders that the pocket coils provide, while the top latex layer conforms to their body shape to provide the desired comfort. The firm might be a good option for individuals who prefer to sleep on top of rather than cradled in the bed.


The coil support system is also great for stomach sleepers. The firmer foam in the top layer should help maintain healthy spine alignment. For those who have heavier middles, it is possible they might enjoy the firm option more than the medium because it keeps their hips level.


The latex foams and coils should provide a good amount of bounce and responsiveness for sleepers who like to move around a lot in their sleep. The medium would likely be the best fit for combination sleepers as it provides the most versatility for comfort and support, but highly specific needs in either position might not be as well accommodated.


Couples have unique needs when it comes to sleep, but either of these options should meet nearly all of them. With materials that provide exceptional cooling, bounce, motion isolation, and edge support, couples should be very pleased. The ability to internally split the King or Cali King size is another nice feature for couples with different sleeping preferences.


These hybrids weren't designed specifically for heavier folks, they do have a 900-pound weight lime, and they have plenty of features that make them suitable for sleepers of all shapes and sizes. With that being said, heavier sleepers may find better support with the firm option as that will give them better support and prevent the experience of "bottoming out."


Folks on the lighter side (weighing less than 120 pounds) often experience mattresses as too firm. The medium firmness level should work well for some lightweight sleepers, but with the option for a soft level of firmness, lighter individuals should be able to sink in deeply enough to experience the pressure-relieving properties of the individual coils, even if they sleep on their side.


The hybrid construction of the Owl should serve average weight sleepers of all sleep positions well. Back sleepers will likely enjoy how the foam layers contours around their lower back and stomach sleepers should find that their hips are supported which will help keep their spines aligned. Side sleepers may experience a little pressure build up, but overall it is a good mattress for folks who prefer this sleep position.
Saatva packs a lot of value into their beds, and their durability promises a return on your investment. Similar beds in retail stores can cost thousands in comparison to what Saatva offers for much less, and you still are getting a luxurious feel and free professional delivery.
Our Verdict
The Nest Bedding Owl hybrid mattress is a high-quality, eco-friendly bed that will work for a lot of body types and sleep positions. We like that the company stands by the construction of their product by offering a lifetime warranty and providing a year long sleep trial.
The combination of soft latex layers and supportive coils make this mattress an exceptional choice for back and stomach sleepers, and the pressure relieving properties even provide a good sleep environment for side sleepers as well. Additionally, the implementation of the Lifetime Renewal Exchange program is a big pro for this mattress. This allows you to exchange a current comfort layer for another.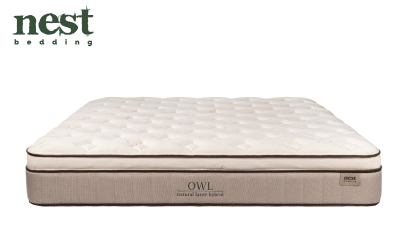 Get the Nest Bedding Owl Bed
This pillow top hybrid latex mattress is crafted using environmentally-friendly materials.
Click the button below to get the Nest Bedding Owl Mattress.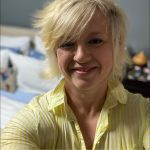 Sosha Lewis is a staff writer for Sleep Advisor.  Lewis is happy that she is able to combine her love of sleep with her love of writing. Lewis also has had articles featured in The Washington Post, Huffington Post, MUTHA Magazine, Charlotte Magazine, and The Charlotte Observer. Her weekly column, Soshally Awkward, is featured on the nationally-syndicated radio show, Bob & Sheri.
She lives in Charlotte, NC with her husband, daughter, and lovable trash-panda of a dog, Olive.