The comparison between Nectar and the TEMPUR-Pedic TEMPUR-Cloud® mattress is one between affordability and responsiveness, and luxury and contouring. Well, of course, it's a lot more complicated than that.
That's why in this review we'll go into all of the details of these two all-foam mattresses, comparing their firmness, support, sinkage, bounce, motion isolation, cooling, construction, and policies. By the end of this short article, you should have a clear idea of which of these two mattresses is a better fit for you.
Product
Firmness
Trial Period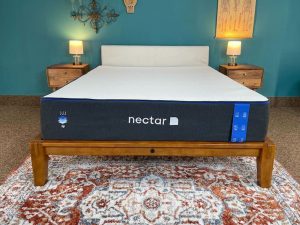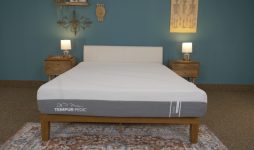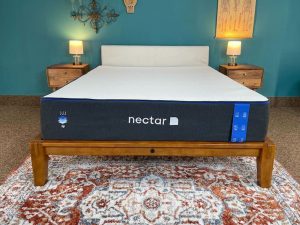 Firmness
Medium-firm: 6.5/10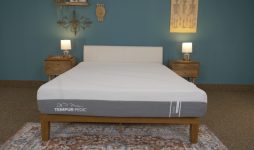 Product
TEMPUR-Cloud Mattress
Firmness
Medium-firm: 6.5/10
Watch Our Video Comparison of the Nectar vs. TEMPUR-Cloud®
Comparing Nectar vs TEMPUR®: Top Similarities
Beds-in-a-box – Both the Nectar and TEMPUR-Cloud® are bed-in-box mattresses – ordered online and shipped to your door, compressed into a box. This makes it easier to unbox and set up the bed on your own time.
Medium-firm – Both mattresses rank at a 6.5 out of 10 in terms of firmness, making them medium-firm beds. These are generally a good fit for the majority of sleepers.
All-foam mattresses – The Nectar and the TEMPUR-Cloud® are each made entirely of foam and have a traditional memory foam feel, even if the Nectar is a bit more springy.
Comparing Nectar vs TEMPUR®: Key Differences
Price – Even though the TEMPUR-Cloud® is the lowest cost option from TEMPUR-Pedic®, depending on the size you choose, it is still about twice as much as the Nectar.
Cooling ability – The dense, sinking memory foam used in TEMPUR-Cloud® makes it sleep hot, whereas the gel infused into the memory foam in Nectar allows it to sleep cooler.
Company policies – We'll get into more detail on this later on in the review, but overall, Nectar has a longer trial period and warranty than the TEMPUR-Cloud®.
Comparing Firmness, Support & Feel
Firmness
Both the Nectar and the TEMPUR-Cloud® rate at a 6.5 out of 10 on the Sleep Advisor firmness scale, in which one is soft as a cloud, and 10 is as hard as lying on a wood floor. The TEMPUR-Cloud® does feel slightly denser and more supportive, whereas the Nectar is a bit softer but more responsive. This means the TEMPUR-Cloud® may work a bit better in supporting bigger bodies than the Nectar.

Support
The TEMPUR-Cloud® is slightly more supportive than the Nectar. This is because its memory foam material is denser, so while you'll sink into it, it will likely feel a bit more solid beneath you. This makes it a better choice for those who are heavier, but both beds should be plenty supportive for light to average-weight sleepers.
The edge support on these foam beds isn't as good as, say, an innerspring mattress, but the edges should be fine for most light to average-weight sleepers.
Feel
The TEMPUR-Cloud® has a slightly more luxurious feel to it than the Nectar, with its soft, knit cover and dense, slow-moving memory foam. The foam on the TEMPUR-Cloud® contours the shoulders, hips, and back, so it feels good on both the side and back.
The Nectar feels markedly cooler than the TEMPUR-Cloud®, which can tend to trap heat. It is also a little bit more responsive. Both feel too soft for most stomach sleepers.
Comparing Sinkage and Bounce
Neither of these mattresses is going to be particularly bouncy since they lack an innerspring layer. That said, the Nectar's foam does have a slightly bouncier feel than the TEMPUR-Cloud®'s. This means when you push down into it, the material is quicker to regain its original shape, making it a nice mattress for combination sleepers.
The TEMPUR-Cloud®, though, has a deeper hug and more sinkage, typical of a slow-moving memory foam mattress. This also gives it excellent motion isolation, making it a great bed for couples who don't want to disturb their partner when they move.
Comparing Motion Transfer
Motion transfer describes how much you'll be able to feel when somebody moves on the other side of the bed – an important factor for those sharing a bed. Since both of these beds lack bouncy springs, they both have very little motion transfer. In other words, they isolate motion well.
That being said, the TEMPUR-Cloud® has slightly better motion isolation, so if you share the bed and you're a very sensitive sleeper, you might pick the TEMPUR-Cloud®. Both beds, though, should be fine for most couples who share a bed.
Comparing Cooling
This is one of the major differences between the TEMPUR-Cloud® and the Nectar. Since the TEMPUR-Cloud® is made from such a dense, slow-moving memory foam, it will trap some heat. This shouldn't be an issue for those who don't sleep hot, or even better, sleep cool.
For those who heat up at night, though, the Nectar is a better choice. It includes a cooling gel in its memory foam, which makes a big difference. This might also be something to take into consideration if you share the bed as it's easier to overheat at night with two people rather than one.
Visit our top cooling mattress picks
Comparing Construction (Materials & Quality)
Nectar Construction
The first thing you'll notice about the Nectar's flagship mattress is the cool-to-the-touch poly-blend cover. This cover designed to be breathable, and quilted to its other side is a cooling gel memory material. Beneath this cooling cover are 12 inches of foam, divided up into three layers.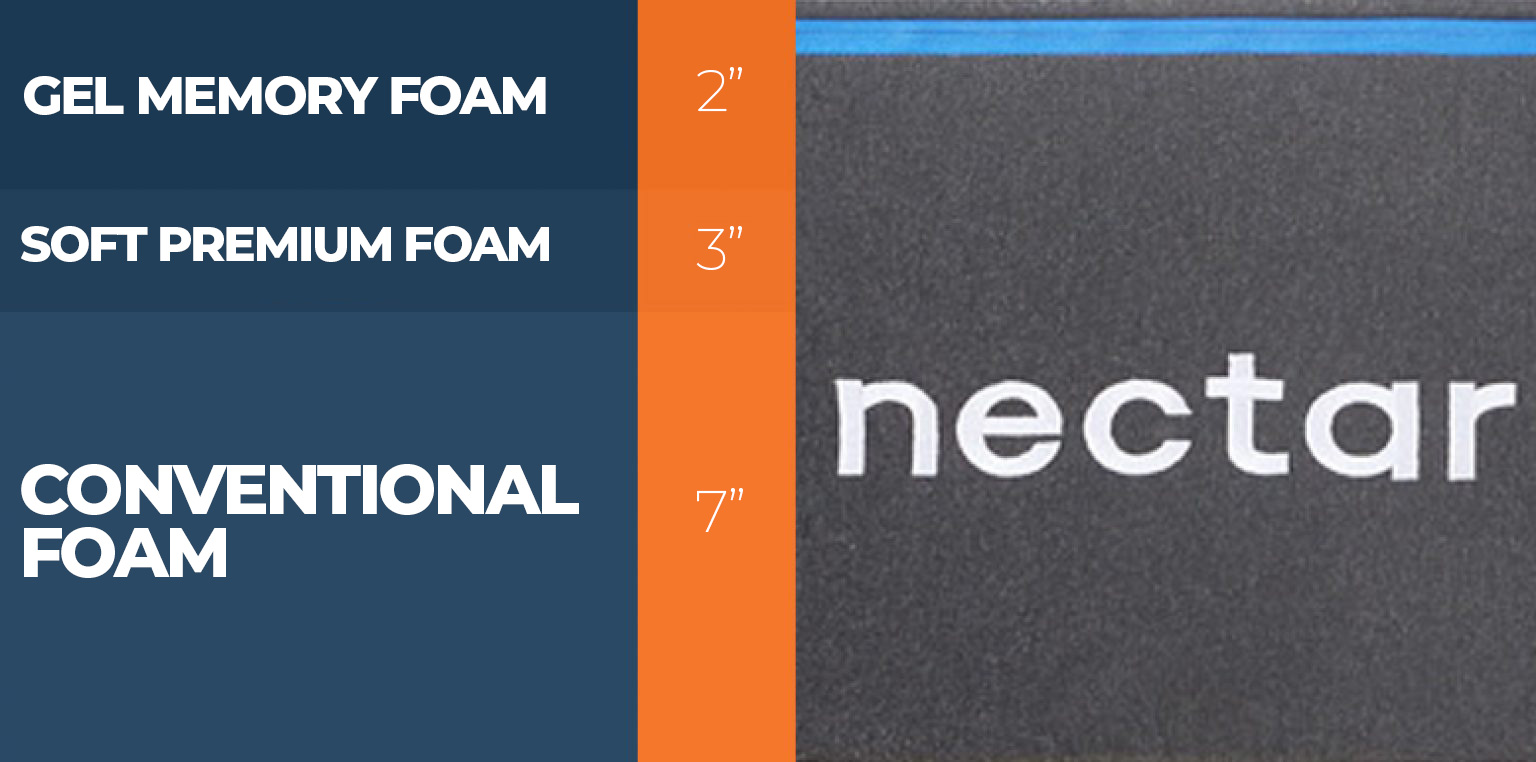 The top layer is made of 2 inches of memory foam. This foam is also infused with gel to help reduce heat, which can otherwise be an issue with memory foam. The foam in this comfort layer is soft and designed to contour the shape of your body.
The center layer is made up of 3 inches of conventional foam. This firmer layer offers more support and allows for easy repositioning throughout the night.
The bottom layer is the firmest layer, made up of 7 inches of conventional foam. This provides the bed with its overall shape and durability.
TEMPUR-Cloud® Construction
The TEMPUR-Cloud® is a bit thinner than the Nectar, measuring just 10 inches high. Even though its cover is designed to be moisture-wicking, the foam inside the mattress doesn't contain cooling gel, so you'll notice right off that it feels warmer to the touch.
The TEMPUR-Cloud® is also made up of three foam layers: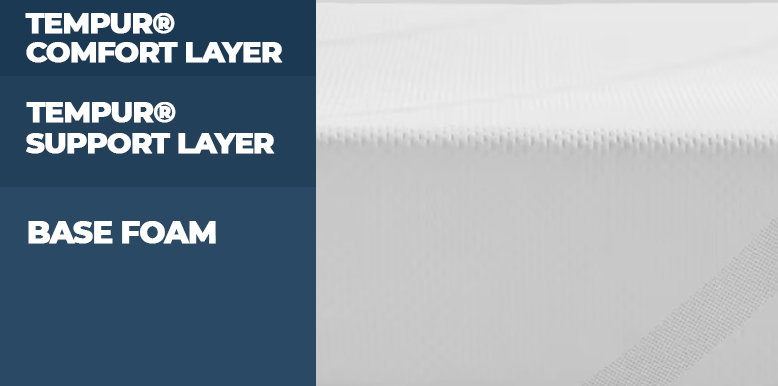 The top layer is made with slow-moving TEMPUR® material. This was first invented by NASA in the 1970s and is truly the original memory foam. This proprietary foam is exclusively used in TEMPUR-Pedic mattresses, and it is particularly soft, cushioning, and contouring to the body.
The second layer is made from a firmer unit of TEMPUR® foam. This layer provides more pressure relief and contouring and also acts as a transition layer from the softest top layer to the firmest bottom layer.
The base layer is made from the firmest TEMPUR® foam. It provides durability, shape, and support for the entire mattress.
Comparing Company Policies & Price
Warranty – The Nectar comes with a lifetime warranty, amd TEMPUR-Cloud® comes with a 10-year warranty.
Shipping – Both mattresses ship for free within the contiguous U.S.
Trial Period – You can try out both mattresses for a period of time to make sure they're right for you. Nectar allows for a trial of 365 nights, whereas Tempur-Pedic's trial period is 90 nights.
Returns – If you decide you don't love either of these mattresses during your trial period, you can return them for free and receive a full refund. With Nectar, there is a fee for returns from Hawaii and Alaska. With Tempur-Pedic, they ask that you try out the mattress for a minimum of 30 nights before initiating a return.
Price – Nectar is significantly less expensive than the TEMPUR-Cloud®. While a Queen-sized Nectar would cost you 1,049 dollars, the same-size TEMPUR-Cloud® 1,999 dollars.
Nectar vs. TEMPUR-Cloud® Compared Side-by-Side
Final Thoughts
We'd love to be able to tell you, "This mattress is better than this mattress," just to make things simple. Of course, it's more complicated than that, and it really does come down to what you want in a mattress. If you're looking for a less expensive, all-foam mattress that will keep you cooler at night – we'd say, go for the Nectar.
If you want that cozy, traditional, extremely pressure-relieving memory foam feel, go for the TEMPUR-Cloud®. This bed is more expensive, but its quality and durability are unparalleled.
Either way, these are two great options for those looking for an all-foam mattress.
Product
Firmness
Trial Period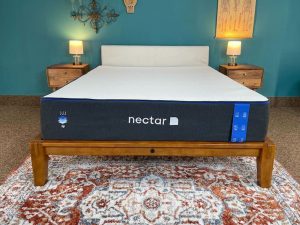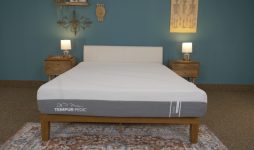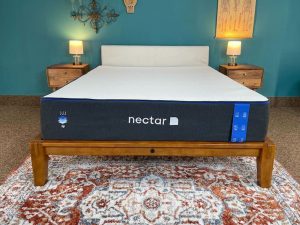 Firmness
Medium-firm: 6.5/10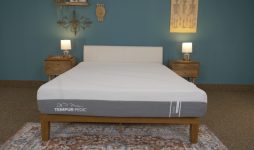 Product
TEMPUR-Cloud Mattress
Firmness
Medium-firm: 6.5/10
More Nectar Comparisons:
More Tempur-Pedic Comparisons: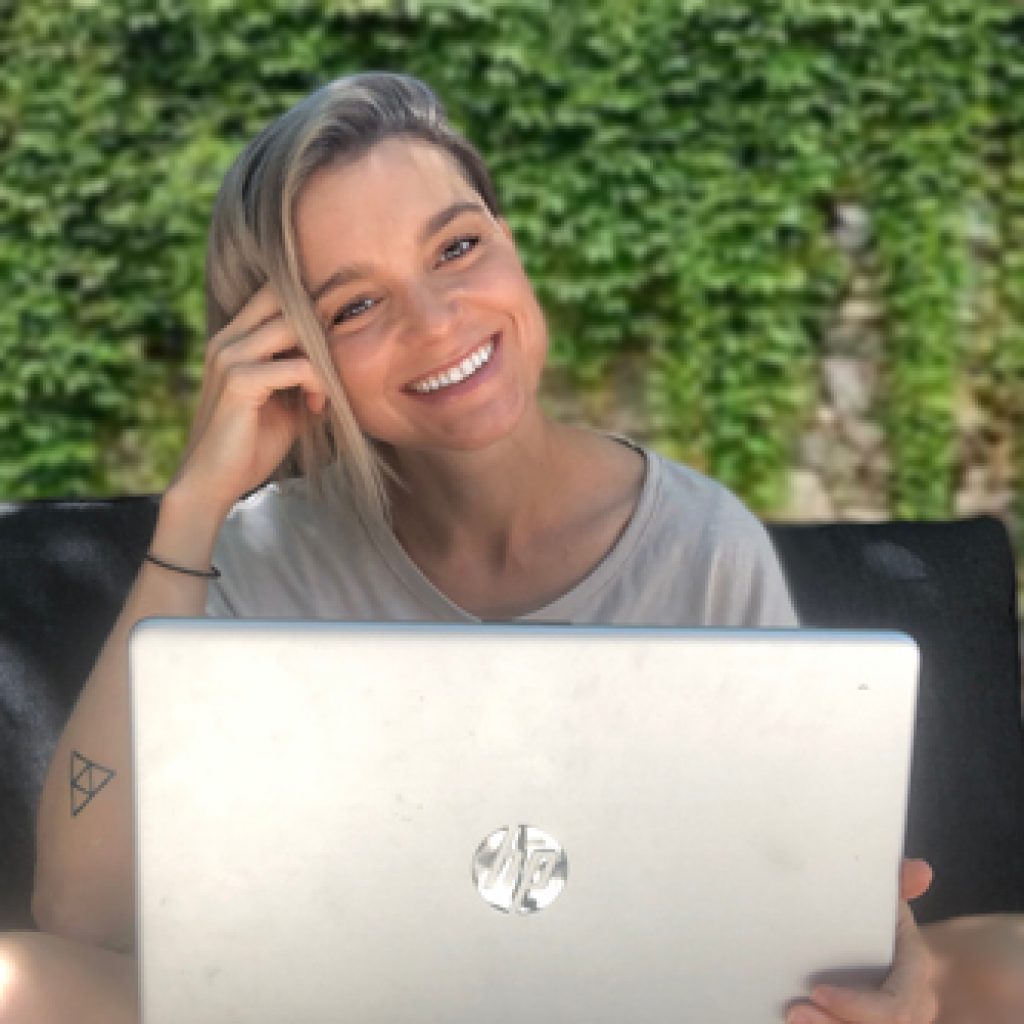 Natalie G.
Writer
About Author
Natalie is a content writer for Sleep Advisor with a deep passion for all things health and a fascination with the mysterious activity that is sleep. Outside of writing about sleep, she is a bestselling author, improviser, and creative writing teacher based out of Austin.