Transparency Disclosure – We may receive a referral fee for products purchased through the links on our site... Read more here.
Disclaimer - Nothing on this website is intended to be a substitute for professional medical advice, diagnosis, or treatment... Read more here
Do you have pain in your legs that dissipates when you move them?
Or maybe you have a weird, involuntary urge to move your legs. They might even twitch, too.
If this sounds like you, you might have something called Restless Leg Syndrome (RLS). Don't worry; it's not fatal or contagious, but it is inconvenient. It can also negatively affect your sleep.
If RLS is keeping you up at night, it can end up being a vicious circle of insomnia and discomfort. Your RLS can cause you not to sleep well. Then, the fact that you're not resting well can exacerbate the condition.
While we don't have a cure, we hope to help you find great mattress for your restless leg syndrome. In this article, we'll share top picks and give you some helpful tips that may help ease your symptoms at night.
Top 5 Beds for RLS Reviews
Nectar –
Exceptional Value
CertiPUR-US® Certified
365-Night Trial
Forever Warranty
While traditional memory materials could make you feel hemmed in and overly warm, Nectar's updates to this classic material and affordable prices may be just the thing for those looking to improve their rest while reducing motion transfer.
Updates to the foam have made them less likely to retain heat and the overall feel is more responsive, making it easier for you to change positions or move your restless legs without feeling stuck.
What's special about it? Nectar makes it easier to invest in your sleep future by keeping prices low while still offering exceptional value. Eliminating middlemen with an online sales model was one step and rolling their beds into easier to ship boxes was another, allowing their customers to enjoy showroom quality at accessible price points.
To further add to their beds' value, this company offers one of the most generous sleep trials on the current market, giving you a full year to decide if Nectar is the perfect fit for you and your sleep needs. As an added bonus, there's also a Forever warranty and all foams in the bed are tested to rigorous safety standards by two different third-party organizations.
Looking to learn more? Check out our full review for Nectar mattress.
The Casper –
Spinal Alignment
CertiPUR-US® Certified
100-Night Trial
10-Year Warranty
Designed and Assembled in the USA
Casper's design was developed to fit a large variety of body shapes and weights so that they do not develop pressure points and remain aligned.
Their research scientists are always at work, looking for the best ways to improve your night's rest with a versatile mattress, which can also reduce motion transfer.
What's unique? The transitional layer of foam in the center of Casper was recently revamped with a zoned support system that adds some additional firmness in the central third of the mattress. If your midsection is a bit heavier than the other parts of your body, you can still rest comfortably level with a rest-promoting spine alignment system.
The comfortable balance of pressure relief and support should help your body to relax, and if you do need to move your legs, you shouldn't have to worry about disturbing your partner's sleep due to the bed's excellent motion isolation. What's more, your partner's body should also be well accommodated because the versatile feel of the bed can adapt to different body shapes and sizes.
Need more info? Read our complete Casper bed review.
Zenhaven –
Dual-Sided Latex
Dual-Sided
Certified Organic Cotton
OEKO-TEX® Certified
180-Night Trial
20-Year Warranty
Made in the USA
If you've been shopping around for latex, you know that its bounce, soft body conformance, and quick-responsiveness could be an ideal choice for someone with Restless Leg Syndrome since the material should allow you to move easily while still helping your body to relax. Zenhaven, which is a luxury eco-friendly brand from the Saatva Company, delivers a dual-sided latex that helps to increase the likelihood of a perfect fit for your individual needs.
What stands out? Depending on which side you choose, you could experience a firmer, on-top-of-the-mattress feel with the Gentle Firm or be nestled deeper inside the materials in the Luxury Plush. You have the opportunity to try both out to see which works best for you, and on either side, you should experience the same zoned pressure relief that works to distribute your weight evenly.
This product is made from four layers of naturally-sourced Talalay latex, which uses a process that produces a more consistent and springy foam that responds quickly to pressure and makes it easy to navigate. The entire construction is wrapped in a cover made from an organic cover that breathes easily, and this helps keep the temperature regulated along with the temperature neutral latex that is aerated.
Interested in more details? View our complete guide for Zenhaven mattress.
Layla –
Great Pressure Relief
Dual-sided Firmness
CertiPUR-US® Certified
120-Night Trial
Lifetime Warranty
Made in the USA
If the key to your ultimate relaxation lies in eliminating your pressure points, the classic memory feel of Layla may be right up your alley.
High-tech cooling technologies like copper infusions and gels in the cover should help you remain cool, regardless of which side of this dual-sided memory bed you try.
By using copper in the surface layer of foam on both sides of the bed, the designers of Layla are giving you one of the most efficient heat conductors known to man which allow heat to travel quickly away from your body so you should not overheat on your mattress. The bed also gives you two different memory bed feels: a firmer feel that should keep you floating on top of the bed and a much softer feel that allows you to slowly sink down inside the foams.
What stands out? Memory foam excels at pressure relief and motion isolation, and these features in Layla can help your own muscles relax while helping to reduce possible disruptions to your partner's sleep if your legs do happen to move a lot. While both sides offer a terrific feel, note that the Firmer side may be easier to move around in than the Softer side.
Want to know more? See our full Layla mattress review.
CertiPUR-US® Certified
120-Day Trial
10-Year Warranty
Made in the USA
If you sleep hot, your experiences with old-fashioned memory foams may leave you reluctant to try it again, but modern foams have come a long way towards keeping things cool and dry on the surface of your bed, even if you sleep hot.
Muse has incorporated a couple of different features that help keep the bed exceptionally cool from cover to base.
What's to love? The cover of the bed is outfitted with Cooling Wire Fabric technology that feels cool when you touch it and also helps to wick away moisture that may accumulate on the surface of the bed. This cooling is further enhanced by the first layer of comfort foam that was designed to regulate temperature.
With less worry of overheating, you're free to enjoy the motion isolation and deep hug of comfort of this mattress that can wipe away all of your pressure points for a more restful sleep. The supportive 8-inch base works well to keep your spine in a level position.
Interested in exploring further? Visit our in-depth guide for Muse mattress here.
Restless Leg Syndrome Buyer's Guide
Consider Memory Foam
A top choice for people suffering from RLS is a memory foam mattress. While the type of bed you choose won't overtly alter your symptoms, it can majorly affect your partner if you sleep with one.
A memory foam surface excels at something called motion isolation. You've seen the commercials where someone drops a bowling ball on to a mattress with a full glass of wine resting on top. Invariably, the wine glass on the bed that's being featured in the commercial doesn't budge.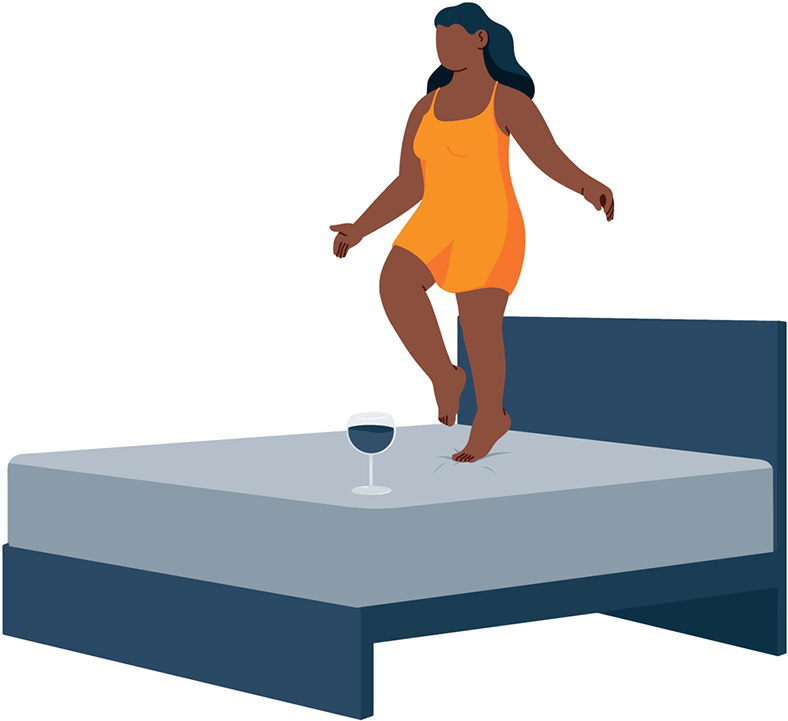 This odd illustration of motion isolation shows that if one partner tosses and turns, then the other person isn't likely to be disturbed. They'll be able to continue their bedtime uninterrupted.
If you have Restless Legs Syndrome and you sleep with someone nightly, a memory foam mattress or foam in general may just be a must. Anything else can run the risk of causing your partner to wake up every time you move around.
Another interesting point to note is that memory foam tends to have the highest customer satisfaction rate among reviewers. Whether you're in pain or not, everyone wants a comfortable bed to sleep on.
Avoid Innerspring
Innerspring beds, also referred to as coil, are sometimes the worst choice for people with RLS. As we mentioned earlier, you likely need a sleeping solution that limits motion transfer. If you're tossing, turning, and twitching, it's best to do so without waking up your partner.
Because of the coils inside of the mattress, innerspring beds have a lot of bounce. This means that whenever you move or get up, you're affecting the springs around you. If you're having a particularly rough night, your partner may find themselves awake right along with you, which could put stress on any relationship. However, if you are really tied to this type, there are individually pocked solutions that help to isolate movement more.
Medium Level Firmness
It might be tempting to consider an extra soft plush mattress or a firm, stiff one, but the reality is that something more in the middle will likely suit you best.
This is because people with RLS tend to toss and turn, switching positions frequently throughout the night. While we typically recommend different firmness levels depending on someone's preferred sleeping position, this principle doesn't necessarily apply to someone with RLS.
Because you're tossing and turning, you may be spending time on your side, your stomach, and your back. Given the variety, you may find you do best with a mattress that universally accommodates all three. Therefore, a medium-firm bed can be an ideal choice.
Find Out More: Ultimate Mattress Firmness Guide
Look For an Adjustable Bed
It can be a challenge to get comfortable, especially if you're having one of those nights where your body just isn't cooperating. However, adjustable beds can allow you to move more freely and get comfortable.
As an added bonus, look for an adjustable bed that has a built-in massage feature. If your RLS is causing pain, a little massage may offer just the relief you need.
Consider a Heated Mattress Pad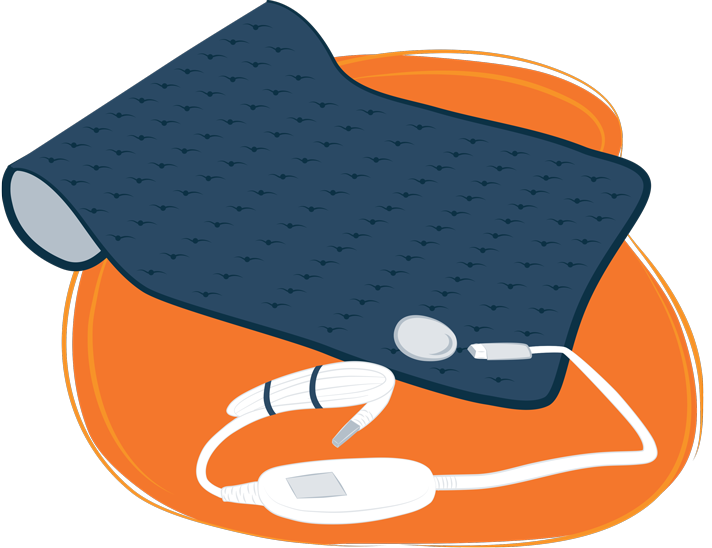 Applying heat to sore muscles helps them relax. Therefore, a heated mattress pad that covers the length of your body can be a favorite hack. It provides a similar calming effect that a hot bath has. Your entire body should relax and prepare for sleep.
With a heated pad, you can get all the benefits without having to get wet. This is especially beneficial if the symptoms of RLS extend beyond your legs and into your torso and arms. It's nearly impossible to buy enough compresses to cover you completely, so a pad that warms everything at once can make life so much easier.
Try a Weighted Blanket
Weighted blankets are helpful for a wide variety of ailments, including autism, ADHD, and RLS. Sleeping with a weighted blanket is almost like getting a mini massage because it applies subtle pressure to parts that are hurting.
The main reason this works, however, is that the pressure from the blanket has a soothing and comforting effect. In response to this bit of weight, your body releases serotonin, which is a hormone responsible for happiness.
Serotonin is also the precursor for melatonin, the sleep hormone. This means that the serotonin spike from the blanket gets converted into a natural sleep aid.
Frequently Asked Questions
What's the best sleeping position for RLS sufferers?
We wish we had a clearer answer for you on this one, but the reality is that there's no single sleeping position that's better than the rest. The best thing you can do is find something that's comfortable for you and know that you might need to switch a few times (or more) during the night.
What causes RLS at night?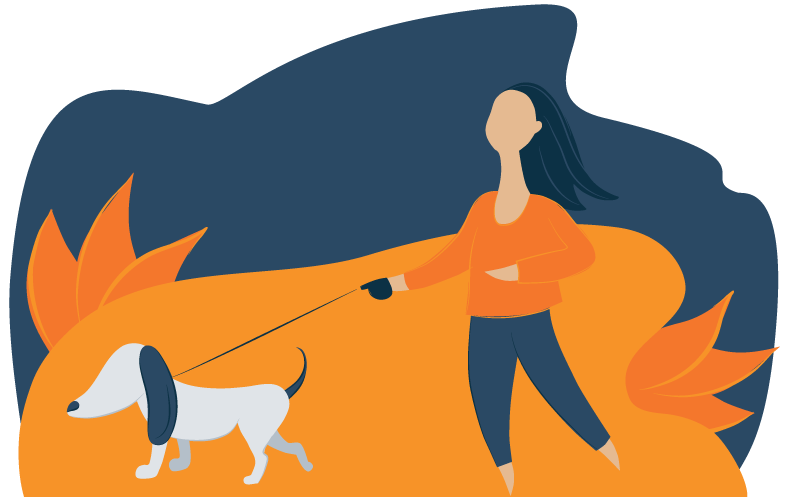 Some of the most common causes of RLS include an iron deficiency, being overweight, and even genetics. If you've been struggling with this condition for any length of time, you've probably noticed that the symptoms primarily appear at night.
The reason is that since movement and motion tend to alleviate the symptoms, it makes sense that as you slow down for the evening, you're more likely to trigger an RLS episode. A walk around the neighborhood, or even just around the yard or house, right before bed may help alleviate the severity of your symptoms.
You may also want to consider adding iron-rich foods to your diet, like leafy greens, seafood, beans, peas, and dried fruit. Before making any drastic diet or lifestyle changes, please consult with your physician.
What to do if your partner has restless legs?
If your partner has restless legs, you may be at your wit's end. Their constant moving around is probably keeping you awake, too! You can always try getting a memory foam mattress (or latex!) that has as much motion isolation as you can find. That way, when they're doing their nocturnal twitching, you'll still be able to sleep peacefully.
Conclusion
While there's technically no cure for Restless Leg Syndrome, some subtle lifestyle changes can greatly reduce or even eliminate your symptoms. Researchers have found links between RLS and the use of alcohol, nicotine, and caffeine.
While we'd never tell someone to give up their morning coffee habit, if you use any of these substances, it might be worth eliminating them for a day or two to see if that has any effect on your condition.
Our team covers as many areas of expertise as we do time zones, but none of us started here as a so-called expert on sleep. What we do share is a willingness to ask questions (lots of them), seek experts, and dig deep into conventional wisdom to see if maybe there might be a better path towards healthy living. We apply what we learn not only to our company culture, but also how we deliver information to our over 12.7M readers.
Sleep research is changing all the time, and we are 100% dedicated to keeping up with breakthroughs and innovations. You live better if you sleep better. Whatever has brought you here, we wish you luck on your journey towards better rest.