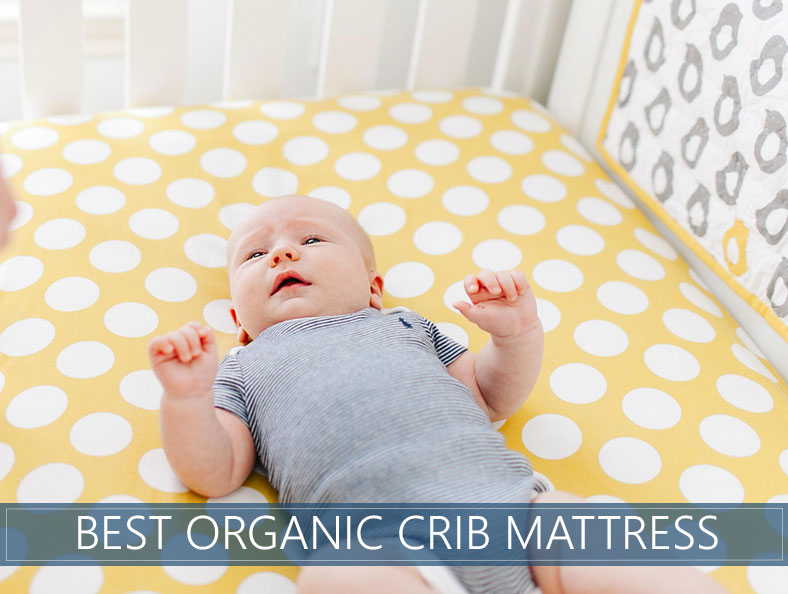 Are you worried that your baby's proper growth might be harmfully impacted by an inappropriate mattress? If so, you are one of countless other parents who are already on the right path.
Considering a proper and chemical free crib bed for your infant is undoubtedly something substantial. Purchasing a highly rated organic crib mattress will ensure that your baby grows up safe and free of any potential threats brought by an inappropriate bed.
Chronic pain, spinal malformations, and deformations amongst a myriad of other issues should make you think twice before you decide to save money off this particular purchase. It's something that you shouldn't be willing to compromise on, and it's important to make sure that everything is handled as per the highest industry standards.
Of course, this is a lot easier said than done. This is why we've decided to go ahead and provide you with all the information you may need to make a reasonable purchase. Additionally, we've also synthesized a few comprehensive and short reviews which would, hopefully, simplify your choice and save you a lot of effort, hassle and time.
With all this in mind, let's have a look at the following.
What Makes an Ideal Organic Infant Crib Mattress?
No PVC's With Phthalates
Now, the first thing you ought to know is that the wide majority of beds on the market, including the ones for toddlers, have a vinyl covering. This is designed to assist with the bed's waterproof properties. However, what you may not know, is that when babies breathe in these particularly harmful plasticizers or absorb them right through their sensitive skin. They are directly exposed to a range of health effects which could easily include serious and potentially serious conditions such as kidney and liver damage, cancer, asthma and others of the kind (source: FDA.gov).
This is because PVC is a specific type of commonly used plastic which is made of 43% carbon and 57% chlorine. These are obtained from oil or gas by ethylene. When you combine those with Phthalates, crib mattresses could easily provide a toxic sleeping environment which is known to introduce chemicals known as endocrine disruptors. This could be deadly if the kid is a dialysis patient or if he has received a blood transfusion.
Additionally, PVC is well-known to be amongst the most toxic plastics which are used up to date. The combination of chlorine and petroleum is also a well-known human carcinogen, which could easily induce cancerous conditions. Obviously, going after an baby mattress that's non-toxic will deliver a serious amount of benefits, and it would also prevent a lot of risks.
It's CertiPur Certified
Now, you might notice that the label of your crib bed features the word polyurethane. While this is a sign that the product is not entirely all-natural, there might not be a need to worry if you see te CertiPUR-US certification label on it.
This certification attests to a few different things. It means that the product is made without the usage of mercury, heavy metals or lead, PBDE flame retardants, ozone depleters, chlorofluorocarbons, and other harmful ingredients. It also means that it's tested for durability and performance which is an added benefit that you ought to account for.
Furthermore, every certified product is analyzed as well as tested at least two times throughout the year. And, to make matters even better, this is a certificate which is obtained every year. You can rest assured that CertiPUR-US certification guarantees the integrity of the materials in the mattress and the safety of your baby. It's the thing to look out for when you're choosing the perfect organic baby mattress.
So, long story short, even if you see a polyurethane count in the mattress's blend, as long as it has this certification, you can rest assured that your mattress is still considered organic.
No Fire Retardant Chemicals (PBDE's)
When it comes to infant crib beds, the main fire retardant is PBDE's. They've been around for quite a long time and they break down over the prolonged period, releasing themselves into the household dust.
As you may imagine, babies are prominently exposed as they breathe the air directly from the source, facilitating skin absorption from touching things which have a lot of dust on them and from simply crawling on the ground.
The thing about PBDE's is that they are capable of causing immune suppression, serious behavior changes, cancerous conditions, developmental delays and others of the kind (source: National Instistutes of Health). If you are as responsible as the majority of parents, you will cringe just upon hearing all of the above conditions, and you will take the necessary steps to prevent them from happening. Making sure that there are no fire retardant chemicals as the ones with this described is without a doubt one of the first steps that you ought to account for.
As you are already well aware, you ought to make sure that there is a CertiPUR-US certification on the product you've set your sights on. This guarantees its organic nature conveniently.
Greenguard Certification
The Greenguard Certification is another recognition, attesting to the fact that the mattress has gone through serious and rigorous testing. It means that it has been put to the test by some of the most stringent standards for low emissions of VOC in your enclosed indoor environment.
This is the basic Greenguard certification. However, there is also a Greenguard Gold certificate which includes health-based criteria of other chemicals as well. The gold certificate also requires substantially lower VOC emission levels, guaranteeing that the product could be potentially used indoor and that it's safe for toddlers.
With this said, if you have the Greenguard Gold certification, you can rest assured that the mattress is almost certainly organic. However, check those labels to make sure that everything is handled as per the highest standards. After all, it's a matter of the health of your baby, and that's not something that you should compromise.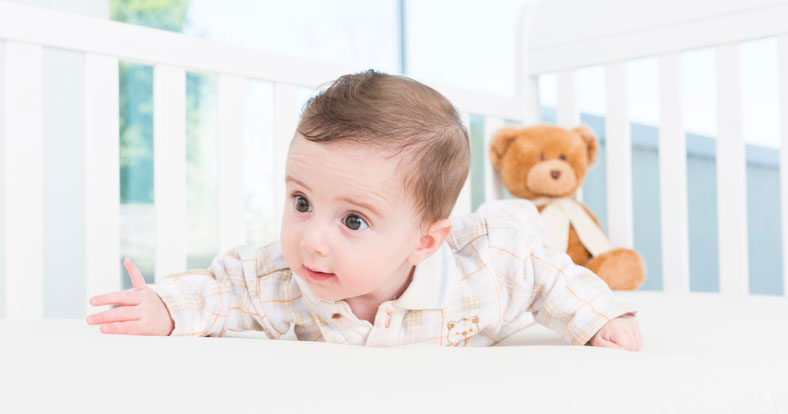 Are Organic Crib Beds Worth It?
If there is still a shred of doubt regarding the trustworthiness and effectiveness of organic mattresses for your baby over the cheaper and more harmful crib ones, there are a few things that you ought to consider. The following is a comprehensive synthesis of some of the specifications you ought to account for when determining whether there are value and worth of investing in an all-natural infant crib bed.
That's pretty much it. When you invest in a cheaper mattress, you will get the actual minimum. This means that chemicals will be present and the danger of harming your kid would be there.
On the other hand, when you go for an organic model, this means that you'd have to put up a little more cash. However, you will be getting a lot more as well – this includes a safer sleeping surface as well as a healthy environment for your baby's sleeping and, last but not least, your peace of mind that everything is handled properly.
If your kid is troubled by allergies, going for anything other than eco-friendly crib mattress would be like putting gas into the fire. Traditional crib beds will most likely contain a myriad of chemicals. These will surely trigger allergies in your kid.
Organic crib beds are usually hypoallergenic which makes them specifically intended to cut down on all of these allergies. They are also designed in a manner to naturally refrain the dust mites from polluting your mattress which could easily trigger severe allergic reactions.
Are you environmentally cautious?
The wide majority of organic mattresses are made of materials which are all natural and, hence, entirely recycled. Traditional mattresses, on the other hand, could easily emit a range of harmful chemicals which could easily deplete the critical ozone as well as the earth itself.
SIDS – a Tremendous Concern
Sudden Infant Death Syndrome is a tremendously worrisome consideration to a lot of caregivers and parents. A few different scientists have already made claims that the toxic gases which are associated with the unpackaged memory foam mattresses could be easily absorbed by the baby and this could lead to SIDS or crib death.
On the contrary, chemical-free (non-toxic) infant mattresses tend to have a substantially SIDS rate when you stack them against traditional, toxic-releasing beds.
Our Top 5 Safest Baby Cribs Reviewed
Newton Wovenaire
It is designed with your baby's health put up as a top priority. There are a lot of things to be considered here. Right off the bat, the design is 100% breathable.
This reduces the risk of harmful suffocation while at the same time it brings the ultimate temperature control. You can rest assured that your baby wouldn't wake up crying and sweating in the middle of the night.
The entire thing is washable and also hypoallergenic. It contains no springs, latex, glue, foam or any other types of allergens. Attesting to the seriousness of this claim is the currently active Greenguard GOLD certificate.
It is also made out of materials which are entirely recyclable. On the other hand, it also brings enhanced comfort and support for your infant's body.
This is going to bring deep and good nights of sleep while reducing the risks of any potential spinal deformations or malformations. It's designed for infants and toddlers, and it's washable so that you can use it for a seriously prolonged period.
The product is also proudly manufactured within the USA, hence the slightly elevated price tag.
PROS
Hypoallergenic and 100% breathable
Entirely environmentally-friendly
Free of any types of allergens
CONS
Not as comfortable as claimed
Colgate Eco Classica III Dual firmness
This is a product which has managed to receive the GREENGUARD Children & Schools Certificate. This means that the mattress has managed to successfully undergo a series of rigorous testing, determining its safety and convenience.
Passing the toughest standard is undoubtedly challenging, but it also means that the product manages to check out on the indoor air quality tests which are definitely a big deal.
The product comes with a dual-firmness design, adding more support to your infant which is undoubtedly something that you should be looking forward to. You need to make sure that there are no spinal misalignments and that your kid grows healthy.
The cover that comes with the product is also certified as an organic product which is important as it will come in direct contact with your kid.
It also features some additional waterproof backing which means that the cover won't allow your bed to get wet. This spares you a lot of hassle as bed wetting is undoubtedly something that you'd have to be worried about if you didn't have a waterproof cover.
In terms of comfort and support, the product has managed to conveniently pass the two-finger test which is something quite substantial. It is a safe solution which would enhance the sleeping sensation of your infant and provide him with a safe growth.
PROS
Orthopedic style for additional support
Greenguard certification and CertiPUR-US compliance
Dual firmness for comfort
CONS
The off-gassing smell is quite unpleasant
Naturepedic No Compromise
This mattress offers a few different reasons for which we believe that it is superior to competitors and convenient for your toddler. Let's have a look.
Right off the bat, the dual firmness of the mattress comes alongside organic cotton fabric and filling, allowing you to feel as if you are sleeping on a cloud. This is something that kids love. You can rest assured that they will be getting quality sleep through the night.
The fabric is also quite easy to maintain. The product is stain-resistant and waterproof to prevent bed wetting spots as well as other unpleasant formations.
Going further, the bed brings an enhanced amount of support thanks to the dual firmness construction. The bed has a very firm side which is great for newborns as well as a softer and more comfortable side which is intended for toddlers.
In an attempt to ensure the perfect balance and support, the mattress uses a 150-coil innerspring. There is also a reliable 9-gauge edge support to prevent potential slip-offs.
The product has conveniently and successfully gone through rigorous chemical emission testing to ensure the safety of your child. This product comes with limited warranty backing it up.
PROS
Dual-firmness for additional support
Waterproof and reinforced edges
It contains no soy or latex – there are no allergens
CONS
The comfort is somewhat compromised
Lullaby Earth Healthy
Even though looking for your non toxic baby mattress could be quite challenging, this particular unit is here to simplify things by offering you whatever you may need.
Right off the bat, the crib bed strikes you as being particularly lightweight which adds a lot of conveniences. It comes with a weight of 7 pounds which is essentially inconsiderable, yet it makes it easy to carry around without added effort.
Also, the light weight also makes it incredibly easy to maintain and clean. You can change your sheets in an instant.
The product is also supportive and waterproof. It comes with a firm and yet smooth surface which is amongst the important prerequisites to make sure that your baby's safety is prioritized.
The edges are reinforced to provide the unit with additional strength. This, as well as the high-quality filling,  will make sure that the product doesn't really sag.
All of the materials used in the mattress are free from allergens, and they are food-safe. The product is entirely manufactured in the USA, explaining the slightly elevated cost. It's also backed by a limited lifetime warranty, and it's free from flame retardants (PBDEs) and from other chemicals as well.
PROS
Convenient organic formula
Lacks PBDEs and other chemicals
Enhanced edge support prevents slip-offs.
CONS
A bit crunchy
Might lack the support needed for the proper sleep of your infant
Moonlight Slumber Little Dreamer
This is a solution which is crafted out of high-end materials, and it comes with proven safety characteristics. It's entirely free from vinyl, PVC, and polyethylene. Additionally, both the core of the bed and the cover are also free of lead and harmful phthalates.
The product also holds the current Green Guard Gold certification. This is an important consideration as it's only issued to products which manage to abide by the highest industry standards for individuals who are a lot more sensitive such as babies, children and your elderly.
The product comes with a layer of convenient and effective antimicrobial protection. It also brings dual-firmness technology. There is a high-density foam on one of the sides.
The other side features another CertiPUR-certified foam. It's somewhat softer, and that's why it's better for toddlers instead of for babies. All of the seams are conveniently stitched to guarantee the necessary comfort.
PROS
There is an additional antimicrobial layer for enhanced protection
The seams are carefully side-stitched
The edge support is also empowered
CONS
Some people think it's made of polyurethane and disregard certification
Not as durable as advertised
How to Choose the Right One for Your Baby
Comfort
The thing you need to consider is that a mattress that's uncomfortable for your kid would make it quite difficult for the same to find the sweet spot and fall asleep. This could lead to a myriad of different issues.
Not only is it incredibly cumbersome for parents but it's also something capable of stagnating the development of the kid. This is unacceptable, especially at this early development age where everything is of significant importance. You ought to be looking for a high-end organic solution which is comfortable and which provides the necessary support as well.
Generally speaking, firmer beds are preferred for newborns and babies and softer and more comfortable options are more for toddlers. This is something that you most definitely ought to consider as it is an important characteristic which would determine the overall performance of the mattress.
Waterproof
A waterproof covering could be quite useful when you're considering a mattress for your baby. The truth is that babies spill and stain like no others and, hence, this could quickly damage the main surface and essentially ruin the entire mattress.
This is why you need to take the opportunity and assess different options when it comes to waterproof covering. This is always a very wise decision, and it's one you ought to make while you're shopping.
It is quite important to be aware of this before jumping right into an impulse buy and regretting it further on. The covering would not only prevent fluids from damaging it – it would also enhance its appeal and prolong its overall shelf life.
Breathability
Is the surface of the mattress breathable? This is amongst the most critical considerations to account for. When your baby is sleeping, he or she must be able to breathe easily. If you have the wrong mattress, though, this could quickly become a serious challenge.
Experts have already stated that materials which are breathable are often the most useful options on the market since babies wouldn't have lungs which are as powerful as ours.
A breathable surface would keep you safe as well as healthy throughout the entire time. There are quite a lot of different materials which could be used in this regard, and it is usually reasonable for you to pick up the one that feels mostly comfortable.
Size and Firmness
The size is definitely going to matter as you would have an established crib. If the mattress is too large and it doesn't manage to conveniently hug the railing, this could easily lead to some injuries for your baby, rendering this option absolutely inappropriate.
It needs to fit the bed, and its size needs to cover it from one corner to another.
The firmness, on the other hand, is amongst the important things that you'd also have to determine. The general rule of thumb is that your mattress should be firmer if you want to enable your baby to sleep tight without any risks of spinal deformations and other harmful and potentially dangerous threats.
At the same time, you should ensure that the kid feels comfortable right on the bed as this is going to induce a deeper night's sleep, alleviating the stress from important pressure points such as the shoulders, hips and lower back.
Our Final Thoughts
---
As you can obviously see for yourself, there is a tremendous abundance of factors which ought to be taken into very serious consideration. Picking an organic crib for your infant is incredibly important, but there are so many things to account for that it could quickly get overwhelming.
With this in mind, we've synthesized only the most important information that you will need to pick up the best option without spending an excessive amount of time, effort and money.
Besides, we've also brought a few of the most popular and convenient options which are readily available on the market. Of course, you might decide that you want to go another way and you might have a different product in mind.
There's nothing wrong with that and, even more so, we hope that the information contained in this buying guide would be enough for you to handle it quickly and conveniently.
Should you need any further information or if you have any remarks, do not hesitate to leave a comment.
Author:
Jill Thompson
I've been married for 8 years to my loving husband Mike. We have two boys that keep us busy with sports. Having kids has definitely made sleep an even more important element in our lives. Now, our sleep quality not only affects me and my husband, but our two boys. Poor sleeping habits might lead us to poor parenting decisions.
When I'm not obsessing about sleep you can find me playing tennis or golf.
I love talking about sleep and hope your sleep quality improves after stopping by our site.