Transparency Disclosure – We may receive a referral fee for products purchased through the links on our site...

Read More

.
Mattresses are a fairly big investment and because of this, we want them to last for as long as possible. However, after years of slumber, even the best mattresses can start to show how loved they are. If you're not ready to replace the mattress, a mattress topper may provide comfort and extend the life of your bed.
Casper, a veteran in the bed-in-the-box marketplace, not only provides quality mattresses, but pillows, bases, and other accessories such as mattress toppers to bring you an all-around enjoyable sleep experience. In this review, we will take a look at the Comfy Topper, the only accessory of this kind that Casper offers. To help you make your decision on this mattress topper, we will break down areas such as how soft or hard the topper is, how it feels for various body types and preferred sleep positions, how long it should last, and various features such as cooling and responsiveness.
Who Is the Casper Comfy Mattress Topper Best for?
Mattress toppers, much like mattresses, are highly subjective. However, by testing it and using these findings, we can pass along who we think this mattress topper will work well for, as well as those who may want to look elsewhere.
Pros: Who Might Like the Casper Comfy Mattress Topper:
Pressure relief seekers – This topper feels very plush when you are sleeping on it, and the softness does a good job of relieving pressure.


---

People looking for a long-lasting mattress topper – If you're hoping to add several years to your mattress, the Casper Comfy mattress topper is durable and will be around for the long haul.


---

Hot sleepers – Getting hot throughout the night can lead to restless sleep. This Casper topper will help regulate your body temperature and keep you cool through the night.
Cons: Who Might Not Like the Casper Comfy Mattress Topper:
People who are sensitive to smells – Often, there is a strong off-gassing smell associated with these toppers. Therefore, folks who are sensitive to smells or don't want to wait for the chemical smell to dissipate may not be the best match for this topper.


---

Stomach sleepers – While this topper lives up to its name and is "comfy", this could be problematic for stomach sleepers as they may not get enough support through their hips, which could cause lower back pain and spinal problems.


---

Combination sleepers – The Casper Comfy mattress topper has a classic memory feel that some may see as slow-moving. Therefore, combination sleepers, or those who change positions throughout the night could feel stuck.
Sleep Advisor's Testing Methodology
To provide a comprehensive overview and a thoughtful recommendation, mattress accessories, such as the Casper Comfy mattress topper, are put through a litany of tests. These tests include how it performs for various preferred sleep positions and the body weight ranges that will be served best by it. Additionally, we test its overall comfort, how supportive it is, if it will help keep you cool throughout the night, and a host of other factors.
What is the Casper Comfy Mattress Topper Made of?
Cover
The topper has a removable polyester blend cover.
Comfort Layer
This mattress topper includes three comfort layers that are 1 inch each. The first layer is made from an alternative latex foam that provides soft plushness and contouring that should feel like a gentle hug. Below this, Casper places a layer of cooling graphite-infused latex foam. This layer will help draw heat away from sleeping bodies. The base layer is made from memory foam.
Height
The Casper Comfy mattress topper is 3 inches tall.
Casper Comfy Mattress Topper Firmness & Feel
Firmness
The Casper Comfy topper should feel fairly soft and plush to most users. If you are looking to make a firm bed softer, this topper is likely to serve you well. Also, for those who are seeking additional pressure relief, the softer feel should be helpful.
Feel
This plush topper should feel soft to the touch, and most people will sink gently into the foam. We think this body contouring topper will provide excellent pressure relief around the shoulders and lower back. Additionally, the graphite-infused layer should allow it to remain cool.
However, one drawback to the feel is that because you will experience sinkage, some may find it hard to easily change positions.
Sleeping on the Casper Comfy Mattress Topper
People who prefer to sleep on their backs and sides are likely to find that this topper enhances their sleeping experience. Unfortunately, it will probably not be a great fit for most people who sleep on their stomachs as their hips will probably push through the layers. This can allow pressure to build up and the lower back to fall out of alignment.
| Weight | Side Sleepers | Back Sleepers | Stomach Sleepers |
| --- | --- | --- | --- |
| Lightweight Sleepers (-130 lbs) | ★★★ | ★★★ | ★☆☆ |
| Average-Weight Sleepers (130-230 lbs) | ★★★ | ★★★ | ★☆☆ |
| Heavyweight Sleepers (+230 lbs) | ★★★ | ★★☆ | ☆☆☆ |
Side Sleepers
Lightweight Sleepers – These sleepers should enjoy soft contouring around their shoulders and hips when sleeping on this mattress topper.
Average-Weight Sleepers – Folks who are average in weight and like to sleep on their sides should find a lot to like about this topper as it will allow them to gently sink into the top foam while being supported by the second and base layers.
Heavyweight Sleepers – Given that this mattress is 3 inches tall, it can help prevent heavier side sleepers from pushing through the materials.
Back Sleepers
Lightweight Sleepers – Lightweight back sleepers should feel pretty comfortable when sleeping on this mattress topper because it should offer soft contouring around their lower back.
Average-Weight Sleepers – The Casper Comfy topper should make many average-weight back sleepers happy. This is because they should experience good spinal support and gentle contouring.
Heavyweight Sleepers – The 3 inches of various foams should provide most heavyweight back sleepers with great lower back support and keep them from sinking too far into the topper.
Stomach Sleepers
Lightweight Sleepers – Since they don't have as much weight around their hips as those who weigh more, this topper should provide some lightweight stomach sleepers with enough support. However, most will likely find it too soft.
Average-Weight Sleepers – The Casper mattress topper will likely be too soft for most average-weight stomach sleepers, and they will not receive enough support around their hips.
Heavyweight Sleepers – Heavyweight stomach sleepers will likely find that this topper does not support their hips enough. They are likely to quickly push through this topper, which will leave them with pressure buildup and poor spinal alignment.
Casper Comfy Mattress Topper Sizing Options & Pricing
| Size | Dimensions (inches) | Price (w/o discount) |
| --- | --- | --- |
| Twin | 37.5" x 74.5" x 3" | $149 |
| Twin XL | 37.5" x 79.5" x 3" | $169 |
| Full | 52.5" x 74.5" x 3" | $229 |
| Queen | 59.5" x 79.5" x 3" | $249 |
| King | 75.5" x 79.5" x 3" | $289 |
| Cali King | 71.5" x 83.5" x 3" | $289 |
Casper Comfy Mattress Topper Sizing Options & Pricing
Although foam toppers can often run hot, the Casper topper's first layer is made of AirScape™ foam that promotes airflow. Additionally, this topper's second layer of latex foam is infused with cooling graphite, which will help pull heat away from the body. We think the Casper Comfy topper will allow most sleepers to enjoy a cool, restful night.
With three layers and a gentle contouring feel, the Casper topper offers a good deal of support for back and side sleepers. However, since it is a fairly soft mattress topper, it likely won't offer enough support to those who prefer to sleep on their stomachs. These folks will probably feel their hips sagging, which can cause the lower back to curve too much, affecting spinal alignment.
The Casper Comfy Topper is made with high-quality materials such as perforated AirScape™ foam, latex, and memory foam, and the cover uses a durable polyester blend to protect the foam layers. This mattress's durability should extend its lifespan.
The plush softness of this topper should make this a comfortable option for most sleepers. Upon lying on it, most folks will notice the slow-moving foam wrapping their bodies in a gentle hug. Those who prefer to sleep on their backs and sides are likely to find comfort in the pressure-relieving qualities and lumbar support. However, stomach sleepers may not find it as comfortable because their hips may sag too far down.
Although the mattress topper's dimensions should closely match the dimensions of the corresponding mattress, it is not outfitted with straps. Therefore, this mattress topper could slide throughout the night. You can place a mattress protector over the topper to keep it in place.
There is a fairly distinct chemical smell when you unroll the Casper topper. Although it is not harmful, some people may find it irritating. The smell should be completely gone within two days, so we advise waiting around 48 hours before sleeping on this topper to let it fully off-gas and expand.
The Casper Comfy topper is made with hypoallergenic latex. The use of this material makes this a great mattress topper for those with allergies.
Although the polyester blend cover is removable, it is not machine washable. This mattress topper, including the cover, should only be spot cleaned. To help keep your mattress topper stain free, you can cover it with a mattress protector or a fitted sheet.
The Casper Comfy Mattress Topper only comes with a 30-day sleep trial, but it offers a 10-year limited warranty.
Casper Mattress Topper Frequently Asked Questions
Are mattress toppers worth it?
Yes, mattress toppers can be worth it. If you purchased a bed and then realized that it was too soft or too hard for your liking, you can add a topper, which costs significantly less than a new mattress, to help make your bed space more comfortable. Furthermore, toppers can help protect your mattress and extend its usable lifespan.
What if I don't like my Casper mattress topper?
You will have 30 nights to decide if your mattress topper is a good match. If at any time during those 30 days, you decide that it isn't right for you, you can return it for a full refund.
How long does it take for the Casper mattress topper to expand?
It can take up to two days for the Casper mattress topper to fully expand.
How Does the Casper Comfy Mattress Topper Compare to Other Mattress Toppers?
Casper Comfy Mattress Topper vs Puffy Deluxe Mattress Topper
Who Should Get the Casper Comfy Mattress Topper?
Shoppers who want something long-lasting
Heavier back and side sleepers
Hot sleepers
Who Should Get the Puffy Mattress Topper?
Fans of traditional memory foam
People with allergies
Pressure relief seekers
Our Puffy Deluxe Mattress Topper Review for 2023
Casper Mattress Topper vs Nolah MattressTopper
Nolah Mattress Topper
A 2-inch mattress topper offering excellent cooling and pressure relief.
Sleep Advisor Score
4.90 / 5
Who Should Get the Casper Mattress Topper?
Side sleepers
Hot sleepers
People who need good lower back support
Who Should Get the Nolah Mattress Topper?
Sleepers who want a secure mattress topper that doesn't slip
People who want to be able to remove and wash the cover
Side and back sleepers looking for more pressure relief
Our Final Thoughts on the Casper Comfy Mattress Topper
The Casper Comfy mattress topper lives up to its name as we think it's going to be plenty comfortable for most people. It is made from durable materials that will extend the life of this bedding accessory so it's a good long-term investment.
Although this topper contains memory foam, a material that can often trap heat, we found that this topper does a great job of keeping cool. This is due to the perforated top layer and the graphite-infused middle layer.
This topper's softness should make it serve back and side sleepers well, but it may be too soft for stomach sleepers. It would be great if the removable cover was washable in a machine, but we wouldn't consider this a dealbreaker.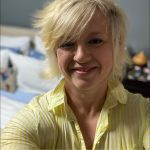 Sosha Lewis is a staff writer for Sleep Advisor.  Lewis is happy that she is able to combine her love of sleep with her love of writing. Lewis also has had articles featured in The Washington Post, Huffington Post, MUTHA Magazine, Charlotte Magazine, and The Charlotte Observer. Her weekly column, Soshally Awkward, is featured on the nationally-syndicated radio show, Bob & Sheri.
She lives in Charlotte, NC with her husband, daughter, and lovable trash-panda of a dog, Olive.