So, you want to invest in a brand new mattress. Whether you've been researching for hours (maybe even days) or you just started, most people end up asking this question:
Where's the best store or place (online or otherwise) to buy a mattress?
Should you buy online or go with a brick and mortar option (hint: it's an easy decision)? If you're worried about trying the mattress first, return policies, purchasing online might scare you off at first.
But don't let it!
Let's just reveal our opinion right now (meant for those of you who weren't going to read the entire article anyways – hehe). Do yourself a favor and buy your mattress ONLINE!
Most online beds ship compressed in a box (easy for delivery), come with an industry standard 100-night trial (free returns if you don't like it) and provide HUGE cash savings when compared to a brick and mortar store.
Not sure where to start? Read our comprehensive mattress buyer's guide (updated for 2022). It makes it easy to find the perfect bed for your needs.
Online Mattress Stores
Company Direct Online
Okay, we might spoil it a bit, but that's our absolute favorite. This is by far the best thing you could do when it comes to mattress shopping as it's going to provide you with the most benefits.
The most substantial characteristic of this type of mattress shopping is that there is no intermediary. That's right – you would be paying the price for the mattress without any substantial overhead. What is more, you are also capable of filtering through the majority of useless sales pitches and get straight to the facts quickly.
While shopping online might be great, the main downside is that there is no way for you actually to feel the mattress.
Amazon Marketplace
Marketplaces are usually online websites which are designated to sell a range of different products, providing an array of brands to the end customer. Amazon is the biggest one of them. The majority of the companies which would sell mattresses here also have their websites.
However, the exposure is substantially increased if they market their products on two separate fronts. These are places which would most commonly ship the product very quick without a substantial transportation cost. However, a lot of them don't offer very comprehensive warranties while others don't even have sleep trial periods. This is something that you need to account for because buying one without trying it out could be quite challenging.
Check Out Our Guide: Top Rated Mattresses On Amazon
Best Places to Buy a Mattress In-Store
Hybrid Stores
These come with an online presence, but they are primarily an established brick and mortar venue. The main thing to consider here is that the price is going to be higher. The reason is quite simple – the owner needs to maintain the physical space, to pay rent or to buy the entire thing out.
Additionally, you would also have to pay the personnel and staff to work there, and the hassle is quite substantial. There is a lot of merits, though, because you get to try the mattress that you are about to purchase and, as such, this is going to significantly reduce the return rate as well as the expenses which are associated with it.
Showrooms
The majority of the online brands don't have showrooms as they are quite expensive to maintain. However, these are locations which are sprinkled throughout the entire country, and they are convenient for a range of different reasons. They serve sleepers as a great place where they could try out the most popular options.
Additionally, there is usually a variety of different brands in a showroom unless it is a showroom of a particular company. In both cases, the thing that you ought to take into account is that you would be able to try out the bed. Of course, the price is going to be a bit elevated, mainly due to the same reasons listed above.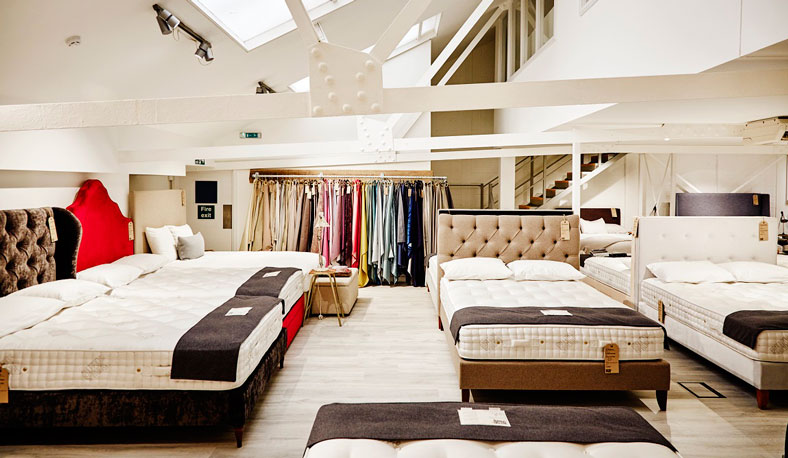 Department Stores
Department stores are those such as Sears, JCPenny, Macy's and others of the kind. The main thing about those venues is that they do not specialize in selling just one product. Instead, they would sell a large variety of different options. The thing to consider here is that they would commonly have an entirely separated area which is dedicated to selling mattresses.
If you are visiting department stores frequently, you need to make sure that you grab the full value of your visitations. It could be quite convenient for you to do your regular shopping and then check out the mattress section to pick one.
Department stores have friendly sales staff, and you could quickly finance the purchase. There are some disadvantages, of course. Those stores might only sell a few different brands, and the choice is naturally limited by the physical space.
Where To Buy A Good Mattress From
Shop Online If You Want:
A greater mattress selection – mattress shopping online will allow you to look at hundreds of options on the market in a few quick clicks.
To shop from home – if that's what you want and you don't feel like going through the crowded department store or any other brick and mortar venue, the internet is the most excellent place for you.
The best price – online prices are usually a lot more affordable because they often cut off the middleman. Additionally, there are a lot fewer expenses to consider when you are selling something online, and this allows a lot more flexibility when it comes to pricing. If you wait for holidays like the after-Thanksgiving sale Cyber Monday or Black Friday to buy a mattress, the results can be even greater.
Need help? Here's how to buy a bed online.
Shop In-Store If You Want:
To try before you buy – this is undoubtedly the single, most serious benefit of regular and conventional shopping. The mattress is a thing that you need to feel before you purchase and regular retail stores provide you with this chance. This is the main reason for which the return rate is virtually non-existent.
If you are not concerned with the price – if you just want to go out there and pick up the mattress which is tailored for you and you have no concerns about how much it would cost you, this is the thing to do. Sure, it would take you more time, but you would be able to make a quick and decisive choice to stick with as you'd be ready to try it out.
Which One is Right For You?
There is absolutely no right answer to this question; everyone has different needs and concerns. With this said, some people who are overweight would require a firmer mattress to prevent any sinkage and serious spinal misalignment.
On the other hand, those of you who are lightweight might want something a bit softer. Side sleepers, belly sleepers (don't sleep on your stomach), and back sleepers all have their preferences. The ultimate answer to the question would be to find a mattress which is comfortable for you and your partner to maintain comfortable night's sleep which is definitively beneficial.
Looking for more information? Check out our guide on How to Choose a Mattress.
Conclusion
---
There are apparently quite a few different things that you would have to take into account when determining the best place to purchase one from. However, we stick with the claim that direct online stores are the best places to buy budget beds as you wouldn't have to pay significant middleman overhead.
Of course, if you want to rest assured that you've tried out the mattress and you don't want to rely on other people's opinion, it's best to go into a regular store, regardless of whether it's a specialty or department store and find out the unit that's made for you.
Our team covers as many areas of expertise as we do time zones, but none of us started here as a so-called expert on sleep. What we do share is a willingness to ask questions (lots of them), seek experts, and dig deep into conventional wisdom to see if maybe there might be a better path towards healthy living. We apply what we learn not only to our company culture, but also how we deliver information to our over 12.7M readers.
Sleep research is changing all the time, and we are 100% dedicated to keeping up with breakthroughs and innovations. You live better if you sleep better. Whatever has brought you here, we wish you luck on your journey towards better rest.