Transparency Disclosure – We may receive a referral fee for products purchased through the links on our site...

Read More

.
Can a single layer mattress offer both comfort and support? What if cleaning your bed could be easy as pouring water over the surface?
Motokuni Takaoka once used resin fiber to make durable fishing lines, but after taking over his uncle's company, he innovated the material to make a product everyone can enjoy: A state of the art mattress.
This Japanese company invented polyethylene airfiber® and implemented it into their airweave Mattress. Like the name suggests, this product allows airflow, keeping its customers cool at night.
Our in-depth review of the airweave Mattress uses our scoring system to take you through an airfiber® review and analyze characteristics we consider important for all sleepers. We also review some of the more preference based items that really help this product stand out.
Keep reading for our analysis or if you are in a rush, skip down for our scoring and recap.
You will love airweave if you:
Want to sleep cool – The airfiber® technology promotes optimal air flow. This design keeps you cool so you don't have to worry about cranking your AC.
Want to be on top of your bed – This product is great for stomach and back sleepers who enjoy an extra firm surface (you can learn more in our full guide with top rated firm mattresses here). Sinking too deep into the bed will never be an issue as the firm cushioning works to keep your spine straight. Additionally, the support you find in the center of this bed extends all the way to the edges, optimizing your sleeping surface area.
Want a unique sleeping experience – The airfiber® technology provides this product with a one of a kind feel. Sleeping on the airweave should be like nothing else you have experienced.
You might not like the airweave if you:
Have lighter or heavier weight considerations – Lighter individuals may find that they do not sink deep enough into this mattress, therefore not getting the desired pressure relief on their hips and shoulder. Whereas significantly heavier individuals run the risk of wearing out this product faster than the expected 9 to ten years. Lighter people may be interested in the airweave Mattress Advanced which provides a softer sleeping option and pillow top add-on, while heavier folks can purchase an airweave Mattress Topper that should help add additional firmness and support.
Video Review
Construction (Materials & Quality)
The airweave is shipped via freight uncompressed, packaged in its full and actual size. It arrives wrapped in plastic and inside a large box.
Although relatively light, this bed should be set up by two people. It is not manufactured to be used with an adjustable base but should be placed on a solid platform base or platforms with slats that are no more than three inches apart.
On the outside is a soft polyester cover that can be removed and machine washed with cold water (line dry only). The cover zips open to reveal a padded "fire sock" made from modacrylic and fiberglass. This layer should not significantly affect the bed's overall feel.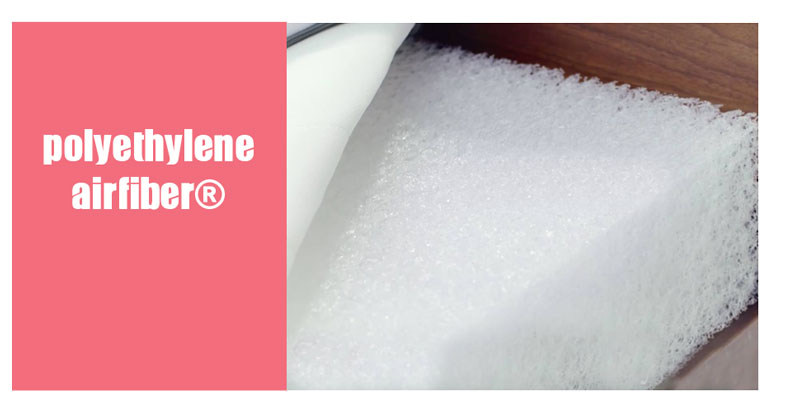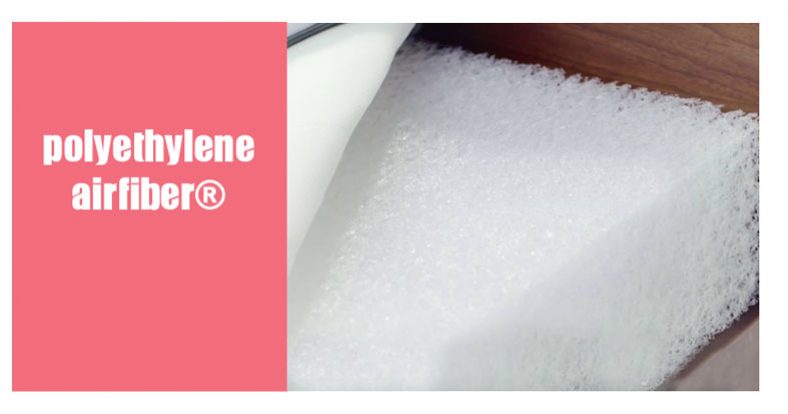 What makes this bed truly unique is that the first and only layer is made from 8.5 inches of the company's polyethylene airfiber®. This material is made from interwoven white fibers and has a firm, yet airy feel. This open fiber technology makes cleaning this mattress as easy as pouring cold water over the airfiber® to rinse out any accumulated dust or dirt.
Most mattresses are comprised of both comfort and support layers. The brand accomplishes this feat in one lightweight layer. The airfiber® distributes pressure evenly throughout, providing both comfort and support while keeping the back straight and the body lying comfortably on the surface.
Firmness (Support & Feel)
This mattress comes in at an 8.5 out of 10 on our firmness scale, with 1 being soft as a cloud and 10 as hard as a rock.
The polyester cover feels textured and is soft to the touch. When lying on this bed you should notice the firm fibrous layer keeping your weight uniform and well supported in a very gentle cradle. You should also notice that body heat does not transfer through the surface. This tech should work well to keeps you cool and supported throughout the night.
Moving around is a cinch, as the firm surface provides a moderate bounce that works with sleepers, enabling them to reposition with ease. This bed should work great for combination sleepers, especially those who prefer to rest on their back or stomach.

Most back sleepers should enjoy how this bed lightly conforms to their hips, lumbar spine, and shoulders to keep them well supported. You should never feel that you are sinking into the airfiber® cushion, but should sense it delicately cushioning your pressure points.
Side Sleepers with straight figures should do well on this bed, but curvier people might need some extra pressure relief. These people may want to look into the airweave Mattress Advanced which offers two firmness levels and a pillow top option.
Attention stomach sleepers: this is where this mattress steals the show. The firm surface keeps the hips level with your body and your spine properly aligned. Those with higher weight considerations might want to look into airweave's topper options. This can help add additional firm support for your slumbering needs.
This product does not have an established weight limit, but the manufacturer did indicate that the product may break down faster than the usual 9 to 10 years for individuals who weigh more than 220 lbs.
Motion Transfer
The buoyant airfiber® tech allows sleepers to reposition without any problems. Considering the amount of bounce in this bed, it admirably contains motion at its source, preventing it from passing through the bed and waking up your sleeping partner.
Edge Support
The airweave ships in full size, whereas most online mattress manufactures compress their beds. Compressed packaging often does not support strong edges because of the more bendable materials used (i.e. latex and memory foam). You should expect the firmness present in the center of the airweave to extend all the way to the edges.
Having good edge support increases your sleeping surface area, utilizing the extent of your bed. This may not be something you initially think about when purchasing a mattress, but those who share a bed should take note of this product's unique ability to support weight on its sides.
Other Considerations
Trial Period – You have 100 nights to try out this product. If it does not work out, you can return it for a full refund.
Warranty – This product comes with a limited 10-year warranty.
Shipping – Shipping is free within the United States to the 48 contiguous states. This product is also available in Japan, Taiwan, and China.
White Glove Delivery – This is an in-home delivery service where professional movers install your mattress and remove any unwanted packaging.
| Size | Dimensions (inches) | Price (w/o discount) |
| --- | --- | --- |
| Twin | 39.4" x 75" x 7.9" | $3,350 |
| Twin XL | 39.4" x 80" x 7.9" | $3,790 |
| Full | 53" x 75" x 7.9" | $4,250 |
| Queen | 60" x 80" x 7.9" | $4,500 |
| King | 76" x 80" x 7.9" | $5,520 |
| Cali King | 71.7" x 84" x 7.9" | $5,520 |
Final Thoughts
---
Amazing
The airweave Mattress gets the job done in one layer. The airfiber® technology provides comfort, cooling, and support for those who are in dire need of a firmer sleeping option.
The airweave's rinse-and-wash airfiber® cushion gave this bed a great visual appeal in foreign markets. Just simply pour on some water and voilà, the airfiber® cushion is clean.
This Japanese brand delivers a firm bed that provides an exceptional experience for folks who sleep hot at night. If that is not enough, lying on an airweave Mattress is great for those who have a firmer preference. If this sounds like you, the airweave might be worth considering.
Prefer something less firm or have other needs? Peruse our expanded list of amazing brands to narrow down your search!
Our team covers as many areas of expertise as we do time zones, but none of us started here as a so-called expert on sleep. What we do share is a willingness to ask questions (lots of them), seek experts, and dig deep into conventional wisdom to see if maybe there might be a better path towards healthy living. We apply what we learn not only to our company culture, but also how we deliver information to our over 12.7M readers.
Sleep research is changing all the time, and we are 100% dedicated to keeping up with breakthroughs and innovations. You live better if you sleep better. Whatever has brought you here, we wish you luck on your journey towards better rest.