Can a weighted blanket change the way you sleep?
Weighted blankets are great resources for folks looking for deep-pressure stimulation, whether you have anxiety, want to stay calm at night, or you simply desire to sleep snug as a bug in a warming and weighted embrace.
Layla Sleep started by selling their double-sided memory foam mattress. They have come a long way, now functioning as an industry leader and selling a handful of different sleep products, including their double-sided weighted blanket that offers two unique feels.
Our in-depth Layla Weighted Blanket review examines what makes this item unique, taking a close look at the construction and feel, as well as diving into other features many sleepers will find useful. Or you can skip to the end and read our final sore.
This model comes in a Twin, Queen, and King size, though this review will focus mostly on the Queen.
Layla Weighted Blanket
Like Layla's mattresses, this weighted blanket has two sides with two different feels.
Sleep Advisor Score
4.40 / 5
You will love the Layla Weighted Blanket if you:
Want two different feels – For those who want to switch it up, one side features a poly/mink fabric, while the other uses 300 thread-count cotton.
Need weight options – This brand has 3 sizes: Twin (15 pounds), Queen (20 pounds), and King (25 pounds). Whether you are shopping for yourself or a partner as well, Layla should have you covered.
Noise Reduction – This product was made with strong stitching and durable glass beads that are sewn between two layers of poly-fill batting to help keep things quiet.
You might not like the Layla Weighted Blanket if you:
Are claustrophobic – If you're the type of person who doesn't like tight spaces or physical pressure wrapping your body, a weighted blanket might not be for you. On the other hand, Layla offers a 15-pound option, which is lighter than many others on the market.
Video Review
How it Works
Most research suggests that sleepers should use a blanket that's between 5 and 10 percent of their body weight, give or take a few pounds. For example, the 20-pound Queen blanket sold by Layla would be ideal for 1 or 2 people with a combined weight between 200 and 300 pounds. Their Twin size—with a weight of 15 pounds—might work best for single sleepers, while the King might be best for particularly heavy folks.
Many sleepers use weighted blankets for their calming effects through deep-pressure stimulation. These types of products have been known to benefit people who have anxiety and can even aid with many other conditions.
Construction (Materials & Quality)
This brand includes free shipping, and customers can expect their blanket to arrive at their doorstep in just a few days after the initial purchase.
In true Layla fashion (like the company's mattress), this model has a dual cover. The dark side has a smooth finish with a 300 thread-count cotton. The gray side offers sleepers a luxury, soft experience with a plush, polyester/mink fabric.
Each side of the cover is stitched with Layla's hexagon pattern, and inside there are tiny glass beads encased in pockets of poly-fill that helps keep the blanket's weight evenly distributed and quiet. The advantage of glass, according to Layla, is that it tends to hold up better than plastic or sand models, which many competing brands use as their fill.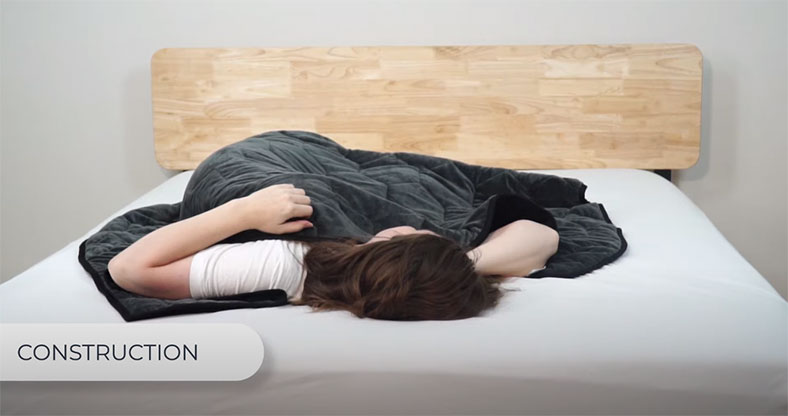 Feel (Support & Feel)
The different sides of the blanket give sleepers two unique experiences. The gray fabric feels like a plush and soft polyester with the benefit of added weight, while the cotton has a more traditional and seamless feel. On both sides, the additional weight should benefit those wanting that heavy and warm sensation to help them sleep better.
The pressure this product provides stands to offer a comforting feeling. Not only do the materials work to retain heat without getting too hot but they also help keep sleepers snug and cozy, like they are being wrapped in a hug all night long.
This blanket is good for much more than just sleeping; it can be shared by partners wanting to snuggle up to watch a movie, or take it for yourself and cozy up with your favorite book.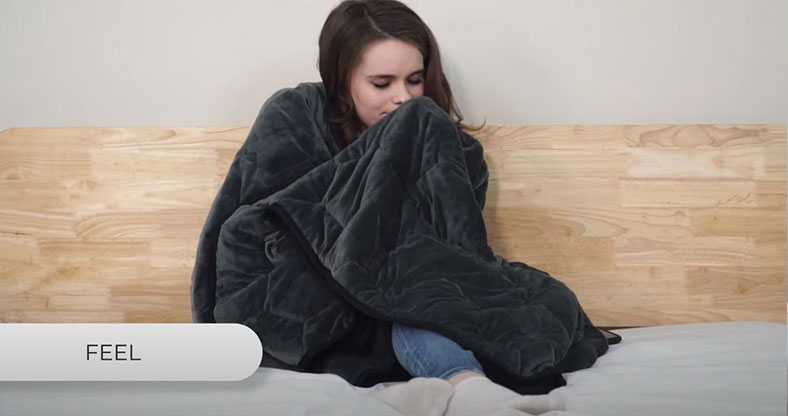 Noise
A blanket that makes a ton of noise as you toss and turn will only keep you up longer. Many weighted blankets are filled with materials that shift around and can sound quite obnoxious.
Layla's design allows it to perform well under these conditions. Because the weighted glass beads have been sewn between two layers of poly-fill batting, the sound is significantly reduced, allowing you to sleep peacefully through the night.
Other Considerations
Trial Period – The company offers a 120-night trial with a money-back guarantee on this item.
Warranty – This product is backed by a five-year warranty that protects the customers' purchases from manufacturing defects and abnormalities.
Shipping – Layla provides free shipping with each order.
Machine Washable – Yes, this product can be machine washed on cold and tumble dried on low heat, though it is important to note that the brand advises to never iron this product.
| Size | Weight (lbs) | Dimensions (inches) | Price (w/o discount) |
| --- | --- | --- | --- |
| Twin | 15 lbs | 48" x 72" | $129 |
| Queen | 20 lbs | 60" x 80" | $159 |
| King | 25 lbs | 80" x 87" | $179 |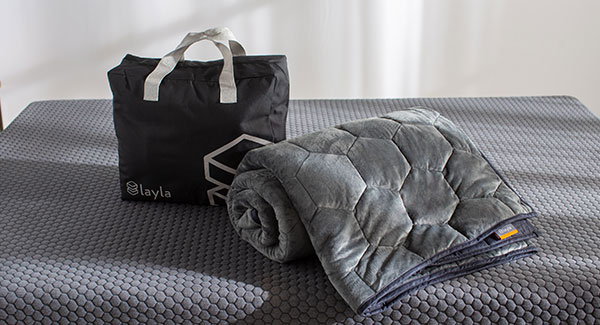 Conclusion
When it comes down to it, this item provides the baseline features sleepers want in a weighted blanket, including pressure, snugness, and warmth, as well as much more. The two different fabrics quilting Laya allows sleepers to switch up the feel, where a single material would not provide such an experience.
This model comes at a market value that shoppers can really enjoy. Whether this Layla blanket is for you or a loved one, it is likely to provide that relaxing rest to enhance bedtime for years to come.
Layla Weighted Blanket
Like Layla's mattresses, this weighted blanket has two sides with two different feels.
Sleep Advisor Score
4.40 / 5
Related Articles
Julia Forbes
Lead Product Tester
About Author
Julia is the Lead Reviewer at Sleep Advisor, specializing in testing out mattresses and sleep accessories – she's in the right line of work, because she loves to sleep.