Transparency Disclosure – We may receive a referral fee for products purchased through the links on our site...

Read More

.
Can a cooling pillow change the way you sleep?
Helix believes that it can. This is the same brand that offers shoppers a sleep quiz, tailor-fitting their mattress to them. This pillow is part of that customized approach as it has two inserts to help sleepers adjust the loft of the cushion.
Our in-depth Helix Ultra Cool Pillow Review walks shoppers through some of the best features that this product offers. You will read about construction, feel, as well as a ton of other useful details.
But if you are short on time, feel free to drop down to the end for a summary and score of this product.
Helix Adjustable Pillow
This Helix pillow is meant for all sleeping positions and body types.
Sleep Advisor Score
4.30 / 5
Read Full Review
---
You will love the Helix Cooling Pillow you:
Sleep hot – This pillow is covered in a cooling fabric designed to keep your head and neck exceptionally cool as you sleep.
Want adjustability – The foam inserts give sleepers of varying positions and body types to adjust this pillow until it fits their specific needs.
Enjoy memory foam – While this pillow is not 100% memory foam it offers that same contouring comfort feel that memory foam lovers go head over heels for.
You might not like the Helix Cooling Pillow if you:
Prefer the feel of a down pillow – Helix does make a down pillow if you prefer the instant malleability of that type of pillow, though this choice does still have a lot to offer for those looking for a cooler option that they can adjust to suit their needs.
If you want, you can take a look at our top pillow picks right here.
---
Video Review
Construction (Materials & Quality)
This pillow is covered in a high-end ultra cool knit polyethylene. This was designed to be both plush and cool, leaving sleepers comfortable and not too hot.
There is a layer surrounding the inside of the pillow that the brand calls a Comfort Shell. This is made with memory foam and a down alternative blend that was made to relieve pressure for the neck and head.
Inside the cover are two removable support inserts that are made from memory foam and a down alternative. These are the inserts that give sleepers the option of adjusting their pillow's height and feel.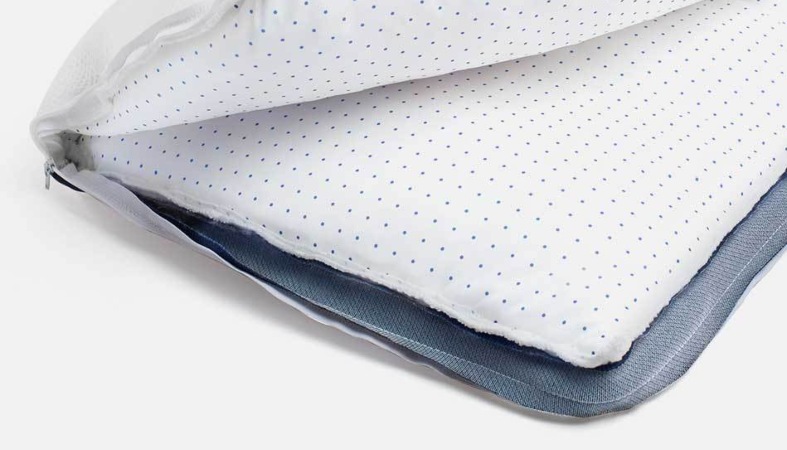 Firmness (Support & Feel)
With both inserts in, this pillow is about 6 to 7 inches tall. But when sleepers remove one insert, the pillow should measure between 4 to 5 inches tall. When sleepers remove all the inserts the height drops by another inch and a half or so.
After the sleeper's head sinks down into the materials, researchers suggest that the height of the cushion should keep the sleeper's head about 4 inches off the mattress. This loft is ideal for relieving pressure in both the neck and spine.
There isn't a definitive approach to how you achieve that level, though, and a lot of a pillow's success depends on the weight of your head, sleeping position, and the cushioning depth of your mattress.
As this is mostly made of memory materials, the foams should mold to the sleepers head and help to reduce pressure. The foam inserts benefit sleepers because they have the option to adjust the pillow in one of three ways. This makes this option versatile and allows it to work well for multiple sleeping positions and body types.
Back sleepers may find the highest loft, with both inserts, is too high for ideal comfort. By removing one or two inserts, back sleepers can optimize spinal alignment in their neck and sleep more comfortably.
Some Side sleepers may like the highest setting, though this will mostly be people with broader shoulders or bigger heads. The majority of people may prefer sleeping with one insert still in the pillow, as this could help keep their alignment in the most neutral position.
Stomach sleepers could do well with removing both inserts. This helps to keep their head properly elevated and should make it easier to breathe. One insert can also be a good choice for those that prefer a little more loft, though these folks might want to sleep with their head near the edge of the pillow so their mouth is not smothered by the cushioning of the product.
This pillow gives sleepers quite a few options, making it an overall good choice. Those looking for extra loft probably will get a lot of use out of this pillow.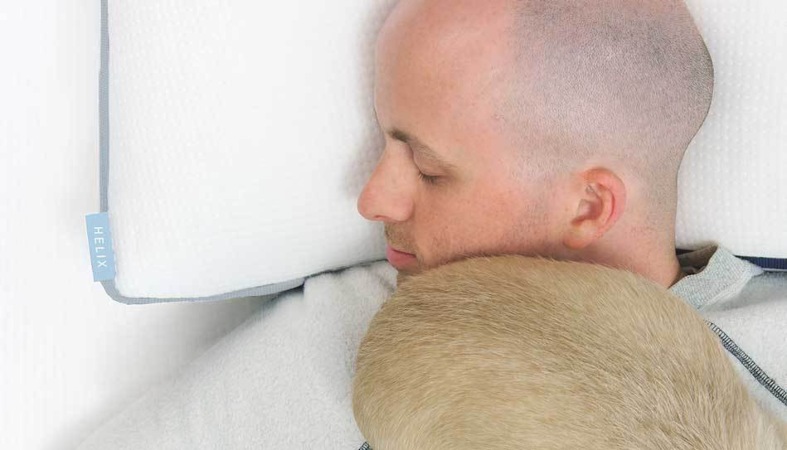 Temperature Regulation
The cover uses a polyethylene knit fabric that was designed to stay cool to the touch. This should help hot sleepers rest cooler at night, allowing them to wake up without a sweaty bed head feel that can ruin the start of your day.
Noise & Smell
Some bedding products have an off-gassing smell when they come out of their packaging. This pillow may initially have this but it should disappear within a day or two.
Noise should hardly be an issue with this pillow as the foams and plush cover help to dampen any potential sounds that could be made.
Other Considerations
Adjustability – Inside this pillow are two inserts that allow customers to adjust the loft.
Trial – Customers have 100 nights to give this product a try and if it does not work out they can send it back for a refund.
Warranty – Customers can enjoy a 3-year warranty when they purchase this product.
Multiple Sizes – This product comes in both a standard and king size.
Shipping – This product ships for free in the US and Canada.
CertiPUR-US® Certified – The foams the Helix Ultra Cool Pillow have passed third-party tests that demonstrate that this is a safe product.
Made in the USA
| Size | Dimensions (inches) | Price (w/o discount) |
| --- | --- | --- |
| Standard/Queen | 20" x 28" | $95 |
| King | 20" x 36" | $110 |
Final Thoughts
Helix offers sleepers who fight the hot temperatures a solution to their overheating problems. This pillow coupled with the brand's Luxe Mattress line, a bed that has an exceptionally cool cover, can give sleepers a cool and comfortable night's rest.
The customization, paired with the support and comfort features, makes this pillow a top choice for those looking for a pillow that has a good overall value.
Helix Adjustable Pillow
This Helix pillow is meant for all sleeping positions and body types.
Sleep Advisor Score
4.30 / 5
Read Full Review
Related Articles