Are you tired of your pillow letting you down? Do you need a pillow that's as perky as you want to be in the morning? Maybe the Good Life Essentials Shredded Memory Foam Pillow could be the right choice for you.
Let's read on and see how it bears up to scrutiny.
Good Life Shredded Memory Foam Pillow
Sleep Advisor Score
3.90 / 5
Read Full Review
Construction
This is a straightforward design. Shredded pieces of memory foam encased in a bamboo/ polyester fabric cover.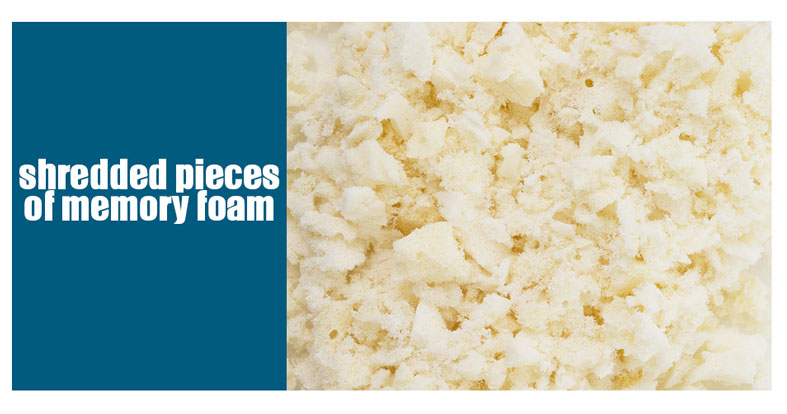 Comfort, Support, and Feel
Don't be put off by the memory foam. While it is usually warm in a mattress, steps have been taken here to ensure that you get all the comfort at maximum coolness.
For starters, the foam is shredded. This has a two-fold purpose. First of all, it helps to improve the air circulation within the cover. The more airflow, the colder your head is kept.
The second reason for the shredded foam is to allow the cushion to be more moldable. Your head and neck are entirely supported because the pieces can move around inside. In the case of a standard foam cushion, you basically have to fit in with its shape and style. This option is more versatile.
This is a very comfortable option but tends to the firmer side. While there is a certain amount of give in the surface of the pillow, there is not enough for those who prefer a lower loft option.
The cover is not removable, but this is understandable. You can, however, clean when necessary. The whole item can go into your washer, as long as you use a gentle setting. For drying it, you must use a very cool setting or let it air dry naturally. It is not recommended that you wash it on a regular basis, though.
Both the foam and the cover are hypoallergenic so perfect for allergy sufferers.
Cover
The cover is made out of half bamboo-fiber and half polyester. This makes it more durable, gives it a nice texture and makes it more breathable as a whole. Bamboo is naturally hypoallergenic, antibacterial, and can assist in wicking away moisture and heat and keeping your head cooler. It also helps you do your bit for the environment.
You can learn more in out top rated bamboo pillow guide.
It is more environmentally friendly than cotton and a lot more sustainable too. This study published in the Journal of Textile and Apparel Technology and Management makes for quite an interesting read in this regard. Bamboo grows faster, needs fewer resources and can be processed a lot more efficiently than the more traditional natural textile options.
Personally, I would have preferred it if there had been both an inner and outer cover so that the outer one could be removed periodically for a good clean. That's really being picky though, I guess.
Sleeping Position
This is a pillow that is best suited to side sleepers because of the loft. Side sleepers who prefer firmer support will really appreciate this particular product.
While the cushion is squishable to some extent, it would be somewhat uncomfortable for a stomach sleeper to sleep on. The same would go for a back sleeper.
For better options for a back or side sleeper, look at this article. If you cannot find the right choice on there, it does not exist yet.
Additional Information
Where it is made: The United States, from start to finish.
Eco-Friendly: The foam is CertiPur-US Certified. The Bamboo fiber is a sustainable resource and more environmentally-friendly to manufacture. To process cotton, for example, takes more than three times as much water.
Cooling: The combination of the bamboo fiber in the cover and the spaces between the foam strips makes air easier to circulate and helps you to stay cooler.
Hypoallergenic and Resistant to Dust Mites
Trial Period: Try it for 30 days. If you don't like it for any reason, send it back for a full refund.
Warranty: Guaranteed not to go flat for at least five years. If it does, you will either get a replacement or a refund.
You will like Good Life Essentials Shredded Foam Pillow if:
You are a side sleeper: This offers excellent support that will stand the test of time. Your head and neck are nicely cradled, and you can shift positions at night comfortably, without interrupting your sleep.
You get great support: The proper support makes all the difference when it comes to the quality of your sleep. You are not putting your neck in an awkward position – very easy to do if you sleep on your side. This makes sleep more comfortable and restful.
Pain Relief: If you battle with neck pain, you might find that your cushion has a lot to do with it. This product allows you to get the right support and to ensure that your neck is kept in alignment with your spine throughout the night.
You can adjust it: If you find it necessary, you could rip one of the seams slightly and remove some of the bits inside. This would let you have a flatter option. Just keep in mind that it would also void your warranty.
Larger Sized: There are three different sizes to choose from, but each is larger than standard ones of the same type. If you get the largest size, it could double as a body cushion.
You don't mind some trial and error: These are not the basic, standard, prop on your bed and go variety. You need to adjust them to your preferences, and this could mean having a few uncomfortable nights while you are getting it all sorted out. Once you hit the sweet spot, though, you will be really smiling.
You are not oversensitive to a slight odor: When these first come out of the box, they will have a distinctive smell that won't be all that pleasant. Once they have been aired out for a day or two, this will dissipate. However, people who are very sensitive to that sort of thing may notice it for a while longer.
You don't want your cushion to flatten: Some of us like the items we sleep on to stay as they are when we buy them. Some want them to be a little more broken in. Something that, over time, becomes more and more familiar and customized to ourselves. These are not going to do that. They are not going to flatten out.
You can spend a little extra: These are affordable, but they are not the very cheapest ones on offer so be prepared to pay a bit more.
Conclusion
If you are a side sleeper and you aim to have a support that you can rely on night after night, year in and year out, this is a fantastic option. Your head and neck will be cradled, and you will enjoy comfort and support for a very long time to come.
That said, this is an option for someone that likes extra loft and a bit more firmness. If you want something flat and squishier, this is not going to work well for you.
In terms of overall quality, this product ranks very highly. The manufacturers haven't wasted time and effort on frivolous extras that no one really needs. This is a simple and straightforward design, based on one principle – improving your quality of sleep.
Good Life Shredded Memory Foam Pillow
Sleep Advisor Score
3.90 / 5
Read Full Review
Jill Zwarensteyn
Editor
About Author
Jill Zwarensteyn is the Editor for Sleep Advisor and a Certified Sleep Science Coach. She is enthusiastic about providing helpful and engaging information on all things sleep and wellness.