Transparency Disclosure – We may receive a referral fee for products purchased through the links on our site...

Read More

.
The importance of a quality pillow can't be overstated. Finding the perfect one that appeals to not only your likes but also performs well for your preferred sleep position could greatly improve your sleep quality. However, with so many options out there, it can be overwhelming to sort through all of them. How do you know if the TEMPUR-Cloud® is the pillow you've been dreaming about? That is where the dedicated team at Sleep Advisor can help.
In this review, we will give you the details on the materials that are used in the TEMPUR-Cloud®, as well as whether this particular pillow has been constructed to withstand the test of time. Given people's variety of preferences, including the position they sleep in, evaluating how this pillow holds up in different situations is also a significant part of this TEMPUR-Cloud® pillow review.
Who Is the TEMPUR-Cloud® Pillow Best for?
Who Might Like the TEMPUR-Cloud® Pillow:
Fans of memory foam – The TEMPUR-Cloud® pillow is made from the kind of conforming and slow-moving memory foam that fans of this material should love.


---

Those who value easy cleaning – The removable cover can be tossed in the washing machine for a full and deep clean.


---

People who prefer to sleep on their backs – The support and loft of this pillow make it a great choice for back sleepers.
Who Might Not Like the TEMPUR-Cloud® Pillow:
Consumers who prefer down or down-alternative pillows – Memory foam has a distinctively different feel than down alternative or down pillows. Therefore, if you are a fan of the fluffiness of that style of pillow, this may not be the best choice for you.


---

Shoppers looking for King-size pillows – If you want a larger pillow, you will probably want to keep looking as the TEMPUR-Cloud® is only available in one size.


---

Hot sleepers – If you like your pillow to keep you cool throughout the night, you will want to look elsewhere. The foam can mold around your head and trap the heat coming off of your body.
Sleep Advisor's Testing Methodology
We not only evaluate the materials and construction of these sleep accessories, but we also evaluate the construction, firmness, feel, loft, and weight. Pillows are then put through a series of tests to see how they perform for different sleep positions.
What is the TEMPUR-Cloud® Pillow Made of?
Cover
The removable and soft, quilted cover is made from a polyester knit. It has a comforting and plush feel, and it is hypoallergenic and machine-washable.
Core
Tempur-Pedic uses a single block of TEMPUR® material, their proprietary memory foam, for the TEMPUR-Cloud® pillow.
TEMPUR-Cloud® Pillow Firmness & Feel
Firmness
A pillow's firmness, which is how hard or soft it feels, is a big factor in determining how well it will perform in different sleep positions. Generally, softer, flatter pillows are better for stomach sleepers, whereas back sleepers tend to benefit from a medium firmness, and those who prefer to sleep on their sides are likely to enjoy a firmer pillow.
Back sleepers are likely to appreciate the medium-firmness of the TEMPUR-Cloud®. The single block of TEMPUR® material is slow-moving but moldable. Over time, your head is likely to continue to sink fairly deeply into the pillow as it conforms around you. However, even with the sinkage, this pillow's firmness makes it supportive enough to help keep your spine in good alignment by allowing the head and neck to remain elevated.
Feel
The quilted polyester knit cover is very soft and comfortable to the touch. When you settle your head into the TEMPUR-Cloud®, you are likely to feel it mold around you slowly throughout the night. You will feel the single block of memory foam providing support for your head and neck.
Loft
Coming in at 5 inches tall, the TEMPUR-Cloud® has a medium loft. This makes it ideal for back sleepers as this height should keep their head and neck elevated so that their spine is in optimal alignment.
Weight (Density of the Pillow)
The TEMPUR-Cloud® feels lightweight, so it should be easy to transport around if need be.
Sleeping on the TEMPUR-Cloud® Pillow
We love that the ultra-soft cover provides instant comfort. As your head drifts down into the slow-moving memory foam, the pillow's moldability will provide you with a plush security that we greatly appreciated. We also liked how the even surface of the core gives your head and neck good support.
| Side Sleepers | Back Sleepers | Stomach Sleepers |
| --- | --- | --- |
| ★★☆ | ★★★ | ★☆☆ |
Side Sleepers
Given that this pillow has a medium firmness and loft, it doesn't initially appear to be a great pillow for side sleepers. However, for those with smaller frames, it is likely that you will find that this pillow does a good job of supporting your head and neck. Those with broad shoulders or overall large frames may not find that this pillow provides you with the same support as those with slight builds.
Back Sleepers
The majority of back sleepers should find that this pillow is ideal for them. The neck and head should be well-supported by the medium firmness, and the mid-range loft should keep the spine aligned. Additionally, the slow-moving foam can provide a cozy molding around the head. 
For More Information: Best Pillows for Back Sleepers
Stomach Sleepers
Tempur-Pedic states that this pillow is designed for stomach sleepers. However, given the slightly higher loft, we wouldn't necessarily classify it as such, though many stomach sleepers may enjoy the TEMPUR-Cloud®. 
This is due in large part to how easily it compresses and molds. Overall, dedicated stomach sleepers will probably want to find a flatter, softer pillow, but this pillow could do well for combination sleepers. Read more about pillows for stomach sleepers here.
TEMPUR-Cloud® Pillow Sizing Options & Pricing
| Size | Dimensions | Price w/o Discount |
| --- | --- | --- |
| Standard | 15.75" x 24" | $89 |
Sleep Advisor's Performance Ratings for the TEMPUR-Cloud® Pillow
Memory foam is often known to trap heat, and this has caused some companies to infuse memory foam with cooling gels and/or perforate it to allow for additional airflow. However, no such measures are taken with the TEMPUR-Cloud®. When sleeping on it, you aren't likely to notice that it is exceptionally hot. Yet, those who tend to sleep hot are better off choosing a cooling pillow.
The slow-moving and moldable memory foam combined with the medium firmness of the TEMPUR-Cloud® should provide excellent support for back sleepers, as well as many side sleepers. However, this pillow may not be the best option for stomach sleepers because of its loft.
The quality of the knitted polyester and the strong zipper on the cover is apparent, and their construction should ensure the cover stays in good condition for several years. Furthermore, the one solid piece of memory foam is made with Tempur-Pedic's premium proprietary memory foam, adding to this product's overall durability.
Fans of slow-moving memory foam should find this pillow incredibly comfortable. The slow-sinking adaptability, soft cover, and overall supportiveness make for an enjoyable experience when using this pillow.
Memory foam can often give off a chemical scent known as off-gassing when it is removed from the package. However, this didn't seem to be much of an issue with the TEMPUR-Cloud®. If you do notice an odor, it should dissipate in 24-48 hours, and this process can be sped up if you place it in a well-ventilated area.
This pillow is hypoallergenic and should be an excellent choice for those who experience allergies. Furthermore, the removable cover is machine washable, which should help get rid of allergens that may have gotten attached to the cover.
The cover of the TEMPUR-Cloud® is removable and can be thrown in the washing machine. It is suggested that you use cold water and a mild detergent when you wash it.
There is no sleep trial offered with this pillow, but Tempur-Pedic does provide a five-year limited warranty. Other than the issues covered under the warranty, the TEMPUR-Cloud® can only be returned if it arrives damaged.
TEMPUR-Cloud® Pillow Frequently Asked Questions
How does the TEMPUR-Cloud® ship?
Tempur-Pedic offers free two-business-day shipping to the contiguous United States. The pillow can be shipped to Alaska and Hawaii for an additional fee.
What is TEMPUR® material?
TEMPUR® material is Tempur-Pedic's proprietary memory foam. Memory foam is made from polyurethane foam, but companies such as Tempur-Pedic have developed different production methods or they mix them with different chemicals to come up with a process unique to their products. This type of foam is designed to provide exceptional contouring, pressure relief, and support.
Should I use a pillowcase with the TEMPUR-Cloud®?
The quilted knit cover of the TEMPUR-Cloud® is very soft and the cover is removable and machine washable. Therefore, you can certainly use it without a pillowcase, but it does great with one as well. Plus, using a pillowcase should keep it cleaner.
How Does the TEMPUR-Cloud® Pillow Compare to Other Pillows?
TEMPUR-Cloud® Pillow vs TEMPUR-Neck™ Pillow
TEMPUR-Neck Pillow
A firm pillow available in multiple sizes.
Sleep Advisor Score
3.90 / 5
Read Full Review
Who Should Get the TEMPUR-Cloud® Pillow?
Fans of memory foam
Back sleepers
Those with allergies
Who Should Get the TEMPUR-Neck™ Pillow?
People with neck pain
Those who enjoy slow-moving memory foam
Back and side sleepers
For more on Tempur-Pedic's pillow, visit our TEMPUR-Neck™ pillow review.
TEMPUR-Cloud® Pillow vs Nectar Resident Pillow
Nectar Pillow
A memory foam pillow with adjustable firmness levels.
Sleep Advisor Score
4.80 / 5
Who Should Get the TEMPUR-Cloud® Pillow?
People who don't run hot at night
Those who only need Standard-size pillows
Travelers who like to take a pillow with them
Who Should Get the Nectar Resident Pillow?
People who like adjustable fill pillows
Side sleepers
Shoppers looking for high-end yet budget-friendly pillows
If you think the Nectar is right for you, visit our Nectar Resident pillow review.
Our Final Thoughts on the TEMPUR-Cloud® Pillow
The TEMPUR-Cloud® is a soft, slow-moving memory foam pillow that should appeal to a wide variety of sleepers. It is especially good for those who like to sleep on their back, as well as many side sleepers. However, we generally think stomach sleepers will likely want something flatter so that their neck isn't raised uncomfortably.
Fans of these kinds of pillows should appreciate how the TEMPUR® material, Tempur-Pedic's proprietary memory foam, molds around their heads as the firmness and loft help support their head and neck. If you are someone who sleeps hot, though, you may want to consider another pillow as this one tends to trap heat. Our overall score for this product is 3.9 out of 5.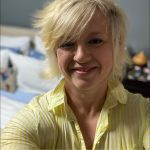 Sosha Lewis is a staff writer for Sleep Advisor.  Lewis is happy that she is able to combine her love of sleep with her love of writing. Lewis also has had articles featured in The Washington Post, Huffington Post, MUTHA Magazine, Charlotte Magazine, and The Charlotte Observer. Her weekly column, Soshally Awkward, is featured on the nationally-syndicated radio show, Bob & Sheri.
She lives in Charlotte, NC with her husband, daughter, and lovable trash-panda of a dog, Olive.