Transparency Disclosure – We may receive a referral fee for products purchased through the links on our site...

Read More

.
MyPillow founder Mike Lindell quite literally dreamed up MyPillow. He says the idea came to him in a dream back in 2004. He then set to work designing and making the first ever MyPillow, which he claims is the most comfortable pillow you'll ever own. Lindell believes his patented three-piece foam fill is the secret to a good night's sleep, thanks to its ability to be soft, yet supportive, and suitable for a wide range of sleepers.
The MyPillow Classic comes in two support levels: Medium Loft and More Loft, with the More Loft model being the firmer of the two. We tested out the MyPillow Classic in the More Loft version, analyzing it for important qualities like comfort, durability, and more. If you've had your eye on this product but want to know more before making a purchase, read on to see what we thought.
Who Is the MyPillow Best for?
Who Might Like the MyPillow:
Combination sleepers – This pillow scored pretty well in all sleeping positions, so it could be a decent option for those who switch positions a lot during the night.


---

Those who love to stack their pillows – We found that neither model was particularly firm, so these pillows could be good for those who love playing around with a variety of pillows on their bed.


---

Shoppers who want a pillow that's machine washable – Regularly cleaning your pillows is important for preventing bacteria growth and dust mites, so being able to pop this pillow in the washer (and dryer) is a huge win.
Who Might Not Like the MyPillow:
People who don't own a dryer – This pillow requires an initial high-heat dryer cycle to fluff it up and regular blasts of heat to unflatten the foam, so we don't recommend this to those who don't have easy access to a dryer.


---

Hot sleepers – The MyPillow Classic is filled with poly foam, which has a tendency to trap heat, and we did notice the pillow warming up when we stayed in one position for too long. Read more about cooling pillows here.


---

Budget shoppers – Overall, the MyPillow comes across as a bit of a budget pillow, but unfortunately, it's not at a budget price. We think you can find a similar quality product at a cheaper price.
Sleep Advisor's Testing Methodology
We all spend a huge chunk of our lives in bed, and a good pillow is imperative for a good night's sleep. To help you make an informed decision, we test each pillow for important factors like durability, support, and temperature regulation. We also assess which sleeping positions work best with each product.
What is the MyPillow Made of?
Cover
The MyPillow's cover has an envelope seam and is made from 100 percent cotton. It's breathable and feels soft to the touch, which is great news for side and stomach sleepers, who are more likely to feel the fabric through their pillowcase. The material is nice and silent when you move around on it.
Core
MyPillow uses 100 percent shredded poly foam as its filling, with varying amounts of fill depending on which support level you opt for. The patented three-piece interlocking fill consists of three different sizes of foam that are designed to move and connect, allowing the pillow to be manipulated and folded. According to the brand, the smaller foam provides softness, the medium one holds the other components together to retain the pillow's shape, and the larger foam offers spinal support.
MyPillow Firmness & Feel
Firmness
The MyPillow Classic comes in two support levels, Medium Loft and More Loft, which are color-coded across the manufacturer's products. White correlates with Medium Loft (medium firmness), whereas green correlates with More Loft (firm), though in our opinion the white is more medium-soft and the green is more medium. Pressing into the green MyPillow, it definitely feels plush and fluffy.
Feel
When you remove the pillow from its packaging, it will look limp and flat. This is because the product needs to be run through a dryer on high heat for 15 minutes to fluff it up before use. If you don't have access to a dryer, you won't get the best out of this pillow.
The cotton cover feels soft and breezy, while the pillow itself is super easy to fold and shape, thanks to its shredded fill. The pillow offers a quick response to pressure when pressing your hand or laying your head on it, but while you can shape it to evenly distribute the fill, we found the foam often moved about and became a bit lumpy. This can be fixed by running it through the dryer, but again, this will be an issue for those without a dryer.
Loft
A pillow's loft is its height, and different sleeping positions require different heights to keep the head and spine in alignment. Side sleepers tend to require a higher loft, back sleepers a medium loft, and stomach sleepers a lower loft. The green MyPillow has the highest loft of the two Classic options and is noticeably fuller than the white version. We found the green to be pretty comfy in all sleeping positions, as it's foldable so you can change the shape to adjust the loft – just be mindful that the filing can divide unevenly, which can make it feel a bit lumpy at times.
Weight (Density of the Pillow)
The MyPillow Classic green (More Loft) model weighs around 1.6 pounds.
Sleeping on the MyPillow
Dedicated back sleepers may enjoy the MyPillow Premium More Loft model as we found it offered great support and cradling for the head in this position. The only downside is that it needs regular fluffing to keep its shape, which is best done in a dryer. Overall, we think this pillow is too high a loft for stomach sleepers and too low a loft for side sleepers. However, it can be easily manipulated to increase or decrease the loft but does lose shape quite easily, so it may work for those who only spend a portion of the night on their stomach or side.
| Side Sleepers | Back Sleepers | Stomach Sleepers |
| --- | --- | --- |
| ★★☆ | ★★★ | ★★☆ |
Side Sleepers
While we wouldn't say that this pillow was specifically designed for side sleepers, it could be a great option for combo sleepers who only spend a portion of the night on their side. This pillow can be maneuvered to increase loft, which may suffice for some side sleepers. However, others may prefer a product with a higher loft or another pillow underneath for extra support.
For More Information: Best Pillows for Side Sleepers

Back Sleepers
We found sleeping on our back pretty comfy with this pillow – it felt supportive enough to keep the head elevated without feeling too propped up. The extra cushioning compared to the white (Medium Loft) MyPillow makes this one much more suitable for supine sleepers, and the shredded foam fill cradles the head. However, while it's a great pillow for back sleeping, one issue is that the foam can divide a little too much, so you have to keep fluffing the pillow before finding the desired comfort.
For More Information: Best Pillows for Back Sleepers

Stomach Sleepers
We initially thought this might be too high a loft for stomach sleepers, but it was actually fairly comfortable as it's easy to manipulate. You can fluff up parts of the pillow to increase/decrease the loft in certain areas, preventing your head from feeling too elevated. However, to keep things simple, strict stomach sleepers may prefer a flatter pillow (like the Medium Loft/white MyPillow). We think that combo sleepers who spend part of the night on their stomachs should be happy though.
For More Information: Best Pillows for Stomach Sleepers

MyPillow Sizing Options & Pricing
| Size | Dimensions | Price w/o Discount |
| --- | --- | --- |
| Standard | 18.5" x 26" | $49.98 |
| Queen | 18.5" x 28" | $69.98 |
| King | 18.5" x 34" | $79.98 |
Sleep Advisor's Performance Ratings for the MyPillow
We found this pillow to be average for cooling. Despite having a breathable cotton cover and a shredded foam fill (which should promote airflow), poly foam is known for trapping heat, and we felt things warm up when we stayed in one position for an extended period of time. Hot sleepers might want to check out a dedicated cooling pillow to avoid a sweaty head.
Foam pillows tend to be more supportive than fiberfill or down, and we found the green/More Loft MyPillow did a good job of keeping things elevated with its shredded poly foam. The shredded foam means you can easily shape the pillow to cater to your preferred sleeping position, and the medium support means it should do a pretty good job at supporting you no matter how you sleep.
The MyPillow is filled with poly foam, which tends to be less durable than latex or memory foam, and because the fill is shredded, it tends to clump. This can be solved by fluffing the pillow manually or, better yet, popping it in the dryer on high heat for 10 minutes. While this is slightly less of an issue with the green MyPillow (which has a higher density than the white option) it may be a dealbreaker for some. Furthermore, frequently tumbling around in the dryer may diminish the overall durability.
Overall, the green/More Loft MyPillow was pretty comfortable in all sleeping positions. It's got malleability thanks to the shredded foam, which allows you to shape it how you like it. The fluffing might be more enticing for combination sleepers but frustrating for those who tend to sleep in one position and don't like the idea of constant reshaping. If you're seeking a pillow for hugging, we recommend this MyPillow as it's squishy and comforting.
The MyPillow's fill includes polyurethane foam, and bedding products containing this foam often produce an initial smell, which is known as off-gassing. The smell usually goes away within a few days, but it can be bothersome if you're sensitive to smells and prefer to sleep on your new pillow right away.
MyPillow makes no claims that any of its products are hypoallergenic, and it recommends that people with allergies wash their pillows every two months. The poly foam fill is CertiPUR-US® certified, which means it meets rigorous standards for emissions of VOCs (volatile organic compounds).
The MyPillow isn't sleep-ready and requires 15 minutes in the dryer on high heat before use to fluff it up after being stuck in the packaging (it will appear flat once unwrapped). The pillow is machine washable (on a cold or warm regular cycle) and dryable (on high heat – the higher, the better for fluffing). The manufacturer recommends washing the pillow every three to four months to rejuvenate the foam fill and every two months for those with allergies.
MyPillow offers a 60-day money-back guarantee (minus shipping costs) with each pillow, plus a 10-year warranty.
MyPillow Frequently Asked Questions
What does green mean on MyPillow?
MyPillow color codes its pillows to indicate loft level and firmness – yellow is Lower Loft (soft), white is Medium Loft, green is More Loft, and blue is Most Loft (firm). When you go to order, though, you will choose based on the loft, not the color. Some of the brand's pillows are available in all four loft options, but the Classic MyPillow is only available in Medium Loft (white) and More Loft (green).
How can I tell which MyPillow I have?
If you've forgotten which color MyPillow you purchased, just check the label on the pillow. yellow will have yellow writing, white will have black writing, green will have green writing, and blue will have blue writing.
How much does MyPillow cost?
The cheapest MyPillow is the Premium, coming in at 59.98 dollars for Queen size. The most expensive is the latest MyPillow 2.0, which is 89.98 dollars for a Queen.
What color should MyPillow be?
As mentioned above, the MyPillow colors denote loft level, and the right level for you is dictated by your sleeping habits. MyPillow offers a color guide on its website to help you decide, according to your t-shirt size, but we think a better way to gauge is by reading reviews.
Should I wash MyPillow?
Yes, you should wash your MyPillow as it's machine washable, and this will help it remain clean and fresh. The brand doesn't recommend using a pillow protector, as this can affect the feel of the pillow and trap heat, so it's important that you wash your pillow regularly. This won't just keep them clean and free of sweat, bacteria, and dust mites, but it will also rejuvenate the foam fill.
MyPillow recommends washing pillows on a cold or warm regular cycle every three to four months or every two months if you have allergies. Handily, the pillows can be put in the dryer, which also helps keep them fluffy.
How Does the MyPillow Compare to Other Pillows?
MyPillow vs Nest Easy Breather Pillow
Nest Easy Breather Side Sleeper Pillow
A shredded memory foam pillow with cooling fabric.
Sleep Advisor Score
4.50 / 5
Read Full Review
Who Should Get the MyPillow?
Stomach sleepers
Combination sleepers
Shoppers on a smaller budget
Who Should Get the Nest Easy Breather Pillow?
Hot sleepers
Those who want an adjustable loft
Side and back sleepers
MyPillow vs Brooklinen Down Pillow
Brooklinen Down Pillow
The Brooklinen Down pillow is available in three firmness levels, making it versatile for a variety of sleepers.
Sleep Advisor Score
4.30 / 5
Who Should Get the MyPillow?
Shoppers who prefer a longer warranty
Those who like to be able to launder their pillow
Shoppers who prefer not to use products made with down
Who Should Get the Brooklinen Down Pillow?
Those wanting a cloud-like down pillow
Shoppers who prefer a longer trial period
People who want affordable luxury
Fore more on Brooklinen's pillow, visit our Brooklinen Down pillow review.
Our Final Thoughts on the MyPillow
We think the green (More Loft) MyPillow is a great all-around pillow that works well in all sleep positions. This could be ideal for combination sleepers who switch positions a lot and need a pillow that works as well for side sleeping as it does for stomach sleeping.
However, this versatility means that it might not be the best option for those who tend to stay in one position all night, as the pillow tends to separate and lose its shape, which could be bothersome. While we don't think the MyPillow Classic offers great value for money, we do appreciate the 10-year warranty and ability to machine wash the product. Our overall score for this product is 3.5 out of 5.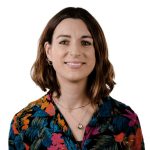 Lisa is a content writer for Sleep Advisor, which combines two of her greatest passions – writing and sleeping. She can also be found writing about fitness, sustainability and vegan food.
Her life revolves around her two rescue dogs (who she shares her bed with) and if she's not running around after them, she's likely doing yoga, buying new plants, or enjoying a sunset rum at the beach.
Writing for Sleep Advisor has made her realise she needs a new mattress, stat.