Transparency Disclosure – We may receive a referral fee for products purchased through the links on our site...

Read More

.
Ever worn your blanket around the house like a cape? It can be so warm and cozy that unwrapping yourself to get a drink just isn't happening—plus, you kind of look like a superhero, and that is always cool.
If you've been wanting to try out a weighted blanket, you can still feel like Batman in Casper's new version. It's throw sized, so it's perfect for using around the house or while traveling. These products are becoming increasingly popular because of their anxiety-reducing and sleep-enhancing benefits.
This in-depth Casper Weighted Blanket review will teach you everything you need to know about this product and a little bit about the science behind deep pressure therapy. Or you can skip to the end and read our final score.
You will love this blanket if you:
Sleep warm – The breathable cotton cover helps air flow freely so you don't overheat during the night.
Want a weight tailored to you – Casper has three weight options (10, 15, and 20 pounds) to find the right fit for your body type. This is also great for light sleepers who often don't have a lighter option.
Want your investment to last – Made from high-quality and durable materials, this product should last for years. Plus, your purchase is protected by a one-year warranty.
You might not like this blanket if you:
Want size options – Casper only comes in one size and is on the smaller side (throw size). This makes it easy to pack up for travel, but you wouldn't be able to share it with a partner.
Are spill-prone – The company only recommends spot cleaning, so if you spill something on it, you can't just toss it in the washer to clean.
In that case you might want to take a look at our list of highest rated blankets for this year.
Video Review
How it Works
It might sound strange, but weighted blankets can help reduce anxiety and stress and improve sleep. The science behind it is called deep pressure stimulation (DPS). The compression can release a hormone called serotonin, which helps you feel secure, calm, and happy.
Therapists and doctors recommend weighted comforters as a treatment for those with certain conditions, such as: insomnia sufferers, people who have anxiety, those with attention deficit hyperactivity disorder (ADHD), and others. You don't need a recommendation from a doctor to try one out, though, so if you are having difficulty sleeping, a weighted comforter might be worth a try.
The general consensus is that in order to reap the benefits, it should be around 5 to 10 percent of your weight. Too light, and you won't feel anything; too heavy, and you might feel uncomfortable.
Construction (Materials & Quality)
Like all of Casper's products, it is shipped to you for free if you live in the US or Canada. The first thing you'll notice is the navy blue hypoallergenic cotton cover that should match with a variety of decors.
What you can't see is the inner liner (a thin layer of polyester) and the fill, which is made of eco-friendly glass microbeads and polyester batting. Since it is quilted, the beads should remain evenly distributed and resist any gaps in the filling. A serious plus to this product is the quality—it feels high-end and it should last a long time.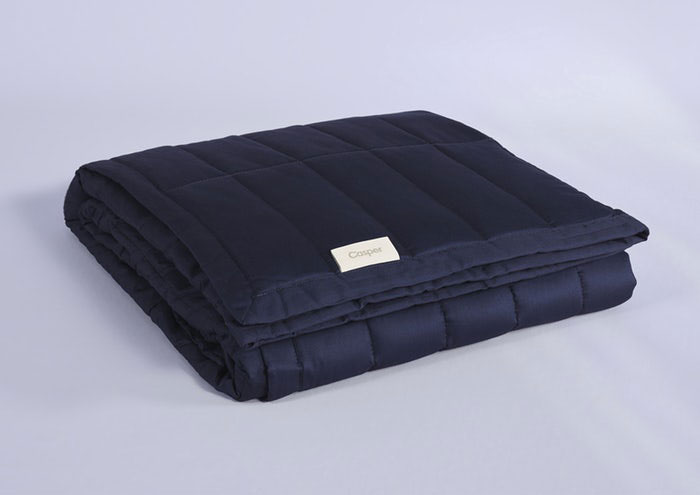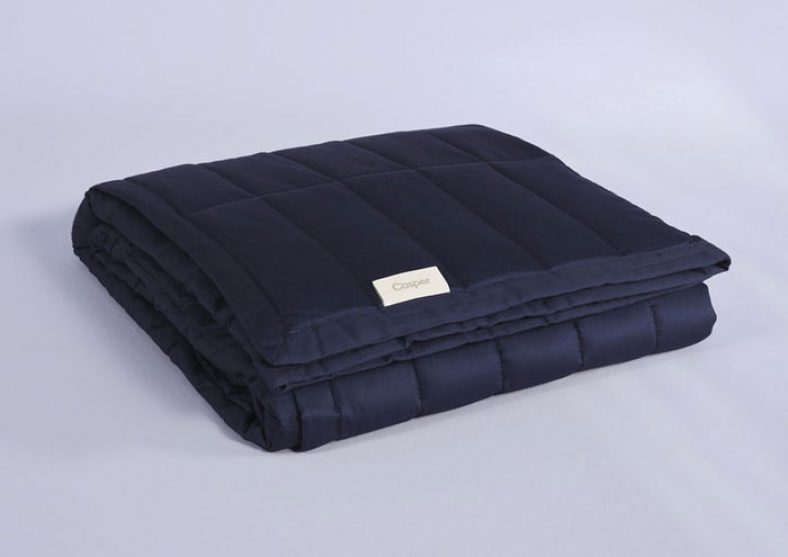 Feel (Support & Feel)
Some weighted blankets are designed to be ultra warm, but Casper's cotton cover is more breathable than most. Those that sleep hot should appreciate the cooling features of this blanket, especially during the summer; however, those that want something to warm them up in the winter might want to go with a different option.
This product should feel durable because of the quilting, and the inner fluffy filling helps keep the glass beads in place. The weight range is great for the average sleeper—those who weigh around 100 to 200 pounds should find a suitable option. Sleepers that are outside of this range might not be able to properly experience the deep pressure touch that these products are designed to provide.
Noise
Most sleepers want a blanket that is quiet and won't make annoying noises while shifting throughout the night. It should be on the quieter side because it is filled with a combination of glass beads and polyester rather than, say, plastic beads or sand. Plus, because it is designed to resist clumping, the beads should not knock into each other as often.
Other Considerations
Trial Period – Cozy up with this blanket for 100 nights risk-free while you decide whether this is the one for you.
Warranty – This product is covered under a 1-year limited warranty.
Shipping – Delivery is free to Canada and the lower 48.
| Size | Weight (lbs) | Price (w/o discount) |
| --- | --- | --- |
| 10 lbs | 50" x 70" | $169 |
| 15 lbs | 50" x 70" | $179 |
| 20 lbs | 50" x 70" | $189 |
Conclusion
---
Casper's Weighted Blanket shines in its superior durability and use of high-end materials. The three weight choices give most sleepers an option that will work for their body type, and the small size makes it a breeze to travel across the world—or across the house—with.
Unsure if a weighted blanket is a way to go? Rest assured that your purchase is backed by a 100-night trial with free returns. Everyone deserves to get a killer night's rest, and this just might be the answer.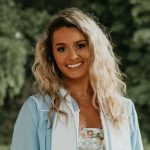 Katie Simpson is an editor for Sleep Advisor. She brings her experience in the wellness space, specifically in testing products and writing honest reviews, to the Sleep Advisor site where she provides helpful information on mattresses, sleep accessories, sleep health, and more.
As a former insomniac and dedicated back sleeper, Katie loves sharing her newfound appreciation for sleep with others. She's also an advocate for cranking the thermostat down at night — setting the temperature above 68 at night should be a crime.
Outside of work, her passion for living a healthy lifestyle continues in the gym, where you can find her lifting weights and doing yoga.