Transparency Disclosure – We may receive a referral fee for products purchased through the links on our site...

Read More

.
Sometimes the best camping is during the colder months when valleys aren't crowded with tourists and you've got the mountains all to yourself. Not to mention, colder months in some locations offer stunning skies making for brilliant photographs and unique flora. However, if you're camping in the cold, you'll need the right gear, like a warm wool blanket.
Camping in colder months may not sound ideal, but when you're prepared with warm essentials, off-season months can offer serene beaches and idyllic getaways, creating lasting memories with loved ones. We detail our favorite wool blankets for camping to give you the confidence to jump in the caravan year-round.
6 Top Rated Wool Blankets for Camping Reviews
Ever Ready First Aid –
Best Fire Retardant
80% Wool

Olive green color
Size: 66″  x 90″
We love this beautiful olive green cover because of the affordable price and thin design which packs up easily. The product is exceptionally durable to last through countless chilly nights and is perfect to use on the road when camping in the mountains or for a night at the beach.
The Ever Ready First Aid blanket is excellent for using outdoors near a campfire or portable stove due to its fire-retardant material. This feature lets you bundle up worry-free, knowing you have a warm and safe product if you encounter a worst-case scenario.
Perfect for those chilly winter nights, you could even wrap it around more than one person letting you get close and snuggly with its large size. The high wool content helps to trap body heat even in the most extreme conditions. Additionally, due to its 80% wool design, we find it soft and comfortable.
Pendelton –
Best Twin Size
86% Wool/14%cotton
3 designs available
Size: 66″ x 84″
Includes leather carrier
If you're not looking to warm up more than one person, or merely need a handy throw to tote around for chilly outdoor gatherings, we love this Pendelton blanket. It's as smart-looking as it is functional, rolling up nicely into a leather carrying strap for accessibility. This warm blanket will not only keep you toasty but looks pretty enough to display near a fireplace for a cozy vibe.
The Pendelton is made with high-quality materials offering peace of mind that it will last, and we found that most users find the product to be soft and comfortable, as it's created with 86% wool and 14% cotton. Perfect for personal use when hunting, fishing, camping, and great as a gift for the holidays. Durable enough to be passed down for generations to come, our team is a fan of this top-notch product.
3 size options
4 design options available

20% wool 80% polyester
The Arcturus throw makes for an excellent budget choice, perfect to layer on top of your sleeping bag during chilly camping trips cozy up in for a beach bonfire. Beautiful in design, the product doubles easily as a beautiful living room accessory and is comfortable enough for movie nights on the couch. The soft blend of 20% and 80% polyester allows most customers to bundle up itch-free, enjoying cooler nights free of uncomfortable chills.
A perk about this blanket that we find particularly useful is that the product description claims the throw is machine washable, whereas most wool products need dry cleaning. This is likely due to the ratio of materials in the blend, making it low-maintenance for busy lifestyles. However, keep in mind this blanket is only 20% wool, so the warmth and durability may not compare to other coverings with higher ratios.
100% Wool
Size: 66″ x 90″
Navy blue color
No added fire retardants
The Ektos blanket is a high-quality product at an excellent price point. While the Ektos is not cheap, we think that the cover offers considerable value regarding its design. The cover is substantial in texture, offering a weighty feel and exceptional warmth through cold nights.
The finished edges are meant to prevent premature fraying, and the 100% wool material should keep most campers warm through cold nights. Ektos's high-quality material is designed to keep even the most sensitive users comfortable and free of the itchy sensations found in lower quality material.
A notable perk is that there are no fire retardant chemicals added, and fortunately, the material shouldn't easily catch fire anyways. Loom woven, this premium, heavy-duty cover is built to last. The blanket's durability is meant to stand the tests of time, giving buyers peace of mind that this cover will earn its keep for years to come.
Orion Blanket Co –
Easy Care
80% Wool

4 size options
4 color options
Size: 66″ x 84″
If you enjoy giving back, Orion Blanket Company gives away one item for every five sold, making this product remarkably ethical. This organization gives covers to nonprofits targeting the homeless, disaster relief, and the impoverished. Orion makes it a pillar of their vision to help those less fortunate, letting users buy responsibly.
The cozy product is resistant to bacteria and mold, making a smart addition to any family's camping gear. Warm and cozy, the high-quality blanket lets users bundle up through cold nights allowing for outdoor gatherings year-round in style and comfort.
High ratios of material tend to lend themselves to durable strength to last throughout the years, letting buyers purchase with confidence that their products will serve them long after they're bought. Many products of this type aren't machine washable; however, this one claims to be. While some fibers may shed, the cover is designed to get softer and fluffier with each turn in the wash.
Woolly Mammoth Woolen Company –
Best Merino
80% premium virgin Merino wool
Different color options
Size 66″ x 90″
Merino is remarkably warm and is known in many parts of the world for its natural insulating properties. The product is woven with 80% virgin merino and is not created with any recycled material. The cover has added acrylic for enforced durability, so this twilled cover can last for years.
The edging on this quality blanket is double-stitched with polyester and finished with a thick yarn for a beautiful appearance. The Woolly Mammoth is created with inter-fiber felting and consolidates the fabric tightly, making for a denser, warmer product.
Great for hiking, hunting, boating, fishing, and backpacking, this throw is perfect for various occasions to keep you cozy through the colder months. The product weighs a hefty four pounds, offering a formidable top layer of warmth during winter camping trips, and at 66 x 90-inches, the product is large enough that most wearers won't wiggle out from under it in the night.
Wool Blanket for Camping Buyer's Guide
About Wool Blankets
Wool is a brilliant material to use when looking to keep dry and warm in cold, damp weather because of its heat potential, and it can also keep you cool. Because this special fur has coarse fibers, the outer layers act similarly to a shingle on a roof, which easily defends against wetness. Additionally, due to the fiber's crimpy texture, there are small pockets of air within these, similar to styrofoam, which act like warm little air pockets, keeping you cool when it's hot and warm when it's cold.
Due to wool's unique nature, the fiber is particularly suitable for a variety of extreme climates, making it an excellent choice for camping.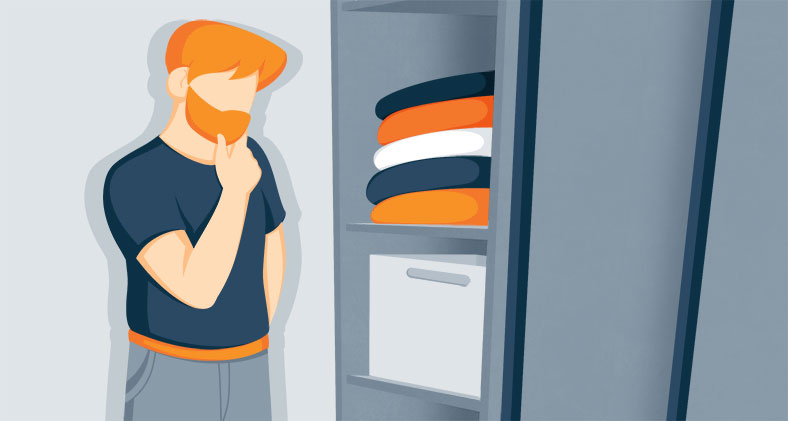 How to Combine Outdoor Wool Blankets With Sleeping Pads
Keep in mind that a blanket alone won't keep you toasty warm at night if sleeping in the wilderness. Utilizing a sleeping pad will not only keep you comfortable throughout the night so that your tail or hip bones won't loathe you in the morning, but it deflects warmth as well. For optimal warmth, use a blanket in addition to a sleeping pad, which creates a barrier between you and the cold ground.
What to Consider When Buying a Wool Blanket
There are a few various features to consider when buying a blanket. While they're not often expensive, if you buy the right one for your particular needs, it could last you a lifetime as long as you're happy with its functionality.
Keep in mind the way you're hoping to use the product. Some families use them for backyard camping for kiddos or on frequent camping trips year-round, and some only in particularly harsh weather. Additionally, you'll also want to consider if it would be smart to buy a larger size so it could warm multiple people.
Wool is remarkably versatile and could be useful in both hot and cold weather. The trick to wool is its tiny air pockets within the material's coarse, crimpy fibers. You may see sheep out in the cold and feel sorry for them due to the wet weather, but the material acts like a thermos for your body, so they're typically toasty warm despite cold climates.
Additionally, the material is resistant to mildew and mold. Early humans were smart to domesticate sheep thousands of years ago for its incredible versatility and use in various temperatures.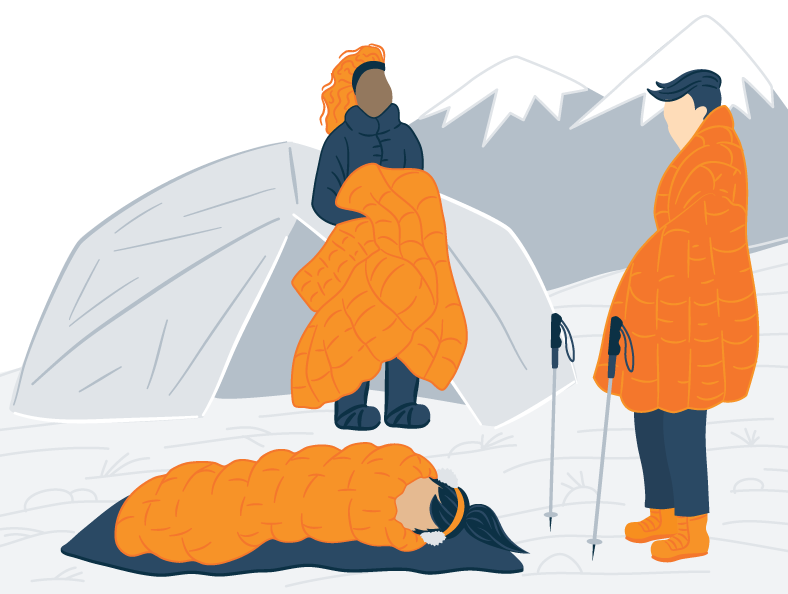 Durability and Cost Ratio
Wool is remarkably durable compared to the price. These types of blankets could last for decades without significant signs of wear and tear, making it an attractive product when you're considering the value.
The fibers of the thread are remarkably flexible, able to bend over 20,000 times without splintering, making them significantly more durable than cotton which can only be bent around 3,000 times in its lifespan. Additionally, the fibers in sheep fur can be stretched to almost twice their length when wet, making them one of the world's most durable and reliable materials.
Consider how many people you'll be needing this blanket for before purchasing, or if you'll just be needing it for yourself. If you often go camping with friends and share items it might be handy to have one that's double in size. Camping can sometimes require a lot of expensive and heavy equipment to make sleeping outdoors comfortable, and bringing along a large blanket to keep you and a partner or friend warm could prove useful.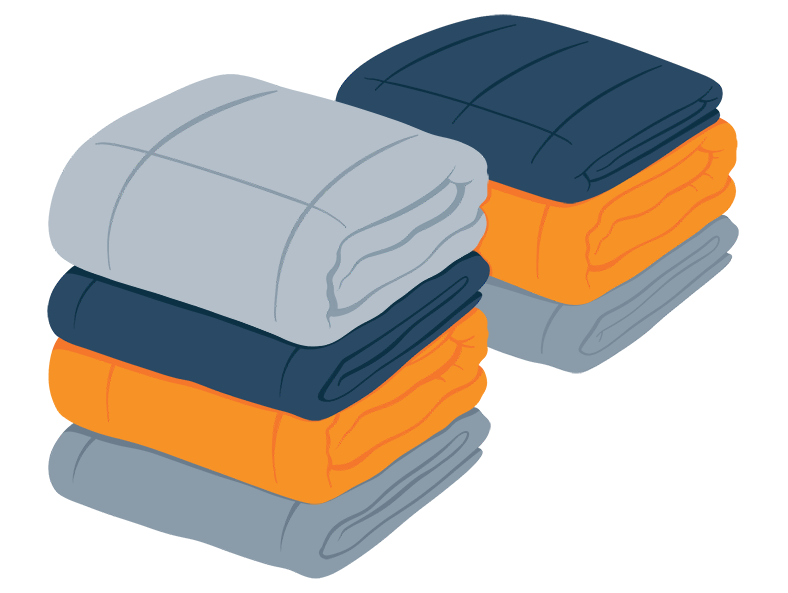 If you plan only to use a blanket in cold weather, having one thick blanket might be more convenient. However, if you're considering buying blankets for various weather types, layering a few thinner items could better accommodate the changes in temperature. Keep in mind also that having something heavy on you might not be comfortable if you're sensitive to weighty covers, so getting a feel for how it'll weigh on your body is essential.
Wool Camping Blanket Maintenance
Maybe you don't mind trips to the dry cleaner occasionally or possibly prefer not to bear the cost, whatever it is, your maintenance style will impact the amount of time you spend looking after your purchase.
Care and Cleaning
Throwing a blanket of this type into the washing machine isn't typically a good idea. Despite its impressive strength and durability, it might change shape in a washer even when carefully hung to dry. Because of its peculiar nature, the fiber works best when brought to the dry cleaners when due for a cleaning.
However, keep in mind your blanket isn't meant to be used as the first layer when sleeping. A blanket is intended to reinforce a sleeping bag or on top of existing layers so it won't become dirty as quickly as a sleeping sack might. Additionally, deciding whether it needs washing after each use is up to the owner's personal preference, so if you're more relaxed when it comes to cleanliness, you may not need to bring it to the cleaners often.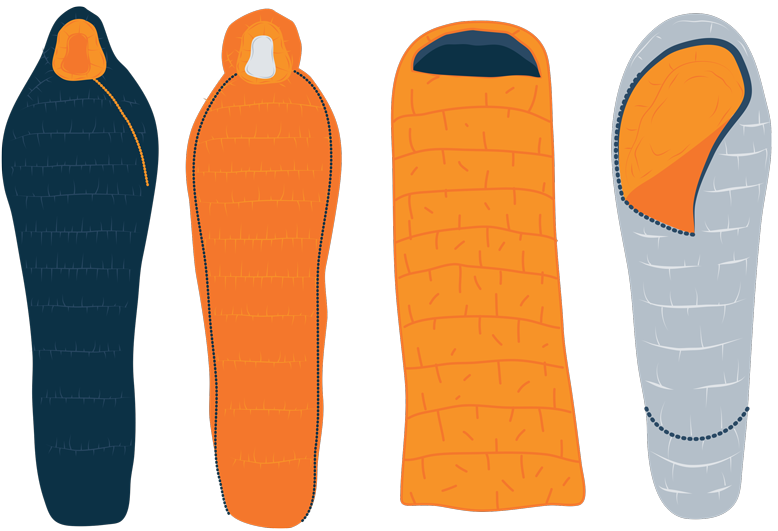 Wool vs. Other Materials
Despite the attractive features of wool, like durability, cost, and warmth, the material has a few drawbacks. Washability and allergies could hinder its use and a few more which we detail below.
Synthetics
Wool is commonly blended with other fibers, and when it's combined with high-quality material, it is meant to be incredibly soft and warm. However, some types are lower quality than others, which is critical to consider if you want a soft blanket. If you're hoping to cozy up by a fire with a blanket and anticipate it touching your skin often, think about how luxurious you prefer the feel.
If you don't mind it being a bit itchier and only intend to use a wool blanket as a top layer over a sleeping bag, for example, the feel of the material may not matter as much.
Fleece
Fleece could be an affordable, lighter alternative if you're looking for something inexpensive and less of a burden on your pack if hiking a considerable length to a camping location. Fleece hardly retains any water and can still be insulating.
FAQ about Wool Blankets for Camping
Are wool blankets fire resistant?
Is any blanket fire resistant? This is a complicated question. While we did not attempt to set fire to any blankets for testing, it is widely considered that wool is fire resistant.
Each fiber of the material holds moisture, making it notably difficult to catch fire. Regardless, accidents happen and the material can still ignite when held to an intense flame. It is challenging to ignite and the material has a lower flame velocity comparatively, but it is hugely critical always to exercise caution when dealing with an unpredictable and potentially life-threatening element.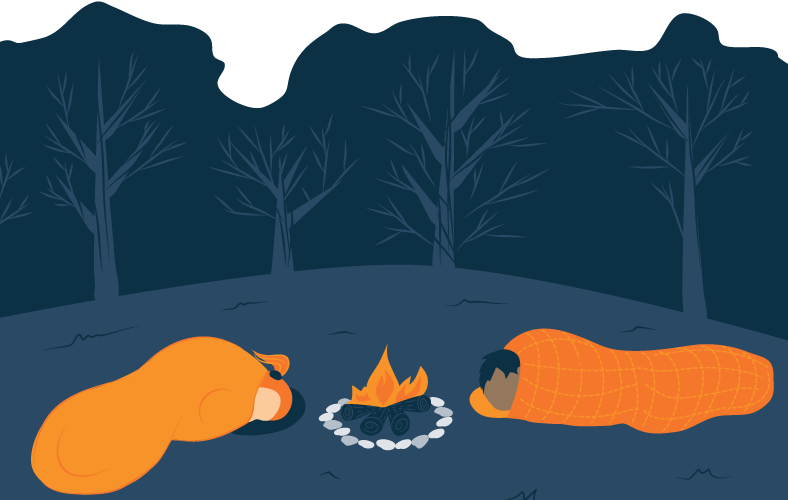 Is wool itchier than other materials?
Sheep fur gets a bad reputation for being itchy, but high quality materials made with thin fibers are meant to feel luxuriously soft to the touch. The reason many products feel itchy is due to the particular fibers used. When products are made with quality, thin threads, it could feel buttery soft.
On the other hand, the larger the diameter of the fibers, the scratchier it will feel. Additionally, the more a material is processed, the rougher it's exterior becomes, creating jagged edges on threads. Ultimately the wear it endures creates the uncomfortable itchy sensation commonly associated with wool.
Conclusion
Camping in the cold can be brutal, or it could be brilliant and fulfilling while enjoying the great outdoors, wrapped up in a warm blanket with loved ones. Getting outside is an activity that is often overlooked due to seasonal obstacles, but with the right accessories, you could be prepared year-round.
While wool blankets are offered in a variety in cost, if you're looking for a quality product to spend a significant amount of money on, you want to be certain you're purchasing something that will endure for ages. We hope that with our guide you feel confident in choosing the perfect blanket for you.