Transparency Disclosure – We may receive a referral fee for products purchased through the links on our site...

Read More

.
From one night in a yurt to roughing it a few days in the wilderness, we all have a different definition of camping. The good news is, there is probably an ideal sleeping bag for camping out there for everyone. If you're not sure what kind of sleep sack you're looking for or you just want a good deal, our guide should help lead you in the right direction for catching those Zzz's on the trail.
We'll explain the differences in material, function, and even carry weight if you like to hike in, and if you're camping with friends or family, we'll help you make sure they sleep as well as you do.
14 Top Rated Sleeping Bags for Camping Reviews
Coleman Palmetto –
Great Value
Built for temps as low as 20 °F
100% polyester
Built-in Trilock insulation
Roll-up storage with bungee cords
Budget-friendly
This is our all-around great value option. At a reasonable price point with all the essential features, we think most campers will have everything they need in this sleeping bag. The Palmetto is made for cold weather–igloo campers and ice climbers–we're looking at you. The lower temperature limit is 20 °F with this material, so even below freezing, this product should keep you safe.
Made from 100 percent polyester with Trilock insulation, your body heat should stay right where you want it–on your body. Because the insulating layer is sewn in place, it shouldn't shift around when you do. With roll-up storage and bungee cords to tie it down, this option might not compact as far as other stuff sacks, but it should provide reliable temperature control and have plenty of room for sleepers and additional layers.
Reviewers love that Coleman provides durable quality so they don't need to replace their sleeping bags every time they go camping. In some cases, reviewers say these products can last for decades.
Sleepingo –
Best Queen Size
Queen size
210 thread count
Waterproof polyester fabric
Suitable for as low as 32 °F
Can zip down into two separate sleeping bags
If you have enough packing space and plan on co-sleeping on your overnight trip, queen sleeping bags can be a great option. While they tend to take up more space, they allow campers to share body heat and can even save space in a small tent. These also come recommended for sleepers who feel claustrophobic in a mummy sack or just want a little more room to spread out.
Made with 210 thread count waterproof-polyester fabric, this material should keep you dry and safe down to 32 °F, though you'll probably be the most comfortable in the 50-degree range. So whether you're laying out under the stars or are cozied up in a cabin, this option should provide the plush comfort you're looking for. Because it's a stuff sack, stowing the material should be easy when you're ready to break camp and help you save time for the important things, like roasting marshmallows and sleeping.
In case you want your own space, this model can also zip down into two separate sleeping bags for optimum versatility.
TETON Sports –
Great Comfort
Extra padding
Safe down to 20 °F
Queen size
Many color options
Suitable for plus-size sleepers
We've all been there, in the perfect camping spot with a great view and you can even hear the water… but there is a root digging into your back and your sleep sack is doing nothing to prevent it. To solve these issues, TETON sports created an ultra-comfortable option with maximum padding.
Safe down to 20 °F, this Mammoth queen size option can fit two comfortably, or one if you like to spread out. For most overnight trips, you can't go wrong with a giant plush sleeping bag to keep you warm after a long day of hiking, swimming, tin foil dinners, or however you choose to camp. Available in a variety of colors, even glampers could be satisfied by the luxury and style of this product.
Reviewers say this option is great for plus-sized sleepers and couples, but most of all it's great for those who tend to sleep cold. While many products can brag about their low-temperature survival limit, reviewers say this choice holds up to the claims.
Coleman 0°F –
Great Big and Tall Mummy Bag
Accommodates sleepers up to 6 feet, 2 inches
Zips up from inside
Easy to compress
Lightweight
Ultimate heat retention
Finding a mummy sack that doesn't fit like an 80's prom dress can be difficult when you're bigger and taller than the average sleeper, which isn't fair when you look at all the benefits of a mummy sack. Easy to compress, lightweight, and extra warm, these are versatile and great for avid campers. That's why Coleman created an option to accommodate most body sizes up to 6 feet 2 inches.
While this choice might be at a higher price range than other options, it's still exceptionally reasonable when you break down the stats. The fabric is made from synthetic material including Thermolock draft tubes for ultimate heat retention. This bag should insulate well against the cold and condensation, keeping reviewers warm and dry even through snowstorms.
Reviewers love that this product can zip up from the inside, so you don't need to waste any precious body heat to get cozy. With a compression sack, this sleeping bag can condense to about one square foot, saving you packing space where necessary.
REVALCAMP –
Great Indoor/Outdoor Option for Kids
23 colors and designs
Budget-friendly
Easy to clean
Lightweight
Suitable for temps down to 40°F
Can be combined into giant bed
If you're planning on camping out with the kiddos, it can be hard to keep them warm and dry without subjecting your best gear to sticky fingers, dirty feet, and occasional bedwetting. If you find yourself in this situation, we'd recommend checking out the REVEALCAMP children's option.
Available in twenty-three colors and designs, this bag can be a great budget option for quick trips, sleepovers, or a night in the backyard under the stars. Best of all, it is easily cleaned with a quick wipe down.
Weighing about two pounds, this product should be simple to stow and allow your kiddos to care for their own bags even if they are beginners. If your kids like to co-sleep, they can even zip their bags together to create one giant bed, which could be good for those who are scared of the dark. As the size can fit adults as well, many reviewers used this product and found it kept them warm down to 40°F.
Ohuhu –
– Great Convertible Sleeping Bag
Convertible
Use solo or convert to double-size
Breathable
Insulated
Comes with two travel pillows
Lightweight
If you like to snuggle up with your partner but you aren't a stranger to solo trips, we recommend considering the Ohuhu double sleeping bag. With two sides that can zip together to create one bed, or double over to create a sleeping pad, this product is versatile and convenient at a reasonable price. Made with a polyester outer shell that's easy to clean, the fill is made from bonded cotton to insulate against the cold while allowing the material to breathe on warmer nights.
For those who want neck support without bringing along their favorite pillowcase, this product comes with two travel pillows that should save you space for years to come. Reviewers love the expansive size of this bag, saying some can even fit their pets in with them. On cooler nights, we can't say we blame them.
As this product is lightweight and easy to carry, reviewers say they have no problems carrying it into their camping spots or stowing it in the morning.
WINNER OUTFITTERS –
Great Lightweight Mummy Bag
Multi-season design
Safe for down to 15°F
Built-in hood
Ripstop technology
Machine washable
Water-resistant
This multi-season option uses a polyester shell and high-density 3D cotton lining to create the ultimate warm and lightweight experience for campers who like to pack light. Safe for extreme use down to 15°F, this choice uses draft tubes and draft collars to retain heat on the coldest nights. If you like to sleep like a mummy, you can even use the hood and drawstrings to cozy up.
Because the fibers are sewn in place, this product is machine washable so you shouldn't need to worry about campfire smell or spills haunting you for trips to come. With ripstop technology and a water-resistant shell, the material should perform well both under the stars and in a tent without you needing to worry about tears or dampness. As it's available in a variety of colors, this product can even match the rest of your gear if that's what you're all about.
Because of the tight stuff sack, many reviewers even take this product backpacking without worrying about extra carry weight.
ECOOPRO –
Great Compression Sleeping Bag
Highly compressible
Waterproof
For use down to 48°F
Bottom unzips for foot ventilation
3 colors and designs
Budget-friendly
For those who have minimal carrying or packing space, a quality sleep sack is only as good as its dimensions. If you're shopping for the most compressible bag in a reasonable price range, consider the ECOOPRO warm-weather choice.
Though unfurled it's long enough for those up to 6 feet tall, it also condenses to less than a foot by six inches wide. While we haven't seen your car, we're pretty sure this product should fit anywhere.
Made with cotton and waterproof polyester, this product should be suitable for most summer-time or fall weather, but its recommended use is above 48°F. If you tend to sweat in your sleep, the bottom unzips for foot ventilation, which is good news for you as long as you don't share a tent. It's available in three colors and designs, and though it's made for adults, many reviewers use this bag for their teen campers due to the reasonable price.
This compressible option should be great for motorcycle camping, four-wheeling, or even short backpacking trips.
REDCAMP –
Great Envelope Style
Envelope style
Top cinch option
Machine washable
Suitable down to 41°F
Budget-friendly
Envelope style sleeping bags are great for those who want versatility in their products. This REDCAMP option can unzip to create a wide quilt or zip up for a warm night without constricting the legs like a mummy bag.
If you want extra insulation about your shoulders, the top of this bag can even cinch closed. With a few different fill options, you can determine whether it will be a warm or cold weather bag.
If you like to clean your sleeping bags after a long trip in the woods, this product is machine washable and reviewers say it holds up well without bunching the insulation. Made from soft cotton flannel, the thickest insulation option should keep sleepers warm down to 41°F with the lighter fills being better for summer and fall evenings.
Though this option is bulkier and less compressible for other options, many campers found this choice to provide a luxurious feel for a reasonable price. Best of all, reviewers say these double zippers rarely snag and allow two sides to be zipped together.
FARLAND –
Great for 4 Seasons
Variety of style and color options
Safe down to 20°F
Waterproof
Breathable
Highly compressible
Great backpacking option
This sleeping bag offers a variety of options for shoppers, from silhouette to color. Whether you want a mummy or envelope style, camo print or purple, this product can probably give you what you're looking for. Safe down to 20°F, the insulation is a double-filled synthetic material making it waterproof and breathable, according to the manufacturer.
If you're taller than the space most sleeping bags have room for, the envelope option should fit those up to 6 feet 10 inches and zips together to create a double for more room. Compressing down to 8 by fifteen inches, this could be a great backpacking option as well. At a lower-than-average price, reviewers are impressed with the quality and durability of the product.
According to the reviewers, this can be a great option for kids and teens, especially because the inside pocket fits a flashlight or cell phone, and could help with nighttime fears or with keeping valuables safe while resting. Additionally, the product only weighs 4 pounds when compressed so most kids should be able to tow it easily.
HONEST OUTFITTERS –
Great Single Size Design
Envelope design
Mummy hood
Convenient carrying sack
Waterproof
Warm down to 35°F
Anti-snag zipper
This polyester and hollow cotton choice comes in one size, combining the envelope design with a mummy hood for head support and insulation without sacrificing legroom. Compressing to 10 x 9 inches, this option should even work for backpacking or hike-in campsites. The convenient carrying sack can even be worn like a backpack for easy carry-in.
Waterproof and warm down to 35°F, this should be a great multi-seasonal option. When the ground is frozen, the extra shoulder and zipper padding should come in handy to keep you warm and insulate against drafts. With an anti-snag zipper, most sleepers shouldn't have trouble getting stuck in an unzipped bag when it's time to rest.
At such a reasonable price, this product was a no-brainer for reviewers who needed an emergency sleeping bag in their car or a good spring/fall hammock blanket they could trust. From kids' sleepovers to car campers, this product seems to do it all without breaking a zipper or the bank in the process.
Coleman Tandem –
Great Big and Tall Double Sleeping Bag
Big and Tall design
Zip-away design for use solo or combined
Breathable insulation
Warm down to 45°F
Includes removable sheet
While some like to cuddle, not all couples were meant for a queen-sized bed, and the same goes for sleeping bags. If the idea of you and your partner in a queen-sized bag is laughable, the Coleman Tandem was likely meant for you. The zip-away design means the material can separate into two big and tall sizes on warmer nights or solo trips.
Even if you camp alone and just like as much sleeping space as possible, this option certainly checks that requirement better than most other choices without doubling or tripling in price. The hollow synthetic insulation makes the material breathable, though it should keep most sleepers warm down to 45°F. For a unique twist, this product includes a removable sheet for added insulation and warmth.
Reviewers also love using this product in pop-up trailers and cabins to avoid bringing sheets for an overnight stay on a bed or couch. With the larger dimensions, sleepers could now use a whole bed while wrapped up in a warm sleeping bag.
HiHiker –
Great Head and Neck Support
Washable
Lightweight
Budget-friendly
Removable pillow
Safe down to 25°F
The HiHiker single should be a great option for adults and kids as it's washable, lightweight, and reasonably priced. It even comes with a removable pillow that can be stowed in the hood for additional neck support without ruining the insulative properties. This allows you to save space by leaving your standard pillow and home, and you still get to sleep warm like a mummy if that's your thing.
As this product is safe above 25°F temperatures, it should work well for multi-seasonal use, especially because the waterproof shell was made to keep rain and moisture out. With sewn-in insulation, this material is machine washable so you shouldn't need to worry about stains or the ever-lingering campfire odor.
With adjustable straps, both the bag and the pillow should condense to a small packing size for hiking or easy transportation. While reviewers say this size is probably not for larger adults, it's a great size for smaller adults and kids. According to the reviewers, this insulated option could even help minimize complaints from kids on a colder camping trip.
HiHiker Queen Size –
Great Durability
Multi-seasonal
Queen size option
Waterproof
Silky inner lining
Comfortable down to 32 degrees
Comes with two condensable travel pillows
If you're planning on investing in a multi-seasonal bag, you'll want to make sure the product will at least last to see a few seasons. For avid campers who need lots of room, the HiHiker Queen Size option is our recommendation. As the outer shell is made with camping grade waterproof polyester, this product should endure the rain, dew, or whatever moisture you throw at it.
Don't worry about sacrificing comfort for durability, the silky inner lining is made with 210 thread count tetron/cotton blend for a luxury feel. Rated as comfortable down to 32 degrees, this bag is built to outlast the elements. According to reviewers, this product can comfortably sleep two adults, plus a dog, or a child where necessary.
If you're looking for neck support, this model even comes with two condensable travel pillows. As it comes with a wearable carrying bag, packing up and carrying out shouldn't require a lot of effort, even with the two extra pillows.
Camping Sleeping Bag Buyer's Guide
We recommended our favorite picks, but if there's one thing we know for sure, it's that sleep is not one size fits all. To learn the important details driving our opinions, read on.
Finding the Right Style
Finding the right style isn't always as simple as it looks. From claustrophobia to sleeping hot, everyone has their quirks. We're here to help you find the sleeping bag that fits your needs.
Rectangular Envelope Styles
This is the normal square-shaped sleeping bag that makes fitting a pillow easy. These excel at ventilation, storage space, and allowing you to move around more in your sleep, unlike more restrictive models. While envelopes create freedom, they generally don't retain heat as well as tighter options.
This model is exactly as it sounds. With the arms held tightly against the body, the legs together, and more room for broader shoulders at the top, a mummy bag can usually compress to impressively small dimensions. They may not include much wiggle room, but they are great at keeping you warm in cooler weather.
From couples to overly attached toddlers, doubles are a great option for increased sleeping space and even saving packing space. These are usually envelope style and can sometimes zip down into two separate sides. Those that separate can come in two different sizes, have a barrier in the feet section, or completely zip together for a more "Queen-style" experience.
Double bags come in all shapes and sizes, and some prefer to use them alone where big and tall options are limited. These options can also be great for truck-bed camping, air mattresses, and pop-up trailers.
Each of these options has benefits, but not each one is the best choice for everyone. Before buying, consider how you plan on camping, and keep in mind the right option is often based on preference. Those who need a lightweight option that will keep them warm in cold temperatures will probably be best served with a mummy sack, while those who plan on camping with partners might want to consider a double.
Shell Materials
The shell of a sleeping bag can make a big difference when your perfect weekend retreat gets a little soggy. While waterproof polyester is a favorite for the shell, other options include Gortex or even cotton blends. Keep in mind, while a waterproof shell may be nice in a rainstorm, they tend to be less breathable.
Synthetic vs Down Insulation Materials
Your choice between synthetic and down materials can affect your temperature regulation, water resistance, comfort, and your pocketbook. Which you decide to go with, however, will largely depend on user preference. Down fibers tend to be more expensive because they come from plumage from animals like geese and ducks, but they also tend to heat better while weighing less.
However, while down fibers are light-weight and great with heat retention, they tend to lose their loftiness and temperature regulation when they become damp and they take longer to dry than synthetics. To combat this issue, some companies coat the natural down feathers with a water-resistant treatment but this tends to be even more expensive.
Synthetic fibers are great as a budget option and are generally durable and more water-resistant options, but they also have a few drawbacks to look out for. Natural down fibers tend to be able to heat better with less weight than synthetic alternatives. So some natural down sleeping bags are able to fit in your pocket and can even keep you warm in freezing temps, while most synthetics would need more space to accomplish this same task.
Understanding Fill Power
When it comes down to heat, fill power is the best indicator for how well a filling will trap warm air, and it's the reason why down products generally weigh less while heating more. Fill power refers to how much loft the fibers have, so materials with more loft will likely retain heat better.
Before you buy, remember that fill power is not necessarily an indicator of how warm you will be when you sleep. When in doubt, check the temperature ratings to make the safest choice.
Liners
Some sleeping bags will have liners inside to help extend the longevity of a product. Other times, you can purchase a liner separately. These could help keep dirt and oils away from the inside of a sleeping bag, as a liner can easily be removed and washed while some fibers cannot.
Zippers and Convertibility
While zippers may seem like minor details, they can make or break even the best products, and there is a surprising amount of versatility between them.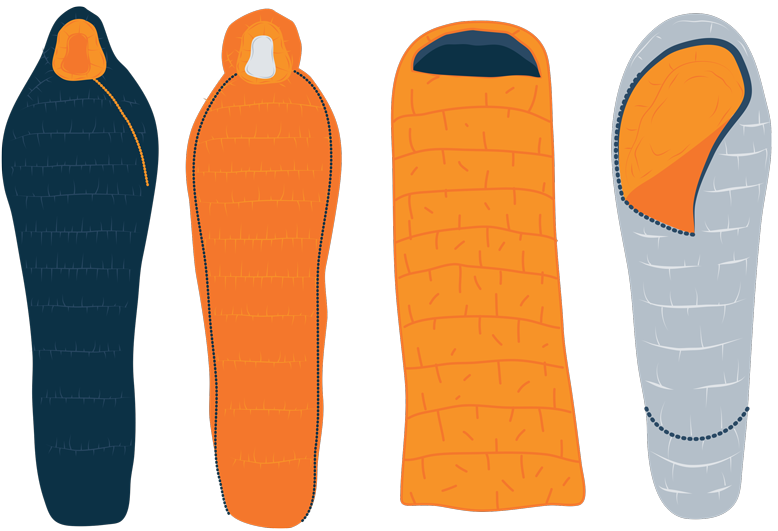 These products only zip open three-quarters of the way open or shut. If you want to retain heat, less zipper space means there would probably be less heat loss. However, if you ever plan to completely open your sleep sack to make a quilt, you may prefer a full-zip option.
Full-zip zippers are just like they sound, they open completely and can unfold to create a quilt or sleeping pad. These options are great for versatility, but they could compromise some heat retention unless the zippers are insulated.
If you're seriously trying to cut down on carrying weight, removing the zipper completely can have some serious benefits, that is if you're not worried about claustrophobia or overheating. While these may help you pack light, you'll likely sacrifice some comfort in exchange.
These zippers are often used on left and right sleeping bags, or options that can zip together to create a co-sleeping space. Great for couples, kids, and anyone with a warm fluffy dog, these choices are often fun, but involve a full zipper. If you're worried at all about staying warm, just be sure to find an option with insulated zippers.
Warmth and Temperature Ratings
While we provided the temperature ratings for most of our recommended products, it's important to get into what these ratings mean when you're out camping. While a lower temperature rating of 25 °F may seem impressive, there is a difference between being warm, and surviving.
Most camping products like tents, sleep sacks, and jackets will include a lower limit temperature rating where you can survive while using their products. The problem is that in the United States there is currently no regulation of these ratings, so what may feel like 10 °F to one person, may feel like 20 °F to another.
This discrepancy is especially evident between men and women of varying ages. To find a rating you can trust, we recommend looking for the EN or ISO standard on your products. This is the standardized European rating system for sleeping bags, and while the temperatures may feel different depending on the person, these have been tested in controlled environments for safety.
Comfort ratings are different from survival ratings as this is the temperature where you will likely be able to sleep, which we would argue is the point. While extreme circumstances may require you to test out a product's lower temperature ratings unexpectedly, we would recommend staying far away from the lower limits to keep yourself safe.
Weight
The overall carrying weight of your bedding will depend on a variety of factors from zippers to the type of fibers, to the obvious size. If you're planning on hiking into a site, weight should be a factor you consider. Regardless of your plans, it's probably a good idea to know what to expect before you buy.
Packed Size
Whether you plan on taking your bag for the occasional backpacking trip or you just like to travel light, make sure your dream product can condense to the dimensions you'll need. While some come with convenient carrying cases, others don't. If you're buying one separately, just remember to check the dimensions to ensure your bag will fit.
Budget and Value
We provided a few budget-friendly options on our list of best products, but it's important to note that budget isn't always the same as value. The goal is to find reasonably priced options for the value they offer. While the saying, "You get what you pay for," doesn't always hold up, in some cases it's true.
Before buying a bag that seems too good to be true for the price, make sure you know what to expect from it. While a budget bag might be great for a one-time sleepover, if you want to use them again and again, investing may be the best option even if it means spending a little more at the start.
Water Resistance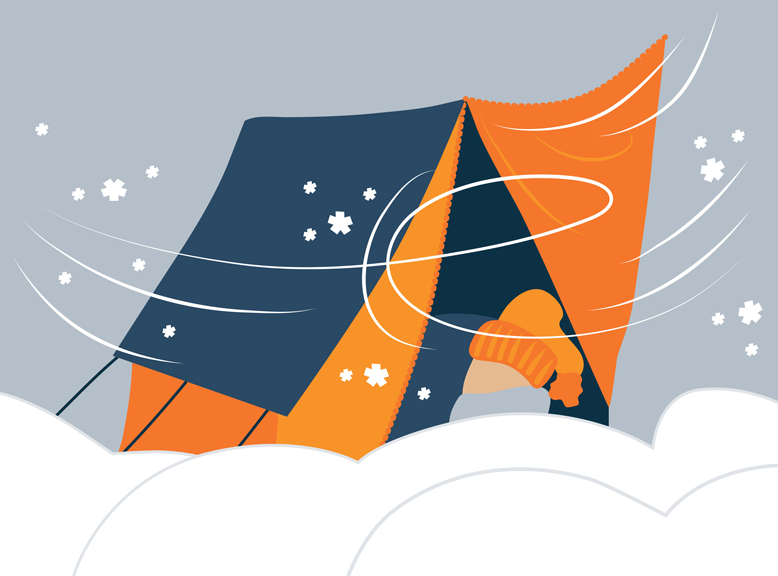 If you plan on camping in the rainy season or on a stormy weekend, make sure you know for sure if your bag is waterproof or water-resistant. If the difference doesn't seem clear now, it probably will when you're caught soaked during a storm. Water-resistance may help with a little dew, but in a full-on downpour, you'll want to be more confident in your sleep sack.
Seasonal Considerations
Some products are better than others when it comes to multi-seasonal use. Before buying we recommend considering the preparatory needs of every season you might be camping in.
Comfort
Lightweight bags provide a variety of benefits, but if you're sleeping without a pad or bedroll, comfort is probably not one of them. If you want the best padding possible, thicker envelope models that can unzip to create a pad or quilt could be a great option for wrapping up on a cooler night or just providing a little more protection from the ground.
Warranty
Some products offer a warranty that gives shoppers a period where they can return a damaged product. Before you open a product you're unsure of, make sure you know the terms of the policy.
Cleaning and Maintenance
Here's a hint: If the insulation isn't sewn into the fabric, it probably shouldn't go into the washer or dryer no matter what it's made of. The insulation could bunch up, redistribute, or destroy fibers that keep you warm, rendering the product useless. Always check with the manufacturer for wash and care instructions.
Frequently Asked Questions About Sleeping Bags for Camping
What is car camping?
Depending on who you ask, this can mean one of two things. It either involves sleeping in your car for brief periods like on a long road trip or just as a way to get out into the great outdoors, or it involves loading all your gear into your car, and pulling your car directly into your campsite rather than hiking in.
Learn more: Highest Rated RV (Camper) Beds for 2023 – Our Ratings & Buyer's Guide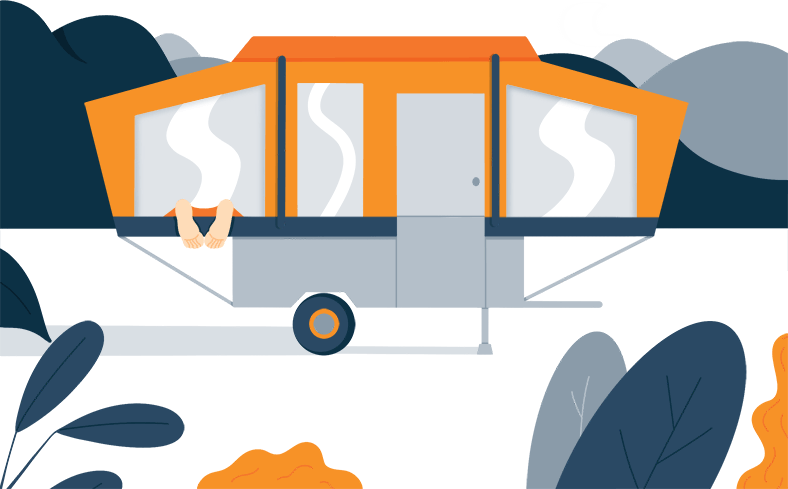 Are there special considerations for a kid's camping bag?
Most children's camping bags are similar to adult options in size, function, and price, with variances in colors and patterns. However, if you aren't sure if your kids are old enough for a sleeping bag, we recommend exercising caution. Some bags could pose a strangulation or suffocation hazard in young children.
Check Out Our Guide: Top Rated Kids Sleeping Bag
Do I need a sleeping pad?
Whether you bring a sleeping pad along with you is largely up to your preference, but keep in mind that lightweight bags tend to have less cushioning in them, while the thicker envelope style options tend to have a little more cushioning. In either case, if you aren't accustomed to sleeping on the cold hard ground, you probably can't go wrong with a pad.
Conclusion
The highest-rated sleeping bag for camping will largely depend on user preference and the type of activities you plan on participating in, if you're backpacking, traveling with your family, etc. Just as there is no one size fits all when it comes to sleep, no sleeping bag fits all activities, each has pros and cons, but our list should help to point you in the right direction for your needs.
If you want to browse more you can take a look at out highest-rated sleeping bags for this year here.
The best advice is to do your research and make sure to know what you're looking for. While this article should help, you probably won't go wrong with any of our favorite products.