Transparency Disclosure – We may receive a referral fee for products purchased through the links on our site...

Read More

.
Few experiences compare to the joy of witnessing nature first-hand. From breathtaking sunrises to crisp breezes and fresh vistas, backpacking has the power to take you out of your comfort zone and into new experiences. However, nothing can harsh that mellow as fast as freezing to death on the first night of your backpacking trip.
Backpackers burn lots of calories being out and about and they need their sleep to be able to make the most of their adventure. That's why we put together this list of the best overall sleeping bags for backpackers.
14 Top-Rated Backpacking Sleeping Bag Reviews
Kelty –
Best Compressible
Temperature Rating: 22° F

Construction: 75D Polyester Taffeta Shell, 75D Polyester Taffeta Liner, Thermatron Insulation and Comfort-Tuck Zipper System

Size: Regular – Fits to 6 ft. Long
This high end product is made with the ThermaPro synthetic insulation, making it an ultralight sleeping bag, but also ultra-efficient at retaining heat. With a packed size of 9" x 15", this product is EN certified to meet temperature ratings as low as 22°F but has a foot compartment that unzips for added venting options in warmer weather.
The wide temperature range means this product is meant to function well during three seasons, making it a viable option for even the longer trips. As a bonus, Kelty sleeping bags are available in two sizes, weighing 31 and 33 ounces respectively. These sleeping systems are built to be multifunctional, as they feature a crossbody zipper that allows them to unfold and work as a backpacking quilt for hammocking.
Kelty is one of the few brands that has managed to create a high quality synthetic fill mummy sack at an affordable price point. As it includes a draft collar to keep heat in the sleeping bag, reviewers mentioned that these sleeping bags held up well through cold nights and wet weather, both retaining heat and maintaining functionality. Additionally, they have straps to connect to camping sleeping pad loops or an air mattress for those who tend to roll off their pad at night.
Tough Outdoors –
Best Versatility
Temperature Rating: 40° F
Construction: 1.5 lbs Bonded Fiber, 190T Polyester Pongee
Size: Fits up tp 6'6″
For those who crave adventure of all kinds, the sleeping bag makers at Tough Outdoors created a versatile and water-resistant product, compressible down to a packed size of 7" x 16" dimensions. Weighing two pounds, the XL size means it fits most sizes but it also features a full length zipper, allowing it to work as an extra blanket or hammock quilt. With a lower limit temperature rating of 40°F, this high quality product is great for moderate climates where it may frequently rain.
Reviewers love this sleeping bag for its reasonable price and the extra space inside, allowing for movement and changing sleeping positions, making it a great choice for side sleepers. The material is made of an open-weave polyester, allowing it to breathe in warmer temps while keeping you warm during cooler evenings. Tough Outdoors even created an inside stash pocket for item storage so you can check your phone without getting unzipped, or so you can sleep with your valuables.
For those who find themselves needing more protection from the cold, the interior is spacious enough to insert an additional sleeping bag liner or pad to increase support or insulation from the hard ground, as many reviewers discovered. Some parents even mentioned there was space for them and their toddlers who got scared during the night while camping.
Temperature Rating: 32°F
Construction: 210 thread count waterproof camping grade polyester shell, Tetron and Cotton blend inner lining.
Size: 87″ X 59″
This queen-size sleeping bag offers space for two adults or teens and compresses down to the surprising 12" x 15" packed size. This product saves space while packing and by the campfire, as the two adult sleepers can share body heat, rendering the lower limit temperature rating 32°F. If you have smaller children, three could probably fit snugly and safely.
The 210 thread count material is more high quality than other sleeping bags, and while it may not be equal to glamping in a yurt, it should add to your experience significantly. A bonus is that the polyester outer shell fabric is waterproof, so if you haven't quite got the hang of staying dry in the rain, this could be the choice for you.
If you're not planning on always sleeping with a partner, the product has a full-length zipper, allowing it to split into two individual sleeping bags. So if you part ways with your backpacking buddy, you won't need to get a new bag. When split in two, the packed size is much smaller, though still full length so two backpackers can distribute the weight evenly. The sleeping bags come with two travel pillows that can add to comfort if you have extra room and especially if you're a side sleeper.
Winner Outfitters –
Best Temperature Control
Temperature Rating: 20° F
Construction: 350T waterproof Polyester shell, 200G/㎡ Hollow Fiber fill
Size: 32″W x 87″L
For those who like to both brave the cold in winter and sleep under the stars in the warm summer nights, this product could be a perfect choice. With a temperature rating of 20°F, this sleeping bag was made to be optimal for four seasons. Winner Outfitters accomplishes this by using special draft collars and draft tubes to regulate airflow depending on the season, improving the sleeping bag's R Value, or ability to resist heat flow. This means cold air stays out, and warm air can ventilate through the inside of the bag.
For synthetic bag insulation which usually struggles in temperature regulation, this product performs surprisingly well, as reviewers will attest, perhaps due to the draft collar that regulates heat. Additionally, the material is made from a high 350T thread count, making it smooth and soft while retaining a high-density filler that works hard to keep you comfortable.
This bag is super light at three-pounds and compresses down to 8.5" x 9.8" packed size in its stuff sack. Perhaps one of the best qualities, the sack has a double zipper design that is meant to cut down on zipper snagging, meaning you won't be in the fight of your life for some ventilation on warmer nights. If you prefer to be toasty and end up sweating too much, don't worry, the material can be put through a washing machine.
Temperature Rating: 35° F
Construction: Water-resistant 210T polyester, lined with TC fabric and filled with high-quality spray bonded cotton
Size: 87″ L x 59″ W
Ohuhu comes in a compressible double size and combines ultralight sleeping bag technology with convenient design to create one of the best sleeping bags with a detachable option we could find. This option is great for backpackers with adventurous children or for those who travel in pairs but sometimes like their own sleeping space.
Some adults even used this as a single sleeping bag because they preferred the wiggle room in the leg, unlike the tight mummy shape. For those with claustrophobia or nightmares, this could be a good option.
Ohuhu meets sleeping bag temperature ratings down to 35 degrees Fahrenheit in both forms and is made with a water-resistant polyester material that should keep campers warm and dry in a variety of climates. The product comes with two bonus pillows for added neck support, a full length zipper, and compresses down to a 13" height.
This brand uses 3D cotton to fill its lining, making it one of the best ultralight options, but also warm and heat retentive. This way the cotton will retain its loftiness when compressed, allowing it to effectively regulate temperature. Reviewers love this product for its foot vent and said the plush feel of the fabric made it a comfier alternative to other thinner options when used on the hard ground.
Redcamp –
Best Convenience
Temperature Rating: 59°F
Construction: 210D Polyester shell and lining, Spinning Cotton filling
Size: 87″ x 32.5″
This ultralight sleeping product weighs in at less than two pounds, making it one of the best ultralight sleeping bags on the market. Additionally, it packs down to 4.7" x 7.9" dimensions, meaning it's also one of the most compressible, but that's not the only reason Redcamp made the list.
This product has convenient stash pockets for storage inside if you want to protect valuables and has a full length two-way zipper so it can unzip to become a quilt if you prefer to sleep in a hammock. It also has an adjustable drawstring around the face for those extra cold nights or for when the mosquitos are buzzing, and the smaller option can condense down to about the size of a plastic water bottle.
For added convenience, the Redcamp bag can also be zipped together with a second bag to create a double size. This summer bag is probably best used in warm summer nights as it it's temp rating only renders it effective against the cold at temperatures above 59°F. Reviewers love the velvety soft inner lining on the sleeping bag and the fact that Redcamp sleeping bags can fit in tight spaces–a must for ultralight backpacking.
Venture 4th –
Best Multi-season Use
Temperature Rating: 35° F
Construction: 210T water resistant polyester shell and polyester filling
Size: 86.6 x 31.5 inches
This company uses a barrel shape to provide plenty of room in the shoulders while hugging the rest of the body to optimize temperature regulation. With anti-tear and waterproof material, the bag is designed to withstand the elements while keeping you comfortable.
The product is meant to be comfortable in moderate climates with a warmth rating from 30-70°F, so this product should be a good option from spring to fall. At less than three pounds, the Venture 4th shouldn't be a burden to pack, especially as it condenses to 9" x 16" in its packed size. Further, the full length versatile zipper was made to unzip completely and allow it to be used as a quilt for hammock sleeping.
Reviewers are especially fond of the waterproof bottom lining that kept them dry and insulated from dew and rain in the spring but also keeps them warm on crisper nights in the fall. Many campers even said this product was so impressive that they chose to add it to their emergency kits as the product is so lightweight and warm. Some campers even enjoyed wearing the sleeping bag like a jacket while sitting around the campfire on chilly nights as the bottom unzips to allow walking.
Hyke and Byke –
Best Ultralight
Temperature Rating: 15° F
Construction: Water repellent 400T 20 D ripstop nylon fabric liner, F 650 Fill Power Hydrophobic Down insulation
3 Size Options
This extreme weather option is on the high end of products we review, being the best ultralight option for the heat it provides. At 2.5 pounds, the mummy sack is advertised as one of the best ultralight sleeping bags ever, and reviewers love it. Though it's light, Hyke and Byke did not skimp on the details.
This product is made with an impressive 400 thread count ripstop nylon fiber that makes some reviewers feel like they're sleeping on air. With three height options, shoppers should be able to choose the best sleeping bag for them and avoid most size-related user errors.
Hyke and Byke created the bag to be safe in cold weather, with a warmth rating of 15°F due to the Duck Down top insulation and the synthetic fill LofTech Summit bottom. This combo combined with the draft collar optimizes moisture resistance and durability under compression even better than down insulation. The product even has a neck baffle, or stitching around the neck to keep the insulation in place.
While this ultralight sleeping bag does include some down filling, it's surprisingly affordable, unlike other brands which usually charge much more for the high quality material.
Reviewers love that the material keeps them warm without any additional layers and seems to take no time at all to warm up even cold sleepers. The zippers are a crowd favorite as they don't snag the precious soft fibers and the stuff sack should make compression quick and easy.
Temperature Rating: 40° F
Construction: Polyester lining with plush filling
Size: 30 x 71 inches
This sleeping bag is one of the most affordable on the market, but reviewers were still happy with the quality. With a variety of colors and designs to choose from, this product could be a great choice for children or even sleepovers, especially because it's machine washable, making most accidents worry-free for parents.
Compressing down to 2 pounds, the sleeping bag is ultralight, small enough for even children to carry and it doesn't require any folding to put away. Backpackers can just stuff it into the convenient compression sack and be good to go. The product is also versatile as it can be unzipped for use as a quilt, or zipped together to make one larger sleeping bag for couples or even kids who get scared of the dark.
A favorite feature was the added straps on the compression sack that allow backpackers to cinch the sleeping bag extremely tight to make more space in their packs. A bonus is that the product is reversible, so even young children should be able to set it up themselves. This product is engineered to be safe in temperatures between 40-70 degrees and many reviewers attested that it stood up to their expectations in that department.
Cmarte –
Best Multi-function
Temperature Rating: 14° F
Construction: Hollow cotton filling and 300T + 40D Taffeta W/R and 210T polyester
Size: XL (32.3″ x 76″ with 11.8″ headrest)
Cmarte's four-season sleeping bag was made with a variety of needs in mind, including lightweight backpacking trips. Whether you're a single or double sleeper, have back problems, or like the mummy sleeping style, there is probably an option for you.
Cmarte's product can be zipped together, used individually, unzipped for quilt use, doubled up to be used as a sleeping pad for added support, and cinched tight for an enclosed sleeping experience. If that wasn't enough, reviewers especially love that the fabric keeps them warm freezing temps, with a warmth rating of 14°F, but also has foot vents for comfortable summer camping trips.
With a two-tone pink design, this was a favorite among women but is large enough to fit a variety of body types. A bonus is that the material is machine washable, so whether you accidentally lay on an uneaten s'more or just slept a little too close to the smoky campfire, you can just throw it in the wash when you get back, just be sure to let it air dry before storing it again.
Reviewers said their favorite parts of this purchase were the surprising warmth it offered, and how lightweight and easy it to tote on longer overnight hiking trips.
Temperature Rating: 20° F
Construction: 290T waterproof nylon cover, polyester pongee lining and polyester fiber fill
Size: 87″x33.5″
Farland created this product to meet a wide variety of needs and help backpackers prepare for unexpected circumstances. This bag has a warmth rating of 20 degrees and is made with an especially dense polyester filler that retains heat while wicking away moisture. Its soft texture should also feel soothing and comfortable on the skin, according to reviewers.
These products come in four different colors and by purchasing both a right and left zip option, the two can zip together to create one two-person size, or function separately while still providing a hood for each sleeper, adding to comfort and warmth. The Farland is waterproof and was designed specifically to reduce moisture ingress of the fabric, meaning it is not only water-resistant and fast-drying, but it also shouldn't be able to become saturated in the first place.
Reviewers love how lightweight and compressible the product is, especially when their kids carry them. This sleeping bag is available in a variety of colors and styles, both in mummy and rectangular shapes, and on average the products weigh about four pounds and can condense down to 9" x 14" dimensions.
Temperature Rating: 32° F
Construction: 290T waterproof nylon cover, polyester pongee lining, 400GSM hollow down alternative microfiber
Size: 87″x29.5″
From a drooping tarp to a not-quite-closed hot Nalgene bottle, there are seemingly endless ways to get wet while backpacking and there is probably nothing that will ruin a trip faster than sleeping wet. If you can sympathize, this sleeping bag may be designed for you.
The fabric is made of 290 thread count Polyester Pongee, a material made to imitate raw silk that is often used in umbrellas. This tightly woven fabric should effectively keep water out from both the inside and outside of your sleeping bag, meaning you can lay it out completely like a sleeping pad without worrying about it getting saturated from dew.
Additionally, the inner layer is filled with a springy, high-density polyester that should offer more support than traditional options while providing a warming insulating layer against the cold at temps with a warmth rating at 32°F, however for the comfort rating cold sleepers may want to stay in weather about 10 degrees warmer. Some reviewers said they love Emonia even more than luxury brands due to both the budget-friendly cost and its performance on the trail. As the sleeping bags come in a variety of colors and sizes, they are great for parents who want their kids to look good without compromising quality and you can't go wrong with a little extra shoulder room.
Teton Sports –
Best Comfort Features
Temperature Rating: 0° F or 20° F
Construction: 40D water resistant ripstop, brushed poly-flannel lining and microfiber fill
2 size options
Teton Sports is a favorite outdoors brand among avid campers in the western United States for good reason. This mummy bag was made to withstand cold temperatures down to 5°F safely, however the comfort rating or temperature range you'd sleep comfortably is likely at least ten degrees higher. For those who want a lighter choice, there are also two other temperature rating options.
Their secret? Microfiber with insulation properties that can both compress for space optimization and fluff for ultimate insulation from the cold. With additional features to retain heat in the foot box and a three-piece hood for ultimate head insulation, backpackers should be able to say goodbye to frostbitten toes or cold spots in freezing temperatures. This product is made to regulate temps even in the outer edges of the bag, meaning moving around shouldn't be a problem for comfort or heat regulation.
As the product is available in four sizes, campers should be able to rest assured that they will fit without too much extra space or a tight squeeze. Backpackers said this product fits perfectly in the compartment at the bottom of their packs and makes packing up a snap as the product doesn't require folding for quick storage.
Norsens –
Different Fill Options
Temperature Rating: 32°F
Construction: Waterproof polyester cover, polyester pongee lining and spinning cotton fill.
Size: 90.5″x32.6″
For those who want to customize the amount of fill in their sleeping bags, Norsens may be for you. This company offers two different fill weights in each color to allow shoppers to find the best sleeping bag and warmth to weight ratio for them. If you don't mind a little extra carry-weight in a colder environment, the 4.6 lbs option could be just the upgrade you are looking for.
This bag was a favorite among male backpackers who felt the size and comfort of the bag was just what they were looking for, especially as it is more roomy for those with more shoulder girth and wider in the leg areas than mummy bags. Additionally, the simplistic quilted design added to the comfort according to campers who said they didn't have to worry about getting poked by hooks or zippers throughout the night.
Reviewers were most happy with the durability of this bag, as it seems to hold up well over the years through multiple camping trips. Thought this Norsens product was not meant to be a cold-weather bag, reviewers said that with a few warmer layers it held up well in the colder weather, especially when used with a sleeping pad to insulate from the ground.
Types Of Sleeping Bags for Backpacking
By Temperature/Season
Cold Weather Sleeping Bags
For those who crave snow-covered vistas and igloo camping, cold-weather materials are probably the best option. These are generally safe below 20 degrees (though you'll want to double check individual temperature ratings) and will properly insulate backpackers against the elements.
For backpackers where pack weight and size are an important factor, there have been some remarkable advances in making lightweight, cold-weather products. To get the best of both worlds, look for dense filler fabrics that will more effectively retain heat, without causing moisture buildup. A good rule of thumb is that the higher the filler weight, the better the insulation. To ensure you're extra toasty, you may want something with 800 fill to 900 fill power in these climates.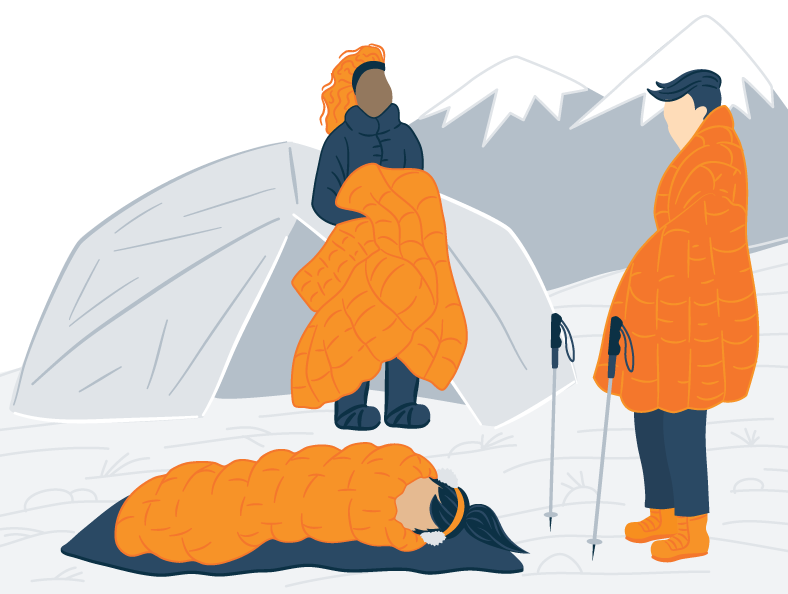 Summer and Two-Season Sleeping Bags
These types of bags will generally be lighter and easier to compress as warmth won't be as much of a factor. Summer bags or two-season products are generally safe down to 32°F and above. A good bag for summer nights will usually offer a few comfort features like unzippable toe boxes or a full unzip option, but it's still a good idea to bring extra layers just in case temps drop lower than you expect in the evenings. If you plan on doing any car camping, this might be the type of bag to look for.
Three-Season Sleeping Bags
The wide majority of bags fall into this category as these options are the best sleeping bags for long backpacking trips that will take the better part of a year to complete. They aren't just for avid backpackers, however. Three-season products are common choices for those who only take their backpacks out a few times a year and want a product that will be good whenever they get the itch to head out into nature.
These options are not as dense as cold weather sleeping bags but tend to do better than summer or two-season products in the warmth arena. They are generally safe from 32 to 20 degrees Fahrenheit, though they are also good for higher temps. While cold-weather products are mainly produced in the mummy-style for optimal heat and space optimization, three-season bags are available in both mummy bag and rectangular options.
By Construction
Mummy Sleeping Bags Or Quilts?
While Mummy Sleeping bags are light enough for most backpackers, those who prefer to travel extra light often use an ultralight backpacking quilt paired with a sleeping pad as an alternative. While these quilts are certainly lighter and less expensive than Mummy Sleeping bags, they likely won't be able to keep sleepers warm enough in cool climates, as they don't have a back.
Instead, backpacking quilts often have hooks or zippers that connect to a sleeping pad, saving space in a pack, but potentially sacrificing comfort. As long as the pad has insulation, this should work fine in warm climates, but probably shouldn't be used in isolation in the cooler weather. These quilts are common among hammock sleepers or those who sleep hot.
The opportunity to cut corners to save on space can be tempting for backpackers but is it always worth it? When it comes to choosing a quilt over a sleeping bag, it depends on the person.
Quilts are generally better for warmer climates and with a variety of summer and three-season sleeping bags that compress down to comparable sizes and weights, the trade-off may not be worth a few inches in a pack, especially if a cold night were to take you by surprise.
Even if you occasionally sleep in a hammock, many products are made to unzip for use as a quilt but retain the option to zip up for safety from the elements. For a one-night ultralight backpacking trip where there is no chance of rain or cool weather, a quilt might cut it, but for most camping needs we would recommend going with a sleeping bag.
Additionally, the best sleeping bags for versatility have options such as a ventilated foot box and waterproof measures that quilts just can't measure up to.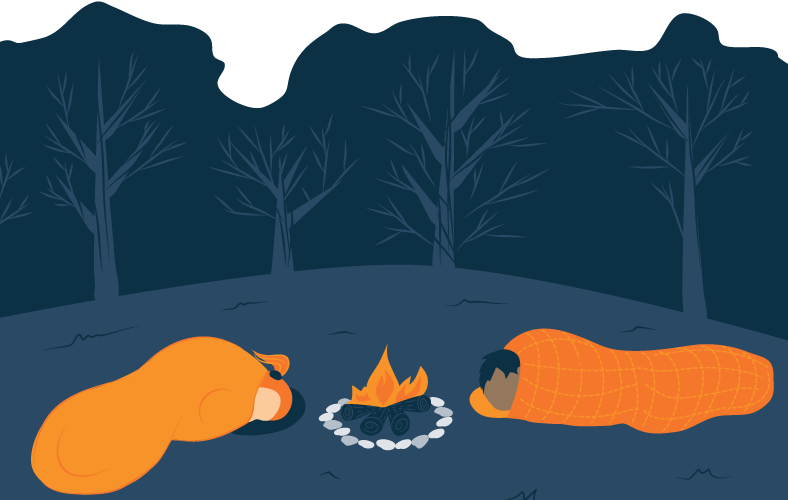 How to Choose the Best on the Market
Price and Value
There are plenty of luxury sleeping bags on the market, but they don't always deliver the value you might expect. Sometimes you may end up paying for the name more than the materials. It's important to identify your needs, and then evaluate the materials to make sure you're getting your needs met for the best price.
Compressibility
For backpackers, performance in this area is likely a top priority. While many packs will have a compartment in the bottom for easy storage, space in this stash pocket is limited, especially if the rest of the pack is filled to capacity.
While down feathers are the best material for compressibility, it's not in everyone's price range. If you plan on going with synthetic fill, look for materials that will spring back when compressed, so you don't have to shake out the fabric to loosen the fibers every ten minutes. When insulation gets smoothed down, it affects its ability to retain heat or insulate, so if the filling is constantly deflating, it may not be the best for colder climates.
Weight
For those who carry all their belongings on their backs, weight is an important consideration in a sleeping bag. While traveling in warmer seasons, backpackers can likely get away with using a one-season option, but when temps start to drop to near freezing at night, it's better to be safe.
The lightest options are often mummy bags or pillowless singles made of lightweight materials like nylon or polyester. For features such as waterproof shells fabrics, the weight may increase. For a double or queen-sized bag, the weight will increase significantly. We suggest opting for a single if you plan on doing any traveling alone, and remember that sometimes warmth is worth a little extra weight.
Dimensions
For longer trips, every inch counts when you're making packing decisions. That's why all of the products we recommended compress significantly to fit in backpacking bags. Though they are all quite compressible, the storage sack they come in does not always reach its full potential.
If you are serious about getting a few more inches of room, consider investing in an ultra-small compression sack with adjustable straps. Odds are that your sleeping bag will be able to go smaller with a little muscle. Be careful not to cram too much though, as the fibers will need to air out to be able to insulate against the cold.
When uncompressed, most products come in a variety of dimensions ranging from child size to extra large to accommodate for height and weight differences. Make sure you order the right size when buying online, as you wouldn't be the first person to accidentally purchase an extra-large for your six-year-old.
Many adult sleeping bags are created to fit those on the taller end of the spectrum, but if you are worried we recommend comparing the unfolded sleeping bag dimensions to your height so you know you'll have a good fit.
While mummy sacks are made to hug your figure, rectangular options provide more legroom which can help those who tend to toss and turn. If you need much more freedom in your sleep, many brands are available in double or queen sizes. While the extra space might be comforting on a warm night, keep in mind that in colder temperatures mummy styles are likely the best option.
Fill Power
With sleeping bag filling, less can sometimes mean more depending on the fill power. This measurement is an indication of how lofty the bag is, or how well it will insulate against the cold and trap heat, directly affecting the temperature ratings of a sleeping bag. A material with higher fill power will be able to trap more heat within the fibers, meaning you would have better insulation against the cold and a lighter sleeping bag.
While it's possible to just pile on the blankets to stay warm enough, for backpackers fill power is the key factor in finding a light-weight sleeping back that will beat the cold. Down insulation is by far the best material for fill power, but it is also much more expensive.
For synthetic filler, look for companies that mention their specific springy material that increases heat-trapping, and then read the reviews to back up the claim. Our picks for heat transfer resistance should perform well in this area.
Generally speaking, 600 fill power is considered superior, 850 fill is considered to be in the excellent range, and anything over 900 fill should be exceptional in performance.
Durable Water Repellent (DWR)
Common in umbrellas and rain gear, DWR is the waterproof finish that keeps the rain from saturating the fabric. This DWR finish keeps material light, quick-drying, and non-clingy in the rain. Many fabrics come equipped with this finish, and a simple regular washing should keep it active and useful.
Hydrophobic Down
Waterproof down fiber is a new type of technology that is often used in jackets and cold weather wear. Natural down feather excels in compressibility and warmth in most conditions, however, in damp climates and rain, they tend to lose their loftiness like other materials.
That's why scientists created a new material that can withstand the cold and moisture to provide the ideal cold-weather experience. Hydrophobic down has been shown to repel water longer, better, and even retains its structure in damp weather that would otherwise ruin the material. This is because the down feathers have been treated with a durable water repellent, allowing them to resist saturation and repel moisture, keeping their loftiness.
Loftiness is important because it's what keeps the heat close to your body, rather than letting it escape into the cooler surrounding air. When the material is compressed, there is nothing trapping heat, and you likely won't be able to stay warm.
In a sleeping bag, this is especially important as you are often lying close to the ground near dew, runoff from rain, and dripping trees. Even when the weather is clear, in a humid area normal down feathers would still compress. Hydrophobic down insulation should be able to withstand humidity and moist conditions, meaning your sleeping bag should able to keep you warmer for longer, and improve the comfort rating.
Zipper
While a zipper might seem like the most insignificant part of a sleeping bag, don't let the size fool you. A good zipper on a sleeping bag should be something you never have to think about. It shouldn't stick, catch, or unzip while you're trying to sleep. Additionally, the zipper type and zipper lengths make a difference. A full length zipper usually allows the sleeping bag to zip together with a second, or double as a quilt.
Think of your zipper as the thing keeping the heat in your bag. If you have a great draft collar but a subpar zipper, you might be sabotaging yourself.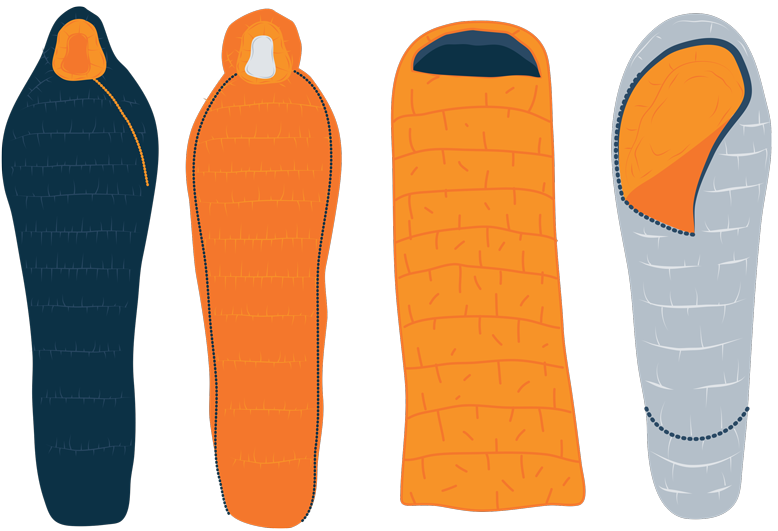 Temperature and Insulation Considerations
What is EN/ISO Rating System?
As buying online has become more and more common, campers need to know how their products perform in a variety of situations before they can make a smart purchase. That's where EN/ISO ratings can help.
These rating systems were developed in 2005 by a European council so sleeping bags could be compared across the world based on their performance in a controlled test. These ratings are now used as a standard in all sleeping bags.
To determine how low a temperature the bag can function in, the products are placed in a controlled temperature chamber with a heat-sensor mannequin inside wearing a standard base layer. As the temps drop, they monitor the heat retention of the bag and determine when it becomes ineffective, as well as where it is comfortable and maintains a stable temperature. In some cases, a comfort rating may be different than a safe temperature rating. For example, just because you are safe doesn't mean you are comfortable.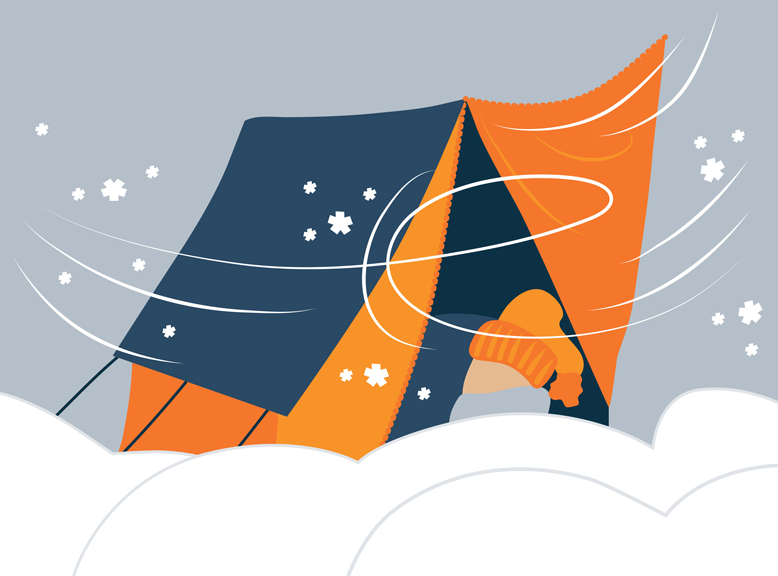 Once these measures are taken, the gear is given a comfort range, temperature limit rating, and extreme range to help buyers know exactly where they can use each product. It's important to note that while these ranges are standard for everyone, different body types and sizes may account for discrepancies in performance factors across the board.
These ranges are meant to help buyers know what to expect from certain brands and materials, but they are by no means a guarantee, and we recommend reading reviews and taking the product out for a test run before using it in potentially dangerous situations.
Consider external factors such as humidity, rainfall, wind, and altitude. Each of these can affect the ability of a sleeping bag to keep you warm, and none are accounted for in the test. While the EN/ISO rating can be a good guide for baseline performance, it shouldn't be the only determining factor.
Additionally, you may want to consider identifying the comfort rating after learning the temperature rating to ensure your bag is up to the task of keeping you asleep, not just safe.
Warmth to Weight Ratio and Adding Layers
If you're in love with a lightweight product but you're not sure it will keep you warm enough on a specific excursion, you probably need to consider the warmth to weight ratio. While there are plenty of lightweight synthetic sleeping options on the market, they aren't all created equal in fill power, or how warm they'll keep you.
Down fibers, or bird plumage is typically one of the best options for increasing the warmth to weight ratio and fill power. In this situation, light as a feather has real meaning. For extremely cold trips, you'll want something around 850 fill, however milder climates may allow for 600 fill or lower.
Conversely, polyester fibers or cotton tend to weigh more and heat less, decreasing the warmth to weight ratio. However, if you've made your choice and aren't happy with the warmth to weight ratio it provides, there are a few ways to increase the temperature rating and comfort rating.
Layers are a great place to start for increased warmth. While it may be tempting to just grab your largest sweatshirt and call it good, the point is to create warm air pockets that will retain body heat. A tight long-sleeved thermal and a sweater or down jacket will help create that air pocket within your sleeping bag. A hat and mittens are never a bad idea as these are areas where heat can easily escape. You may even consider added an outer shell to improve wind resistance.
Other options include putting a hot water bottle inside your sleeping bag with you to improve bag warmth, or layering natural insulation like pine needles underneath your sleeping bag to elevate you from the ground that can suck heat away.
Down Or Synthetic Insulation?
When it comes to warmth, down materials generally have the leg up on synthetic insulation because of their general loftiness which captures heat and creates a more luxurious feel. They also tend to have higher fill power, making them super light and more compressible.
However, synthetic insulation has recently made some advances to be reckoned with.
Synthetic sleeping bags are by far the cheaper option, and even the premium synthetic options can cost hundreds less than lower-end down filling. Additionally, synthetics are naturally hydrophobic, meaning they won't get saturated and will generally dry faster and provide better heat retention in damp climates than their down counterparts.
While Hydrophobic down can accomplish the same task, it is much more expensive and not always the realistic option for a quick camping trip in a comfortable climate. When it comes to fill weight or the amount of insulation in a bag, it's a close call between the two materials. High quality down sleeping bags often have a higher fill power, meaning they can provide the same insulation with less filling, sometimes accounting for up to a pound difference between the two materials, and drastically impacting the warmth to weight ratio.
However, in the affordable range, it's generally a toss-up between the two and there isn't a significant difference in the fill power or total weight of a bag. In situations where heat retention, warmth to weight, and compression are of the utmost importance, a down bag might be the way to go, but in most other circumstances, you can save a few hundred dollars with a synthetic sleeping bag.
Additional Considerations
Where to Store Them
While compressible fabrics are made to save space in your pack, they shouldn't do so in your shed or garage. It's important to never store compressible sleeping bags in their stuff sack as this can greatly affect their ability to retain heat once unpacked if the fibers can't properly fluff.
Keep It Dry
Though many companies go to great lengths to keep you warm when you're wet, it's still a good idea to avoid the rain at all costs. Synthetic fibers and hydrophobic down bags will perform the best in damp or wet weather, but this isn't to say that you won't notice the water at all, it's not magic.
While you may survive a cold wet night in your water-resistant sleeping bag, whether you sleep through it is not a guarantee. In order to have the best experience possible, use a sleeping pad, a tarp, or get shelter when you expect rain.
Purchasing Online
Buying online can provide a variety of benefits, from flash deals to finding the right size or brand that may not be physically available near you. However, there are also some dangers when you buy a product sight unseen.
We recommend carefully reviewing the dimensions, materials, safety ratings, and reading a variety of reviews before purchasing to make sure you don't miss an important detail. Additionally, look for information on the warmth to weight ratio before making a big purchase. Keep in mind expensive products aren't always superior.
Options for Women
There are plenty of women's products that are thinly veiled marketing ploys consisting of no difference other than a pink color and exorbitant markup. However, sleeping bags are one area where a woman's option may make a noticeable difference.
Women's sleeping bags are often made more narrow in the shoulders and wider in the hips to accommodate women who want their bag to fit more like a blanket than a prom dress. While you could always buy the next size up, in a mummy bag where a close fit on the shoulders and hips could keep you a few degrees warmer, it could be worth the purchase.
FAQ about Sleeping Bags for Backpackers
What's the best backpacking sleeping bags under $100?
Almost all of our sleeping bag picks are under $100, and they are some of the highest-rated on the market. We hope our list will help you learn more about what you're looking for as well as what you may want to avoid. We recommend choosing one of the sleeping bags on our list based on your temperature, comfort, and compressibility needs to find the best option for you.
These more affordable options are crowd favorites and are a good place to start for those who are just entering the world of backpacking but aren't sure how it will suit them. You won't spend too much money, but you should still get a bag that performs well for your needs. Like some reviewers, you may even find that some of these affordable choices outlast or outperform the pricier brands.
How can I determine the sleeping bag rating?
If you're buying online, the EN/ISO rating should be listed in the product description with comfort and lower limit descriptions. We recommend buying a bag where the comfort temperature aligns with the lowest temperature you're likely to experience while using the bag.
To find the lower limit temperature rating on a bag you already own, look for the temperature rating tag on the inside. In most cases there will be a temperature given that indicates the coldest possible temperature the sleeping bag will keep you alive in. We recommend using the sleeping bag at a minimum of ten degrees higher than this number. For example, we'd use a 20 degree bag at a minimum temperature of 30 degrees.
Additionally, men tend to sleep on average ten degrees warmer than women, if you're not sure how a bag will perform, consider bringing additional layers and a backup just in case.
Which is the best?
The ideal sleeping bag will vary by user preference and backpacking needs but keep in mind there are a few factors that will likely elevate most camping experiences. Look for high fill power where possible, and either hydrophobic down or synthetic filler for damp climates.
Sleeping bags that will compress to a smaller size will save space in your pack and likely make your experience easier when you pack up. Similarly, the difference of a few pounds in a lightweight bag can make a big difference.
Learn more: Our List of Highest Rated Sleeping Bags
Conclusion
This list should serve as a good starting point for those looking for the perfect & affordable backpacking sleeping bag on the market. While the best option will vary depending on your specific needs, we hope we have given you a good idea of what should work best for you.
Keep in mind that the ideal sleeping bag will also vary by user preference. While one bag may be the holy grail for one camper, another might need a few additional features. Our research should help you know where to begin.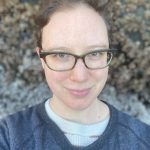 As Sleep Advisor's Performance Editor, Melanie writes and edits content throughout the site to ensure it's accurate, engaging, and up-to-date.
Sleep has always been a top priority for her—even at childhood sleepovers, she was never able or willing to pull an all-nighter. After spending some time researching studies and writing articles for a sleep hygiene app, she became hooked on sleep science writ large.
These days, she's a proud member of the Sleep Advisor editorial team and finds continual inspiration in the best sleeper she knows: her enormous cat, Cole.