Transparency Disclosure – We may receive a referral fee for products purchased through the links on our site...

Read More

.
Camping with your children and experiencing the outdoors together can be a beautiful tradition to bond over and create memories. Going to bed by a warm campfire, wrapped in a cozy sleeping bag can be an unforgettable memory for your kids to cherish for years to come.
While camping outside has its perks, the weather can pose challenges. When temperatures dip in the nighttime and in the colder months, it's essential to prepare your munchkins with the proper necessities, like a great kids sleeping bag. Comfortable kids are happy kids, and if your little ones are in good spirits, the easier it'll be to enjoy the marvels of mother nature.
9 Top Rated Kids Sleeping Bags Review
REVELCAMP –
Best Lightweight
Weighs in at 2lbs
Water-resistant
Zip two bags together for one giant cozy bag
Available in multiple colors for easy identifying
The RevelCamp makes for an excellent buy as it not only provides warmth and comfort, but it's ultra-lightweight as well. Weighing only 2 pounds, you can compress it tightly in a compact space allowing you to toss it into a sack and easily take it camping or backpacking. No matter how light you travel, this bag shouldn't weigh you down.
As you're purchasing this for a child, it comes in 12 fun colors so they can choose something that represents their individual style. You can even zip up another of the same sleep sack to make for an extra-large sleeping bag perfect for siblings or sleepovers.
This bag is roomy and comfortable. Measuring 30" x 71″, it should accommodate anyone under 6'1, making it easy to get into and comfortable to move around in throughout the night while staying warm.
ZipPlow system prevents snags
ThermoTech insulation and ComfortCuff keeps kids warm in cold weather
Convenient interior pocket for flashlight, toothbrush, etc.
Accommodates up to 5'5"
If you enjoy getting outdoors year-round, this could be an excellent product for your child. The Coleman is designed to keep your little ones warm and toasty even when temperatures dip to 45 degrees. The specially designed ZipPlow zipper system pulls the fabric away from the zipper as you tug it, allowing you to avoid annoying snags. Additionally, this product has "roll control," letting you pack it up quickly and easily.
Whether camping in the wilderness under the stars or just spending a night in your backyard, Coleman's ThermoTech insulation and ComfortCuff is made to suit a variety of environments, keeping kids cozy in nighttime temperatures from 45 to 65 degrees. This sack can fit children up to 5'5″ and comes with an interior pocket for a flashlight or other go-to necessities in the middle of the night.
Self-repairing two-way zipper
Convenient stuff sack for easy packing
Insul-Therm fill keeps your kid cozy
Colorful Moose pattern
The Wenzel soft polyester filled sleeping bag features a colorful Moose design on its outer layer, perfect for getting your child into the spirit for the great outdoors. Additionally, the Insul-Therm insulation is especially created to keep your youngster warm and cozy even when the temperature dips to 40 degrees. This product converts to a blanket for use around the campfire and features a self-repairing two-way zipper, offering versatile ventilation.
The Wenzel comes with a ten-year warranty allowing purchasers to buy with confidence. The sack is offered in a sufficient size, coming in at 66 x 26 inches, and is created with taffeta for a smooth, comfortable feel that's easy on sensitive skin. It comes equipped with a convenient stuff sack for easy packing and transport while on the go on road trips and camping excursions spent outdoors. Your kids should enjoy their time under the stars while staying warm in this cozy sleeping bag.
Draft tube along zipper keeps sleepers warm
Innovative quilt construction eliminates cold spots
No-snag zipper
Glows in the dark
If you're looking to keep your kiddo cozy and warm during chilly evening nights under the stars, the Coleman is a great option. It'll keep kids comfortable with ThermoTech insulation, and further, the Thermolock draft tube works to lock in body heat with a double-batt offset quilt design.
This fun glow-in-the-dark sleeping bag is not only functional but comfortable, with a soft fabric lining the areas around the face to minimize irritating zipper scratches. A ZipPlow zipper should let you avoid annoying zipper snags and allow your child to bundle up snag-free night after night. The interior pocket allows for easy access to any nighttime necessities like toothbrushes, headlamps, or flashlights.
Come time to hit the road, the roll control system helps to keep the product in place for easy rolling, and the stuff sack allows for simple packing. After arriving safely back home, you can toss the sack in the wash for easy cleaning.
TETON Sports –
Best Comfort
Convenient stuff sack – no more rolling
Handy pocket for flashlight and necessities
Full-length draft tube keeps warm air in and cold air out
Storage hang loops to maintain loft
This grand TETON sleeping bag comes equipped with innovative features like a "mummy hood" to snugly secure around your face, keeping your head off the ground. It also boasts extra cushioning around the shoulders to prevent drafts, retain heat, and make for cozy nights.
Possibly our favorite feature about this product is its stuff sack. Rolling fluffy, slippery sleeping bags can feel like an impossible task. However with the TETON Sports "stuff sack," you won't have to, as it allows you to stuff the product into the sack, starting at the bottom, no rolling necessary. The TETON is remarkably easy to pack, making it great for campouts and sleepovers.
You munchkin won't have to struggle with zipper snags either, as it features a no-snag zipper that opens from the bottom or top. When you're storing it away after a long weekend, you can use the hang loops for long-term storage.
Adjustable size to keep both smaller and larger kids cozy
Semi-circular hood with safety drawstring
Draft tubes for optimal warmth
Adjustable carry straps
This REDCAMP sack makes for an excellent outdoors or indoor product and easily converts around changes in the weather. If the air starts to feel chilly, you can attach the hood and zip it up for additional warmth, and once it warms up, you can easily detach the hood again.
It's great for camping, sleeping under the stars, or even backyard adventures. The simple zipper allows you to unzip the entire product making for a cozy blanket while huddling around a campfire or a fluffy picnic throw on a sunny day.
When you're ready to pack up and head home, the convenient storage tote has one string for easy packing, velcro snaps to secure the zipper, and adjustable carry straps. REDCAMP stands by their products and has the utmost confidence in them; if you're unsatisfied for any reason within 365 days of purchase, reach out, and they'll assist you until you're satisfied.
Tough Outdoors –
Best Easy to Wash Option
Machine washable
Handy interior pocket for nighttime necessities
Water-resistant
Convenient compression sack
This cozy product is excellent for warmer weather, suitable for temperatures as low as 40 degrees through to 65. It's easy to take care of, allowing you to toss it in the wash for easy cleaning, and packs quickly into a small tote for simple storage. It's a quality all-weather product as well, as the ripstop polyester shell and bonded fiber filling stays warm even when wet and has a water-resistant shell.
You can open it up to work as a blanket as well as a nighttime product, letting you unzip it open while you're snuggling up around the fire and then zip it back up again when it's time for bed. The zipper guard works to prevent snags as well, making for easy and stress-free use.
The TOUGH sack is excellent for growing kids as well; they can sleep like a log when they're young and adventurous, and keep them cozy as they grow through the years as it'll suit anyone up to 5'1″.
Kelty Big Dipper –
Best Insulation
Draft tube for optimal heat retention
Double-layer quilted construction for maximum warmth
Expandable foot box for extra 12 inches in length
No more rolling with convenient stuff sack
The Kelty Big Dipper is an excellent insulator for those chilly nights. Whether you're camping in the sunshine or braving 32-degree temperatures, this should keep your child warm through the weather changes. The durable double-layer offset-quilted construction is designed to optimize warmth with the specialized Kelty loft insulation, and further, the draft tube creates extra protection against the cold.
When it's time to head home, the stuff sack makes for simple packing, saving you from tricky rolling tactics and impossible efforts of maneuvering a fluffy sack into a tiny tote. You can simply stuff it back into its pocket, bottom to top, no rolling necessary.
This product lets your child stay warm as they grow, with an expandable box foot that lengthens the product by 12inches. Further, the easy zipper makes for easy maneuverability for kids and lets you say goodbye to snags.
Lucky Bums Explorer –
Down to 30°F
Draft collar and half-circle mummy hood for optimal warmth
Front zipper pocket for nighttime necessities
Full-length zipper to transform into a blanket
Hollow fiber filling for warmth without the weight
The Lucky Bums Explorer sack is designed to keep any little adventurer toasty warm in its comfy construction of hollow fiber filling and polyester shell, making it not only cozy but lightweight and easy to pack as well. Equipped with an innovative draft collar to snugly secure the cushioning around your head, this will keep your kiddo's face enveloped in warmth all night long.
Weighing only 3.7 pounds, including the compression sack, it makes for a great 3 season sleeping bag to bring with you camping, backpacking, or even just a fun night in the backyard. You can even undo the entire product to use as a blanket and a velcro fastener when you zip it up.
The front zipper pocket makes for easy storage and keeps nighttime necessities handy, like toothbrushes and flashlights. This sack packs up nicely into a convenient carrying tote, making for easy storage when it's time to head home.
Kids Camping Sleeping Bag Buyer's Guide
When picking a product with so many options, it can be confusing knowing which features you need and which are less critical. Here's our guide on what to consider.
Interested in exploring further? Check out our guide to best sleeping bag for camping.
About Youth Sleeping Bags
Camping, backpacking, and hiking are excellent activities for kids, but they require some essential items. Introducing children to nature and managing the weather is a fantastic life skill that teaches kids about our Earth and its incredible strengths and natural resources. Additionally, it builds confidence in youngsters in knowing how to manage Mother Nature's tests.
Most kids' sleeping sacks are wider up top and narrower towards the bottom because to be thermally efficient, it's important they fit the body they're warming. There are considerably fewer options for kids but still excellent choices if you know what you're looking for.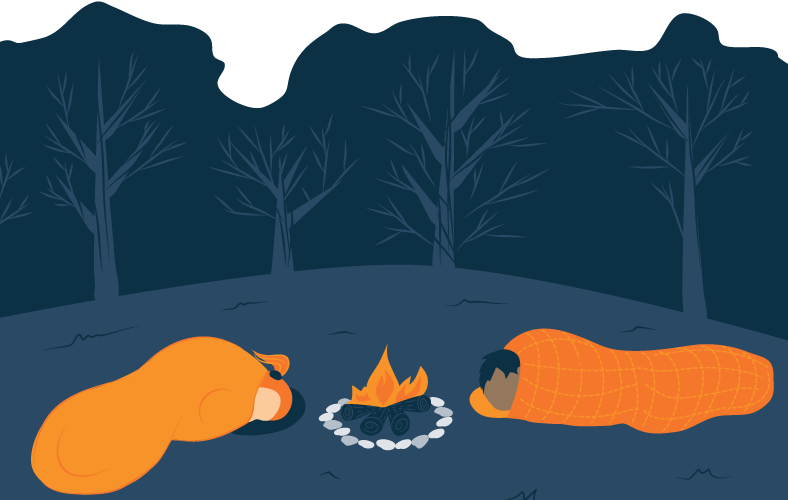 Types of Toddler Sleeping Bag
Finding a product to fit a little munchkin can be challenging, especially as there aren't as many choices. Here is a rundown of the types you can choose from and their benefits.
A mummy fit is designed to be a snug fit, which increases warmth, where you roll over with your sleeping bag instead of inside it. This type of bag is tapered towards the feet, reducing the amount of air needed to be heated to keep you warm, making a remarkably efficient design.
A Semi-Rectangular sleeping bag is similar to a Mummy sleeping bag, except it's a bit roomier and, as a result, won't offer the same level of warmth. These are a great alternative to a mummy if your child feels too claustrophobic wrapped snugly inside a mummy sack, and allows them more wiggle room.
Rectangular sacks are great if packing size and warmth aren't significant considerations. Rectangular sleeping bags can be more comfortable than mummy bags or semi-rectangular sacks. They provide plenty of room to move around and can still provide adequate warmth in mild conditions.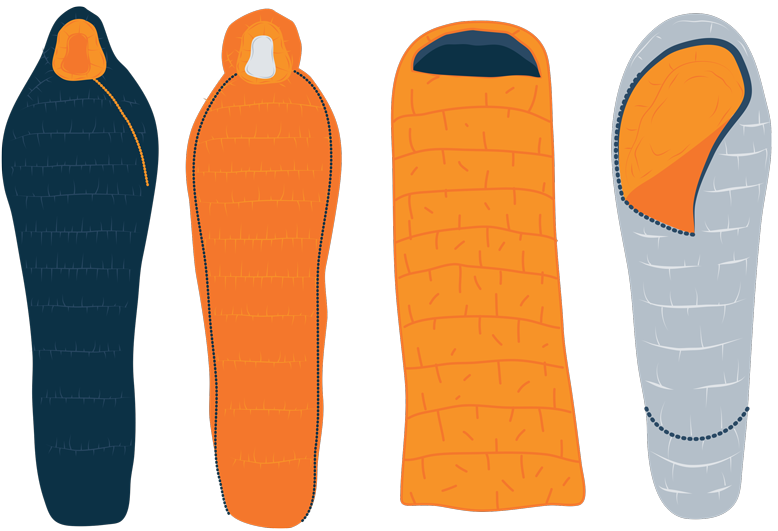 What to Consider When Buying Kids Backpacking Sleeping Bag
There are a few specifics to keep in mind when choosing a sleeping bag for your youngster; we'll go over some aspects to consider.
Find Out More: Best Backpacking Sleeping Bag
Down or Synthetic Insulation
Down insulation is known for its high warmth-to-weight ratio, and it's incredibly compressible, taking up minimal space compared to a synthetic bag. However, if down sacks get wet, they lose their heat retention, take a long time to dry, and typically require special care.
Synthetic products, while not considered as high quality, are excellent in other ways. They not only don a more attractive price tag, but they're also often hypo-allergenic (however, this is rarely an issue), are still warm when wet, and dry quickly.
Lightweight or Heavy
If you're camping in the backyard or driving to a campsite instead of hiking, having a heavier sleeping bag won't be a big issue. Heavier products are often less expensive than their counterparts as well, making them great for budget buyers or if you don't expect your kid to use it much in the future. If you plan to do a lot of camping or hiking with the product as time goes on, having a lightweight sack could be worth the investment.
Warm or Cold Weather
Weather can be a significant factor as nobody enjoys sleeping cold, especially a small child. If you're planning on sleeping in harsher weather, investing in a warm, down sleeping bag might be wise. However, if you're driving to a campsite, it'll be easier to bring bulkier items like extra blankets, so having a high-performance product could be less critical. If you're sleeping in warmer weather, the type of sleeping bag you have won't be as big of an issue.
Size and Fit
Children grow quickly, so, unfortunately, you won't be able to predict how long they'll be able to fit inside a kid-sized product, but tucking them inside a properly fitted sleep sack will keep them warmer (and happier) than an over-sized one. If you're not concerned about warmth, it'll be less of an issue, but in cold weather, one that fits snug will keep them warmer than one that's too big.
Warmth
If your family or friends enjoy camping on a warm beach or in a hot desert, the type of product you choose won't be as important as if you're looking to spend the night in the chilly mountain air or a windy seaside town. Down insulation will provide a significantly higher warmth-to-weight ratio than a synthetic sleeping bag. However, if you're not worried about staying warm or packing light and more about staying cool during hot nights, a synthetic bag should work great.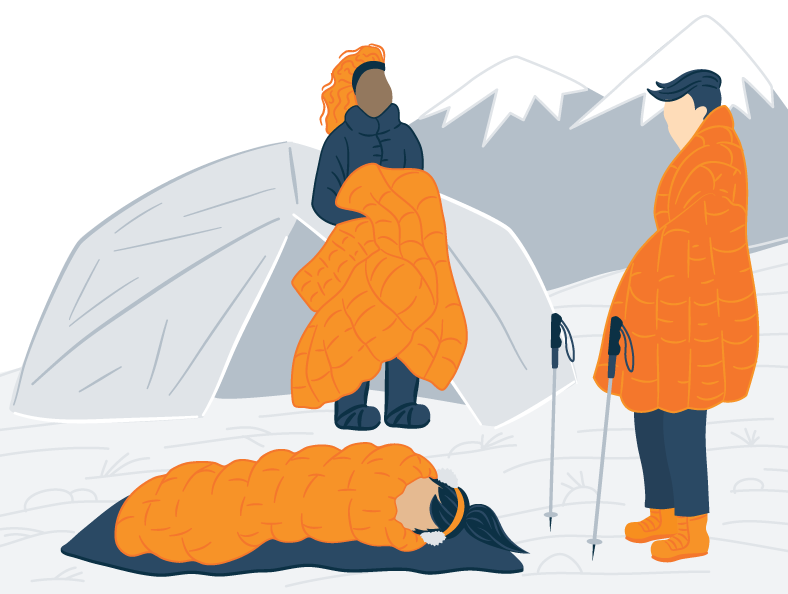 Comfort Level
Comfort is often relative to the individual and what they prefer. Little kids often enjoy things that leave adults scratching their heads in confusion, so it's not a bad idea to consult with your munchkin. High quality down sleeping bags are often made with soft material, and synthetic bags are often considerably fluffier. If you want your kiddo to sleep well (and get them excited for their trip) let them try out the bag in their own bed before you hit the road.
Lifespan
Down insulation can be incredibly durable when it's properly cared for. However inconvenient at times to launder and dry, when it's allowed an appropriate amount of time to be cared for and carefully packed away when not in use, down products can last for decades. While down sacks can pack down very small, they should be kept long-term in larger bags, so the insulation isn't compromised over a long period of storage.
Synthetic products can last for a long time as well and usually require less care.
Type of Material
You'll want your sleeping bag lining to be comfortable, breathable, and, depending on how it'll be used, durable as well. Some options include nylon, polycotton, polyester, with taffeta typically being the highest quality. Kids may not notice initially, but you want them to get a good sleep. Polycotton can take longer to dry but is usually very comfortable on the skin. Silk can be found in sleeping bags as well, and while it's soft, it's more prone to tearing.
Portability
Portability is a crucial factor, and if a sleeping bag isn't easily portable, it practically defeats the purpose of having one. Some products are more comfortable to tote around than others due to compressibility and size. Down will pack down into a tiny pack due to the soft stuffing, while a synthetically stuffed product won't be as easy to condense. If you're looking for convenience in terms of portability, down is a great option.
Overall Value
Depending on what your needs are, the value will look different to various folks. If you need something compressible and warm, investing in a down sleep sack will be an excellent value for you, especially if you use it in the future. However, if your family only plans on using a sleeping bag for your child once a year or so, you might prefer a more affordable option since it won't be used as much.
Kids Outdoor Sleeping Bags FAQ
Can more than one kid use the bag simultaneously?
Letting your munchkins share a sleeping bag could be a great money saver, however, it could also be cumbersome for your little ones during the night. This will likely depend on the two children and how restless they are in the night, and how well they sleep in close proximity.
Additionally, if both tend to run hot, and they're sharing a sleeping bag, it might overheat them, making them uncomfortable and less likely to get a good night's sleep— and if they're not getting a good night of sleep, parents are likely to suffer as well.
Conclusion
Bringing your youngsters on the road and introducing them to the great outdoors is an excellent way to spend time that not only educates them on how to treat the environment and exposes them to its many benefits, but is a wonderful way to bond with your children.
There are countless accessories when it comes to sleeping outdoors, and while they can be fun to peruse, choosing the right ones can be important when it comes to comfort. Hopefully, with a bit of our guidance, you'll be well on your well to a fun— and cozy— camping trip with your loved ones.
Rachael is a content writer for Sleep Advisor who loves combining her enthusiasm for writing and wellness. She's had a passion for writing since she was a kid when she wrote awful poetry. She's honed her craft quite a bit since then and considers herself a lucky duck to get paid to do what she loves.
Embracing the remote work life, she occasionally takes her work on the road and lives out her travel writer pipe dream.
In her free time, she attempts to meditate regularly, rides her bike to Trader Joe's, and enjoys trying every type of food that she can get her hands on.