Transparency Disclosure – We may receive a referral fee for products purchased through the links on our site...

Read More

.
Having guests over can sometimes be a hassle, especially if you do not know where to put them. Do they sleep on the couch, or is it rude to put them on an air mattress? Choosing a rollaway bed could provide a convenient and comfortable solution.
Rollaway mattresses are growing in popularity and one of these may just be the solution to your problem. This list will go over several models so you can find the perfect rollaway bed for you and your guests.
5 Top-Rated Rollaway and Folding Beds
Milliard Premium Folding Bed –
Sleek Design
Full-metal bed frame with wheels
Includes a memory foam mattress
Clam shell folding pattern
Spring supported bed base
Millard wants its customers to sleep better. That is why their brand has set out to make premium sleep options that are not only affordable but also give customers the rest they deserve.
This product includes a 4-inch thick memory foam mattress that is topped with an extra soft and breathable cover that can be easily removed. Beneath this is a full metal frame that has been engineered with folding platforms for that facilitate ease of storage and set up, even in the smallest of accommodations.
What makes this so special? This is a strong and durable option that has been approved and tested for adults. It is a quality product that offers both affordability and admirable functionality.
Zinus Memory Foam Resort Folding Guest Bed –
Standout Design
Solid steel foldable frame with wheels
Includes a mattress with memory foam
Foam is CertiPUR-US Certified
Frame features a cover designed to look like a box spring
Clam shell folding pattern
Zinus is determined to give its customers a comfortable and convenient sleep. They also strive to make products that will work in any setting.
What is so great about this product? This rollaway is a great choice for guests that may be staying for a weekend. Both the mattress and base are furnished with a matching fabric, giving this product a design that gives it the appearance of a twin sized mattress on top of a box spring, allowing it to blend into virtually any room in the home.
This product is topped with a 5- inch mattress that has two layers of foam. The top layer is a 1-inch memory foam, followed by a high-density base support polyfoam. The product easily folds thanks to the sturdy solid steel frame.
Zinus Weekender Elite –
Budget Pick
Deluxe steel frame with caster wheels
Included mattress with fiber padding and comfort foam
Foam is CertiPUR-US Certified
Spring supported bed base
Clam shell folding pattern
This Zinus product is perfect for a weekend getaway, it is also great if you are having visitors. This simple design is made from a deluxe steel frame that has casters for facilitated transport. These casters used precision manufacturing to make sure they do not move around on the floor.
Sitting on top of the frame is a 4-inch mattress that was made to be both comfortable and supportive. This all fits snugly into a box and ships directly to the customer's home.
Why is this a budget pick? This product is an affordable model for sleepers shopping on a tighter budget. Compared to other rollaway products, this one comes with significant savings that shoppers should find appealing. While it is less expensive than other products, customers can sleep soundly knowing that is has been made with quality materials.
Corner Housewares iBED –
Ultra Compact
Steel bed frame with non-skid feet for complete support
Included a mattress with memory foam
Spring supported flexible mesh
Clam shell folding pattern
Corner Housewares established their brand in 2010. This company dedicates their time and resources to producing Their products have been designed to be affordable and make the most use of space in the home. The metal frame is topped with a 3-inch memory foam that was designed to contour to the sleepers curves.
Why is this product different? The company uses what they call the Spacemaster space-saving design. This rollaway model measures 74.5″L x 31.5″W x 17″H but can easily be folded to 31.5 inches long, 38 inches wide, and 8 inches tall, making it an easy model to store away when not in use. This space-saving option should be easy to move around, as it only weighs 30 pounds.
LUCID Rollaway –
CertiPUR-US Certified
Heavy duty steel frame with dual locking wheels
Includes a memory foam mattress
CertiPUR-US certified memory foam
Spring supported bed base
Clam shell folding pattern
LUCID makes a number of sleep products designed to give sleeper's the rest they need. Their rollaway models are made to be storage friendly. When it is time to dust them off and give your visitors a place to rest their head, this product really shines.
What makes this so great? This mattress uses two layers of CertiPUR-US Certified foams to give sleepers a good night's sleep. What this means is that the foams have been tested and found safe to use. Beneath the mattress is a durable spring supported deck that provides quality support that your guest will appreciate.
This guest bed folds in half and can be rolled away for easy storing. If you are worried about size, it fits well a the large majority of locations around a home.
Buyer's Guide for Foldaway and Comfortable Portable Beds
What Is A Rollaway Cot?
These consist of a sturdy frame with what is typically a foam mattress on top. Though termed "rollaway" they do not always have rollers.
Rollaway models are designed to take up little space, making them easy to pull out for when guests visit or if you want to pack it for a weekend getaway. Their size can make them a suitable option for camping or when you need an extra sleeping space in a hotel room.
The Different Types of Rollaway Beds
These use a metal frame with either bars lying horizontally across to give the sleeper stability or more common a chain linked mesh to provide support. They are topped off with a foam mattress and at the bottom are caster wheels to facilitate storing the product.
This style of rollaway hides the mattress when folded up. This is usually a more attractive option and as it uses less metal than a standard version. When folded up these usually look like a form of cabinetry, hence the name.
Caster wheels are mounted at the base, making this easy to store. Some versions may even include footboards and headboards to add an appealing aesthetic.
Just by looking at this type, most people would think it is a standard rollaway. The difference between the two is these fold into thirds, allowing them to fold down into an ottoman. Another common difference is this type will not have wheels.
This option is nice because it doubles up not only as a guest bed but can be used on a daily basis in a living or sitting room as a nice place to rest your feet after a long day.
Advantages of Using a Rollaway Bed
Folding beds are not only convenient but they are not overly expensive. Shoppers can pick these up for just a few hundred dollars. And while there are more pricey options out there, a simple rollaway for your guest is not going to break the bank.
Convenience and Portability
Most of these options fold up compactly to fit into a small carrying bag. This makes them easy to carry around and pack for a weekend getaway. Many people use these options for camping, extra space in a hotel, and if you are really adventurous, for world travel.
They are light enough to take on a plane and small enough to fit in the trunk of your car or to set up in a motorhome. These are great on the go options that travelers love, allowing many sleepers to get quite creative with their sleeping arrangement.
Rollaway mattresses are great for when guests come to stay for a few days. They fit into small spaces and can stay collapsed during the day and take up very little room at night. When it is time for your guest to leave, they fold right up and back into storage they go.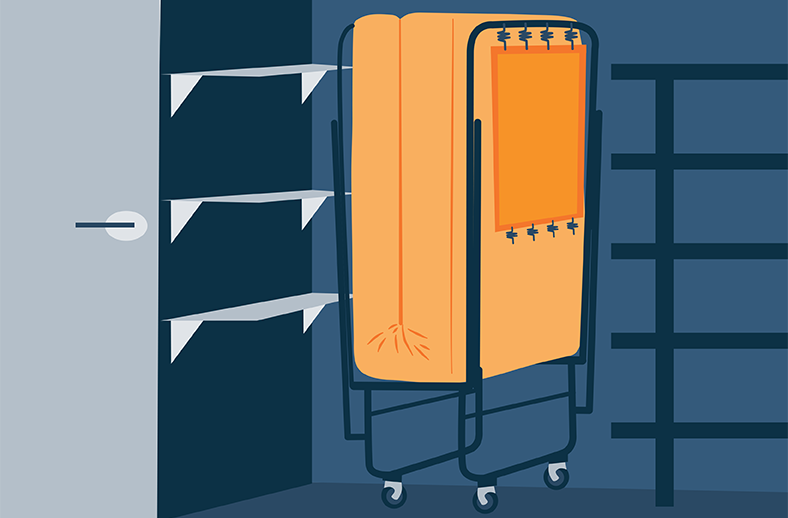 Disadvantages of Using a Rollaway Bed
These should not be mistaken for an everyday sleep option. While yes, they can be an every night option for a small child, adults should understand that these have limited durability over time. They do not use as many or as nice of materials and many manufacturers warn against couples having sex on these because they are less supportive.
Most of these products are made of metal, so they may not meet your standard bedroom decor. If looks are an important feature, some brands have included extra features that make them more attractive.
These products are mostly metallic, so sleepers may experience some clinking and clanking while rolling around. While most brands have tried to subdue these noisy features, it is likely sleepers will experience some type of noise on when resting on these.
Additional Considerations When Buying a Rollaway Bed
Size/Dimensions
Most rollaways are twin sized. There are some Full sizes out there, though shoppers will likely need to do some looking around.
Queen sizes are not really available and neither are Kings. Sleepers could place two Twin size rollaways along each other to get something closely sized to a King, though this is not highly recommended because the center of the setup is likely to be much less sturdy.
Learn more about bed sizing in our complete guide.
Frame
These frames are usually made of metal and are designed to fold in half so they can be easily stored away. There are a variety of designs for these frames, some using metal bars while others are manufactured with a mesh netting to support the sleeper.
Durability
Sleepers should not expect their Rollaway bedding option to be as sturdy as the frame they use every other night. These rollaway cots are typically built from cheaper materials and there is less structure to their design. They are a solid option for someone to use for a few nights but are not normally considered as a primary option unless being used for small children.
Sleepers should be careful to make sure their cot is stable before laying on it for the first time. On products that use spring hooks coupled with mesh support, make sure that all the springs are securely attached to the frame.
Weight Capacity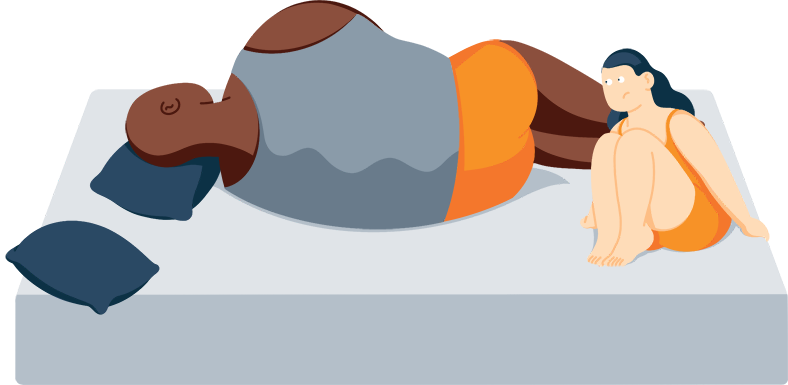 This is going to vary between models, but they will not usually support more than two to three hundred pounds. Some brands mate be rated for more, while others may be less. It is important to check with the manufacturer before using a rollaway product if you have a heavier weight consideration.
Adult Versus Kid Use
Children should sleep well on a rollaway option. Average sized adults should do fine as well, though heavier adults may want to check the cot's stability more regularly.
Mattress Type
Mattresses are made from all sorts of materials these days. Shoppers can sleep on materials like memory foam, latex, polyfoam, springs, or hybrids, which are any varying assortment and layering of any and all of these materials.
Rollaway options are usually topped with some sort of memory foam or polyfoam. There are some latex options out there but not as many of these can be found.
These mattresses typically have one or two layers to give sleepers some pressure relief. Usually, this will be a memory foam topped over a firmer poly foam. Most rollaway cots use only one layer of foam to build their mattress.
While some of these mattresses may have a thin base, most of the support that is provided by these cots come from the frame. Where on a normal bed, the mattress is most important, on a rollaway cot the frame is arguably a more important feature than the type of mattress.

Lack of Headboard
As has been mentioned before, these cots are not usually build to have an aesthetically pleasing presence in the home. Their main purpose is function and because of this, traditional rollaway options do not have a headboard. If this is important to any shoppers, they may want to look for an alternative option for a guest bed.
Trial Period
The length of trial periods is going to vary between competing brands. Some may give customers only 30 days, while others may offer testing periods that last more than 120 days.
Oftentimes customers cannot try out their products online, for this reason, brands sometimes ofter extended trial periods. These trials will often allow for customers to try out the product for the allotted amount of time and if the customer wants to return their purchase they can ship it back, usually for a full refund.
Warranty
Warranties will often protect customers in the event that their product experiences any abnormal wear or damage over time. Not all products carry these, but those that do can be anywhere from 1-year warranties to lifetime warranties.
Customers can file these with the brand which they purchased their product from. The company should then work with the customer to either repair or replace their product. The terms and service of these warranties will vary between different companies.
Frequently Asked Questions about Rollaway Beds
Can I find rollaway brands in-store?
There are many rollaway bedding models that can be found in a variety of stores near you. Many of these brands try to match online prices as well to help give their customers the best deal possible. These include places like Costco, Ikea, Walmart, and Big Lots.
Conclusion
A rollaway bed could be a clever alternative to dedicating an entire bedroom of your home for a few times a year when guests come to stay. They are also convenient options for those looking to do some traveling. They speedily pack up, conveniently store, and set up just as easily when it is time for guests or to get away.
Be sure to do your research and find what kind of rollaway is going to work best for you. There are a lot of options out there, but now you better prepared to select the best model for you and your guest.