Transparency Disclosure – We may receive a referral fee for products purchased through the links on our site...

Read More

.
Does having two mattresses for the price of one sound like an appealing deal? Zenhaven includes two firmness levels in one handcrafted mattress, meaning your perfect fit could be just a flip away. Manufactured by Saatva, a well-known, online-only luxury brand, this bed is made from natural and organic materials to combine your love for the environment with your love for sleep.
Our in-depth Zenhaven mattress review is based on our scoring system that includes characteristics such as support, quality, and comfort.
The brand offers a 120-day trial period, so there should be plenty of time for you to decide if the bed is right for you. Plus, since you can flip it over for a different firmness, you'll save yourself the hassle of exchanging it if one side doesn't feel just right.
Keep reading for an informational deep-dive, or click here to see our verdict.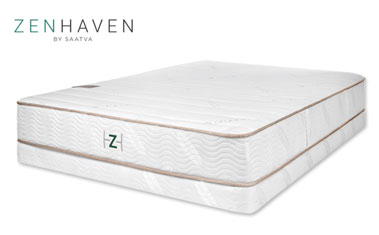 Get the Zenhaven Mattress
Hypoallergenic latex mattress with dual-sided firmness levels. 20-year warranty.
Click the button below to get the Zenhaven Mattress.
Who Do We Think Matches With Zenhaven?
Folks with Allergies – Zenhaven uses natural materials like Talalay latex, natural cotton, and organic wool. These materials are resistant to mold, microbes, and dust mites without any help from chemicals, which means you should be able to breathe easier than ever.


---

Eco-friendly Consumers – If you want a comfortable mattress from a company that cares about the environment and creating fair labor conditions, Zenhaven is probably for you. They use all American-made Talalay latex for a better product, lower carbon footprint, and less guilt.


---

People Who Sleep Hot – Latex naturally resists body heat. Instead of feeling sucked into the mattress like some memory-style beds that trap heat, latex will support you with a breathable open-cell structure. Strategically placed pinholes and the 1-inch layer of wool further encourage airflow while being a natural fire retardant.
Possible Zenhaven Complaints:
It Won't Feel Like Memory Foam – Latex has a distinctive feel different from memory foam. The material offers pressure relief without heat retention along with a faster response time to make repositioning simple. However, if you prefer to sink in slowly, this bed might not be suitable for you.


---
Weight Considerations
According to the company's website, there is no official weight limit for Zenhaven. However, Saatva suggests that sleepers weighing 300 pounds or more should consider the Saatva HD model, which is specially constructed for heavier individuals. When a bed cannot fully support the sleeper's weight, this could cause that person to sink too far into the layers and feel stuck in the mattress. Sinking too deeply could also lead to pain from poor spine alignment.
If you carry more weight but fall below that 300 range, we recommend starting with the Gentle Firm side of this bed. The firmer feel should leave you and your spine more supported.
On the flip side, folks who weigh 120 pounds or less should check out the Luxury Plush side of the mattress. Lightweight sleepers don't always sink into the pressure-relieving layers and may need a softer design to accommodate them, especially if they are side sleepers.
Construction: What's Inside Zenhaven?

There are two distinct sides with different firmness levels—Luxury Plush and Gentle Firm. We will break down the layers on the Luxury Plush side, which owners use the most.

On top is a quilted GOTS Certified Organic cotton cover, protected with Guardin®, Saatva's exclusive botanical antimicrobial treatment.

The first layer under the cover is 1 inch of 100% organic New Zealand wool. The wool naturally creates a flame-retardant barrier and absorbs and wicks away moisture. It also helps with air circulation and temperature regulation.
The second layer is 1.5-inches of Talalay latex that serves as the proprietary 5-Zone Comfort Layer. These separate sections with pinhole designs of different densities work together to promote spinal alignment and comfort. For example, there is added support in the hip and shoulder regions.
The third layer is 3 inches of Talalay latex, which provides enhanced support and is softer than the following latex level.
The fourth layer is an additional 3 inches of Talalay latex that is firmer than the previous level. After flipping the mattress, this firmer layer provides immediate support for those who need it.
The fifth layer is 1.5-inches of Talalay, and if you flip the mattress over, this layer serves as the top of the Gentle Firm side of the bed.
First Impression: How Does It Feel?

Unlike many other online brands, Zenhaven is not compressed in a box. Instead, each purchase comes with a free white-glove delivery service, where movers will hand-deliver the mattress to the room of your choice.

Once unwrapped, Zenhaven stands 10 inches tall and must be placed on a solid platform (not slatted bases) for optimal support. There is a natural look to the quilted cotton cover, as Saatva decided to avoid harmful bleaching agents that would have unified the cover's color. Soft to the touch, the cover shows no sign of weakness when tugging or pulling at the top and sides.

When you sit or lie down on the Luxury Plush side of the bed, it feels a little bouncy, though not quite as bouncy as an inner-spring mattress. You should feel it spring back up as soon as you reposition while allowing you to sink into a deeper, supportive cradle.
Firmness Scale: 4.5/10 (Luxury Plush) 7/10 (Gentle Firm)
Pressure Relief

If you feel stress building up in your pressure points as you lie down, it's vital to have a bed designed to provide relief. The pain may also be relative to the position you sleep in. For example, side sleepers tend to need more pressure relief for their shoulders and hips since their weight is more concentrated in those areas. While memory foam is traditionally the king of pressure relief, Zenhaven pulls out all the stops in their five-zone comfort layer available on both sides.

This 1.5-inch layer includes strategically placed holes to provide added support in the lumbar region while creating pressure relief across the surface of the bed. As it is made from all-natural Talalay latex, the pressure relief should be uniform across the bed and provide a swift response time, making repositioning a snap.
Support

Support is critical, especially for back sleepers and heavier folks, so they don't sleep with their spine poorly aligned. Thanks to the five-zone comfort layer, the bed should provide targeted support for most sleepers, even on the Luxury Plush side. However, some might need more enhanced support.

Luckily, Zenhaven has an option for these folks: simply flip the mattress. On the Gentle Firm side, the firmest Talalay latex layer should provide plenty of support and more of a gentle cradle for those who like to lie on top of their mattress rather than in it. The hip and lumbar support from this bed should allow for optimal spinal alignment.
Preference-based Features

Multiple Firmness Options

Zenhaven includes two firmness options in one bed: Luxury Plush and Gentle Firm, which means you can decide which is suitable for you with little to no hassle. With handles woven into the cover, it should just take a few minutes to find the right firmness for you.

---

Free White-Glove Delivery

Unlike many mattress brands, Zenhaven isn't compressed into a box. Instead, you'll receive free, professional white-glove delivery to the room of your choice with your purchase. Zenhaven will even take your old mattress for free if you'd like.

---

Cooling

Latex is exceptionally breathable, and with wool and cotton covering the whole mattress, air should flow freely throughout the material. The latex even has holes in the zoned support layers, which adds to the ventilation.

---

High Bounce

Latex is one of the most bouncy and responsive materials to use in mattresses. Great for sexually active couples, latex has a quick response, with a deeper bounce the further you push into the bed.

---

Eco-Conscious Materials

Using eco-friendly materials is essential to Saatva; that's why Zenhaven uses only American-made Talalay latex, organic wool, and natural cotton. These materials may be slightly more expensive with a smaller carbon footprint, but they are more sustainable and good for the environment.

---

Adjustable Base Compatible

All of Saatva's beds are made to be compatible with an adjustable base. Since Zenhaven requires a solid foundation, you may want to try out their Lineal Adjustable Base for a weightless sleeping experience.

---

Handcrafted in the USA

Zenhaven uses only American-made Talalay latex, but their beds are also assembled and shipped from the USA.

---

Hypoallergenic and Antimicrobial

The Zenhaven natural cotton cover is treated with Saatva's exclusive Guardin® antimicrobial botanical treatment that resists dust mites and bacteria without harmful chemicals. With no harmful bleaches, this bed is natural and hypoallergenic.

---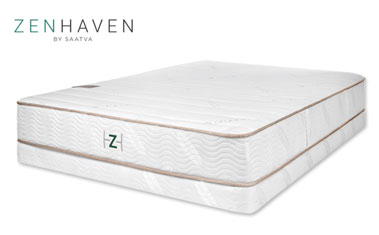 Get the Zenhaven Mattress
Hypoallergenic latex mattress with dual-sided firmness levels. 20-year warranty.
Click the button below to get the Zenhaven Mattress.
Certifications

OEKO-Tex® Standard 100 Certified

Zenhaven has been evaluated by a third-party organization that determined its latex contains safe amounts of potentially harmful substances like heavy metals, phthalates, and pesticides.
Coupons, Trials, Warranties, and Shipping

Shipping - Zenhaven ships free throughout the United States.
Trial - You can try out the mattress for 365 nights to decide if it's right for you. If you choose to return it, you'll receive a refund for the bed. After that, the only amount you'll have to cover is the cost of returning the bed, which is $99, and the company will schedule a pickup to retrieve the mattress.
Warranty - This bed carries a lifetime warranty, meaning it stands behind its durability guarantee.

| Size | Dimensions (inches) | Price (w/o discount) |
| --- | --- | --- |
| Twin | 38" x 75" x 10" | $1,795 |
| Twin XL | 38" x 80" x 10" | $1,995 |
| Full | 54" x 75" x 10" | $2,595 |
| Queen | 60" x 80" x 10" | $3,195 |
| King | 76" x 80" x 10" | $3,695 |
| Cali King | 72" x 84" x 10" | $3,695 |
| Split King | 76" x 80" x 10" | $3,990 |
Zenhaven vs. PlushBeds Botanical Bliss

To help you decide whether the Zenhaven is the right mattress for you, we see how it stacks up against a competitor, the PlushBeds Botanical Bliss.

Both mattresses are made with latex and prioritize natural materials in their construction, such as organic wool and cotton. While the Zenahven is solely made with Talalay latex, the Botanical Bliss combines Talalay and Dunlop latex. Latex, in general, should provide sleepers with good buoyancy. However, Dunlop is denser, and therefore, the Zenhaven may be slightly more bouncy than the Botanical Bliss.

The Zenhaven comes with two firmness options in one bed, depending on which side you use. The Botanical Bliss does offer two firmnesses but in separate models. However, this competitor also offers three heights to choose from, so shoppers can decide whether they'd like a 9-inch, 10-inch, or 12-inch mattress.

Zenhaven has a better consumer deal with a 365-night trial and a lifetime warranty, whereas Botanical Bliss has a 100-night trial and 25-year warranty.

The most significant difference between these two beds comes down to price, though, with Zenhaven coming in at a more budget-friendly price point.

Full Comparison Here: Zenhaven vs. PlushBeds Botanical Bliss
Overall Summary
Zenhaven is an excellent choice for those who want affordable luxury in their eco-friendly bed. With two firmness levels and hypoallergenic qualities, this versatile mattress should be a favorite among shoppers who want to try two firmnesses in one bed.


We scored the Zenhaven at a five for side sleepers. The first reason is that side sleepers should enjoy pressure point relief in the hips and shoulders on the Luxury Plush side without experiencing discomfort while repositioning. Secondly, the zoned comfort layer should still provide plenty of support for the rest of the body to keep the spine in alignment while allowing the hips and shoulders to sink in gently.


The Zenhaven got a five from us, thanks to the graduated firmness in the layers, getting more dense and firm as your body settles deeper into the bed. The graduated firmness makes Zenhaven an excellent option for back support, especially with a zoned comfort layer to foster pressure relief and support in all the right areas. Heavier sleepers, who might sink in too much on the Luxury Plush side, can opt for the Gentle Firm instead.


We gave this bed a four because significantly heavier stomach sleepers may need more substantial support than the Gentle Firm side. When you sleep on your stomach, you need enough support to keep you from sinking in and losing alignment in your spine. This bed did score well for most stomach sleepers, though, who would likely prefer the Gentle Firm option. However, lighter individuals may sleep well on the Luxury Plush side.


The Zenhaven's use of latex helped it earn a 5/5 in this category. Latex is one of the best materials for combination sleepers because its quick response allows for easy repositioning. You should be able to roll around comfortably without noticing any craters in your bed or waiting for the pressure relief to kick in. Most sleeping positions should work well on this bed.


We rated this bed at a four because the Gentle Firm may not be accomodating enough for heavier couples, mainly if either or both sleep on their stomach. However, this bed earned positive marks because latex tends to be bouncy and offers a quick response time, which is excellent for sexually active couples. Plus, the cooling properties of latex and the temperature-regulating cover materials should help prevent you and your partner from getting too warm.


The mattress received a three here because those of a higher weight may not feel adequately supported by the firmer side. In this case, we suggest looking into the Saatva HD model, which is built for heavier sleepers. However, this bed did get positive marks for side sleeping. Significantly heavier sleepers who sleep on their side may find that the Gentle Firm is a good match since they need something soft enough for their hips and shoulders.


We rated this bed at a five for light sleepers. The Luxury Plush side should be great for these individuals because it provides exceptional pressure relief while offering enough support for those who don't want to sink in too much. Adding to this high rating is that stomach sleepers, who typically prefer a slightly firmer feel, can simply flip the mattress over if they find the Plush side too soft for this position.
We think the Zenhaven is a 5/5 for customer value. This eco-conscious bed is extremely versatile, with two sides that should fit a wide range of sleepers. If your sleeping position doesn't feel just right, you can always flip the bed and try out another firmness. Adding to this bed's value is the zoned support and plenty of measures for cool sleeping that should help give you a peaceful night's rest.
Our Verdict
We recommend the Zenhaven if you have allergies and want a mattress made with more natural materials. We also feel this bed is worth buying if you're a combination sleeper or are unsure if you need a firmer or softer mattress since you can choose between either side.
We advise you not to get this bed if your weight is over 300 pounds and instead suggest looking into the Saatva HD, a model designed for those with higher weight considerations. Additionally, we do not recommend this model if you carry more weight and regularly sleep on your stomach as the firmer side may not feel supportive enough. Still, Saatva HD should be a great alternative choice.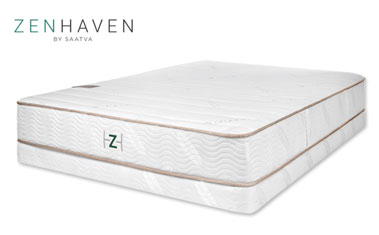 Get the Zenhaven Mattress
Hypoallergenic latex mattress with dual-sided firmness levels. 20-year warranty.
Click the button below to get the Zenhaven Mattress.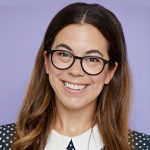 Jill Zwarensteyn is the editor for Sleep Advisor and a certified sleep science coach. She is enthusiastic about providing helpful and engaging information on all things sleep and wellness.
Based in Los Angeles, she is an experienced writer and journalist who enjoys spending her free time at the beach, hiking, reading, or exploring new places around town.
She's also an avid traveler who has a personal goal of being able to successfully sleep on an airplane someday.