Transparency Disclosure – We may receive a referral fee for products purchased through the links on our site...

Read More

.
Does having two mattresses for the price of one sound like an appealing deal? Zenhaven includes two firmness levels in one handcrafted mattress, meaning your perfect fit could be just a flip away. Manufactured by Saatva, a well-known, online-only luxury brand, this bed is made from natural and organic materials to combine your love for the environment with your love for sleep.
The brand offers a 120-day trial period, so there should be plenty of time for you to decide if the bed is right for you. Plus, if you don't like one side's firmness level, you may just need to flip it over.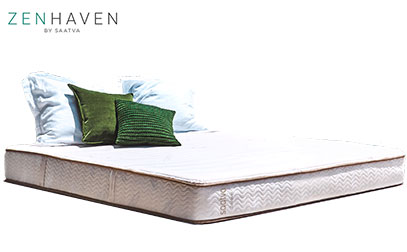 Get the Zenhaven Mattress
Hypoallergenic latex mattress with dual-sided firmness levels. 20-year warranty.
Click the button below to get the Zenhaven Mattress.
Watch Our Zenhaven Video Review
Who We Recommend the Zenhaven For:
People with allergies – Zenhaven uses natural materials like Talalay latex, natural cotton, and organic wool. These materials are resistant to mold, microbes, and dust mites without any help from chemicals.


---

Eco-friendly consumers – If you want a comfortable mattress from a company that cares about the environment and creates fair labor conditions, Zenhaven is probably for you. They use all American-made Talalay latex for a better product and lower carbon footprint.


---

Hot sleepers – Latex naturally resists body heat. Instead of feeling sucked into the mattress like some memory-style beds that trap heat, latex will support you with a breathable open-cell structure. Strategically placed pinholes and the 1-inch layer of wool further encourage airflow while being a natural fire retardant.
Who We Don't Recommend the Zenhaven For:
People who like memory foam – Latex has a distinctive feel different from memory foam. The material offers pressure relief without heat retention along with a faster response time to make repositioning simple. However, if you prefer to sink in slowly, this memory foam bed might not be suitable for you.


---

Heavier couples – Even when the Zenhaven is being used on the firmer side, heavyweight couples may not feel adequately supported, this is especially true if either partner prefers to sleep on their stomach. Additionally, some heavier sleepers may have an issue with uncomfortable pressure points, especially around the denser portions of the body.
First Impressions: Firmness & Feel
Firmness Scale: 4.5/10 (Luxury Plush) 7/10 (Gentle Firm)
Please remember that firmness is a subjective characteristic and your shape will dictate how you experience a bed. A heavier person whose weight can more easily push through softer comfort and support layers may experience a bed as softer than a lightweight person. The way you are shaped could also play a role here. Consider your weight, shape, and size when evaluating firmness scores.

The firmness of a mattress is indicative of how soft or firm a bed feels when you are lying on it. Firmness differs from support in that the supportiveness of a mattress deals specifically with how well a given mattress is able to keep your spine neutral.
The Zenhaven is unique in that it has two firmness levels. One side of this mattress has a plush and luxurious feel. This side of the mattress will allow you to sink down into a comforting hug as you slumber, whereas the gentle firm side will give you great overall support.
How Does It Feel?
When you sit or lie down on the Luxury Plush side of the bed, it feels a little bouncy, though not quite as bouncy as an innerspring mattress. You should feel it spring back up as soon as you reposition while allowing you to sink into a deeper, supportive cradle. The quilted cotton cover is soft to the touch, and it shows no sign of weakness when tugging or pulling at the top and sides.
What We Like About the Zenhaven
Hypoallergenic and antimicrobial – With a treated natural cotton cover and a natural botanical treatment, this bed resists dust mites and bacteria.


---

Two firmness levels – This mattress features two firmness levels. This will allow you to decide what is best for you from the comfort of your home.


---

Cooling features – A combination of breathable latex layers, and a wool and cotton covering allows air to flow freely.
Our Zenhaven Complaints
Not ideal for heavyweight sleepers – If you weigh 230 pounds or more, this bed may not offer the side-to-side support needed on the soft side.


---

On the pricey side – Zenhavens are made from latex which means they will be more expensive than other types of bed (this may be offset by durability and longevity)


---

Not easy to flip – Although this bed offers two firmness levels, it is heavy and not easy to flip.
Testing the Zenhaven Mattress: How it Performed
When testing the Zenhaven mattress, we used a variety of techniques to ensure that this mattress could withstand all the tests that life may throw at it. Some of these tests included documenting how this bed performed for different sleeping positions, as well as factors such as bounce, repositioning, cooling, and more. Given that this bed can be flipped and has a different firmness level on either side, we paid special attention to the differences between each side.
Sleeping Positions for Different Body Types
Zenhavens are designed to provide optimal support for those weighing up to 500 pounds. Twin and Twin XL beds have a weight capacity of 500 pounds. All other sizes can hold up to 500 pounds per side.
| Weight | Side Sleepers | Back Sleepers | Stomach Sleepers |
| --- | --- | --- | --- |
| Lightweight Sleepers (-130 lbs) | ★★★ | ★★★ | ★★★ |
| Average-Weight Sleepers (130-230 lbs) | ★★★ | ★★★ | ★★☆ |
| Heavyweight Sleepers (+230 lbs) | ★★☆ | ★★☆ | ★☆☆ |
Side Sleepers
Lightweight Sleepers – With a comforting feel and pressure relief points, this mattress provides an incredible sleep experience for lightweight side sleepers on the Luxury Plush side. It may be a little hard on a lightweight person's shoulders and hips when they are sleeping on the Gentle Firm side.
Average Weight Sleepers – Average-weight side sleepers will enjoy the cushioning for their shoulders and the zoned pressure areas will help keep their spine aligned when using the Luxury Plush side. On the Gentle Firm side of the Zenhaven, side sleepers may not experience the same kind of pressure relief.
Heavyweight Sleepers – If you're on the heavier side, this bed should offer adequate comfort and lumbar support when it is on the firm side. However, they may feel that they sink too far down into the mattress when on the Luxury Plush side.
Back Sleepers
Lightweight Sleepers – Back sleepers who are on the lighter side may like both sides of this mattress. Those who prefer a firmer feel will love the Gentle Firm side, as it will support their spine, while the softer side will cradle them without letting them sink too far into the mattress.
Average Weight Sleepers – The latex layer will cradle average-weight sleepers while providing lumbar support when using the Luxury Plush side of the mattress. The firmer side will appeal to many back sleepers, as it doesn't feel like a plank, but still provides ample support for the spine and hips.
Heavyweight Sleepers – Heavyweight back sleepers may find that the Gentle Firm side of the Zenhaven gives them enough support, especially around their hips, while also providing an encompassing hug when they are nestled down it.
Stomach Sleepers
Lightweight Sleepers – Lightweight stomach sleepers may find the Luxury Plush side more appealing, as it will allow a great amount of support without it feeling overly stiff.
Average Weight Sleepers – The luxury plush side of the mattress may allow stomach sleepers to sink too far down in the mattress. The firmer side of the mattress will be more suited for stomach sleepers as it still offers some cradle, but with more support.
Heavyweight Sleepers – The Gentle Firm side of this mattress will probably give heavier stomach sleepers enough support, but the Luxury Plush side will be too soft.
Pressure Relief & Pain
If you feel stress building up in your pressure points as you lie down, it's vital to have a bed designed to provide relief. The pain may also be relative to the position you sleep in.
There is added support in the lumbar region that creates pressure relief across the surface of the bed. As it is made from all-natural Talalay latex, the pressure relief should be uniform across the bed and provide a swift response time, making repositioning a snap.
Back Pain – Latex helps provide pressure relief across the mattress, and this can be felt if you are someone who experiences back pain. Furthermore, the Zenhaven has additional lumbar support that may ease back aches.
Hip Pain – The Luxury Plush side of the Zenhaven can help alleviate hip pain for lightweight and average-weight sleepers thanks to the excellent support zone that will keep their hips from sagging. Heavyweight consumers may help their hip pain by sleeping on the firmer side, which should help prevent them from sinking too far into the mattress.
Shoulder Pain – Sleepers who experience shoulder pain, will appreciate the softness that is found on the Luxury Plush side. The combination of latex layers and sturdy support could help relieve shoulder pain that can be felt with other mattresses.
Support
Support is critical, especially for back sleepers and heavier folks, so they don't sleep with their spine poorly aligned. Thanks to the five-zone comfort layer, the bed should provide targeted support for most sleepers, even on the Luxury Plush side. However, some might need more enhanced support.
Luckily, Zenhaven has an option for these folks: simply flip the mattress. On the Gentle Firm side, the firmest Talalay latex layer should provide plenty of support and more of a gentle cradle for those who like to lie on top of their mattress rather than in it. The hip and lumbar support from this bed should allow for optimal spinal alignment.
Motion Transfer
The Zenhaven brings the bounce, and a bed with bounce is great for some bedroom activities. Unfortunately, a bouncy mattress does not bode well when it comes to keeping motion transfer to a minimum. Therefore, this mattress may not be ideal for certain couples, especially those where one partner is easily disturbed by motion caused from the movement of the other.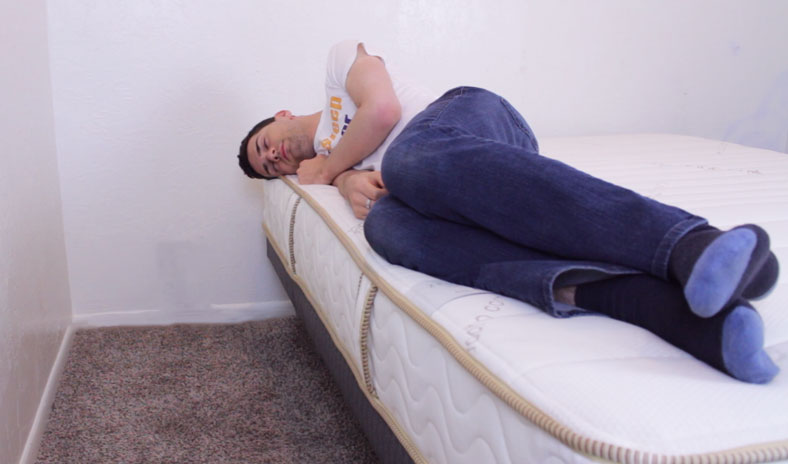 Temperature Regulation / Cooling
If you're looking for a mattress that helps keep you cool, you will want to consider the Zenhaven. This mattress is made from latex, and latex is a very breathable material. In addition to latex's natural cooling proclivities, small holes have been put in the latex surrounding the zoned support layers. Zenhaven mattresses are also covered with wool and cotton, which further supports breathability and cooling.
Performance for Couples
When it comes to bang for your buck, Zenhaven delivers for sexually-active couples. The layers of latex provide a nice bounce that many sexually-active partners enjoy. However, the bounce comes at the expense of motion isolation. Couples could experience a lot of disturbances from the nightly movements of their partner.
Preference-based Features
Multiple Firmness Options
Zenhaven includes two firmness options in one bed: Luxury Plush and Gentle Firm. This means you can decide which side is suitable for you with little to no hassle. With handles woven into the cover, it should just take a few minutes to find the right firmness for you.
Free White Glove Delivery
Unlike many mattress brands, Zenhaven isn't compressed into a box. Instead, you'll receive free, professional white glove delivery to the room of your choice with your purchase. Zenhaven will even take your old mattress for free if you'd like.
Cooling
Latex is exceptionally breathable, and with wool and cotton covering the whole mattress, air should flow freely throughout the material. The latex even has holes in the zoned support layers, which adds to the ventilation.
High Bounce
Latex is one of the most bouncy and responsive materials to use in mattresses. Great for sexually-active couples, latex has a quick response, with a deeper bounce the further you push into the bed. The high bounce is also ideal for people with limited mobility and combination sleepers since this usually makes it easier to reposition.
Eco-Conscious Materials
Using eco-friendly materials is essential to Saatva; that's why Zenhaven uses only American-made Talalay latex, organic wool, and natural cotton. These materials may be slightly more expensive with a smaller carbon footprint, but they are more sustainable and good for the environment.
Adjustable Base Compatible
All of Saatva's beds are made to be compatible with an adjustable base. Since Zenhaven requires a solid foundation, you may want to try out their Lineal Adjustable Base for a weightless sleeping experience.
Handcrafted in the USA
Zenhaven uses only American-made Talalay latex, but their beds are also assembled and shipped from the USA.
Hypoallergenic and Antimicrobial
The Zenhaven natural cotton cover is treated with Saatva's exclusive Guardin® antimicrobial botanical treatment that resists dust mites and bacteria without harmful chemicals. With no harmful bleaches, this bed is natural and hypoallergenic.
Construction: What's Inside the Zenhaven?
There are two distinct sides with different firmness levels—Luxury Plush and Gentle Firm. We will break down the layers on the Luxury Plush side.
On top is a quilted GOTS Certified Organic cotton cover that is protected with Guardin®, Saatva's exclusive botanical antimicrobial treatment. This can reduce dust mites, and help allergy sufferers get a better night's sleep.
The first layer under the cover is 1 inch of 100 percent organic New Zealand wool. The wool naturally creates a flame-retardant barrier and absorbs and wicks away moisture. It also helps with air circulation and temperature regulation.
The second layer is 1.5 inches of Talalay latex, which has five zones of targeted support. These separate sections with pinhole designs of different densities work together to promote spinal alignment and comfort. For example, there is added support in the hip and shoulder regions.
The third layer is 3 inches of Talalay latex, which provides enhanced support and is softer than the following latex level.
The fourth layer is an additional 3 inches of Talalay latex that is firmer than the previous level. After flipping the mattress, this firmer layer provides immediate support for those who need it.
The fifth layer is 1.5 inches of Talalay latex, and if you flip the mattress over, this layer serves as the top of the Gentle Firm side of the bed.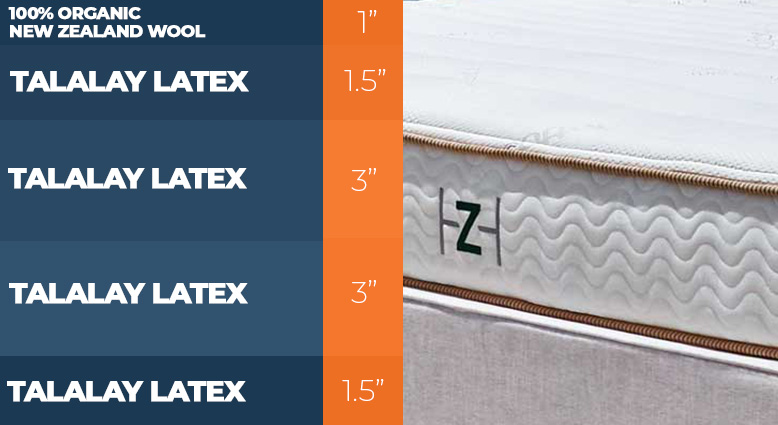 Unboxing & Off-Gassing
Zenhaven mattresses aren't compressed or shipped in a box. Therefore, you do not have to be concerned with any unboxing or off-gassing that often occurs from other bed-in-a-box brands. All orders come with free white glove delivery.
Certifications
OEKO-Tex® Standard 100 Certified – Zenhaven has been evaluated by a third-party organization that determined its latex contains safe amounts of potentially harmful substances like heavy metals, phthalates, and pesticides.
Coupons, Trials, Warranties, and Shipping
Shipping – Zenhaven ships free throughout the United States.
Trial – You can try out the mattress for 365 nights to decide if it's right for you. If you choose to return it, you'll receive a refund for the bed.
Warranty – This bed carries a lifetime warranty, meaning it stands behind its durability guarantee.
Return Policy – Customers who decide to return the bed during the 365-night trial will be charged a 99-dollar transportation fee. The company will schedule a pickup.
Sizes & Prices
| Size | Dimensions (inches) | Price (w/o discount) |
| --- | --- | --- |
| Twin | 38" x 75" x 10" | $1,795 |
| Twin XL | 38" x 80" x 10" | $1,995 |
| Full | 54" x 75" x 10" | $2,595 |
| Queen | 60" x 80" x 10" | $3,195 |
| King | 76" x 80" x 10" | $3,695 |
| Cali King | 72" x 84" x 10" | $3,695 |
| Split King | 76" x 80" x 10" | $3,990 |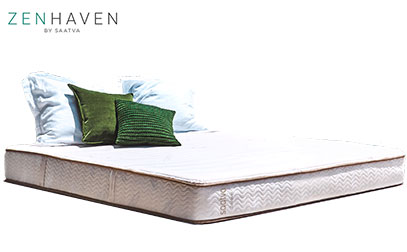 Get the Zenhaven Mattress
Hypoallergenic latex mattress with dual-sided firmness levels. 20-year warranty.
Click the button below to get the Zenhaven Mattress.
Frequently Asked Questions
Who manufactures Zenhaven mattresses?
Zenhaven mattresses are manufactured by Saatva. The Saatva brand makes high-quality hybrid and latex mattresses.
Are Zenhaven mattresses organic?
Yes, Zenhaven mattresses are considered organic, as they are made from natural latex and organic materials. Organic mattresses are made without potentially harmful chemicals, and no fiberglass or fiberglass flame retardants.
How much does a Zenhaven mattress weigh?
Zenhaven mattresses range in weight from 80-165 pounds. Queen-sized mattresses weigh 165 pounds.
Zenhaven vs Other Brands
Zenhaven vs PlushBeds Botanical Bliss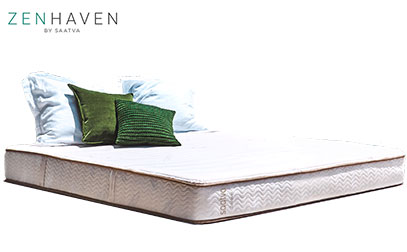 Check pricing and availability by clicking the button below
Organic and natural materials
Temperature regulating coolness
365-night trial period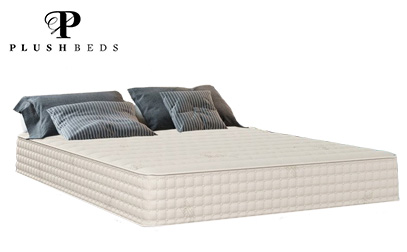 Check pricing and availability by clicking the button below
Classic innerspring feel
Multiple heights available
Quality construction
Who We Recommend the Zenhaven For
Eco-conscious consumers
Those prone to allergies
Sexually-active couples
Who We Recommend the PlushBeds Botanical Bliss For
Lightweight side sleepers
Hot sleepers
Couples
Learn more in our PlushBeds Botanical Bliss Mattress Review.
Zenhaven vs Avocado Green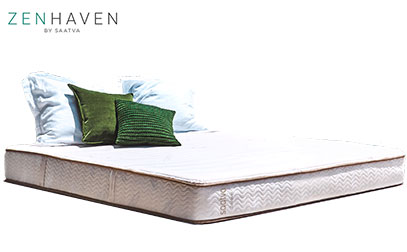 Check pricing and availability by clicking the button below
Two firmness levels
White glove delivery
No unboxing or off-gassing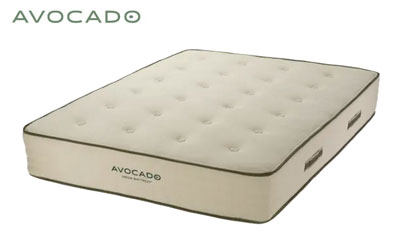 Check pricing and availability by clicking the button below
Vegan option
Provides cool comfort
Gentle-firm feel
Who We Recommend the Zenhaven For
Shoppers who want their old mattress hauled away
Sleepers prone to overheating
People with limited mobility
Who We Recommend the Avocado Green For
People who want premium, organic materials
Vegan shoppers
Combination sleepers
Read our Avocado Green Mattress Review if you think the Avocado is right for you.
Zenhaven vs Other Saatva Models
Zenhaven vs Saatva Latex Hybrid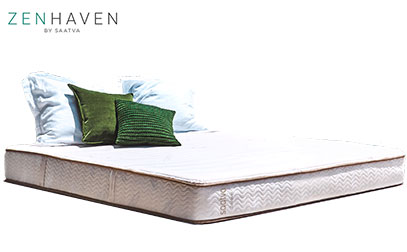 Check pricing and availability by clicking the button below
Supportive "LumbarZone Quilting"
Excellent airflow
Durable latex core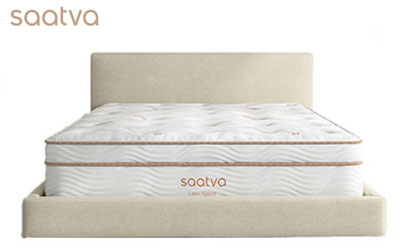 Check pricing and availability by clicking the button below
Responsive innerspring feel
Durable Euro top design
Quality edge support
Who We Recommend the Zenhaven For
Lightweight sleepers
Those who are unsure of what firmness they may like
Back sleepers
Who We Recommend the Saatva Latex Hybrid For
Those who like the feel of innerspring mattresses
Sleepers who want sturdy edge-to-edge support
People with back pain
Check out our Saatva Latex Hybrid Mattress Review.
Overall Summary
Zenhaven is an excellent choice for those who want affordable luxury in their eco-friendly bed. With two firmness levels and hypoallergenic qualities, this versatile mattress should be a favorite among shoppers who want to try two firmnesses in one bed.


We scored the Zenhaven a 5 out of 5 for side sleepers. Side sleepers should enjoy pressure point relief in the hips and shoulders on the Luxury Plush side without experiencing discomfort while repositioning. Secondly, the zoned comfort layer keeps the spine in alignment while allowing the hips and shoulders to sink in gently.


The graduated firmness in the Zenhaven's layers gets more dense and firm as your body settles deeper into the bed. The Zenhaven is an excellent option for back support because it fosters pressure relief and support in all the right areas. Heavier sleepers may opt for the Gentle Firm instead to keep from sinking too far into the bed.


We gave this bed a 4 out of 5 because significantly heavier stomach sleepers may need more substantial support than the Gentle Firm side to keep from sinking and losing alignment in your spine. Average-weight stomach sleepers should fare well with the Gentle Firm option, while lighter individuals may opt on the Luxury Plush side.


The Zenhaven's use of latex helped it earn a 5 out of 5 in this category. Latex is one of the best materials for combination sleepers because its quick response allows for easy repositioning. You should be able to roll around comfortably without noticing any craters in your bed or waiting for the pressure relief to kick in.


The Gentle Firm side may not be accommodating enough for heavier couples. However, this bed earned positive marks because latex tends to be bouncy and offers a quick response time, which is excellent for sexually-active couples. Plus, the cooling properties of latex and the temperature-regulating cover materials should help prevent you and your partner from getting too warm.


Those of a higher weight may not feel adequately supported by the firmer side. However, this bed did get positive marks for side sleeping. Significantly heavier sleepers who sleep on their side may find that the Gentle Firm is a good match since they need something soft enough for their hips and shoulders.


The Luxury Plush side should be great for these individuals because it provides exceptional pressure relief while offering enough support for those who don't want to sink in too much. Stomach sleepers, who typically prefer a slightly firmer feel, can simply flip the mattress over if they find the Luxury Plush side too soft for this position.


When it comes to average-weight sleepers, this bed is a shining star. It received a 5 out of 5 rating because the different firmness levels allow people in this weight range to feel supported and comfortable no matter their preferred sleeping position.
Saatva packs a lot of value into their beds, including the Zenhaven. The durability of these mattresses promises a return on your investment. Similar beds in retail stores can cost thousands in comparison to what Saatva offers for much less, and you still are getting a luxurious feel and free professional delivery.
Our Verdict
We recommend the Zenhaven if you have allergies and want a mattress made with more natural materials. We also feel this bed is worth buying if you're a combination sleeper or are unsure if you need a firmer or softer mattress since you can choose between either side.
We advise you not to get this bed if your weight is over 300 pounds and instead suggest looking into the Saatva HD mattress, a model designed for those with higher weight considerations. Additionally, we do not recommend this model if you carry more weight and regularly sleep on your stomach as the firmer side may not feel supportive enough.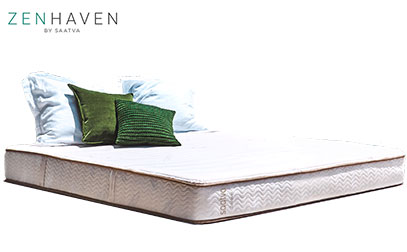 Get the Zenhaven Mattress
Hypoallergenic latex mattress with dual-sided firmness levels. 20-year warranty.
Click the button below to get the Zenhaven Mattress.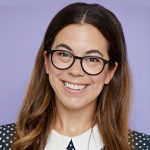 Jill Zwarensteyn is the editor for Sleep Advisor and a certified sleep science coach. She is enthusiastic about providing helpful and engaging information on all things sleep and wellness.
Based in Los Angeles, she is an experienced writer and journalist who enjoys spending her free time at the beach, hiking, reading, or exploring new places around town.
She's also an avid traveler who has a personal goal of being able to successfully sleep on an airplane someday.