Shopping for a mattress, especially if it's your first time, is like a jump into the unknown. There are going to be a lot of terms that you are undoubtedly unaware of. That's no reason to back out, though. We are here to help.
These types of beds are usually the ones who have customers confused the most. We've taken the liberty to provide you with a quick overview and clarification of one of the commonly preferred options out on the market – plush mattresses. You've certainly heard of this term. In case you wonder what it means – you're about to find out!
Plush Bed Meaning
The term "plush" is used interchangeably by a lot of different companies which want to describe the overall level of softness brought by the surface comfort layer of the mattress. The thing to consider, however, is that this is not the correct usage of the term.
This type of surface is softer, but it still provides a good amount of support. Of course, in order to be perfectly aware of the term and what it means, it might be a good idea for you to familiarize yourself with the difference between a soft, firm and plush mattress.
Need more info? Check out our complete mattress firmness guide.
Who Should Choose a Plush Mattress?
Different Sleeping Positions
Stomach
If you are a stomach sleeper and you prefer the so-called "freefaller" sleeping position, you might want to look for something firmer. The problem is that softer beds can create pressure points on your stomach and chest and cause your spine to bend improperly. Firm beds are much better for this position.
---
Side
These mattresses should be used by side sleepers. They offer a reasonable sinkage which would contour your body as you lay on your side. This is the only position where we recommend this level of firmness, otherwise, go with medium for more support.
View Our Full Guide: Best Mattress for Side Sleepers
---
Back
Back sleepers are the perfect target group for this type too. But, make sure to opt for the top rated beds to avoid sagging after couple months.
Looking to learn more? View our full guide to best mattresses for back sleeping.
Different Pain Areas
Back Pain
It's common that improper bedding can cause pain points, including back pain. Even though most memory foam beds offer fantastic contouring and pressure relief, it's typically viewed as better to go for a slightly firmer option (at least medium).
Pain management and reduction is such an important an important part of life, and it can be difficult to know where to look.
Hip Pain
Most people suffering from hip pain are sleeping on their sides on a firm bed. That means that softer surface will most likely help you get rid of the hip pain.
Shoulder Pain
Much like the point above, the bed should be able to conform to your body, allow for pressure relief and have enough support, so it doesn't unnaturally curve your spine.
Read Our Guide: Top Rated Beds for Hip & Shoulder Pain
Shifting Around
If you like to move around while sleeping, most people prefer options that do not excessively hug your body like memory foam does.
Partner/Couples
Being that most plush beds are made from foam, that means lower motion transfer. This is going to ensure that you don't feel the movements of your partner.
Find Out More: The Best Couple's Beds For 2021
Your Weight
Now, if you are overweight, you will need a firmer option to avoid sinking too deep. On the other hand, if you opt for a 15″ or more it can still be soft but supportive enough.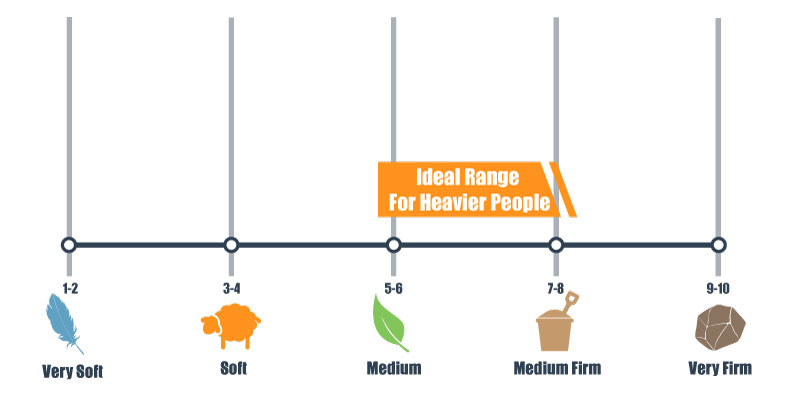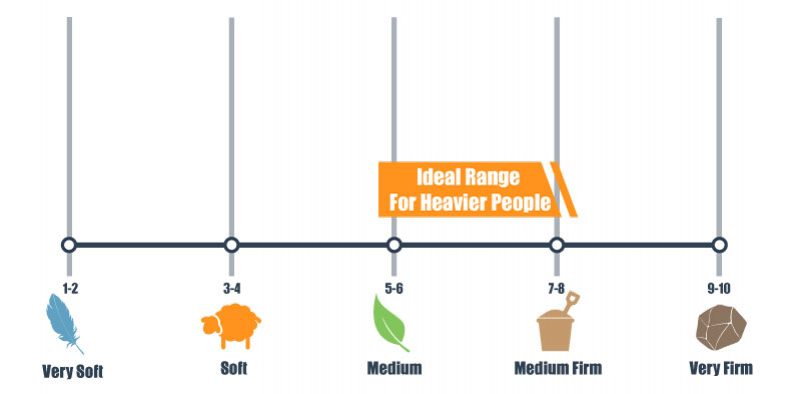 Common Comparisons
Plush vs. Firm
The truth is that firm beds are very comfortable too. Don't confuse subjective firmness feel and support, those are two different things. It's just down to your personal preference but if in doubt, harder options will be better for your spine in the long run.
Plush vs. Ultra-Plush
Ultra-plush models rarely provide the support you need. We still haven't tested any beds in the 1-2 on a firmness scale of 1-10 (10 being the firmest). We do not recommend that you go with this range.
Plush vs. Pillow Top
Pillow top beds have an extra layer which is rarely thicker than one inch. This is designed to bring an additional amount of comfort without any added support. The pillow top could also come separately, and it could be used to enhance the comfort of any given bed. In most cases, it's added on top of beds with coil construction.
Frequently Asked Questions
What is a Plushy?
---
Plushy is a bed feel which is both comfy and sturdy at the same time. It allows splendid sleeping sensation which is also quite healthy.
What is a Plush Firm Bed?
---
A plush firm mattress is one which provides the support of a firm bed and the comfort of a pillow top one. You would feel like sleeping on a cloud without any of the potential spinal damages.
Conclusion
---
As you can see, a plush bed and its many variations could be a viable and very convenient option. In fact, a lot of people prefer it over the firm models because it brings a convenient combination of the most sought-after capabilities – comfort and support.
You could enjoy the cloud-like sleeping sensation without worrying about the "trapped" sensation brought to you by memory foam or the spinal misalignments which could be caused by an overly softer unit. This bed type is a great solution if you like to sleep on your side or back and prefer to move around freely throughout the night.
Sources and References:
Considerations When Buying a New Mattress – spine-health.com
Our team covers as many areas of expertise as we do time zones, but none of us started here as a so-called expert on sleep. What we do share is a willingness to ask questions (lots of them), seek experts, and dig deep into conventional wisdom to see if maybe there might be a better path towards healthy living. We apply what we learn not only to our company culture, but also how we deliver information to our over 12.7M readers.
Sleep research is changing all the time, and we are 100% dedicated to keeping up with breakthroughs and innovations. You live better if you sleep better. Whatever has brought you here, we wish you luck on your journey towards better rest.