Transparency Disclosure – We may receive a referral fee for products purchased through the links on our site...

Read More

.
Intrigued by bed-in-a-box brands but skeptical about a lack of choices? Presenting a new line from Mattress Firm with a variety of options for sleep, this company knows one size does not fit all. 
Tulo's use of quality materials and customized heights means that this mattress line is good for many customers, such as couples and solo sleepers. 
To help make your decision an easy one, our Tulo mattress review will go over the specs to let you know how their 10-inch Memory Foam Bamboo model performs in multiple categories that are important for shoppers. For a comprehensive look at Tulo, keep reading, or just skip down to our final thoughts at the bottom.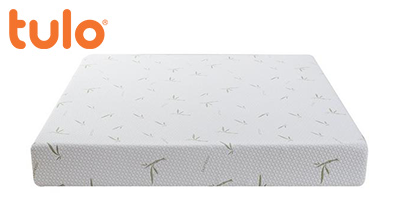 Get Tulo Mattress
Tulo is a versatile and unique mattress with its layer of memory and response foam topped with an eco-friendly cover.
Click the button below to get Tulo Mattress.
Excellent Matches For Tulo
Budget Shoppers with Weight Concerns – Tulo is priced considerably lower than most other bed-in-a-box brands without sacrificing much in the way of construction. This should make it a favorite among budget shoppers, and the multiple height options and higher weight limit could help out some who struggle to find affordability paired with good support.


---

Fans of Memory Foam – This mattress will hug you back like traditional memory foam. Additionally, it should make it easier to move around and get up in the morning, thanks to its quick-response layer below the memory material.


---

Co-sleepers – With reinforced edge support, the usable surface area of this mattress should be higher than most other all-foam beds, which is great news for those with a limited amount of space to put a bed.
Possible Tulo Considerations
People Who Prefer Bounce – While the bed has many helpful features, it doesn't include springs, which means there will be little to no bounce. Repositioning may be a little strenuous as you break the bed in. If you prefer something with more bounce, we recommend one of their hybrid mattresses.


---

May Not Be Cool Enough for Extra Hot Sleepers – Sleepers in need of a bed with extra cooling features may want to consider the company's hybrid, which is built with coils to promote additional airflow. Memory foam beds tend to retain heat more than hybrid models.
Construction: What's inside Tulo?

The Tulo 10-inch Bamboo Memory Foam mattress features a smooth knit cover that should feel cool to the touch while also providing additional comfort. That extra comfort should be a key advantage for sleepers who need pressure relief - especially those who regularly sleep on their side.

The full height of the mattress is a total of 10 inches. The company also offers this same model in 6, 8, and 12-inch options. For this review, we will focus on the details of the 10-inch mattress.

The top layer has two inches of memory foam infused with green tea. The memory foam should foster motion isolation, so you don't disturb your partner while also contouring to your unique shape to relieve sensitive pressure points. Memory foam typically runs hot, so if you're prone to overheating, you may need something else. However, the green tea should keep the material smelling fesh.
The base of the mattress is made up of eight inches of sturdy support foam. Not only does this layer give the Tulo a durable structure, but this is also the core support system that works to ensure your spine stays well-aligned as you sleep.

The 6-inch, 8-inch, and 12-inch models also contain green tea-infused memory foam and the support foam base, with variations on the thickness of the base layer. We recommend the 10-inch or 12-inch beds for regular use or heavier individuals to minimize the chance of you sinking too deeply or bottoming out.
First Impression: How Does It Feel?

This all-foam mattress ships compressed in a box. Any flat surface can be used as a base for this product, and it even works with slatted frames and adjustable bases.

Settling into the mattress, you should notice yourself sink into a comforting hug as the memory foam contours to your body and relieves pressure. Most sleepers should notice how quickly the bed responds, and you shouldn't get stuck when trying to reposition.
Firmness Scale: 5/10 (Medium)
Pressure Relief

Most of us have had to sleep in less than favorable circumstances at some point in our lives, whether on the floor in a hotel room or a hard guest room mattress. To identify what kind of pressure relief you need, just think back to those situations. Commonly, the shoulders, hips, back, and chest (depending on the position you sleep in) tend to dig into stiff bedding, causing pain and discomfort.

Tulo aims to alleviate pressure with its two inches of memory foam and soft knit cover. These layers should allow most to sink in deeply, which is great news for most sleeping positions.

Though the surface should alleviate pressure points well, this is not to say that the mattress is slow to respond and creates a crater effect in the center of the bed. The memory foam is also designed to be highly responsive, so most people shouldn't have trouble with repositioning.
Support

Support is just as important as pressure relief since it contributes to spinal alignment, comfort, and durability. This element is mostly reflected in the base foam. With eight inches of polyurethane foam, the 10-inch model should keep most people from bottoming out on the mattress and is largely recommended for stomach sleepers in terms of proper alignment.

Those who are significantly heavier in weight will likely need the thicker support base in the 12-inch model to help them maintain proper alignment. Because this mattress stops motion in its tracks, it doesn't provide much bounce until you press deeply into the bed.
Preference-based Features

Bed-in-a-box

Tulo is a bed-in-a-box brand that saves you money, lets you shop from home (no visiting store after store), and offers a variety of convenient benefits.

---

Exceptional Edge Support

Few bed-in-a-box models, especially all-foam ones, excel in edge support due to their compression during shipping, but with reinforced edges, this option performs well above the industry average.

---

Great Motion Isolation

With memory foam at the forefront of its design, the mattress was made to isolate motion well, helping couples stay asleep through disruptions such as tossing and turning.

---

Adjustable Base Compatible

The mattress is adjustable base compatible and should work on most adjustable bases so long as they feature either a solid or slatted base.

---

Handcrafted in the USA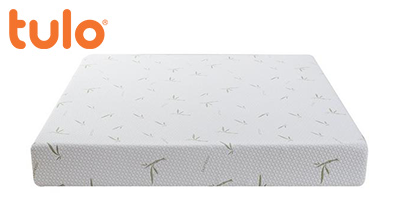 Get Tulo Mattress
Tulo is a versatile and unique mattress with its layer of memory and response foam topped with an eco-friendly cover.
Click the button below to get Tulo Mattress.
Certifications

Eco-Friendly Certifications - Tulo has a CertiPUR-US® certification, meaning the foams have been evaluated by a third party to have safe amounts of potentially harmful substances. This means less off-gassing and potentially better indoor air quality for customers.
Coupons, Trials, Warranties, and Shipping

Shipping - The company offers free shipping to most of the continental U.S.
Trial - The company offers a 120-night trial for this product.
Warranty - Tulo comes with a 10-year warranty.

| Size | Dimensions (inches) | Price (w/o discount) |
| --- | --- | --- |
| Twin | 39" x 75" x 6" | $289.99 |
| Twin XL | 39" x 80" x 6" | $309.99 |
| Full | 54" x 75" x 6" | $399.99 |
| Queen | 60" x 80" x 6" | $459.99 |
| King | 76" x 80" x 6" | $539.99 |

| Size | Dimensions (inches) | Price (w/o discount) |
| --- | --- | --- |
| Twin | 39″ x 75″ x 8″ | $379.99 |
| Twin XL | 39″ x 80″ x 8″ | $409.99 |
| Full | 54" x 75" x 8″ | $489.99 |
| Queen | 60" x 80" x 8" | $569.99 |
| King | 76" x 80" x 8" | $689.99 |

| Size | Dimensions (inches) | Price (w/o discount) |
| --- | --- | --- |
| Twin | 39" x 75" x 10" | $449.99 |
| Twin XL | 39" x 80" x 10" | $469.99 |
| Full | 54" x 75" x 10" | $569.99 |
| Queen | 60" x 80" x 10" | $669.99 |
| King | 76" x 80" x 10" | $769.99 |

| Size | Dimensions (inches) | Price (w/o discount) |
| --- | --- | --- |
| Twin | 39" x 75" x 12" | $559.99 |
| Twin XL | 39" x 80" x 12" | $589.99 |
| Full | 54" x 75" x 12" | $719.99 |
| Queen | 60" x 80" x 12" | $799.99 |
| King | 76" x 80" x 12" | $949.99 |
Overall Summary
Tulo is a versatile mattress with its layer of memory foam followed by a support foam base. Made to suit most sleepers, this bed should be a good option for those who value pressure relief and motion isolation.


Side sleepers, who especially rely on pressure-relieving features, should do well on this bed thanks to the contouring 2-inch memory foam layer and the soft cover for extra comfort. Additionally, the  8-inch support foam beneath should keep the spine well-aligned.


The 10-inch model, which has the thickest foam base, should be the choice for back sleepers who need a bed with a robust support system. Most people should feel well supported and able to take advantage of the comfort layers without bottoming out. The hips shouldn't sink in too deeply, and most should maintain proper spinal alignment.


Most stomach sleepers will not get enough firmness from this bed, which is often something this group needs with their mattress. Their ideal bed has enough support to stop the stomach and hips from sinking too deeply into the bed. However, some lightweight sleepers may do okay on this model.


Combination sleepers do best with beds that have a more universal, medium-firm feel that works for multiple sleep positions. With the quick-responding memory foam, repositioning shouldn't be a problem, so most combination sleepers should be happy with this choice.


Though an all-foam bed, Tulo does well in edge support and motion isolation, making it a good option for most couples. With an increased surface area and fewer disruptions, we think this would make a good choice for those not looking to compromise.


Heavier sleepers will likely need something firmer than this 10-inch model to keep them from bottoming out through the layers. However, if you're a heavier sleeper interested in this brand, the company offers a 12-inch firm hybrid that could be a better fit.


Lighter sleepers should do well with the 10-inch model, which should give them adequate pressure relief and support. However, those who weigh 130 pounds or less could consider the 8-inch or 6-inch as well since there is less of a chance of bottoming out.
Tulo is an excellent budget choice that should suit a variety of sizes and sleeping positions. While some heavier sleepers may need something with more support, the majority of sleepers, including couples, should be a good fit with the 10-inch model.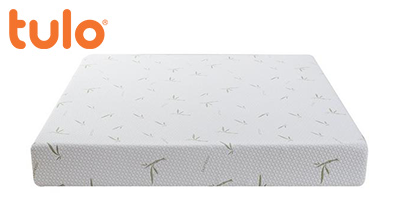 Get Tulo Mattress
Tulo is a versatile and unique mattress with its layer of memory and response foam topped with an eco-friendly cover.
Click the button below to get Tulo Mattress.
Our team covers as many areas of expertise as we do time zones, but none of us started here as a so-called expert on sleep. What we do share is a willingness to ask questions (lots of them), seek experts, and dig deep into conventional wisdom to see if maybe there might be a better path towards healthy living. We apply what we learn not only to our company culture, but also how we deliver information to our over 12.7M readers.
Sleep research is changing all the time, and we are 100% dedicated to keeping up with breakthroughs and innovations. You live better if you sleep better. Whatever has brought you here, we wish you luck on your journey towards better rest.