Transparency Disclosure – We may receive a referral fee for products purchased through the links on our site...

Read More

.
If you're looking to change up the experience of your bed with eco-friendly material, latex might be the answer.
Sleep On Latex was founded by two brothers who design and assembles their products in Chicago with latex processed in Sri Lanka, where it is sourced from local trees. Their commitment is to excellence and continual improvement, and the Pure Green™ topper is one of the first products they introduced in 2013.
Our in-depth overview of the Sleep On Latex Pure Green mattress topper will show you how different options from this brand might enhance your existing mattress, from cooling to firmness and comfort.
If you've got a minute, check out our analysis, but if you're pressed for time you can jump down to our final conclusions.
You will love Pure Green™ if you:
Want to try all-natural latex – This material is packed with potential to change up your sleep experience, but a full-size mattress can be quite cost prohibitive, especially with more eco-friendly and natural materials. A topper might fit your budget better, while still giving you a taste of this material's many benefits.
Want a lot of comfort and loft options – With this brand, the company aims to provide options, including three different firmness levels, as well as three different heights helping to ensure you can adjust your existing mattress to your exact specifications.
Sleep hot – Latex's popularity is due in large part to its temperature neutrality. Air typically does not become trapped in latex, which can flow more freely through the material to keep hot air out, which is great if you tend to overheat when you sleep.
You might not like Pure Green™ if you:
Slow-sinking memory foam experience – By its nature, latex is a lot more responsive than memory foam, but this can be an advantage because it lets air flow through for cooling and contains a bit of bounce for repositioning.
Construction (Materials & Quality)
This topper is sold online and ships to your house in a box. If you select the optional organic cotton cover, this will be placed over the latex before it ships.
You may select from three different firmnesses: Soft, Medium or Firm, as well as three different thicknesses, depending on how much or how little you wish to change the feel of your mattress.
This latex is sourced from rubber trees in Sri Lanka and is processed using the Dunlop method, which tends to be simpler, more energy-efficient, and requires far fewer chemicals than alternative processing methods. The resulting latex is springy and a little denser, designed to offer both support for the sleeper as well as body-conforming comfort. Pinholes added to the construction enhance airflow.
Firmness (Comfort & Feel)
How you experience a topper will depend a great deal on what mattress you choose to pair it with, and this brand carries plenty of different options to change your sleeping experience very slightly or quite a lot, depending on how firm or how thick a topper you select and your own body weight.
The one-inch topper, regardless of firmness, is likely to make the slightest difference to the feel of your existing mattress. If you select the firm option, you could potentially add a touch more support, depending on the firmness of your mattress. Choose the Soft or Medium, if you'd like just a touch more pressure relief.
The two-inch topper could make a more significant difference to your experience, depending on which firmness you choose. The medium will probably feel the most versatile, by offering enough support to keep heavier parts from dipping too low but enough softness that you feel uniformly cradled. The Firm will likely further bolster support, and the Soft would offer a deeper cradle and extra pressure relief, ideal for folks with more plush curves.
The Soft option of the 3-inch option is likely to make the largest difference to your experience, holding your body in a deeper hug while still supporting spine alignment. The Medium would similarly change your experience with a gentler cradler, and slightly more support in the foam. The Firm may completely change the surface of your mattress by creating an ultra-firm feel with a minimal cradle.
Note that the manufacturer states that the Firm option should provide the feel of the base layer in many all-foam mattresses. Those who have significant weight concerns may steer closer to the firmer options, as they will have a higher likelihood of pressing completely through the Soft options and into the surface of the mattress.
Regardless of your sleep position, you're likely to find a solution that suits your needs with this brand.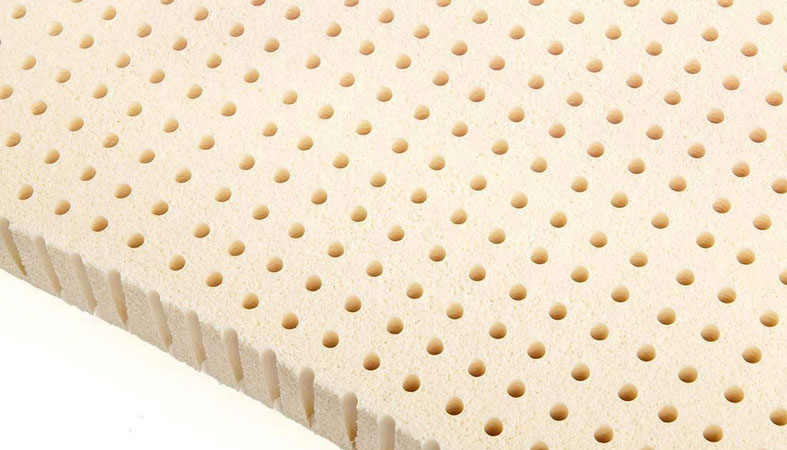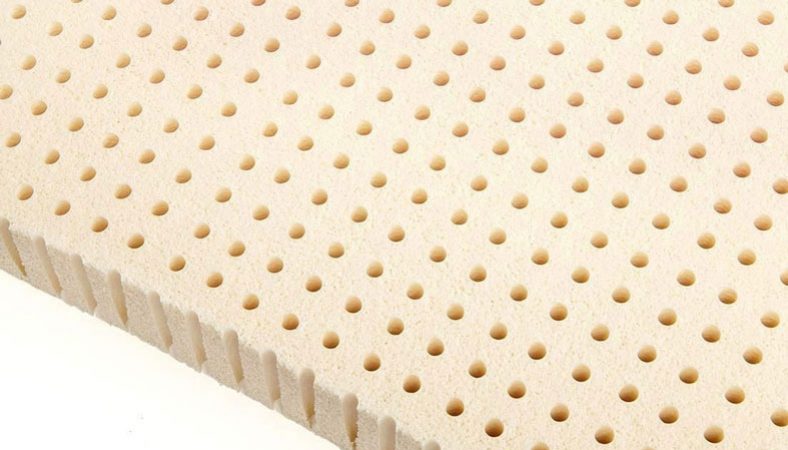 Exclusive side sleepers may prefer the deep hug of the 3-inch option that takes pressure off their curves in this position, while dedicated stomach sleepers may steer towards firmer choices to keep their hips level and spine aligned. Back sleepers and combination sleepers, who tend to vary with their preferences, will be well suited by most choices here.
Repositioning is likely to be simpler with thinner and firmer selections, but latex has a very quick response time and no option should prove difficult for sleepers who prefer not to feel "stuck" in their bed.
Temperature Regulation
Because of the bubbles contained in latex and the added pinholes, this product should sleep remarkably cool because air is freer to travel through the material and shouldn't get trapped up next to your body while you sleep. This product could cool your existing mattress or neutralize temperature. Keep in mind that sinkage is likely to affect temperature too, and those with firmer choices who sleep more on top are be exposed to more circulating air than those sunk further in their bed.
Motion Transfer
Though Dunlop latex does have a bit of spring to it, vibrations felt within it from tossing and turning partners should be fairly minimal. If motion transfer is an issue with your existing bed, this product can help dampen those disturbances and keep you sleeping peacefully next to a restless pet or partner.
Other Considerations
Optional Cover – When you order, you may select a cotton cover for your topper that is already zipped onto the product. Should you decide to add a cover at a later date, you may purchase this product separately.
Firmness and Thickness Options – You may select from three firmnesses, which are Soft, Medium, and Firm, and three different thicknesses: 1-inch, 2-inch, or 3-inch depending on how much you want to change the feel of your mattress.
Shipping – This product ships for free from the manufacturer and can be returned for free as well.
Certifications – The latex has been evaluated for the presence of harmful and potentially harmful materials and found to meet rigorous standards that surpass legal requirements in most countries, and these materials carry both the OEKO-TEX Standard 100 and Eco Institut certifications. The optional cotton cover is certified by GOTS.
Designed and Assembled in the USA
Final Thoughts
---
Amazing
Sleep on Latex delivers scads of options and configurations to bring the pressure relief and support of latex to your mattress experience with their all-natural latex topper.
The true stand out characteristics of this brand are the options you have and the quality of latex, which is available to you for much less than in-store brands with similar quality and certifications. Overall, we think this product could be a fantastic addition to your mattress to either make your bed as firm or as soft as you require with the unique body conformance and cooling properties of natural materials.