Transparency Disclosure – We may receive a referral fee for products purchased through the links on our site...

Read More

.
How does a dual layer topper perform better than a standard 1 layer topper?
The mission behind Sleep innovations is in the name, as they have their eyes set on changing the bedding industry so sleepers all around the world can get a better night's sleep. Their 4-inch Gel Foam Topper makes all the difference by using not one, but two layers to give shoppers the plush and comfortable sleep they have been dreaming of.
Our in-depth Sleep Innovations Gel Foam Topper/Pad review takes a look at how this bedding product can enhance your sleeping surface. This analysis will take a deep dive into features like cooling, comfort, and the overall feel. If you would rather just catch the main points, feel free to skip down to our scoring and summary.
You will love this topper if you:
Need pressure relief– People who like a softer bed should really enjoy this mattress pad. It offers pressure relieving comfort that side sleepers, in particular, might enjoy.
Want cooling – The fiber fill top makes the surface breathable while the gel in the lower half helps to disperse that body heat that gets through the pad. This gives shoppers the benefits of memory foam, without all the overheating that is often associated with it.
Need versatility – Because this comes in two layers, sleepers can choose to use only one of them. They can also take advantage of both at the same time. This design essentially gives customers two toppers for the price of one.
You might not like this topper if you:
Want bounce – Because this is a memory material, it is going to absorb most motion, which is great for light sleepers. Shoppers looking for a more responsive top might want to look at a latex option.
You might want to take a look at our top rated bed toppers for this year and find your perfect fit.
Construction (Materials & Quality)
There are two halves to this product and when both components are used together, it stands at a total of 4 inches tall.
The top section is a 2-inch mattress pad that is stuffed with fiberfill. This material is squared off into several sections with a soft fabric over the top of it, giving it the appearance of a thick down comforter. This is ultra-plush and transitions nicely into the memory materials below it.
The bottom section is a 2-inch cooling gel memory foam. This has a blue and white swirled like appearance. This layer was made to distribute weight evenly while reducing pressure and providing surface level support.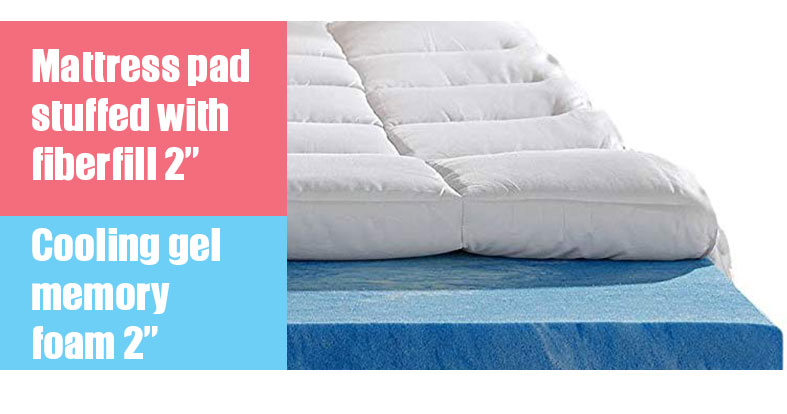 The top layer slips right over the memory foam and around the edges of the bed to hold all the components in place. While these two halves are made to be used together, folks who prefer an alternate feel can utilize one without the other.
Firmness (Comfort & Feel)
For most types of mattresses, this topper is likely going to provide extra softness. Most sleepers should feel their body sink through the top layer and into the memory material beneath and find themselves in a nice deep hug. Lighter individuals may find themselves a little more on top when using this product, while heavier sleepers may sink even deeper.
Because the materials were made to conform to the curves of the sleeper, this model is likely going to be a great option for people who need pressure relief. The memory foam should have a slower response but not too slow where combination sleepers cannot easily reposition.
This product was designed to help to create a nice uniform feel for back sleepers. These individuals should experience the top layer conforming to their back, while the memory foam accepts their heavier areas, like the hips and shoulders. Back sleepers wanting a firmer feel might want to consider using only one of the tops as opposed to stacking both.
Side sleepers will likely more relief than stomach and back sleepers when using this product. The plush top layer and conforming memory foam on the bottom help to relieve pressure areas. Body parts like the shoulders and hips tend to have higher pressure build up over a smaller surface area, so, depending on their needs, sleepers can choose to use only one of the layers if this is too soft.
Stomach sleepers might find that this top is too soft for their liking, though folks who like a more plush experience or have a firmer bed underneath might really enjoy how this feels. Those who rest on their stomachs might also consider removing either one of the layers to make a firmer feel.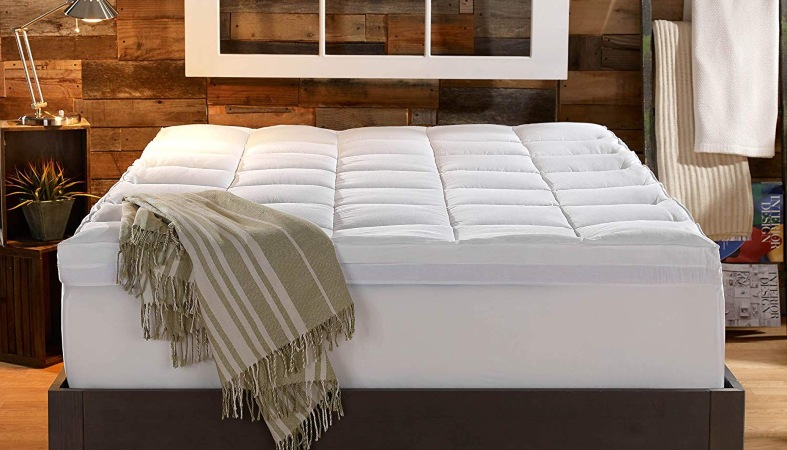 Overall, the versatility of being able to use either one or both of the layers makes this bedding product an ideal fit that should pair with a wide variety of body types and sleeping positions. Remember though that the mattress you pair this product with will greatly alter it's expected performance.
Temperature Regulation
How the topper effects the temperature of your bed is all going to completely depend on what kind of mattress you are currently sleeping on. For most cases, this topper helps to fight the heat. The fiberfill top allows it to breathe, permitting air to circulate while the gel-infused memory foam on the bottom helps to spread that heat away from the sleeper's body.
Motion Transfer
Some folks wake up to any movement that happens on the surface of their bed. This is where motion isolation can come in handy. Products that score well with motion transfer can anchor these movements to their spot or origin.
Because memory materials are so absorbing, it holds motion at its source. For this reason, folks wanting to reduce motion transfer on their bed really might enjoy the qualities this product offers.
Other Considerations
CertiPUR-US® Certified – The foams in this product have been tested for dangerous amounts of potentially harmful metals and chemicals.
Made in the USA
Final Thoughts
---
Amazing
The Sleep Innovations Gel Foam offers high-quality pressure relief for a fair and satisfying price. This topper/pad combo is an ideal purchase for sleeper's wanting to add significant softness to their bed.
Sleep Innovations has set out to change the world of sleep and if this topper/pad combo is in your shopping list, then you might just have a great night's rest ahead of you. There are many products like this floating around the internet but what makes this one unique is that it arrives with both a pad and topper.
This sleep product stands to make your lumpy old mattress feel like new again. And if you just bought a brand new bed, this product may just be the cherry on top.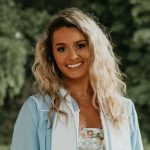 Katie Simpson is an editor for Sleep Advisor. She brings her experience in the wellness space, specifically in testing products and writing honest reviews, to the Sleep Advisor site where she provides helpful information on mattresses, sleep accessories, sleep health, and more.
As a former insomniac and dedicated back sleeper, Katie loves sharing her newfound appreciation for sleep with others. She's also an advocate for cranking the thermostat down at night — setting the temperature above 68 at night should be a crime.
Outside of work, her passion for living a healthy lifestyle continues in the gym, where you can find her lifting weights and doing yoga.